If you are looking for some fun recipes to make with or for your kids, you've come to the right place. Find over 150 kid-friendly breakfast, lunch, snack, and dessert recipes that look as amazing as they taste.
Below you will find links to recipes that your kids will go nuts over.
Most of these projects are easy enough to make with your children. Kids will have so much fun helping you in the kitchen creating any one of these cute food crafts.
The best part is that the recipes themselves are tasty too. You won't find weird combinations of flavors just to make things look cute. I've found just the right decorations to use to create each and every snack or treat.
kid-friendly birthday party desserts
Make a child's birthday extra special by serving him or her one of these darling desserts.
Birthdays are the best time to create some cute food and I know kids of all ages will appreciate any of these birthday desserts.
cute animal cupcakes
Kids love cupcakes and animals so these cute animal cupcakes are the perfect dessert for just about any occasion.
Several of them are decorated using Reese's Cups which adds an extra level of deliciousness too!
cute chocolate pretzels for kids
Decorating mini pretzel twists and pretzel rings is so much fun and most of the decorations are super easy to make using sprinkles, food coloring markers, candy eyes, and candy melts.
Which pretzel is your favorite? It's definitely hard to choose between them all, they are all so cute.
fun rice krispie treats
Start by making the absolute best homemade Rice Krispie Treats (over 20 people taste-tested over 20 recipes to find the perfect cereal treat recipe) or use store-bought treats to make these cute Rice Krispie Treats.
animal rice krispie treats
Rectangle treats are fun to decorate but you can also cut the treats into ovals or circles or you can shape them using plastic molds.
Use homemade modeling chocolate to add decorations. It's easy to use and tastes like chocolate!
decorated Nutter Butter Cookies
If your kids love Nutter Butter Cookies, they will have a blast creating these decorated Nutter Butters. The Pink Fuzzy Slipper Cookies are topped with peanut butter fudge to make them one of the most popular treats here on Hungry Happenings.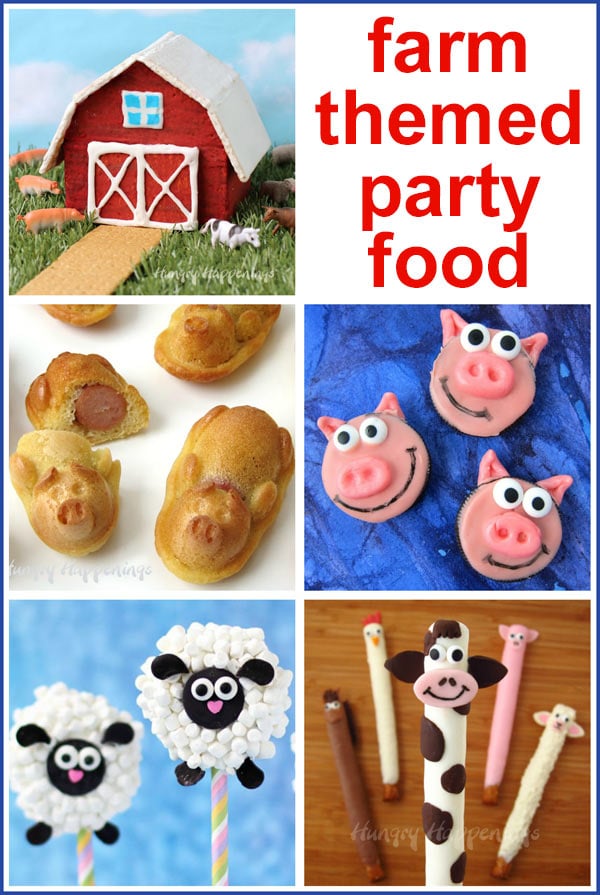 farm-themed dessert recipes
Whether you are studying farm life, planning a trip to Granpa's farm, or you just want to make some cute farm-themed treats, I've got you covered.
cute animal-themed treats
There are so many adorable animals in the world and it's so fun to create their likeness using snack cakes, white chocolate dipped strawberries, cookies, candies, and cakesicles.
frozen treats for kids
When it's hot outside and your kids want a cool treat, chill out in the kitchen and create some of these fun frozen desserts.
homemade gummy candy
I don't personally know a single kid who doesn't love gummy candies. Making gummy bears and worms is so easy using just a few ingredients.
Making homemade gumdrops requires adult supervision and help but homemade gumdrops are so much better than any store-bought candy. I know you and your kids will love them. Plus you can make them in any flavor, shape, and color you like.
kid-friendly candy recipes
Your kids will be amazed that you can make candy at home. Help them make homemade Tootsie Pops if you really want to "wow" them!
animated movie character desserts
What kid doesn't love animated movie characters? They make perfect cakes, cupcakes, cookies, cheesecakes, and candies.
Minion desserts
Minions are seriously so darn cute and they are super easy to turn into desserts with their simple oval body and big goggle covered eyes.
summer fun recipes for kids
Bake up some fun for your a day spent hanging out at the pool or beach.
cute ice cream cone animals and characters
These ice cream cones are easy to decorate and look so fun. Kids will get a kick out of adding their own decorations to their frozen treats.
cute cookies for kids
Kids of any age will love these cute cookies.
candy-filled piñata cookies
What's better than a homemade cookie? Several homemade cookies "glued" together with chocolate or icing and filled with candy!
animal pretzel pops
Chocolate dipped pretzels are delicious but they can be wildly fun when decorated like animals.
kid-friendly chocolate recipes
Chocolate doesn't have to be a boring rectangle. Have some fun making these sweet and sometimes silly chocolate treats.
decorated snack cakes
Snack cakes, like Twinkies, HoHos, Swiss Rolls, and Ding Dons are so easy to decorate using sprinkles, candies, marshmallows, chocolate, and candy clay. You can create the cutest animal snack cakes or make fun cartoon characters too.
kid-friendly breakfast ideas
Make your kids day a little brighter by starting the morning with some cute food.
kid's lunch ideas
Then don't forget to make something extra special for lunch too.
school lunch ideas
If you are homeschooling your kids or packing a lunch for school, make it really special.
WOW, can you believe I have created over 150 treats for kids? Actually 95% of what I share here on Hungry Happenings is kid-friendly, but these are the non-holiday food crafts specifically made for kids.
I hope you and your children enjoy time together in the kitchen crafting these fun recipes.
Enjoy!
Beth

Latest posts by Beth Klosterboer
(see all)