Make a splash at your pool party by serving these colorful Cheesecake Beach Balls.
Each individual dessert is decorated using colored cheesecake filling to look like a festive beach toy.
These little cheesecake beach balls were so popular at our beach-themed graduation party.
Even though there were so many treats for the party guests to choose from, the cheesecakes were gobbled up quickly.
Cheesecake definitely at the top of the dessert favorites list for my family so it was no surprise to see their popularity at the party.
Can you imagine having all these amazing treats to choose from at a party?
Would you pick up a cheesecake beach ball to enjoy?
I would. Oh, I mean, I did!
When making desserts for a large crowd, I usually make individual-sized treats instead of one large cake. I don't like to have to cut a cake and serve it to a large crowd. I'd rather spend time mingling than serving.
I also don't like to see half-cut cakes on a table. It messed up the visual effect. I want the guests to see the beach balls, not a cake that kind of sorta looks like a beach ball.
I know some of you will prefer to make one large beach ball, and that will work too. You can use the recipe and instructions from my Decorated Daisy Cheesecake just add a beach ball design on top of the cheesecake instead of a daisy.
If you plan to make these small cheesecakes, you are going to need to get 3 silicone molds that each have six 3 inch round cavities that are about a ¾ inch deep.
If you are like me and need a little bit of help getting the panels on your beach ball-shaped perfectly then you might also want to invest in a 3-D printed beach ball cookie cutter.
One piece of the beach ball cookie cutter is simply a circle cutter, the other has the outline for the beach ball. You can use the insert as a guide while piping the beach ball design onto the cheesecake.
To make the cheesecakes, start by making graham cracker crusts in the bottom of each round cavity (sorry, I didn't take a picture of that step,) then spoon in some plain filling, and decorate.
Color small amounts of the cheesecake filling with the colors you'd like on your beach ball, pour them into small squeeze bottles (or use pastry bags,) and pipe on your design.
You can set the cookie-cutter insert on top of the cheesecake filling and pipe in your first color. Then skip a panel, leaving it white, and pipe in another color. Repeat, creating three colored panels. Then pipe an orange circle in the center.
Use kitchen tweezers to lift the insert up carefully. Wash the insert and you are ready to decorate another cheesecake.
This method works well, but you have to be very careful when lifting the insert so that you don't smear your design.
To avoid that, you can simply hold the insert just above the cheesecake filling and pipe an outline, then move the insert and fill in the colored panel.
You don't have to use the insert at all, however. You can simply pipe on the design freehand.
Once you get all of the cheesecakes decorated you are ready to bake them.
To keep your cheesecakes smooth and creamy, I suggest baking them in a water bath.
To do this, you'll want to set the molds in a rimmed baking sheet on a rack in your oven, then fill the baking sheet with a little less than ½ inch of boiling or very hot water. You want just enough to go halfway up the sides of the molds.
Notes:
If you have cooling racks that are just a bit larger than the mold, you can set them on the cooling rack, then place the rack and mold into the baking sheet. This will make removal from the very hot water a lot easier.
If you use an aluminum baking pan the water may etch the pan turning it a darker color.
You can skip the water bath altogether if you want. Just be sure to keep an eye on your cheesecakes at about the 12-minute mark. If you over-bake them, they will crack.
If you look at the picture above, you will notice that some air bubbles came to the surface and popped, leaving dimples in some of the cheesecakes (see the cheesecake on the lower right side of the mold.) There wasn't much I could do about it after they baked, unfortunately.
Usually, I will tap my pan or mold to remove air bubbles before I bake them. I forgot.
But, overall, they looked great. I just set the dimpled ones in the back on my display and no one really noticed.
Cheesecake Beach Balls
You can find items needed to make these Cheesecake Beach Balls on Amazon.com (commission earned for sales)

Cheesecake Beach Balls
Decorate mini cheesecakes to look like colorful beach balls to serve at your pool party.
Keyword:
beach, beach ball, beach party, cheesecake, dessert, parties, pool party
Ingredients
Crust:
1 ½

cups

graham cracker crumbs

6

tablespoons

butter

melted
Cheesecake Filling:
3

8 oz. blocks cream cheese, softened

1

cup

sugar

3

large eggs

½

cup

heavy whipping cream

1

teaspoon

vanilla

red. blue

yellow, and orange food coloring
Instructions
Crust:
Preheat oven to 325 degrees Fahrenheit.

Stir together graham cracker crumbs and melted butter.

Spoon a heaping tablespoon of crumbs into each of 18 round cavities in 3 silicone molds.

Press crumbs into an even layer.

Bake for 8-10 minutes until fragrant and golden brown.

Remove and cool completely.

Set molds on baking pans.
Cheesecake Filling:
Beat cream cheese until light and fluffy.

Add sugar, eggs, heavy whipping cream, and vanilla and beat just to combine.

Spoon ⅓ cup of filling into a bowl and color it blue.

Repeat, coloring ⅓ cup red, and another ⅓ cup yellow.

Color 3 tablespoons of filling orange.

Tap the bowls on the counter several times to remove air bubbles.

Pour individual colors of filling into squeeze bottles.

Spoon the plain filling over top of each of the crusts, diving filling equally.

Pipe red, blue, and yellow beach ball panels onto the plain filling.

Pipe an orange circle in the middle of the cheesecake beach balls.

Set pans in oven.

Pour water into the pan, being careful not to pour any onto the cheesecake filling.

Bake for 16-22 minutes until the edges of the cheesecake look set. The center will still be jiggly.

Remove molds from water bath, set on a cooling rack, and cool for 30 minutes .

Freeze for at least an hour until firm enough to remove from molds.

Remove and push cheesecakes out of silicone molds.

Cover with paper towels and refrigerate until ready to serve.
If you are having a pool party or an event at the beach you might also like to make these other beach ball treats...
Fruit Pizza Beach Ball • Beach Ball Pie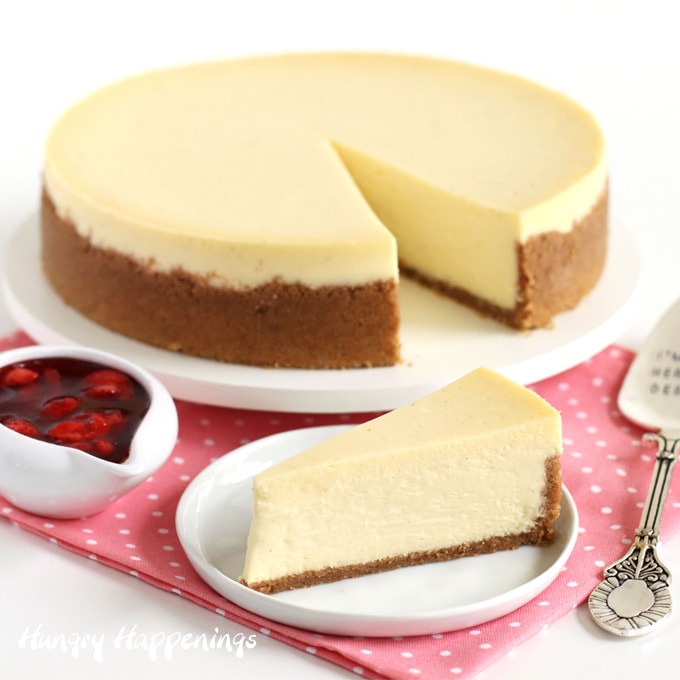 See the recipe to make the BEST Cheesecake, here. I share tips for making it deliciously creamy and smooth.
Embrace the beautiful weather that we are having and make some of these gorgeous and scrumptious Summer Fun Recipes.
Sugar Coated Sea Horse Cookies • Chocolate Beach Pails • Butterscotch Crunch Starfish
Sandcastle Lollipops • Caramel Rice Krispie Turtles • Beach Party Popcorn
Under the Sea Popcorn • Beach Ball Cheesecakes • Under the Sea Gumdrops
Caramel Rice Krispie Treat Starfish • Chocolate Sea Shells • Rice Kripie Treat Dolphins
Sugar Coated Sea Horse Cookies • Sugar Coated Sea Horse Cookies • Palm Tree Cookies

Did you make this recipe or do you just think it is super cute? Let me know by leaving a comment and rating the recipe below. If you love the recipe, please give it a 5-star rating.
I love making fun food for parties and special occasions and sharing my creative ideas with you.
If you make this recipe and share it online be sure to link back to this post..
Thanks and have a sweet day! -
Beth