My goal here at Hungry Happenings is to share tutorials for fun food projects that you can replicate at home. I am always excited to see how I have inspired you to get into the kitchen to make something fun for a holiday, party, or snack.
If you recreate one of my original recipes, be sure to snap a picture and send it to me at beth@hungryhappenings.com and I will share it in the Readers' Gallery below.
If you share one of my food craft recipes or ideas online please let your readers know that I originally created the recipe and link back to the original recipe blog post.
If you share a picture on social media, use #hungryhappenings.
Below you will find pictures sent by my readers. The first picture of every grouping is my original photograph of the recipe. Those that follow are pictures sent by my readers. Enjoy!
*****************************************
Conversation Heart Cheesecakes
These Conversation Heart Cheesecakes are one of my most popular recipes. The pastel-colored heart-shaped cheesecakes are baked in small heart-shaped silicone molds and are decorated to look like Conversation Hearts candies.
Linda wrote, "These were easy and adorable. Thanks!" I'm happy to hear that she found these easy to make. Her cakes look great. I like all of her personal messages.
Sara's Conversation Heart Cheesecakes turned out great, they are so bright and colorful. I love the phrases she chose especially "Love Bug" and "Hello Sweetie."
Mary did a great job adding special messages to the top of her Conversation Heart Cheesecakes. I particularly like "Luv Bug." That's cute.
Sue from the Jo and Sue blog simplified this recipe by using a no-bake cheesecake.
Linda made Conversation Heart Cheesecakes featuring Italian sayings like Ti Adora (I adore you,) Dolce Amore (sweet love) and Pazza di te (Crazy for you.)
Dorothy swapped out the graham cracker crust for a chocolate crust in her Conversation Heart Cheesecakes which she brought to work. Her co-workers loved them.
Tina personalized her conversation heart cheesecakes with her co-workers' names. I bet she was very popular on Valentine's Day.
Becca chose only shades of pink for her cheesecake hearts. She piped icing onto her hearts which she said looked great for a short while, but bled into the cake soon afterward. So food coloring is a better option.
Jen Rug was quite busy in her kitchen for Valentine's Day. She made Conversation Heart Cheesecakes and Chocolate Cherry Bombs.
Savannah and her friends made some Naturally Colored Cheesecakes to serve at their Valentine's Day diner. They set the mood for the night's festivities.
Emily made three medium-sized cheesecakes in heart-shaped springform pans. I hadn't seen these smaller pans, but she said she found them at Target
Natasha said she made 18 Conversation Heart Cheesecakes and they were all gone within 5 minutes! It's so good to hear they were gobbled up so quickly.
My orange-colored Crescent Dough Carrots recipe was really a huge hit. I filled my carrots-shape crescent rolls with egg salad or ham salad and used fresh dill as the carrot greens. So many readers wrote to tell me they were making these for Easter.
Jenn served up this bushel of carrots at her Easter celebration and said they were a huge hit!
I love how she arranged them on a round white serving platter.
I just love this image of the carrots created by Ilina from Culinary Colours of My World. She used pizza dough to create her carrots, filled them with a traditional Bulgarian salad, and added sprigs of lettuce for the greens.
Dina served these for Easter to her family in Hungary. She used puff pastry which worked out great. To make her orange coloring, she added red coloring to an egg yolk - brilliant!
Linda shared this big basket full of Crescent Roll Carrots with her co-workers at an office Easter party. I love how she served them in an Easter basket.
Kelsey made sweet crescent roll carrots filled with a pineapple cream cheese filling. She sprinkled some sugar on the outside of her carrots and used real carrot tops for her greens.
Domi from Domi in the Kitchen ("Domi w kuchni") is simply stunning. I love all the colors she used and the way she arranged her crescent carrots which are made with homemade dough. This could be a magazine cover shot.
Mary made Crescent Roll Carrots for her Mad Hatter Tea party and served them alongside other festive food featuring bright colors. Looks like a great party.
Katie hosted a farm party for her son's birthday and created an amazing table filled with goodies including salmon and cream cheese-filled crescent roll carrots.
Jeanne made her crescent roll carrots for a Hobbit-themed birthday party. I love to hear how people use my recipes in clever ways. It's fun to know that these carrots aren't just for Easter.
Risa from Restless Risa used frozen bread dough instead of crescents and lettuce in place of the dill.
Her bread dough carrots turned out great. She brushed them with orange food coloring to make them vibrantly orange.
Martha from Seaside Simplicity made her carrots by spraying Duff's Orange Cake Graffiti Spray on the dough and I think they look fantastic. Martha didn't have cream horn forms so she wrapped her dough around a sugar cone as I had suggested in the comments section of the blog post.
Mandy was sure busy in the kitchen creating this amazing platter full of chicken salad-filled carrot crescents topped with curly parsley.
Sylvia stuffed her carrots with scrambled eggs and sausage. Her family was thrilled to find these on the table at Easter breakfast.
Shannon from Living My Life on Purpose did a fantastic job re-creating these carrots using Pillsbury Crescent Rolls which she pinched together at the seams before cutting into strips.
Rady from Byby's Kingdom made these really fun-looking carrots. I like how they have a striped look. She filled her carrots with egg salad.
Joyce from What Happens at Grandma's hosted a "Bunny Village Workshop" for her daughters and grandkids and served these chicken salad stuffed crescent carrots with parsley greens.
Mary used Pillsbury Crescent Rolls which she just wrapped around the cream horn form before coloring orange. It's a bit simpler than cutting dough strips and has a smoother look to the carrots.
Andrea made a really quick and easy version of the carrots. She used the big flaky crescents, rolled them just a bit straighter, baked them, and then cut them in half to fill them with the salad.
Trish said, "I whipped these up so easily from store-bought crescent rolls and homemade yummy ham salad..they will be a hit! CUTE."
Jo and Sue created cones out of tin foil to make their carrots which they filled with salmon that their dad had smoked, and mixed with cream cheese.
Laura used tin foil instead of cream horn forms to make her carrots too. She filled her carrots with chicken salad and used parsley for the greens. Her family loved them.
Alyssa created this beautiful plate filled with crescent roll carrots for Easter. She used parsley for her greens and filled her carrots with chicken salad.
Jen made a sweet version of these crescent roll carrots for her family's Easter brunch. Her cream horn carrots were made from puff pastry and were filled with fresh whipped cream and had mint leaves for the carrot greens.
I am in awe of this gorgeous display that Ekaterina of My Candy Kitchen from Bulgaria created with her carrot crescents. It is so beautiful.
She used pizza dough to make her carrots and covered her cream horn forms with parchment paper for easy removal.
Cinzia from Italy shared her version of the carrots on her blog, Mammarum. She used Puff Pastry to make her carrots, filled them with cream cheese, and used chives for the greens.
I love warm fuzzies and thought it would be fun to make a sweet version of them. I chose to make cake balls covered in colored coconut. They have white chocolate feet and antennae.
Ekaterina from My Candy Kitchen made her warm fuzzy cake balls with homemade white chocolate and mini chocolate chip eyes. She said in Bulgaria, the coconut is shaved finer so her fuzzies are a little less fuzzy.
Diana made 80 of these fuzzy little guys for Valentine's Day. I absolutely love all the bright colors she used and think the nonpareils on the antenna add a nice touch.
Melissa made warm fuzzy cupcakes and used the printable wrappers to finish them off nicely. I love her antennae made with purple and pink candy coating. So cute!
Meagan and her daughter had fun making this tray filled with warm fuzzies using chocolate cake balls and chocolate feet and antennae.
JJCakes rolled her cake balls in sprinkles that included mini hearts. What a fun idea. The open heart-shaped sprinkles she used for the antenna are great. I need to buy some of those.
Jacquelyn made a whole big family of warm fuzzies for Valentine's Day. I love seeing them all snuggled up together in the plastic container - all their eyes peeking out are so cute.
How about a St. Patrick's Day warm fuzzy? Deb from Just Short of Crazy coated her cake ball in green coconut and added shamrock-shaped antennae. What a great idea!
Cheese Ball Face Mask - Spa Party Appetizer
I have been shocked at how popular this Cheese Ball Face Mask recipe has been with my readers. When I created this spa party appetizer, I thought it was hilarious and so did my friends. Plus the taco-flavored cheese ball topped with guacamole tastes great.
Jo and Sue needed to make their face-shaped cheese ball a day ahead of their party, so they chose to top it with green sour cream. I love this idea! Guacamole will turn brownish after a few hours of exposure to air.
Jo and Sue used the face-shaped cheese ball for a Halloween party and cleverly turned it into a Medusa Cheese Ball with snakes made out of pizza dough. This is my favorite adaptation of any recipe of mine that I've ever seen.
Jo and Sue were inspired once again but this time chose to create their face out of cheesecake and added cherry pie filling to create the effect of bloody eyes. Creepy, huh?
Tiffany made her cheese ball and topped it with Wholly Guacamole, which apparently does not brown as it sits at room temperature. Such a great tip to know! She used thin strips of mozzarella cheese to make her head wrap.
Kristin made this for a Tea party and said it was a big hit. She couldn't find the roll of mozzarella so she used Provolone Cheese slices to create the head wrap. That is a great simple solution. Three slices of cheese look like they fit perfectly.
It is really amazing to see how everyone is using this recipe idea. Jeanne hosted a surprise 80th birthday party for her mom and the theme was "Forever Young." What a great party theme. The cheese ball face was a perfect fit for her party.
Crosby from Venezuela made this face mask cheese ball for a spa-themed bridal shower for her sister. She used cabbage instead of cheese for the head wrap and it looks great. The addition of flip-flop sandwiches made with peppers as the straps really adds to the plate.
Don't you just love the curly hair made from carrot peels?
Donna created this cheese ball for her spa-themed bunco party.
If you can't find white cheese to use for the head wrap, why not use a soft tortilla as Elise did when she made this cheese ball face mask? I thought that was such a clever substitution.
Cheryl of Liddy B. and Me created this spa party cheese ball without the help of a mask. She molded her cheese ball by hand then scooped some out to create indentations for the eyes and used that cheese to mold a nose. It looks great. I particularly like her nose. In order to get her cheese ball to look pink, she added salsa. It added the right color and a flavor twist.
Avery kept her cheese ball face mask simple by just adding cucumbers and red pepper lips. She decided to skip the head wrap.
She served it at an Arbonne Party and it was a big hit!
Sandy from Pure Abundance had the perfect occasion to use this cheese ball. Her aunt graduated from esthetician's school and her cousin created this cheese ball face mask for the party. She used sour cream tinted green instead of guacamole. It turned out great and the party guests all loved it.
Sharon hosted a Diva party and made a cheese ball face which impressed all of her party guests. She used wax lips for her mouth - I love that idea!

She also created her hair out of cheddar cheese and used the ends of lime for the eyes.
I used a 9X13 inch sheet cake to make this cute and easy Rainbow Unicorn Cake. The inside of the cake is rainbow and so is the candy clay tail and mane. It's simple to frost using a star tip in a pastry bag. The unicorn looks furry and so adorably cute.
Karen did a fantastic job recreating this easy unicorn cake for her best friend's daughter. She made her own homemade candy clay and it turned out perfectly. Her cake is colorful inside and out and was a huge hit at the birthday party.
Chocolate Caramel Fudge Smiling Poo Emoji
Shockingly these sweet little poop emoji became my most popular Valentine's Day post for 2017. I was so happily surprised that so many of my readers loved these so much that they shared them with friends and family.
Patsy made her smiling poo emoji a bit smaller so she could use them to top Valentine's Day cupcakes which she sent to school to share with her child's classmates.
Lareen used two different pastry tips to make her chocolate fudge emoji. She preferred the open hole tip over the star tip but they both made cute emoji. She even added homemade royal icing eyes.
Ashley, Renee, Beth, Cathy, Liz, Holly, and Kristy all shared their pictures of their chocolate caramel fudge-smiling poo emoji with me on my Hungry Happenings Facebook page.
Snowflake filled Snowman Cookies
These sweet snowmen have candy glass bellies and are filled with snowflake sprinkles. Then they are decorated with white chocolate and candies.
Eva did a great job making her snowman cookies. She couldn't find the crystal clear mint candies so she made homemade hard candy instead.
Warm up this winter with a creamy chicken dip decorated like a snowman. This is a fun and easy appetizer for Christmas.
Sue made her Snowman Skillet Dip for a Christmas party and her guests loved it!
She used a stainless steel skillet and it worked great.
Jack Skellington Chocolate Bowls
These handmade chocolate bowls decorated to look like Jack Skellginton are filled with cookies 'n cream cheesecake mousse and are perfect for Halloween or Nightmare Before Christmas parties.
Lynn had her 3 nephews staying with her for a week and she made them some of these edible bowls. The boys and Lynn's mom thought they were so cool.
These cute Halloween treats could not be much easier to make. Just scoop out orange candy-coated popcorn into blobs and add eyes. That's it!
Joyce from What Happens at Grandmas hosts the most amazing parties for her grandkids and she made these monsters for her Crazy Bones Cafe. Be sure to stop by her blog and check it out.
Finding Dory Sea Otter Cupcakes
I turned Reese's Cups into cute Sea Otters to celebrate the Finding Dory Movie. These decadent treats are decorated using modeling chocolate and were as much fun to make as they were to eat.
Terri's Sea Otter Cupcakes are so darn cute! I love how each of the otters is holding a perfectly shaped starfish, seashell, or fish. She created them using a Sculpey Sea Life Push Mold.
Julie and her 5-year-old son Collin made this adorable batch of Sea Otter Cupcakes. They entered them into their county fair along with some other sweet treats. I am always so thrilled to see kids working together with their moms in the kitchen and this pair did an amazing job recreating these cute cupcakes.
If you want to really make a statement, create one of these Raspberry Lemon "I ❤ You" Valentine's Day Reveal Cakes. You can personalize the inside for your special occasion.
Susan created this amazing cake for her stepdaughter's bridal shower. I love how she topped the cake with Miss to Mrs. That's so clever. The inside reveals that Kristen loves Tyler and Tyler loves Kristen with K❤T❤K. So cute!
These adorable cupcakes are my favorite of all the cupcakes I've ever made. I just love the cute Reese's Cup Monkeys.
Angie's Reese's Cup Monkeys turned out so cute.
I love seeing them all together in the cupcake box. It looks like a big family of monkeys.
These sweet little peanut butter treats could not be much cuter. Each little bunny bum has a fluffy marshmallow tail and tiny candy paws.
Cathy made a batch of Bunny Butt pretzels for her grandkids this Easter. She swapped out round pink confetti sprinkles for the pink heart sprinkles and they turned out so cute.
I used modeling chocolate to create a cute little bunny who dove headfirst into a pile of carrots.
This cute Easter treat has been one of the most popular projects for my readers to recreate. I love seeing all the variations.
Mary, from Perth Australia, was inspired to create this sweet Easter cake topped with a modeling chocolate bunny butt. She made lots of modeling chocolate carrots and used green spearmint candies to create the greens.
Deborah did a fantastic job sculpting her bunny bums and carrots for these beautiful cupcakes
which she made to serve to her friend's children. I love Deborah's bunny on the polka-dot egg too.
Piping on grass and then using only a few carrots is a great time saver and looks wonderful.
Jo and Sue used fondant to create their cute little bunny tushies. They topped their cupcakes with frosting and edible Easter grass and used jelly beans for carrots on some and candy flowers on others. You can see all of the festive goodies they created this Easter on their blog.
Tisa from Blessing from my Kitchen did a fantastic job recreating the bunnies and carrots for her cupcakes. She created her boy and girl bunnies (wearing the pink skirt) out of marshmallow fondant and shares her recipe in her post.
Nadine from Chocolat a tous les Etages made this wonderful bunny butt cake covered with marzipan. She pressed the marzipan through a garlic press to create the furry tale and the grass under the carrots and hand sculpted the feet and carrots out of marzipan too.
Here's another wonderful Easter cake using the bunny borrowing in the carrot patch. Stacy created this for her son's second Easter and he just loved it, as did the rest of her family. She used green paste food coloring as paint and created the grass and the message on the cake. I just love her design.
Novie's Ravenous Rabbit Cupcakes turned out so great. I love the detail in her carrot leaves. They really look fantastic.
This bright and colorful veggie pizza really was a fun way to serve vegetables for Easter. It's topped with peppers, celery, carrots, and purple cauliflower.
Norma used carrots, peppers, tomatoes, broccoli, and artichokes to make her Veggie Pizza Easter Egg to serve at Easter brunch.
Rice Krispie Treat Fuzzy Chicks
I turned store-bought Rice Krispies Treats into these fuzzy baby chicks using yellow candy melts and yellow-colored coconut. They look so cute in an Easter basket with bright green grass.
Jackie made a whole clutch of baby chicks for Easter. She used homemade rice krispie treats then dipped them in candy melts and coated them in coconut.
Chocolate Snowman Pretzel Craft
These Chocolate Snowman Pretzel Crafts were my first viral post. They quickly became popular. I saw so many pictures shared on social media. I wish I would have saved them. I'm happy a few people emailed their pictures so I could share them here in this gallery.
Rhonda made her snowman pretzels to serve on Christmas Eve in honor of her mom who collects snowmen. Everyone thought they were so cute that they didn't want to eat them but eventually, they couldn't resist.
Beth W. is highly committed to rescuing Westies and she was inspired by my snowmen to create this adorable Chocolate Pretzel Westie. I love how she used a dipped mini pretzel twist to make the snout then added a pink tongue. It's just so darn cute.
If you want a birthday cake that will really impress party guests, make a surprise cake. You cut into the cake to reveal a surprise inside.
Donna created this colorful cake for Ginger. The #5 inside looks great and that dog on top is absolutely adorable.
This entire tree is edible.
It's one big rice krispie treat. The trunk and branches are made of chocolate-covered cereal treats to give the tree structure.
Sylvia describes her dad as strong and resilient, supporting the entire family, much like a big tree, so she topped a cake with an edible tree to celebrate Father's Day. She used cornflakes for her leaves which is a clever alternative.
These pretty little cakes are made by painting silicone molds with colored cake batter.
Jeane used my technique to create these brightly colored daisy cakes for
Mother's Day.
I love all the colors she used. The flowers look really pretty on the plate.
Crack up your family by serving these silly hard-boiled egg hatchlings.
These fun snacks are great for Easter brunch or any farm-themed party.
Ashley hand-carved the feet and legs of her hard-boiled egg hatchlings and served them with her favorite deviled eggs for Easter.
It's so fun creating bunny feet out of Deviled Eggs for Easter.
Mary and her son had a great time decorating their Deviled Egg Bunny Feet for Easter.
Adding a handpainted design to a cheesecake is no more challenging than decorating a cake or cookie and it really makes an impressive-looking dessert.
Marie-Christine added a whimsical smiley face sunshine to her cheesecake. It's so fun!
I love how you can see in these before and after pictures that once baked the colors painted onto the cheesecake become quite vibrant.
Sharaden created this beauty for Easter.
You can see how detailed you can get in your drawings. She even used a shading technique.
Jane got quite creative decorating her cheesecake with a brightly colored dinosaur for her son's 2nd birthday.
I created these white chocolate popcorn trees with red candy apples to celebrate Earth Day.
Each tree is made with a milk chocolate trunk and branches, green-colored white chocolate popcorn leaves, and red candy apples.
Patry and her nephew added lollipop sticks to their white chocolate popcorn trees. I love this idea. It makes the trees easier to carry.
Making and decorating cheese balls is so much fun and these tiny little Baby Chick Cheese Balls are some of my favorite savory treats for a holiday.
Joyce surprised her grandkids with this plate of Baby Chick Cheese Balls for Easter.
Giant Homemade Marshmallow Peep
You can see just how huge this homemade marshmallow Peep is in comparison to a regular Peep. It was really easy to make using a Wilton Peep Cake Pan.
Julie made this Peep for her nephew for Easter who is a huge fan of the sweet Easter treats.
Down the Bunny Hole Push-up Pops
These adorable Easter treats are made using modeling chocolate bunnies, colored coconut grass, and brownie dirt. Using push-up pop containers to display each dessert, allows you to see the bunny going down the rabbit hole.
Lillie used edible Easter grass instead of coconut. I like how the grass really looks like grass and the bunny butts look so cute.
These heart-shaped candies are so easy to make using only 3 ingredients. I colored and layered the coconut candy to make pretty hearts for Valentine's Day.
Barbara went a step farther and dipped her coconut hearts into chocolate.
She did a great job decorating all her candies which she made for a birthday celebration.
Countdown Cheesecake Clock
No-bake cookies and cream cheesecake decorated to look like a clock make a great dessert to celebrate the coming of the New Year.
Tracy did an amazing job making her Cheesecake Clock really festive. She sprinkled black edible glitter around the edge, added silver dragees, and some disco dust to the clock hands. I love how it sparkles!
Nutter Butter Cookies dipped in chocolate and decorated with Tootsie Rolls, marshmallows, and Circus Peanuts.
This is one of the cutest winter cakes, I've ever seen. Jen and Margie added some Nutter Butter Penguins to the Winter ONEderland birthday cake they made for Colin's first birthday.
These little penguins are trying to stay warm. Kenda added scarves and ear muffs to her cute treats.
Ashley made a batch of adorable penguins for the holidays.
Starfish-shaped homemade Marshmallows dipped in dark chocolate and coated in graham crackers.
Joyce displayed her starfish in tiny little beach pails filled with crumbled cake.
Iva from Croatia, made a big batch of these cute starfish treats using hazelnut cookies filled with Nutella instead of s'mores. Yum!
This is the inside of Iva's hazelnut cookies. You can see the nuts in the cookie layer and a thin layer of Nutella in the middle.
Dark chocolate hats decorated with modeling chocolate. Each hat can be filled with candy, nuts, or even chocolate mousse.
Liberty, the tween daughter of Michelle from Cute Everything made these for Thanksgiving. She even made her own modeling chocolate for the hat bands. She used yellow Tootsie Rolls to make the buckle. I love the picture she took with the candy inside.
Tiny cheese balls decorated with shredded cheese fur and googly cheese eyes are a fun snack to serve on Halloween, at a monster-themed party, or just for an afternoon snack.
These cheese ball monsters are so cute. I like the pretzel mouths. That's a simple, clever idea.
Jo and Sue got totally creative and made an entire monster cheese ball family including a big momma and an evil child!
I love the eyes and fangs on the big cheese ball monster and the bloody clever is a funny touch.
Lynette made her cheese ball monsters for her kids' lunch and used yellow and white cheese
which gives the monsters a fun furry look.
Spider Infested Chocolate Chip Cookies
Take an amazing chocolate chip cookie and add some creepy spiders to it and even the worst arachnophobe will eat them.
River from Wing it Vegan made a batch of gluten-free chocolate chip cookies and infested them with lots of chocolate spiders.
Jo and Sue made some spider-infested chocolate chip cookies and used chocolate sprinkles for the legs.
Hannah added eyes to her spiders, which made them look adorably cute instead of creepy. I love these spider cookies. They are wonderful!
Lillian made up a batch of these creepy spider-infested cookies for her family.
This creepy-looking rat is just as sweet as can be. It's made from Oreo Cookies blended with cream cheese.
Suzanne brought this Cookies and Cream rat to a Halloween party. Her friends thought it was hi
Cookies and Cream Fudge Tombstones
Soft fudge is pliable enough to stamp into with letter stamps. Each fudge tombstone is cut using cookie cutters and then stamped with creative epitaphs.
Carrie from What an Awesome Cake! used small Cookies and Cream Fudge tombstones to top some cool zombie cupcakes. I love the eerie quality of these little cakes.
A caramel apple dipped in chocolate and decorated to look like a creepy cauldron.
Toni recreated these cauldrons for her Halloween party and said her kids adored them!
If you've never eaten a homemade marshmallow, you should! They are so much better than store-bought, plus you can cut them and pipe them into fun shapes.
Alison used my recipe and tutorial as a guide to make these cute and easy little marshmallow ghosts for Halloween.
She just piped them out and added little faces. So cute!
These cute savory snacks were the very first thing I posted here on Hungry Happenings. I had created them for our Creepy Crawler Carnival and they were a huge hit. I made them look sweet and cute for a Bee Mine Treat for Valentine's Day.
Katie created her bumble bee corn dogs for a party she hosted to welcome a new family member to their hive.
I love that idea!
I used modeling chocolate to create waves to wrap around these ocean cupcakes and dolphins, sharks, and whales.
Lilou 25 used almond paste to make her edible cupcake wrapper waves.
She hand sculpted dolphins to put in her mascarpone frosting ocean and they look so real.
I have been painting lollipops since I was 13 years old and love teaching others to make them too. I share a detailed tutorial on how to make lollipops and am thrilled to hear when someone finds it useful.
Melanie made her first batch of candy lollipops and they turned out great.

Her duckies are perfectly adorable.
Transform ordinary cheese slices into an owl. This is a quick and simple edible craft that is sure to impress your party guests.
Dee created her cheese slice owl and served it alongside chips and crackers. She swapped out carrot slices for the mozzarella cheese eyes which added some dimension.
Simply decorated Nutter Butter Cookie Puppies have caramel ears, white chocolate chip eyes, and a milk chocolate chip nose.
Jenny's Nutter Butter Puppies turned out great and she said they were "easy and cute."
Diane made a batch of Nutter Butter Puppies to celebrate the new addition to her son's family. Isn't the puppy adorable?
Nutter Butter Cookies are dipped in dark chocolate and added to a fluffy white chocolate body to make these cute Easter lambs.
Melissa made her lamb lollipops for Easter and added cute polka dot bow ties to them. I like that she used larger craft sticks. These pops are rather top-heavy large sticks that will help make these a bit more sturdy.
Mozzarella Filled Heart Shaped Pastries
Store-bought pie dough and mozzarella cheese slices are cut into hearts, sandwiched together, and baked until golden brown. Serve with homemade roasted red pepper pesto or marina sauce.
9-year-old Aidyn created these toasty hearts served in a nice heart-shaped bowl over sauce. It looks like a restaurant-quality appetizer for Valentine's Day. I love her addition of parsley on the hearts.
I made these small heart-shaped pastries filled with a Dove chocolate heart and served them with raspberry sauce for Valentine's Day.
Another spectacularly plated creation made by 9-year-old Aidyn. I wish I would have been invited over to her house for Valentine's Day!
2 ingredients, Dulce de Leches and Milk Chocolate blended together make the centers and stems of these pumpkins which are dipped in orange-colored candy coating.
Jessica made these to share in goody bags for friends and family. She lives in Canada and couldn't find cans of Dulce de Leche, so she caramelized sweetened condensed milk instead.
Nutella is sandwiched in between two pie crusts cut using a panda bear cutter. Simple and sweet.
Eyeness used all the animal cutters from the CuteZCute set to create an entire zoo of Nutella-filled pastries. What a fun treat to serve kids.
Cake Ball Brains Oozing Cherry Blood
White candy-coated cake ball brains filled with cherry blood have been one of my most popular Halloween recipes and are even in my top 10 most popular blog posts.
I absolutely love that Carla added a candy knife and dripping cherry blood to her cake ball brains. They look totally creepy, as a bloody brain should for Halloween!
Celle's cake ball brains have the perfect amount of oozing cherry blood. She shared them when she went camping. What a great scary treat for a night spent in the woods.
Lupita created some of her cake balls with oozing raspberry blood and some without. To tell them apart, she made them different colors. They were such a hit at her boyfriend's sister's party that the party host was hiding them in her bedroom because they were disappearing so quickly.
Trish made 105 cake ball brains for her husband's coworker, as well as her local fire station and police station. That's a lot of brains!
Patricia used Wilton's Color Burst Candy Melts to make her cake ball brains. The colorful candy melts added a burst of blue and pink color to the brains.
Eww, gross, is I'm sure the reaction when people saw the green worms coming out of these cake ball brains. I love them! Icky is always great for Halloween. RealLife11 found my recipe for these on Instructables.com and recreated them for Halloween.
Halloween Spinach Artichoke Dip
A stencil of Frankenstein's Monster is used to create this creepy Halloween dip. A layer of artichoke dip is topped with a layer of spinach dip that has been piped into the shape of the monster. The stencil is set over the dip and crushed-up blue corn chips are sprinkled over top.
Lacey did a fantastic job recreation this dip. Her monster looks great. She served it at a party and her guests were blown away!
Darcy recreated the Portrait of a Monster Dip to take to a potluck and it was a huge hit. Her monster looks perfect, or as perfect as a man-made monster can be!
Almond nougatine (like brittle) is cut into spoon shapes and topped with chocolate ganache.
Barbara was inspired by my recipe and created pecan nougatine boxes for dessert. What a great way to end a meal for a special occasion or just any day.
Sugar cookies are topped with modeling chocolate water and polar bear parts to create these polar bear cookies.
Deb created an entire ocean filled with polar bears. I love how each bear looks a bit different and has its own personality. Great job!
White chocolate fudge filled with cookie crumbs is shaped into rocks.
These fudge rocks are definitely one of my most recreated recipes. I love seeing all the creative uses for the edible rocks.
The fudge rocks have been one of my most popular recipes because it is so versatile. Can you even believe all the work that went into this incredible cake? I love how Tina used the fudge rocks in this design. They incorporated the fondant dinosaurs perfectly. There are so many amazing details on this cake. The volcano even lights up. So cool!
Heidi not only added fudge rocks to her cake, but she also added geodes.
She hollowed out two large fudge rocks brushed them with some candy melts and sprinkled on colored sugar. That is so cool!
Sarah made these very realistic-looking rocks to give her daughter's teacher because Teachers Rock!
I love that she filled a beach pail with her candy rocks.
Kelly made these for her husband for Father's Day and she said, "They were yummy!" She did a great job creating lots of nice variety of colored fudge rocks.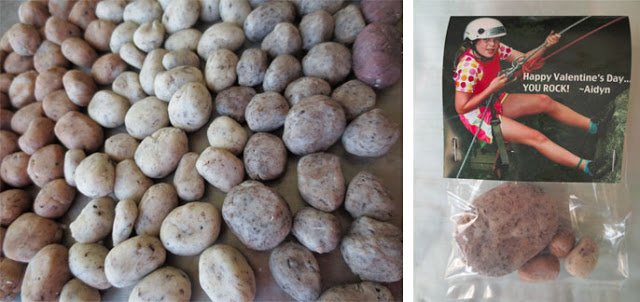 How fun is this? Carla and her rock-climbing daughter, Aidyn, made a huge pile of fudge rocks, then they creatively packaged the candy rocks in cellophane bags and attached a clever card topper to the bag for Valentine's Day.
Rock climbing has become so popular and Shang did an amazing job creating these cupcakes for a rock climbing birthday party for her coworker's son. She created custom-designed cupcake wrappers and flags for each fudge rock-topped cake.
Holly created this cake for a young lady graduating from Missouri Science and Technology with a degree in geological engineering. MS&T's mascot is Joe Miner, he's holding the sign congratulating the graduate. The hammer is sculpted out of fondant, and it along with the rocks looks so real.
Marie added some fudge rocks to this fun prehistoric cake for her grandson's 4th birthday. The candy rocks make a great border around the entire cake.
Heather created this cool cake for her daughter's 6th birthday. She wanted superheroes and a person needing to be rescued from a lake, in her words "like in all the superhero cartoons". She used fudge rocks to line the lake and around the paths near her cake mountain.
Barbara W. used her fudge rocks for her Sunday School Class. She packaged up the rocks in zip-top bags for each child to take home So they could make their own altar of rocks like the Israelites did after crossing Jordan.
Nadine covered her entire cake with fudge rocks to celebrate her son's 11th birthday.
She created a layer cake and pressed the candy rocks to the frosting. If you plan to do this be sure your frosting is thick.
Julianne used the fudge rocks to make this hilarious birthday cake.
Check out the details in this cake including the skid marks in the sand.
Tiffany added fudge rocks to her off-road birthday cake. I love the tire tracks up the side of the cake.
Cookies 'n Cream Fudge can easily be transformed into a garden stone for Mother's Day or any special occasion.
Danielle created this fudge garden stone for Mother's Day. I really like how she added the candy confetti and put a heart in between each. The pastel colors are really nice too.
Cookies 'n Cream fudge is shaped into colorful rocks and imprinted using garden stone stamps.
Two very lucky girls celebrated their sweet 16 at the beach on the rocky Oregon coast. Angela created this amazing cake filled with candy shells and starfish, as well as, the cookies 'n cream fudge rocks. What a wonderful way to celebrate a sweet birthday.
Athina who says she is a bit of a history geek used this idea to make her own Anglo-Saxon runes. Her runes have great texture and color and look so real.
Jane created some very realistic-looking rocks. The variety of sizes, colors, and shapes is really impressive.
Donna created stones to serve at a spa-themed bunco party. She said she misspelled a few of the words, as did I when I created mine. I accidentally placed a few letters backward. If this happens to you, just knead the stone and re-shape it then press the letter in it again fixing your errors. Donna's party guests loved them.
Aidyn created these fun Blarney Stones to try to trap the leprechauns that cause such a ruckus at her house every St. Patrick's Day. So fun!
A butterfly-shaped cookie is topped with flavored cream cheese and fruit for a spring or summer treat.
You can top your butterfly with your favorite fruit. I used pineapple, strawberries, peaches, grapes, bananas, and kiwi.
Janeen used the fresh fruits of summer to make her beautiful butterfly fruit pizza.
She kept the design the same but swapped out blueberries for the green grapes and used the blueberries for the pupils of the butterfly's eyes. It looks so bright and colorful served on the blue platter.
Amanda eliminated the cookie together and made a wonderfully healthy Butterfly Fruit Platter. I love fruit and would be so excited to see this at a party. She served it at a Cute Bugs Birthday Party. Be sure to check out all her fun ideas here.
Maya challenged her coworkers to come up with a fun and creative way to serve fruit. She shared this Fruit Pizza Butterfly and won second place out of 18 entries. Congrats!!!
These adorable bunny silhouettes are made by piping a chocolate head with two ears, then adding a chocolate-dipped vanilla wafer body and a tiny marshmallow tail.
Jacquelyn filled buckets with marshmallow Peeps and her chocolate bunny silhouettes.
What a great way to display the sweet little chocolates.
I molded a cheese ball into round layers which I stacked, then I piped on some plain cream cheese to make the cheese ball look like a wedding cake. It is a perfect appetizer to serve at a bridal shower or wedding.
Angela created this wedding cake cheese ball for her sister's bridal shower. She didn't have the cookie cutters needed for the project, so she used bowls to mold her cake layers. I love how she used dill to decorate the side of the cake.
Doris used to decorate cakes which is evident by the lovely piping on her cheese ball wedding cake. She served her cake to guests at a wedding reception and they were in awe of her creation.
Cindy used her cake decorating skills to pipe a beautiful white cream cheese rose on top of her wedding cake cheese ball.
Rice Krispies Treat Easter Chick Pops
Rice Krispies Treats are shaped into eggs, dipped in yellow candy coating then decorated with modeling chocolate egg shells and beaks.
Jean created this colorful basket filled with rice krispies treats eggs and chicks. She used modeling chocolate for the first time and really enjoyed working with it.
Elena made an entire family of hatching chicks out of rice krispies treats for her Easter celebration. I love how the one in the center looks like it's welcoming you to the basket of goodies. So cute.
Little Easter Egg breakfast pastries for Easter decorated with colorful sugars are filled with Nutella, Lemon Curd, or fruit preserves.
Jenn made an entire tray of Easter Egg pastries; some were filled with Nutella, others with cherry pie filling, almond pastry filling, and lemon curd. She kept them simple and decorated most with colorful sugars. They were a big hit at her Easter celebration.
Nancy was inspired when she saw the egg-shaped breakfast pastries on Pinterest. She made the cutest bunny-shaped breakfast pastries for Easter.
Crescent rolls create the carrot-shaped base of these veggie pizzas which are topped with carrots and broccoli for Easter.
Diana made her carrots using finely shredded carrots and spinach and served them to her daughter's preschool class. I love how vibrantly colored her carrot pizzas turned out.
Kathy wrote to tell me her son and his friends loved these carrots when she served them at her Easter potluck. It's always good to hear when kids like something with vegetables on top!
Tara cut her crescent rolls into smaller triangles to make mini carrot veggie pizzas and topped them with low-fat veggie cream cheese to keep them a bit healthier for her family.
This simple four-ingredient Irish Soda Bread can be made in a round loaf or in a shamrock shape for St. Patrick's Day.
Sally baked her Irish Soda Bread Shamrock on a Silpat which is a great idea. She said the recipe was "easy-peasy." I like to hear that.
Jeanne added some green food coloring to her Irish Soda Bread Shamrock to really make it festive.
Nutter Butter Cookies are separated, topped with peanut butter fudge,
dipped in white chocolate, and decorated with shaved pink candy coating.
Angela created an amazing table full of fun pajama party treats including a tray full of Pink Fuzzy Slipper Cookies. Wow, what fun that party must have been.
Chocolate Penguin Rice Krispies Treat Pops
I cut rice krispies into an egg shape, dipped them in chocolate, and decorated them to look like penguins using modeling chocolate.
Lindsi hosted a winter wonderland party for her little boy's first birthday. and gave Penguin Krispie Pops as party favors.
Puff pastry is cut in the shape of a teddy bear and topped with taco meat, cheese, black olives, and a red pepper heart.
Jo and Sue made not one but two teddy bear taco tarts. A sweet pair for Valentine's Day. I actually squealed when I saw these - they are so precious. I just love the addition of the bow on the girl and the tie on the boy. Sweet!
Chocolate Raspberry Mousse Cake
Three layers of deliciousness: a flourless chocolate cake, chocolate mousse, and raspberry mousse.
I baked this triple-layer cake in a heart-shaped springform pan for Valentine's Day.
Ани made her cake round and added a pretty heart of fresh raspberries as decoration. It is picture-perfect.
Isn't this cake gorgeous? I love how Radmila decorated her version of the triple-layer mousse cake. The addition of ladyfingers and whipped cream is quite lovely. I think it elevates the look of the cake, don't you?
Felicia did a wonderful job making this beautiful Valentine's Day dessert. When she shared her picture, she wrote, "It definitely was a 'not for the weak of heart' sort of recipe, but worth every step. We ate it for breakfast since we couldn't wait another minute." That is so fun!
I breaded and baked my heart-shaped chicken then topped it with heart-shaped mozzarella cheese and marinara sauce.
Sasha's boyfriend was the lucky recipient of her homemade Chicken Parmesan Hearts. Her plate looks so festive for Valentine's Day.
These snowball cupcakes can be topped with modeling chocolate or frosting snowballs.
Kathie Kunz and her granddaughters had fun making cupcakes together. They dipped Whoppers in white chocolate to create their snowballs. I love that idea!
This Spider Cake could be creepy looking or cute, you decide how you want to make it. Each cake has big chocolate legs and modeling chocolate eyes.
Julee from D.I.Y. Louisville hosted a Creepy Halloween Spider Party for her daughter and served a chocolate spider cake. I love the picture of her being frightened by the spider.
Emilia Stanescu and her nephew created their version of this spider using pretzels for legs, Skittles for eyes, and chocolate sprinkles for fur. If you want a more realistic spider for your celebration this is it! Wow, it looks a lot like the big spiders that live in my basement.
Mika created her giant spider cake for her son's birthday. She covered her spider with chocolate frosting and got a nice furry effect. She also used white and chocolate frosting to create the eyes. She covered her table in a spider web tablecloth and served up her giant arachnid to party guests.
These Chocolate Cherry Bombs were my first attempt at making cake balls - a combination of crumbled-up baked cake and frosting, smashed together and formed into a ball then dipped in chocolate. I added a maraschino cherry to the center of each cake ball and think they made a really sweet Valentine's Day treat.
Ekaterina from My Candy Kitchen in Bulgaria made up a batch of these to serve at her son's name day celebration.
Her cherry bombs look amazing as does her picture.
Celebrate Flag Day, 4th of July, Memorial Day or any patriotic occasion with Kathy's cherry bombs. She drizzled some red and blue chocolate over her cake balls to make them pop!
Lynette sent a big tray of homemade Chocolate Cherry Bombs to her church group's "Chocolate Covered Net" night party.
I created these three-ingredient Deviled Egg Daisies to give my readers a super quick, yet really pretty way to serve "make your own" deviled eggs.
You cut hard-boiled eggs in half and arrange them around a bowl of deviled egg filling.
I was thrilled when I found out that Roxanne Chan, a legend in the cooking contest circuit, liked my idea. She decided to fill her eggs and she really pumped up the ingredients by adding butternut squash to the yolks. She also dressed up the daisy display by adding frilly dill and a pretty flower.
I created these chocolate chalkboards that can be written on using white chocolate chalk. They make great teacher's gifts.
This chalkboard was featured on Cute As a Fox. She created several different boards to use as teachers' gifts.
I found a creative use for those plastic molds that are used at the beach to make sand castles and shapes. I melted some store-bought marshmallows and poured them into the molds to create a big goldfish and an octopus. This is a super easy project to do.
Cari at Car(ing) Mommy used this idea to make marshmallow sea creatures to add to birthday cakes. I love this simple way to decorate a great-looking cake.
Sand molds come in lots of shapes and sizes and any of them can be used to make these fun animal-shaped marshmallows.
*********************************************
Thank you to all of my readers for sharing their pictures with me. If you have made one of my recipes, be sure to send a picture to beth@hungryhappenings.com

Latest posts by Beth Klosterboer
(see all)