My goal here at Hungry Happenings is to share tutorials for fun food projects that you can replicate at home. I love seeing pictures of your creations that are either recreations of my recipes or that are inspired by my recipes.
If you posted your picture on your blog, I'd be happy to share a link to that post, so please include the link as well, just be sure to grab my Featured on button below and share it on your site.
I used a 9X13 inch sheet cake to make this cute and easy Rainbow Unicorn Cake. The inside the cake is rainbow and so is the candy clay tail and mane. It's simple to frost using a star tip in a pastry bag. The unicorn looks furry and so adorably cute.
Karen did a fantastic job recreating this easy unicorn cake for her best friend's daughter. She made her own homemade candy clay and it turned out perfectly. Her cake is colorful inside and out and was a huge hit at the birthday party.
Chocolate Caramel Fudge Smiling Poo Emoji
Shockingly these sweet little poop emoji became my most popular Valentine's Day post for 2017. I was so happily surprised that so many of my readers loved these so much that they shared them with friends and family.
Lareen used two different pastry tips to make her chocolate fudge emoji. She prefered the open hole tip over the star tip but they both made cute emoji. She even added homemade royal icing eyes.
Patsy made her smiling poo emoji a bit smaller so she could use them to top Valentine's Day cupcakes which she sent into school to share with her child's classmates.
Ashley, Renee, Beth, Cathy, Liz, Holly, and Kristy all shared their pictures of their chocolate caramel fudge smiling poo emoji with me on my Hungry Happenings facebook page. It was so much fun to see so many people recreating these for Valentine's Day!
Snowflake filled Snowman Cookies
These sweet snowmen have candy glass bellies and are filled with snowflake sprinkles. Then they are decorated with white chocolate and candies.
Eva did a great job making her snowman cookies. She couldn't find the crystal clear mint candies so she made homemade hard candy instead. Her clear candy bellies show off pretty snowflake and candy sprinkles.
Warm up this winter with a creamy chicken dip decorated like a snowman.
Sue made her Snowman Skillet Dip for a Christmas party and her guests loved it!
Jack Skellington Chocolate Bowls
These handmade chocolate bowls decorated to look like Jack Skellginton are filled with cookies "n cream cheesecake mousse and are perfect for Halloween or Nightmare Before Christmas parties.
Lynn had her  3 nephews staying with her for a week and she made them some of these edible bowls. The boys and Lynn's mom thought they were so cool.
These cute Halloween treats could not be much easier to make. Just scoop out orange candy coated popcorn into blobs and add eyes.  That's it!
Finding Dory Sea Otter Cupcakes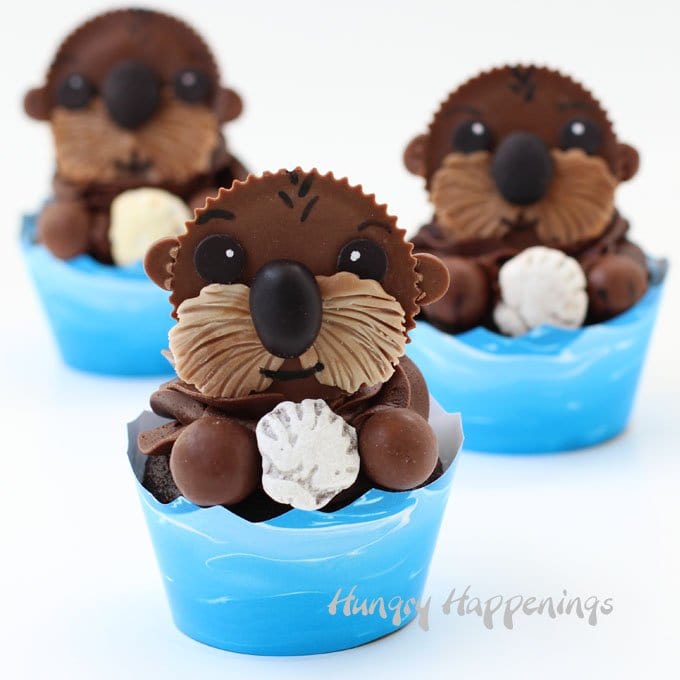 I turned Reese's Cups into cute Sea Otters to celebrate the Finding Dory Movie. These decadent treats are decorated using modeling chocolate and were as much fun to make as they were to eat.
Julie and her 5 year old son Collin made this adorable batch of Sea Otter Cupcakes. They entered them into their county fair along with some other sweet treats. I am always so thrilled to see kids working together with their moms in the kitchen and this pair did an amazing job recreating these cute cupcakes.
Terri's Sea Otter Cupcakes are so darn cute! I love how each of the otters is holding a perfectly shaped starfish, seashell, or fish. She created them using a Sculpey Sea Life Push Mold. (affiliate)
If you want to really make a statement, create on of these Raspberry Lemon "I ❤ You" Valentine's Day Reveal Cakes. You can personalize the inside for your special occasion.
Susan created this amazing cake for her step daughter's bridal shower. I love how she topped the cake with Miss to Mrs. That's so clever. The inside reveals that Kristen loves Tyler loves Kristen.  She was nervous cutting into the cake, and I know exactly how she felt, but was so thrilled to see how everyone at the party reacted when she revealed the surprise hiding inside.
These adorable cupcakes are my favorite of all the cupcakes I've ever made. I just love the cute Reese's Cup Monkeys.
Angie's Reese's Cup Monkeys turned out so cute. I love seeing them all together in the cupcake box. It looks like a big family of monkeys.
These sweet little peanut butter treats could not be much cuter. Each little bunny bum has a fluffy marshmallow tail and tiny candy paws.
Cathy made a batch of Bunny Butt pretzels for her grand kids this Easter. She swapped out round pink confetti sprinkles for the pink heart sprinkles and they turned out so cute.
I used modeling chocolate to create a cute little bunny who dove headfirst into a pile of carrots.
This cute Easter treat has been one of the most popular projects for my readers to recreate. I love seeing all the variations.
Mary, from Perth Australia, was inspired to create this sweet Easter cake topped with a modeling chocolate bunny butt. She made lots of modeling chocolate carrots and used green spearmint candies to create the greens.
Deborah did a fantastic job sculpting here bunny bums and carrots for these beautiful cupcakes
which she made to serve to her friend's children. I love Deborah's bunny on the polka dot egg too.
Piping on grass then using only a few carrots is a great time savor and looks wonderful.
Jo and Sue used fondant to create their cute little bunny tushies. They topped their cupcakes with frosting and edible Easter grass and used jelly beans for carrots on some and candy flowers on others. You can see all of  the festive goodies they created this Easter on their blog.
Tisa from Blessing from my Kitchen did a fantastic job recreating the bunnies and carrots for her cupcakes. She created her boy and girl bunnies (wearing the pink skirt) out of marshmallow fondant and shares her recipe in her post.
Nadine from chocolat a tous les etages was inspired by my cupcakes to make this wonderful cake. I just love how she created this domed cake then covered it with marzipan. She pressed the marzipan through a garlic press to create the furry tale and the grass under the carrots and hand sculpted the feet and carrots. It's so great to see how my idea was transformed into this!
Here's another wonderful Easter cake using the bunny borrowing in the carrot patch. Stacy created this for her son's second Easter and he just loved it, as did the rest of her family. She used green paste food coloring as paint and created the grass and the message on the cake. I just love her design.
Novie's Ravenous Rabbit Cupcakes turned out so great. I love the detail in her carrot leaves. They really look fantastic.
This bright and colorful veggie pizza really was a fun way to serve vegetables for Easter.
Norma used carrots, peppers, tomatoes, broccoli, and artichokes to make her Veggie Pizza Easter Egg to serve at Easter brunch. I love how she chose different vegetables to top her pizza. The possibilities for designs are endless.
Rice Krispie Treat Fuzzy Chicks
I turned store bought Rice Krispies Treats into these fuzzy baby chicks to put into Easter baskets.
Jackie made a whole clutch of baby chicks for Easter. She made her own homemade rice krispie treats then dipped them in candy melts and coated them in coconut.
Chocolate Snowman Pretzel Craft
This idea has been translated in so many ways, and it is so wonderful for me to see how I inspired so many of you to make these for your families.
I created these three ingredient Deviled Egg Daisies to give my readers a super quick, yet really pretty way to serve "make your own" deviled eggs.
I was thrilled when I found out that Roxanne Chan, a legend in the cooking contest circuit, liked my idea. She decided to fill her eggs and she really pumped up the ingredients by adding butternut squash to the yolks. She also dressed up the daisy display by adding frilly dill and a pretty flower.
I create these edible chalkboards to be used as end of the year thank you gifts for teachers. I made tiny edible white chocolate chalk and used it to write on chocolate bars. I've since seen where people are scratching (writing on) the chocolate bars with a toothpick and rubbing on powdered sugar to achieve a similar result.
Jo and Sue were inspired once again but this time chose to create their face out of cheesecake and added  cherry pie filling to create the effect of bloody eyes. Creepy, huh?
It is really amazing to see how everyone is using this recipe idea. Jeanne hosted a suprise 80th birthday party for her mom and the theme was "forever young." What a great party theme. The cheese ball face was a perfect fit for her party.
Kristin made this for a Tea.M.I. party and said it was a big hit. She couldn't find the roll of mozzarella so she used Provolone Cheese slices to create the head wrap. That is a great simple solution. Three slices of cheese look like they fit perfectly.
Crosby from Venezuela made this face mask cheese ball for a spa themed bridal shower for her sister. She used cabbage instead of cheese for the head wrap and it looks great. The addition of flip flop sandwiches made with peppers as the straps really adds to the plate.
Why not use rice krispies treats instead of a cheese ball? Andrea did. She used fruit roll ups for the head wrap and lips, and starlight mints for the eyes. What a great sweet treat for a spa themed party.
Tiffany made here cheese ball and topped it with Wholly Guacamole, which apparently does not brown as it sits at room temperature. Such a great tip to know!
Sharon hosted a Diva party and made a cheese ball face which impressed all of her party guests.  She used wax lips for her mouth - I love that idea!
She also created her hair out of cheddar cheese and used the ends of a lime for the eyes.
Don't you just love the curly hair made from carrot peels?
Donna created this cheese ball for her spa themed bunco party.
If you can't find white cheese to use for the head wrap, why not use a soft tortilla,
like Elise did when she made this cheese ball face mask.
Avery kept her cheese ball face mask simple by just adding cucumbers and red pepper lips.
She served it at an Arbonne Party and it was a big hit!
I found a creative use for those plastic molds that are used at the beach to make sand castles and shapes. I melted some store bought marshmallows and poured them into the molds to create a big goldfish and an octopus. This is a super easy project to do.