Enjoy decadently rich, luxuriously creamy, Mini Cheesecakes after dinner or at a party. Each little cheesecake-topped graham cracker crust is baked in a muffin cup and can be served plain or topped with chocolate ganache, soft caramel, strawberry sauce, lemon curd, peanut butter frosting, or even edible flowers.
Oooh, cheesecake. Isn't it absolutely fabulous? It's silky and smooth, sweet and tangy, and crispy and creamy all in one bite. That is when it's done right, and this recipe for Mini Cheesecakes is my absolute favorite recipe. I've had a lot of cheesecakes in my lifetime and this recipe definitely makes the best cheesecake you'll ever try.
Over the years I have created a lot of decorated cheesecakes to share with your here. Most are baked in an 8 or 9-inch springform pan. When I'm hosting a party or serving a heavy dinner I prefer to serve individual-sized mini desserts so I've adjusted my recipe to make these mini cheesecakes.
Each little cupcake-sized cheesecake has a wonderful ratio of crust to filling and is so creamy that it practically melts in your mouth. The flavor of sugar-sweetened cream cheese and sour cream with hints of vanilla really comes through in this dessert.
Mini Cheesecakes Served Plain
These cheesecake minis are so amazingly good served plain, but can be elevated to new heights when topped with chocolate ganache, soft caramel, dulce de leche, strawberry sauce, lemon curd, or even peanut butter frosting. They can even be topped with edible flowers to make them strikingly beautiful.
These Mini Cheesecakes...
are easy to make in a muffin tin (bake in paper wrappers for easy removal)
don't require baking in a water bath
won't crack on top because they bake quickly
can be eaten by hand or with a spoon or fork
are the perfect size for after a meal or to serve at a party
can be topped with your favorite chocolate ganache, soft caramel, strawberry sauce, lemon curd, etc.
can be transformed into many different flavors (more recipes to come soon)
can be baked on cookie or graham cracker crust
Tips for making the BEST Mini Cheesecakes:
start with softened cream cheese

set blocks of cream cheese out at room temperature for at least 2 hours to soften
if you are in a hurry, you can heat in the microwave on the DEFROST setting for 10 seconds then flip over the blocks and heat for 10 more seconds then let sit for 15 minutes

beat the cream cheese using an electric mixer on low speed until really smooth

scrape the bowl and beaters a few times as you mix the cream cheese
beat until you don't see any more lumps
this is the most important step in making smooth cheesecake, don't rush this
don't beat on high speed or you will incorporate too much air into the cheesecake filling

beat the sugar into the cream cheese, scraping the bowl as needed
use room temperature eggs and sour cream so that they blend smoothly into the cream cheese

to warm up eggs quickly, place the whole egg with the shell intact in a bowl of hot water for a few minutes
submerging your eggs in water is also a great way to check the freshness of your eggs

if your eggs sit on the bottom of the bowl they are very fresh
if they stand up on the bottom, they are still fresh enough to use
if they float, they are too old, you need to throw them out

to quickly warm up sour cream

pour your sour cream into a small bowl then place that into a larger bowl and pour warm water around the outside of the bowl of sour cream just until the water reaches halfway up the side
stir frequently, making sure you don't splash any water into the bowl until the sour cream warms up to room temperature (about 72° F)

for the best vanilla flavor use vanilla bean paste (you'll get lovely flecks of vanilla bean in your cheesecakes)

if using vanilla extract be sure to use pure vanilla extract
How to make a graham cracker or cookie crust:
crush graham crackers or cookies to fine crumbs

pulse in a food processor to get really fine crumbs
place in a large zip-top bag and smash using a rolling pin, a meat mallet, or the back of a pan

add brown sugar to graham crackers or crushed vanilla wafers to add texture and flavor
stir in melted butter until the crumbs come together and can be pinched together into a solid crust
How long do you bake mini cheesecakes? How do you know when a cheesecake is done?
bake at 350°F for 15-18 minutes
check at 15 minutes

if the center looks wet return to the oven for up to 3 more minutes
if the center looks set but still jiggles, it is done
a cheesecake that is cooked perfectly will be creamy while one that is overcooked may be dry

if you have hot spots in your oven be sure to rotate your pan after 10 minutes
Can you freeze mini cheesecakes?
yes they can be frozen for up to 2 months
place in an airtight container in a single row
when you freeze cheesecakes it is possible for condensation to form on top of each little cake

to keep this from happening set the cheesecakes on a piece of paper towel in your airtight container
also, place a piece of paper towel on the underside of your container's lid
the paper towel will wick up any condensation

to thaw your cheesecakes, remove the container and let sit at room temperature for 15 minutes before opening and serving
Video
Don't you just love the beautiful cheesecakes topped with edible flowers shown in this video? I made them for Dixie Crystals.
YOU CAN FIND THE RECIPE FOR THE EDIBLE FLOWER TOPPED CHEESECAKES on the DIXIE CRYSTALS website.
Printable Recipe
Mini Cheesecakes
Rich and creamy cheesecakes on graham cracker or cookie crusts baked in muffin tins can be served plain or topped with chocolate ganache, soft caramel, strawberry sauce, lemon curd, peanut butter frosting, and even edible flowers.
Keyword:
cheesecake, cheesecake recipe, mini cheesecakes
Servings
:
18
mini cheesecakes
Ingredients
Crust:
2

cups

graham cracker crumbs

(from 28 square graham crackers)

5

tablespoons

light brown sugar

8

tablespoons

butter,

melted
Cheesecake Filling:
16

ounces

(2 blocks) cream cheese, softened

⅔

cup

sugar

2

large eggs

⅔

cup

sour cream

1

teaspoon

vanilla extract or vanilla bean paste
Decorations:
optional toppings: chocolate ganache, soft caramel, strawberry sauce, lemon curd, peanut butter frosting
Instructions
Set your ingredients (cream cheese, eggs, sour cream) out on the counter to come to room temperature at least 1 hour, preferably 2 hours before you plan to bake your mini cheeseccakes.

Preheat your oven to 350 Fahrenheit.

Stir together the graham cracker crumbs, brown sugar, and melted butter.

Press about 2 tablespoons of the crumbs into 18 paper-lined muffin cups.

Beat cream cheese on low speed, scraping down the bowl, as needed, until smooth.

Add sugar and beat until smooth.

Add egg and vanilla just until combined. Do not overmix at this point.

Equally divide cheesecake filling among the 18 muffin cups, spooning about 2 tablespoons of filling into each.

Bake on the middle rack in the oven for 15-18 minutes until the cheesecakes no longer look wet, but the center still jiggles.

Remove and set on a cooling rack.

Allow to cool for about 45 minutes then refrigerate for at least 2 hours.

Before serving, pop the cheesecakes into the freezer for 15 minutes.

Remove and immediately peel away the paper liners.

Set on a serving dish or individual dessert plates and serve plain or add your favorite topping.
Recipe Notes
Room Temperature Ingredients

It is vitally important that your cream cheese, sour cream, and eggs be at room temperature before mixing your cheesecake filling, so set the cheesecake ingredients out on your counter at least 1 hour before you plan to bake them.
Why? If your cheesecake ingredients are too cold they will require longer mixing and longer mixing adds too much air into the filling which can cause air bubbles on the surface of your cheesecake or can cause your cheesecakes to sink in the middle.
If you forget and do not have time to wait...

Cut the cream cheese into slices and spread them out on the wrapper. The smaller pieces will soften more quickly.
In a pinch, can also gently soften the cream cheese by heating it in the microwave on 50% power for 15-30 seconds. Do not get the cream cheese hot as hot cream cheese can cause your cheesecake filling to curdle.
You can quickly bring an egg to room temperature by placing it, still in its shell, in a bowl of hot water for 5-10 minutes.
Spread the sour cream into a thin layer in a large shallow bowl to allow it to warm up more quickly.

Your cheesecakes should still giggle in the center but not look wet when done. 
Store your cheesecakes in an airtight container in the refrigerator for up to 1 week or in the freezer for up to 2 months. 
If bringing your cheesecakes to a party and they will sit out at room temperature for a while, I recommend freezing them and transporting them frozen. Once you set them out on the table the cheesecakes will thaw in about 20 minutes and will stay cool longer than if you set our refrigerated cheesecakes.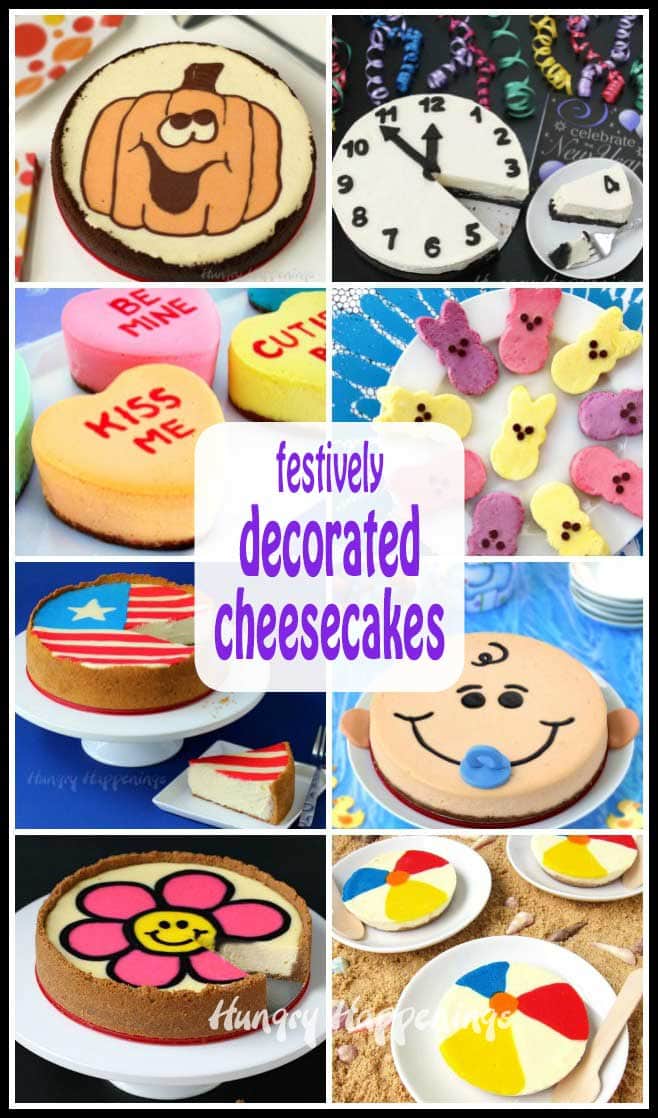 If you love cheesecake you can find some really festively decorated cheesecakes on this blog.
Check back soon to see recipes for Peanut Butter Mini Cheesecakes and Dulce de Leche Mini Cheesecakes.
Tell me in the comments below what topping you like best on your cheesecake.