What do you get when you marry together cake balls with chocolate-dipped cherries?
You get Chocolate Cherry Bombs!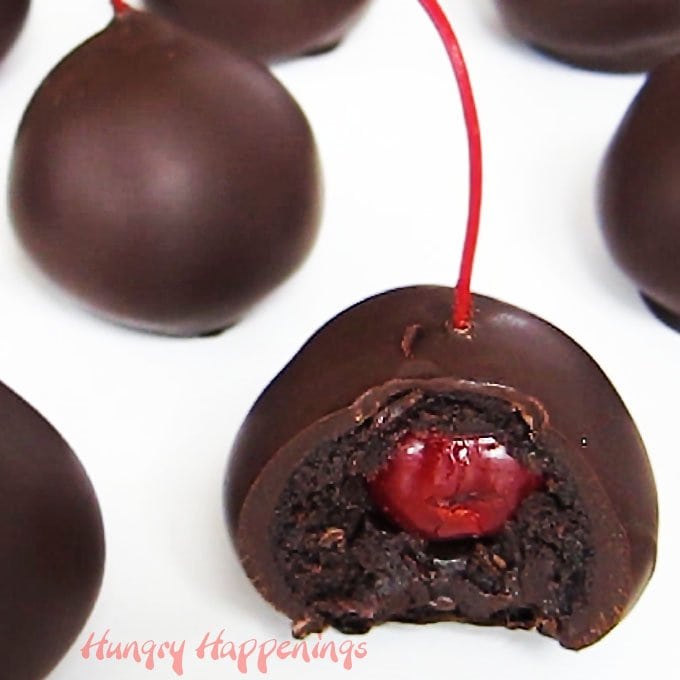 Back in 2011, just one month after I began blogging here at Hungry Happenings, I made my first batch of Sweet Cake Ball Cherry Bombs, brought them to a friend's party, and the party guests went nuts over them!
So many people asked me for the recipe and I happily told them they could find it on my new blog.
Everyone wanted to know how I made the creamy chocolate center. They were surprised to find out that it was made from a blend of chocolate cake and frosting. (This was back when cake balls were a relatively new dessert.)
The original Chocolate Cherry Bombs, that I made back then, were created by blending a chocolate cake with frosting by hand. You can see in the picture above (taken in 2011) that the cake ball centers don't look quite as creamy as they do in the picture at the top of this post.
Over the years, I've learned that I can get a really creamy, almost truffle-like cake ball, by mixing the cake and frosting together in my Kitchen-Aid mixer.
I've also begun adding instant pudding mix and sour cream to my cake mixes to make them super moist and a bit more dense, which is perfect for cake ball filling. The doctored cake is so good that no one ever guesses it's not made from scratch.
Chocolate Cherry Bombs - Cake Balls with Cherry Centers
You'll need:
dark chocolate cake mix
chocolate pudding mix (instant pudding)
sour cream
milk or water
vegetable oil
eggs
frosting (vanilla or chocolate)*
maraschino cherries with stems
Note about frosting:
You can make homemade frosting to blend into the chocolate cake, but you need so little to make this recipe that it's not really worth the effort. I just use store-bought frosting. You can also use chocolate spread or Nutella.
Supplies:
2 (8-inch) round or square pans
OR 1 9X13-inch pan
baking spray
handheld mixer or a stand mixer and mixing bowl
paper towels
parchment paper or non-stick foil
baking sheet
Instructions: 
Preheat oven to 350 degrees F.
Prepare your cake pan/s by spraying the bottom and sides with non-stick cooking spray.
Blend a chocolate cake mix with 1 (3.56) package of instant chocolate pudding, 1 cup sour cream, 1 cup milk, ¼ cup vegetable oil, and 3 large eggs in a large mixing bowl until moistened.
Using a handheld mixer or stand mixer, beat on low speed for 30 seconds.
Then increase the speed to medium and beat for two minutes.
Pour the batter into the prepared pan/s.
Bake for 28-34 minutes (see package for specific times for each pan size). Cool cake completely.
While the cake is cooling, remove your Maraschino cherries from the jar and set them on a few layers of paper towels.
Pat the cherries dry using more paper towels then let them air dry until needed.
How to make cake balls?
Allow your cake/s to cool completely.
If the edges of your cake are a bit dry, cut them off.
Then crumble the soft cake into a large bowl, preferable the bowl of a stand mixer.
Add ⅓ cup frosting and stir or beat until well blended and smooth.

If you don't have a stand mixer, blend it just to combine with your hand mixer, then use your hands to get it to come together into a ball.

Scoop out 48 tablespoon-size portions of the cake ball dough.

Roll each scoop into a ball.
NOTE: These pictures are from my original post. The cake ball mixture is not quite as smooth and creamy as it will be if you mix the cake ball filling in a stand mixer. This was also just a plain cake mix. It did not have the addition of sour cream and pudding so the texture is much looser.
Fill the Cake Balls with a Maraschino Cherry
Press one cherry into the center of each cake ball.
Bring the cake mixture up and around the cherry allowing the stem to pop out.
Roll in between your two hands to form a nice round ball.
Dip the cake balls in chocolate.
Melt and temper pure semi-sweet chocolate  Click here for detailed melting and tempering instructions.
OR simply melt compound chocolate (known as confectionery coating, candy melts, almond bark, or melting wafers).
Hold onto the cherry stem and dip a cake ball covered cherry into the bowl of chocolate.
Set the chocolate dipped cake ball on a parchment paper-lined baking sheet.
Notes about chocolate.
The flavor of pure dark chocolate, which is made with cocoa butter, is superior to candy melts (compound chocolate), which is made with palm kernel oil or other vegetable oil, but you MUST temper the chocolate, otherwise, the chocolate will not set up properly (it will be soft) and will become streaky or spotty over time.
Be sure to read my Chocolate Making Tips page for detailed information regarding the differences between pure and compound chocolates and how to melt them properly.
TIP for dipping your cake balls.
DO NOT chill your cake balls before dipping.
You want your cake balls to be at room temperature before dipping them into the chocolate. If they are cold it will cause the chocolate to shrink too quickly, causing your chocolate to crack.
If your cake balls are too soft, just set them aside to air dry for a while.
Chill the chocolate-dipped cake balls.
Refrigerate your cake balls if you dipped them in melted and tempered pure semi-sweet chocolate until set, about 10 minutes.
If using dark candy melts, place your cherry bombs in the freezer until set, about 5 minutes.
Do not chill them for too long as they may crack.
Supplies
You can find the items you need to make these Chocolate Cherry Bombs on Amazon.
I earn a small commission when you use the links below to make a purchase at no extra cost to you.
Video Tutorial
Be sure to watch the video tutorial to see how easy it is to make these delicious Chocolate Cherry Bombs.

Printable Recipe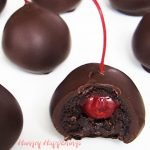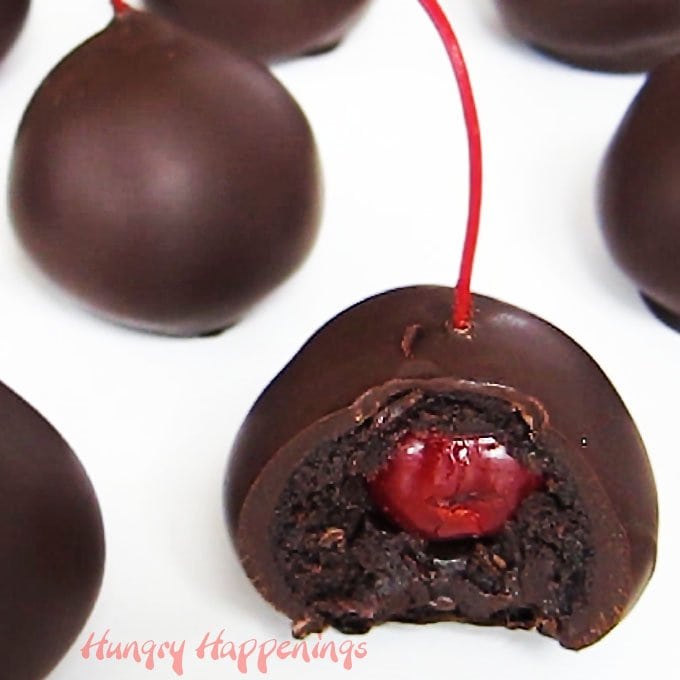 Chocolate Cherry Bombs - Cherry Filled Cake Balls Dipped in Chocolate
A chocolate cake ball wrapped around a maraschino cherry dipped in dark chocolate.
Keyword:
cake balls, chocolate cherry
Ingredients
1

(15.25 ounce) dark chocolate cake mix

1

(3.56 ounce) chocolate pudding mix

(instant pudding)

1

cup

sour cream

1

cup

milk

¼

cup

vegetable oil

3

large eggs

⅓

cup

frosting (vanilla or chocolate)

48

maraschino cherries with stems
Instructions
Preheat oven to 350 degrees F.

Either line a 9 inch by 13 inch baking pan with non-stick tin foil or spray it with baking spray.

Combine cake mix, pudding mix, sour cream, milk, oil, and eggs in a large mixing bowl.

Using an electric mixer, beat on low speed for 30 seconds.

Increase speed to medium and beat for 2 minutes.

Pour into pan.

Bake for 28-34 minutes until a toothpick inserted in the center of the cake comes out clean.

Allow cake to cool completely.

Crumble cake into a large bowl, preferable the bowl of a stand mixer.

Add frosting and stir or beat until well blended and smooth.

Scoop out 48 tablespoon size portions of the cake ball dough.

Create an indentation in one cake ball and press a maraschino cherry into it.

Press the cake ball dough around the cherry.

Roll into a ball with the stem sticking out.

Repeat.

Let cake balls sit at room temperature for 1 hour to firm up a bit.

Dip each cake ball into dark chocolate, allowing the excess to drip off.

Set on a parchment lined baking sheet.

If using pure chocolate, chill the Chocolate Cherry Bombs in the refrigerator until the chocolate hardens.

If using candy melts pop them in the freezer, instead.

Let the cherry bombs sit at room temperature for at least 30 minutes before serving.
This recipe was originally posted on February 12, 2011. It was updated on December 16, 2016, to include a video, then again on January 5, 2021.
More Cake Ball Ideas from Hungry Happenings
Warm Fuzzy Cake Balls and Cupcakes
(A savory version!)
Super Sized Chocolate Cake Ball Spider
More Valentine's Day Recipes
Conversation Heart Cheesecakes