What do you get when you marry together cake balls with chocolate dipped cherries? You get Chocolate Cherry Bombs!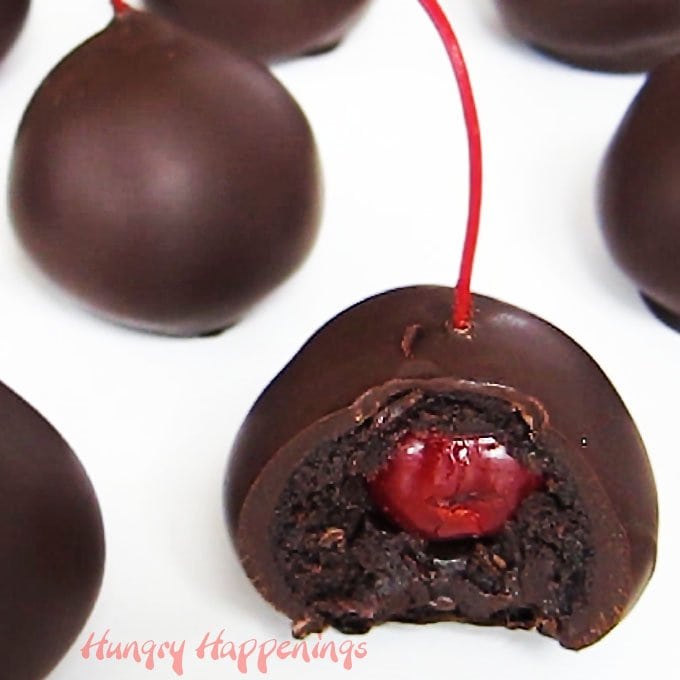 Back in 2011, just one month after I began blogging here at Hungry Happenings, I made my first batch of Sweet Cake Ball Cherry Bombs, brought them to a friend's party and the party guests couldn't get enough of them. So many asked me for the recipe and I happily told them they could find it on my blog.
I was so excited at their reaction and equally as happy at the reaction from the blogging community. The recipe was my first hit. Now that I'm making videos I thought it was a great time to revisit this recipe.
The original Chocolate Cherry Bombs were made using a cake mix and frosting from a tub. I decided to keep this recipe simple by using a cake mix, but I doctored that mix to make the new cake balls intensely chocolate and super moist. I've used this recipe to make cakes for so many parties and no one ever guesses the cakes are made from a cake mix. They are that good.
When you look at the image above of my original version of the Chocolate Cherry Bombs, you can see the center looks quite a bit different than the new one. The originals were actually the very first cake balls I ever made. I crumbled up my cake and mixed it with a tub of frosting using a spatula. Over the years, I've learned that I can get a really dense, almost truffle like cake ball, by mixing the cake and frosting together in my Kitchen-Aid mixer.
To make the new version of the cake balls, I still took the easy route and used frosting from a tub, but this time instead of the grocery store variety, I used Wilton Ready To Use Decorator Icing. I actually like the flavor of that frosting better than most homemade recipes.
My suggestion is to use the chocolate cake mix or recipe and the frosting that you like the best, just be sure to make at least one batch of these Chocolate Cherry Bombs or perhaps 2 or 3. You'll thank me later.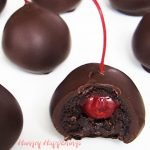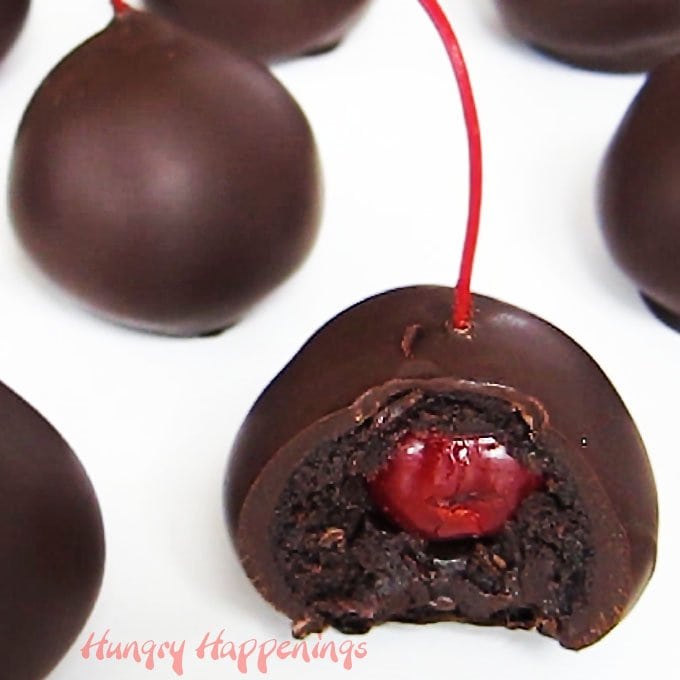 Chocolate Cherry Bombs - Cherry Filled Cake Balls Dipped in Chocolate
A chocolate cake ball wrapped around a maraschino cherry dipped in dark chocolate.
Keyword:
cake balls, chocolate cherry
Ingredients
1

(15.25 ounce) dark chocolate cake mix

1

(3.56 ounce) chocolate pudding mix

(instant pudding)

1

cup

sour cream

1

cup

milk

1/4

cup

vegetable oil

3

large eggs

1/3

cup

frosting (vanilla or chocolate)

48

maraschino cherries with stems
Instructions
Preheat oven to 350 degrees F.

Either line a 9 inch by 13 inch baking pan with non-stick tin foil or spray it with baking spray.

Combine cake mix, pudding mix, sour cream, milk, oil, and eggs in a large mixing bowl.

Using an electric mixer, beat on low speed for 30 seconds.

Increase speed to medium and beat for 2 minutes.

Pour into pan.

Bake for 28-34 minutes until a toothpick inserted in the center of the cake comes out clean.

Allow cake to cool completely.

Crumble cake into a large bowl, preferable the bowl of a stand mixer.

Add frosting and stir or beat until well blended and smooth.

Scoop out 48 tablespoon size portions of the cake ball dough.

Create an indentation in one cake ball and press a maraschino cherry into it.

Press the cake ball dough around the cherry.

Roll into a ball with the stem sticking out.

Repeat.

Let cake balls sit at room temperature for 1 hour to firm up a bit.

Dip each cake ball into dark chocolate, allowing the excess to drip off.

Set on a parchment lined baking sheet.

If using pure chocolate, chill the Chocolate Cherry Bombs in the refrigerator until the chocolate hardens.

If using candy melts pop them in the freezer, instead.

Let the cherry bombs sit at room temperature for at least 30 minutes before serving.
 Here's a step-by-step video tutorial showing your how to make these Chocolate Cherry Bombs.
If you'd like to see the tutorial with step-by-step pictures check out my original post, here. 
Be sure to check out all my fun Christmas Recipes!
If you are looking for other treats or gifts to make for Valentine's Day,
you might like these other recipes too.