Poke some fun at Valentine's Day by passing out Chocolate Caramel Fudge Smiling Poo Emoji to your friends who believe that love stinks. Watch the video tutorial to see how easy it is to turn a 2-ingredient recipe into one of the most popular emoji on the planet.
Chocolate Poop Emoji Fudge
When my nephew's girlfriend suggested I turn the insanely popular poop emoji into a treat, I hesitated, thinking no one would want to eat something that reminded them of poo. Would you?
The funny thing is that the poop emoji was actually originally conceived to be a chocolate ice cream emoji so in all fairness it was supposed to be a tasty treat anyway. Also I've seen other's who have made poop emoji cupcakes, ice cream cake pops and meringue cookies.
So I figured I'd come up with my own version of an edible smiling poo emoji. I wanted these Valentine's Day treats to be super easy, incredibly tasty, and ultimately cute.

Why turn chocolate caramel fudge into Emoji poo!
I chose to use a 2-ingredient chocolate caramel fudge made using chocolate chips and a can of Dulce de Leche. If you aren't familiar with Dulce de Leche, it is caramelized sweetened condensed milk that has the most amazing caramel flavor. Once mixed and melted with chocolate chips it makes a rich and creamy fudge.
I chose just the right ratio of chocolate to caramel so that my piles of chocolate poop would have cracks and look somewhat real.
Gross, right?
Once I added the candy eyes and made a smile from a white Candy Melts wafer, they were transformed into silly looking Smiling Poo Emoji. They actually are darn cute.
Poo Emoji Fudge
Don't you think?
Being Valentine's Day is coming up I thought it would be fun to add a "Love Stinks" sign to my emoji. They would be so much fun to serve at an anti-Valentine's Day party or to your friends who may be fed up with the dating scene.
These Chocolate Caramel Fudge Smiling Poo Emoji are definitely one of the grossest looking desserts I've ever made and the reaction to them has been priceless. As gross as they look though, they taste great! They look fun all on their own but they would also make really fun toppers for poop cupcakes or poop emoji cakes.
To make these oddly fun treats you'll need some items you can find on Amazon (commission earned for sales).
RELATED: Find dozens of easy fudge recipes at HowToMakeEasyFudge.com.
Chocolate Caramel Fudge Smiling Poo Emoji Recipe
See the VIDEO tutorial below!
Chocolate Caramel Fudge Smiling Poo Emoji - Love Stinks Valentine's Day Treats
A rich and creamy chocolate caramel fudge is piped into swirls and decorated to look like the popular Smiling Poo Emoji.
Keyword:
emoji poo dessert, fudge emoji, valentines day dessert
Ingredients
16

ounces

semi-sweet chocolate chips

13.4

ounces

Dulce de Leche

(1 can)

20

½ inch candy eyes

5-10

white Candy Melt Wafers
Instructions
Line a pan with parchment paper, wax paper, or a silicone mat.

Combine the chocolate chips and Dulce de Leche in a medium saucepan.

Heat over low heat, stirring frequently until just small pieces of solid chocolate remain.

Remove from heat and let sit for 3-4 minutes, then stir until melted and smooth.

Pour into a disposable pastry bag.

Cut off the tip and pipe out 10 big swirls of the fudge.

Immediately press two candy eyes onto each swirl.

Then cut the white candy wafers into smiles and press onto the fudge just below the eyes.
Sounds easy right?
Notes:
Each of my Chocolate Caramel Fudge Smiling Poo Emoji were  about 2 ¼ inches in diameter at the base and about 2 ½ inches tall. If you make smaller swirls of fudge, you may need smaller candy eyes.
If the fudge gets too hot it may get greasy. Make sure you only leave the fudge on the stove until about three quarters of the chocolate is melted. Then remove the pan from the heat and set it aside for a few minutes before stirring. The residual heat will melt the rest of the chocolate.
Watch this video tutorial to see just how easy these Fudge Emoji are to make.

So do you think you could eat a Chocolate Caramel Fudge Smiling Poo Emoji?
Do you think your friends will find them hilarious enough to take a bite?
You'll definitely want to add these fun "Love Stinks" signs to your Chocolate Caramel Fudge Poop Emoji so click here to print the Love Sinks signs. I've created a file with three different size printable signs for you.The largest of them works perfectly if you make 10 poop emoji.
If you do make them, I'd love to see some pictures. Snap a shot and share it on Instagram using the hashtag #HungryHappenings. Be sure to tag HungryHappenings too. If you'd like your image to appear in my Readers' Gallery, you can send the image to beth@hungryhappenings.com.
Update: I added some Poop Emoji Popsicles to my list of emoji treats.
If you love fudge you might also like these other fun fudge treats.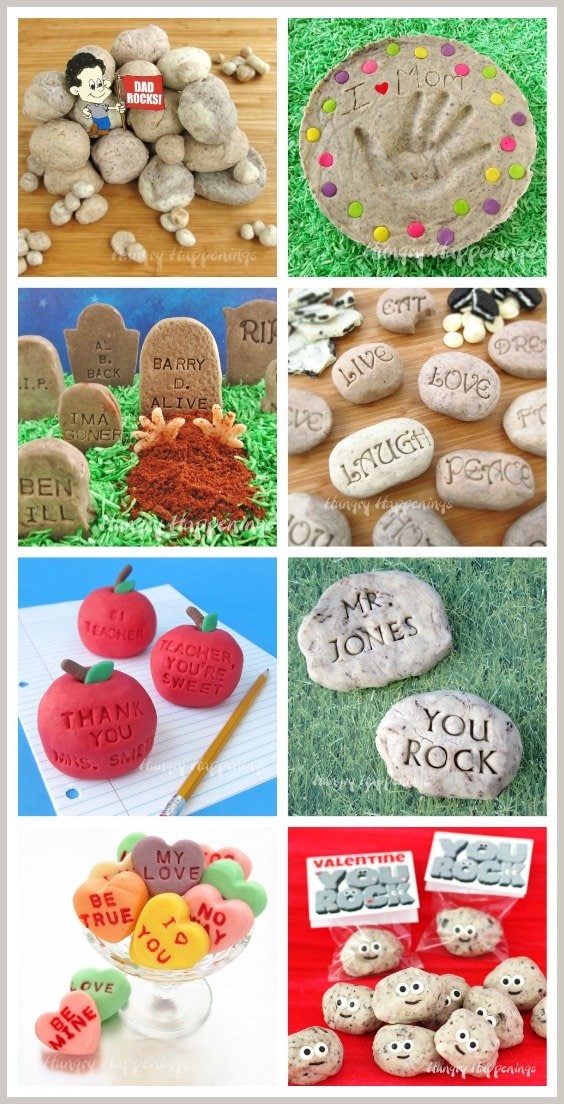 My Dad Rocks Fudge Treats • Edible Garden Stone
Fudge Tombstones • Sweet Serenity Stones
 Fudge Teacher's Apples • Teacher's Rock
Fudge Conversation Hearts • Cookies 'n Cream Fudge Rocks
Need help making fudge? Find answers to all your fudge making questions on the How To Make Easy Fudge FAQ page.
If you are looking for other treats or gifts to make for Valentine's Day,
you might like these other recipes too.