You'll be amazed at how easy it is to get the rich creamy flavor of vanilla custard in a no churn ice cream which can be used to make these adorable Ice Cream Cone Panda Bears.
This post is sponsored by Wilton.
It's still ice cream season around here.
Well, really, when is it not ice cream season?
The sweltering heat of August makes me hungry for a refreshing frozen treat, so when Hani of Hanielas.com invited me to create a dessert that looked like a panda as part of a collaboration with her, I didn't have to think too long before deciding to make Ice Cream Cone Panda Bears.
Hani's pandas are chillin' too. She turned milkshakes into sweet little bears. Don't you just love those cookie ears over the rim of the glass?
You can check out Hani's video tutorial to make her Panda Bear Milkshakes on her YouTube Channel.
Speaking of You Tube Channels, would you like to see my recipe tutorials done as videos? I've been thinking about it, but haven't taken the leap yet. What do you think?
These panda cones can be made using store bought vanilla ice cream, but I wanted to experiment with one more no churn ice cream. This time I used Wilton's new Treatology Vanilla Custard Flavoring to really enhance the flavor of the simple 2 ingredient ice cream.
Vanilla Custard Ice Cream Cone Panda Bears
Rich and creamy vanilla custard ice cream decorated to look like panda bears.
Keyword:
ice cream cone, panda ice cream, vanilla custard ice cream
Ingredients
VANILLA CUSTARD NO CHURN ICE CREAM-

2

cups

heavy whipping cream

10

drops Wilton's Vanilla Custard Treatology Flavoring

1

14 ounce can sweetened condensed milk

PANDA BEAR DECORATIONS-

4

ounces

Wilton Black Candy Melts

10

tiny candy eyes

ICE CREAM CONE ASSEMBLY-

5

chocolate dipped ice cream cones
Instructions
VANILLA CUSTARD NO CHURN ICE CREAM-

Whisk heavy whipping cream and Vanilla Custard flavoring to stiff peaks.

Stir in sweetened condensed milk.

PANDA BEAR DECORATIONS-

Heat candy melts on high in the microwave for 10-20 second increments, stirring after each until melted.

Pour candy melts into a disposable pastry bag.

Set a piece of parchment paper on a baking sheet.

Pipe 10 ears, 10 eye patches, 5 noses, and 5 smiles for each panda bear cone onto the parchment paper.

Freeze for about 4 minutes.

Let sit for 10 minutes, then peel off paper and turn over.

Use melted candy coating to attach a candy eye to each eye patch.

ICE CREAM CONE ASSEMBLY-

Fill 5 ice cream cones with ice cream.

Top each with a rounded scoop of ice cream.

Freeze for 10 minutes.

Remove one cone at a time and insert 2 ears, 2 eyes, 1 nose and 1 smile.

Freeze until ready to serve.
If you've not yet tried the no churn ice cream recipe, you really should. It takes minutes to make and doesn't require an ice cream machine. You'll be so surprised at how easy it is to create ice cream at home.
All you do is whisk 2 cups of heavy whipping cream to stiff peaks and stir in a can of sweetened condensed milk. You pour it into a freeze safe container and freeze it for at least 4 hours. That's it!
This ice cream base can be served plain or flavored however you like. Wilton has 8 different flavorings in their new Treatology Flavor System that are really unique. You can use the flavors straight up or mix and match them to create unusual combinations like Peach Bellini, Meyer Lemon Cheesecake, and Coconut Custard. You could get really adventurous and make Lemon Basil or Horchata Ice Cream.
For this ice cream, I just wanted to intensify the vanilla flavor and chose to use the Vanilla Custard flavoring. Ten drops added to my ice cream base, gave me a wonderfully flavored dessert. I usually add the flavoring to the whipping cream, but you can add it at any time during the mixing process.
To make the decorations for the panda bears, you'll need to melt about 4 ounces of Wilton's Black Candy Melts then pour it into a disposable pastry bag. Pipe two ears, two black eye patches, a nose and a smile for each ice cream cone bear onto a piece of parchment paper.
When you pipe the round ears, be sure to drag a small amount of candy off one side of the circle to create something to stick down into the ice cream.
On the other candy pieces, it's best to create a small spike on the top of each so that you have something to stick into the ice cream to hold the candy in place. This will happen naturally as you lift the pastry bag off as you pipe.
One batch of ice cream makes enough to create 5 cones, so you'll need five sets, unless you are like me and you eat too much of the ice cream and you only have enough for 4.
Once you've piped out the decorations onto a parchment paper lined baking sheet, pop them in the freezer for about 4 minutes. Remove and flip them upside down.
Allow the candy pieces to warm up to room temperature for about 10 minutes, then use a bit of the melted candy coating to attach two tiny candy eyes onto the black eye patches (the black fur around the panda's eyes.)
Now the fun part. Fill your ice cream cones with ice cream and top with a nice rounded scoop. Pop them back in the freezer for 10-15 minutes then remove one at a time and attach two ears, two eyes, a nose and mouth. Refreeze until ready to serve.
I used chocolate dipped ice cream cones, mostly because I grabbed the wrong box at the store, but I do like how the added chocolate looks. Any cones will do.
You can now create an entire menagerie of decorated ice cream cones including these panda bears.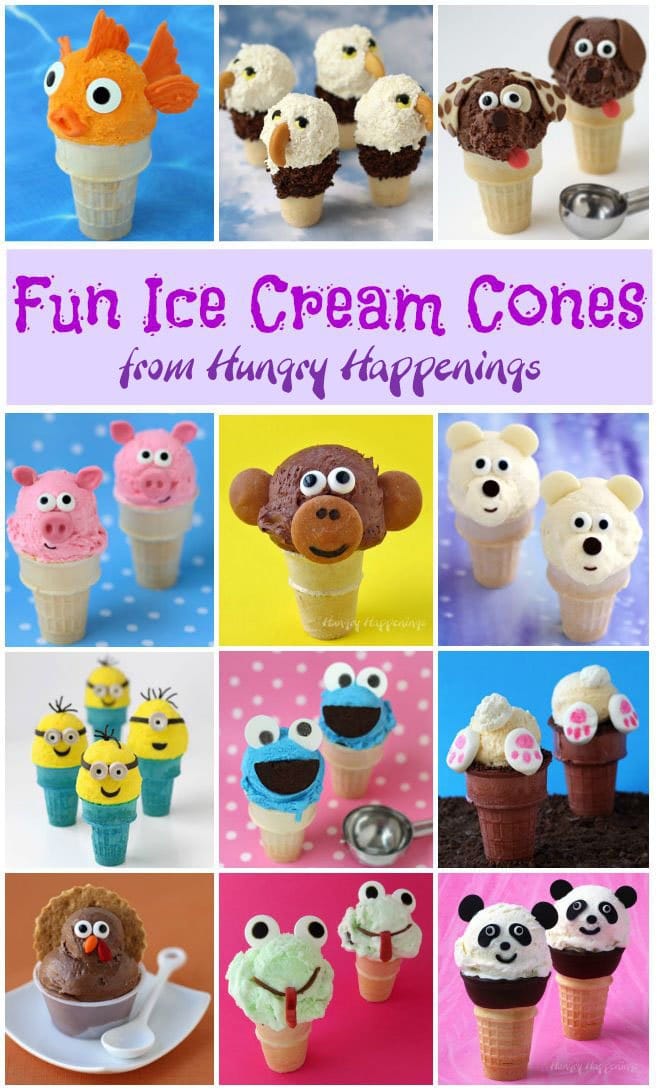 CREATE MORE FUN ICE CREAM CONES
Orange Goldfish • Vanilla & Chocolate Eagles • Chocolate Cashew Puppy Dogs,
Pink Bubble Gum Pigs • Chocolate Banana Monkeys • Toasted Coconut Cheesecake Polar Bears,
Banana Minions • Cotton Candy Cookie Monster Cones • Vanilla Bunny Butt Cones,
Chocolate Turkeys • Mint Frogs • Vanilla Custard Pandas
As a member of Wilton's Sweet Treat Team I have been compensated to create posts using their products, but all opinions expressed here are my own. I love the new Treatology System and have especially enjoyed using it to flavor ice cream.
You can purchase the Treatology Flavor System and other items needed to create these panda bears from Amazon.com (commission earned for sales)
If you liked this Kid's Recipe, then you need to check out these other fascinating recipes that your little ones will love!