These Reese's Cup-topped Sea Otter Cupcakes could not be cuter even if they popped right off the movie screen. Inspired by the adorable otters in the Finding Dory movie, these sweet desserts will make perfect Finding Dory party treats.
If you are looking for a fun Finding Dory party idea, you've got to make these cute Sea Otter Cupcakes. Aren't they just adorable?
As soon as I saw the cute otters pop up on the screen in the Finding Dory movie, I just knew I had to make them into Reese's Cup-topped chocolate cupcakes. I am so excited to share my cupcake version of Finding Dory Otters with you!
I've been making a lot of cupcakes topped with Reese's Cup animals lately and I really love them. Although I think the Teddy Bear Cupcakes, Carrot Thief Bunny Cupcakes, Magical Unicorn Cupcakes, Monkey Cupcakes, and Puppy Love Cupcakes are all super cute cupcake ideas, I have to admit these Sea Otter Cupcakes are my all-time favorite. There is just something about those furry little faces that just make me so very happy.
UPDATE: These Otter Cupcakes were the first Reese's Cup-topped movie-themed cupcakes I made, but since Finding Dory's premier I have been inspired to create Beauty and the Beast Cupcakes and Paddington Bear cupcakes too. 
To make these cupcakes, I chose to use Reese's Cups for the otter's heads and I decorated them using modeling chocolate, also known as candy clay, and some candies.
I love working with modeling chocolate because not only does it taste just like chocolate, but it can be molded and cut into any shape imaginable.
For these Sea Otter Cupcakes, you are going to need to have some black, brown, and white modeling chocolate. All of these can be made by adding food coloring to white modeling chocolate, but being I always have modeling chocolate on hand, I used milk chocolate for the brown and semi-sweet chocolate colored with black food coloring for the black.
If you've never made your own modeling chocolate, it is super easy. You just need your favorite chocolate and some corn syrup (or honey.) I suggest you use chocolate that you really like to eat because the flavor will really shine through.
You can find the recipe and step-by-step tutorial for making and coloring modeling chocolate on my Chocolate Making Tips page.
These Sea Otter Cupcakes are also featured in my book, Candy Clay Creations along with 16 other amazingly adorable treats. Be sure to check it out if you are excited about working with modeling chocolate (candy clay).
Before I share the step-by-step-tutorial for creating these Finding Dory cupcakes, I want to share a link to a Facebook Live Demonstration I did the other night. I showed the audience how to make these cupcakes.
I also shared a peek inside my very own chocolate factory.

Wasn't that fun? It was my first foray into Facebook Live and I had a blast. I'll be doing more, so be sure to like my Hungry Happenings Facebook page so you can see future video tutorials.
My Sea Otter Cupcakes have become so popular and I've gotten a lot of requests to create a quick video tutorial, here it is...
FINDING DORY SEA OTTERS CUPCAKE VIDEO
[adthrive-in-post-video-player video-id="fJuiukan" upload-date="2017-07-24T13:03:10.000Z" name="Sea Otter Cupcakes" description="Adorably cute Reese's Cup Sea Otter Cupcakes inspired by the Finding Dory movie." player-type="default" override-embed="default"]
HOW TO MAKE CUTE SEA OTTER CUPCAKES
How to make modeling chocolate decorations:
Start by marbleizing some white and brown modeling chocolate together.

I show how to do this on the video or you can check out my Chocolate Pretzel Turkeys tutorial to see pictures of the process.

Roll out the chocolate clay and cut out two small circles for each sea otter.

I used a 1 inch round cutter that has a fluted edge, but you can use a plain round cutter.

Then use a pick tool or a toothpick to create whiskers on each modeling chocolate circle.
How to make modeling chocolate eyes and nose:
Roll out some black modeling chocolate and cut out small round eyes.

I used a medium-sized plunger cutter, which is so easy to use.
You can also cut a drinking straw into a short piece and use it to cut your circles.

To create the sea otter's nose, pinch off about a jelly bean size of black candy clay and shape it into an oval nose.
Make modeling chocolate ears.
To make the otter's ears, roll out some brown modeling chocolate to about ¼ inch thickness.
Use the same round plunger cutter to cut out two circles per otter.
Then cut each circle into a ¾ moon shape.
Use the plunger cutter to cut out a small piece from each circle.
HOW TO DECORATE THE REESE'S CUP SEA OTTERS
You'll need one Reese's Cup per otter and either some melted chocolate or some piping gel. I like using the piping gel because it's clear and it really sticks the modeling chocolate pieces together securely.
Brush a light coating of piping gel or melted chocolate onto the backside of the two round whiskers pieces and attach them across the lower half of a Reese's Cup. Use more piping gel to attach a nose and two eyes, as well.
Brush piping gel on the cut side of each candy ear and press them onto the side of the peanut butter cup directly across from the otter's eyes.
Add a dot of bright white food coloring to add the highlight to each eye.
Draw on a mouth, eyebrows, and a furry patch near the top of each otter's head using a black food coloring marker.
HOW TO ASSEMBLE YOUR SEA OTTER CUPCAKES
Pipe a big swirl of stiff chocolate frosting onto a chocolate cupcake.
Snuggle a Reese's Cup Sea Otter into the top half of the frosting swirl.
Print out the printable wave cupcake wrappers then cut out around them. Wrap one around the cupcake and tape the seams together.
Press two Whoppers into the front of the frosting swirl creating the otter's paws.
Then press one candy seashell in between the hands.
To make these sweet summer themed cupcakes  you'll need some supplies which you can find on Amazon.com (commission earned for sales.)
Recipe originally published on June 20, 2016.
Sea Otter Cupcakes - Finding Dory Treats
Turn Reese's Cups into sweet little otters then use them to create some adorable Sea Otter Cupcakes. These treat will be perfect for your kids birthday parties or even a Finding Dory Party.
Keyword:
cupcakes, finding dory, finding nemo, parties, pool party, reeses, sea otter
Ingredients
12

Reese's Cups

1

ounce

white modeling chocolate

2

ounces

brown modeling chocolate

2

ounces

black modeling chocolate

1

teaspoon

piping gel or melted chocolate

12

chocolate cupcakes frosted with a big swirl of chocolate frosting

24

Whoppers

12

candy sea shells
Instructions
Marbleize white modeling chocolate with half of the brown modeling chocolate.

Roll out to about 1/16th inch thickness.

Cut 24 small rounds using a 1-inch round (fluted) cutter.

Use a pick tool to draw on whiskers, feathering the edges of the circles.

Roll out the remaining brown modeling chocolate to about ¼ inch thickness.

Cut out 24 small ¼ inch rounds using a medium round plunger cutter.

Cut each circle into a ¾ moon, using the plunger cutter.

Roll out half of the black modeling chocolate.

Cut out 24 small ¼-inch circles using a medium round plunger cutter.

Pinch off jelly bean size pieces of the remaining black modeling chocolate and roll them into oval noses.

Use the clear piping gel as "glue" to attach two whiskers, a nose, and two eyes to the front of each Reese's cup.

Attach two brown moon-shaped pieces to either side of the Reese's cup head for the ears.

Set the decorated Reese's Cup otter on the upper half of the frosting swirl on a cupcake.

Print out a wave cupcake wrapper, cut it out, then wrap it around your cupcake, taping the ends together.

Press two Whoppers into the frosting just above the top of the waves and set a candy shell in between.

Repeat creating a total of 12 Sea Otter Cupcakes.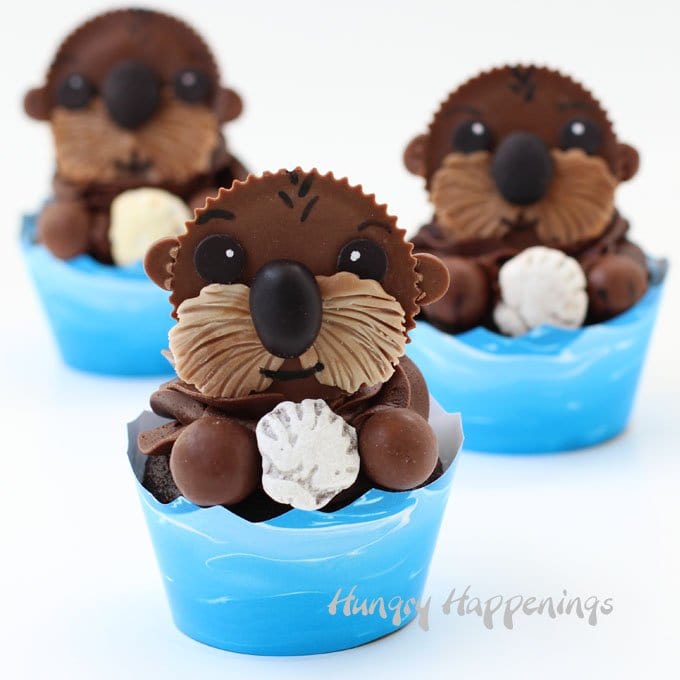 If you are hosting a Finding Dory party, you might also like to make these Just Keep Swimming packs of Finding Dory Popcorn.
See the tutorial and free "Just Keep Swimming" printable for these Finding Dory Popcorn treats, here.
If you are looking for some more summer-themed party ideas
Sugar Coated Sea Horse Cookies • Chocolate Beach Pails • Butterscotch Crunch Starfish
Sandcastle Lollipops • Caramel Rice Krispie Turtles • Beach Party Popcorn
Under the Sea Popcorn • Beach Ball Cheesecakes • Under the Sea Gumdrops
Caramel Rice Krispie Treat Starfish • Chocolate Sea Shells • Rice Kripie Treat Dolphins
Sugar Coated Sea Horse Cookies • Sugar Coated Sea Horse Cookies • Palm Tree Cookies
If you recreate these Sea Otter Cupcakes for your Finding Dory or summer-themed party, be sure to link to this tutorial, mention, and tag @HungryHappenings, use #HungryHappenings then send a picture to beth@hungryhappenings.com, so I can share it in my Readers' Gallery.

Latest posts by Beth Klosterboer
(see all)