Learn how to make a flat minion cake in this video tutorial. Cut a 9X13 inch sheet cake into an oval shaped Minion then decorate him using frosting. This adorable Minion Prisioner Cake will be perfect for your Despicable Me 3 party or event.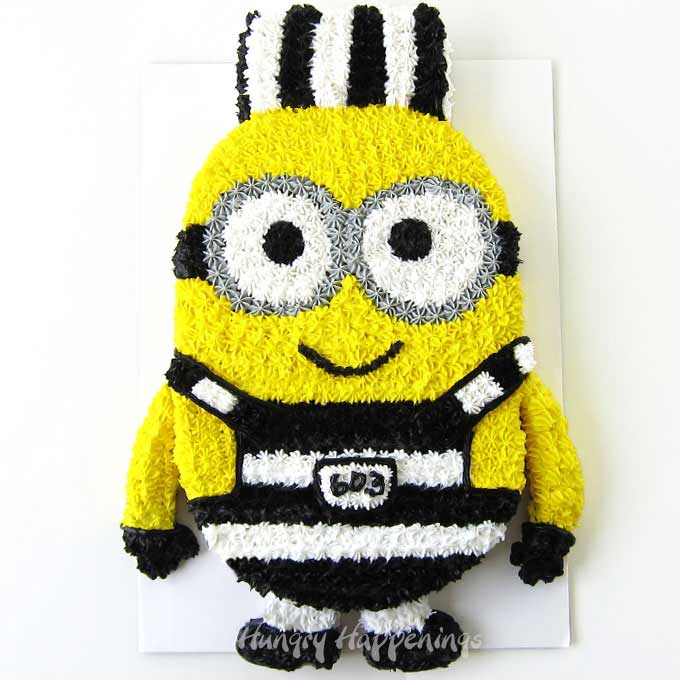 Minion Cake
Love the Minions? Then you'll absolutely want to have this Minion Cake at your Despicable Me 3 party or event. This sweet little yellow Minion prisoner is made out of a 9 x 13 inch sheet cake and is fairly simple to decorate.
Who hasn't fallen in love with the adorable Minions? I wonder if the animator who designed the Twinkie shaped characters knew from the moment of inception that these little guys would be so popular.
Seriously they couldn't be much cuter with their big goggle covered eyes.
In the new Despicable Me 3 movie they go to jail and have to swap out their trademark blue overalls for black and white striped prisoner uniforms which just might make them even cuter.
Minion Prisoner Cake
Have you ever seen a sweeter looking prisoner?
As soon as I saw the trailer for the movie I knew I had to make some sort of Minion Prisoner dessert and decided to make this Minion Cake because it gave me the space I needed to really show off the the striped overalls.
I wanted to keep this cake fairly simple so I baked a 9 x 13 inch sheet cake, carved out a Minion shaped oval, and piped stars all over the surface. I love using that decorating technique because it's so easy and it makes a really great looking cake. I personally find it to be much easier than spreading frosting.
To get the design for this Minion cake, I printed out a picture of a Minion and used it as a template. I used a knife to mark the cake before frosting it. You can freehand it though being it's a really simple design.
I had this cake decorated and the video tutorial filmed in about an hour. Not bad for a super cute Minion cake.
My only failure was putting the cake on a cake board that was too small. I decided after I had the Minion's body decorated that he needed a hat and legs and arms. You can see that they don't fit on the board I used. Be sure to use a 14 inch x 18 inch or larger board and you won't have any problems.
Watch this video to see how to make a flat Minion Prisoner Cake using frosting not fondant.
.

Minion Cake - Despicable Me 3 Prisoner
Turn a 9x13 inch sheet cake into the most adorable Minion Prisoner Cake.
Created by:
Beth Jackson Klosterboer
Ingredients
1 9x13 inch baked sheet cake
1/3 cup silver gray frosting
2 1/2 cups black frosting
2 1/2 cups white frosting
2 1/2 cups yellow frosting
Instructions
Carve a Minion shaped oval out of the cake.
Reserve all the cake scraps for later.
Spoon all the frosting colors into individual pastry bags, each fitted with a star tip, reserving about 1/2 cup of the black.
Place the reserved black frosting into a pastry bag fitted with a #4 round tip.
Decorate the cake by piping stars all over the surface and sides.
Start by making two silver gray circles for the Minion's goggles.
Pipe a small black circle in the middle of those circles then fill in around the black circle using white frosting.
Pipe a black band on either side of the goggles.
Pipe yellow above and just below the goggles.
Pipe on the black and white striped prisoner uniform.
Pipe a line around the straps to the uniform and pipe on the outline of a pocket in the middle of the uniform.
Pipe white stars inside the pocket border then pipe on a prisoner number over the white stars using black frosting.
Pipe on a black smile.
Glue together the cake scraps using frosting and cut a rectangle prisoner hat out of the scraps.
Attach the hat to the top of the Minion and pipe on black and white stripes.
Crumble all the remaining cake scraps and blend together with a tablespoon or two of frosting.
Use this cake ball mixture to shape two arms, two legs, and two shoes for the Minion.
Pipe yellow frosting over the arm then pipe on black gloves.
Pipe white frosting over the legs then black over the shoes.
Notes about the Minion Cake Recipe
To make black frosting start with either store bought or homemade chocolate frosting then add black icing coloring. That will make it much easier to get a nice deep black color.
Color white frosting using yellow coloring.
To get a nice silver color, mix a tiny bit of the black frosting with white frosting. You can add a bit of FDA approved, edible silver luster dust, to give the frosting a bit of shimmer, if you'd like.
Fit 4 pastry bags with #22 star tips and fill with white, silver, black, and yellow frosting.
Fit one pastry bag with a small #4 round tip and fill with black frosting.
How to make a Minion Prisoner Cake
Optional: Size and print out a picture of a Minion to use as a cake template.

You can decorate this easy Minion Cake freehand if you are able, but a template will be helpful if you aren't comfortable drawing the design onto the cake.

Cut out the pieces of the template (cut out the goggles, stripes, etc.)
Cut an oblong shape out of a 9×13 inch sheet cake.

Save all the cake scraps for later to make the Minion's prisoner hat, arms, and legs.

Set those cut-out pieces on the 9 x 13 inch sheet cake and use a sharp knife to mark around the templates.
Start by piping stars over top of the cake to create the Minon's goggles.

Pipe two silver circles.
Add black pupils in the center of the circles.
Pipe white frosting inside the silver cirlces.
Add a black band down the sides of the cake next to the goggles.

Pipe yellow frosting above and below the goggles.
How to Decorate a Prisoner Minion Cake
Pipe on black and white stripes to form the two shoulder straps.
Continue to pipe on black and white frosting stripes to create the Minion's prisoner uniform.
Use the bag of black frosting that is fitted with the small round tip to pipe around the outline of the prisoner uniform.
Then pipe on the outline of a pocket in the upper middle of the uniform.
Fill that with white frosting.
Pipe on a prisoner number over the white pocket.
How to make the Minion's Prisoner Hat out of Cake
Use the scrap pieces of cake to create the pill box style prisoner hat.

Cut a four corners of the cake and frost them together into a rectangle.
Cut out the hat shape using the template if necessary.

Attach the hat to the Minion cake using frosting.
Pipe on black and white stripes of frosting.
Pipe on a smile.
How to make the Minion cake ball arms and legs
Crumble all the remaining cake into a bowl.
Add frosting and stir and knead until it comes together in a ball.
Divide the cake ball dough into four sections.
Roll one piece into a tube and attach to one side of the cake just below the shoulder straps.

Pipe yellow frosting over the cake ball tube to form the Minion's arm.
Pipe on a black glove at the end of the arm.
Repeat on the opposite side of the Minion cake.

Cut the remaining 2 pieces of cake ball into two pieces and use them to create legs and feet for the Minion.

Frost the leg pieces with white frosting.
Frost the feet using black frosting.
Be sure to let your Despicable Me Minion party guests know that the feet and arms are cake balls otherwise they might think the cake is raw. You could cut and piece together whole cake to make the legs and arms, but I liked that I could get a nice rounded shape using the cake ball dough.
Sorry if some of the step-by-step images of the making of the Minion cake are a bit blurry. I pulled them from my video tutorial.
I do hope you have fun making this fun Despicable Me 3 Minion Prisoner Cake for your party. If you make this Minion Prisoner Cake and share it online, be sure to link back to this original tutorial giving credit to Hungry Happenings or tag #HungryHappenings on social media.
If you love Minions, you might like to make some of these of the fun Minion snacks.
These cute treats will add a touch of whimsy to any Despicable Me party.
Banana Ice Cream Cone Minions • Minion Chocolate Bark
Chocolate Minion Box • Minion S'mores Pops
If you liked this Kid's Recipe, then you need to check out these other fascinating recipes that your little ones will love!