Make Valentine's Day extra special by making and sharing some of the most amazingly cute, incredibly fun Valentine's Day Recipes and food crafts with your family and friends. Find almost 100 cute and creative Valentine's Day desserts, dinners, candies, and appetizers that your sweetheart will love.
Fun Valentine's Day Recipes
Valentine's Day is the perfect time to show someone how much you care. Whether you want a recipe to make a romantic Valentine's Day dinner for your sweetheart or you want to make your child's Valentine's Day extra special by baking them a cute Valentine's Day dessert you will find what you need here.
Scroll down to see pictures and links for 100 deliciously creative Valentine's Day recipes.
If you want cute, you'll find it! If you want elegance, you'll find it! If you want yummy, you'll find it!
Every recipe has step-by-step instructions including pictures and/or videos to help you recreate these fun food ideas at home.
Cupcakes are a very popular Valentine's Day dessert because they are easy to make and serve, so why not make them look cute too?
I have had so much fun making animal-themed cupcakes for Valentine's Day using Reese's Cups. You can see instructions to make Bears, Lions, Puppy Dogs, and even Monkeys.
If you prefer something really simple, learn how to easily decorate Cupcake Teddy Bears and Polar Bears using frosting.
Several of these cupcakes even have printable cupcake wrappers that will make your treats even more fun.
Valentine's Day Cupcakes
Hot chocolate bombs aren't just for Christmas, they are perfect for Valentine's Day too especially if you live in an area where it's cold in February.
These heart-shaped, lip-shaped, and round chocolate bombs filled with hot cocoa mix or chocolate ganache melt into a delicious hot chocolate when mixed with hot milk. They will really warm you up on a cold winter's day.
Valentine's Day Hot Chocolate Bombs
Chocolate-covered strawberries are also incredibly popular treats to give as gifts for Valentine's Day and they don't have to look ordinary.
Take your chocolate-dipped strawberries to the next level by decorating them to look like bears or unicorns or transform a fruit pizza into a chocolate-covered strawberry. Your sweetheart will love any of these fun Valentine's Day strawberries.
Valentine's Day Chocolate Strawberries
Decorated cookies are not just for Christmas. Cookies make great Valentine's Day gifts or desserts too.
You can bake simple Linzer Cookies shaped like hearts or teddy bears or pipe a swirl of frosting to create a rose cookie or go all out and decorate your Valentine's Day cookies using royal icing. The possibilities are unlimited.
Valentine's Day Cookies
A decadent chocolate mousse makes for an elegant Valentine's Day dessert. You can make a lusciously creamy chocolate mousse and then use that to create a Triple Chocolate Raspberry Mousse Cake or a Black and White (chocolate cheesecake swirl) Mousse.
You can even craft homemade chocolate cups and then fill them with this amazing chocolate mousse.
Chocolate Mousse Desserts for Valentine's Day
Chocolate and cherry is a flavor combination that is perfect for Valentine's Day.
Here you'll find some unique twists on classic chocolate-dipped cherries including two different versions of a chocolate cherry bomb featuring a maraschino cherry wrapped in either chocolate or white cake ball and then dipped in chocolate. YUM!
You can also see how to make homemade cherry-flavored Tootsie Pops in heart shapes or how to bake simple 2-ingredient heart-shaped cherry pie bars.
Cherry Desserts for Valentine's Day
Making a fun treat for your kids will make their Valentine's Day extra special. Imagine their excitement when they open their lunchbox to find a Lady Bug Rice Krispie Pop or when dinner is done and you bring out Chocolate Pudding Bears.
Make it a Valentine's Day your kids won't soon forget by creating some of these fun Valentine's Day desserts.
Valentine's Day Treats for Kids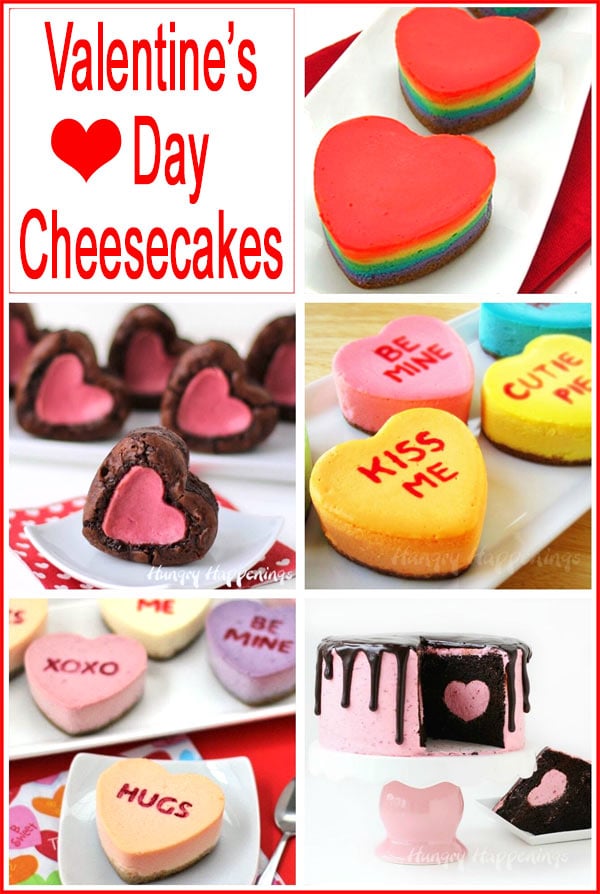 Now for the adults in your life, there's cheesecake!!! There's nothing more satisfying than ending a meal with a delicious dessert and on Valentine's Day you can make that end to your meal extra special by creating one of these cheesecakes.
My Conversation Heart Cheesecakes are one of the most popular recipes here at Hungry Happenings so I've shared how you can use the very best cheesecake recipe and food coloring to create pretty Conversation Hearts or you can use fruits and vegetables to color your cheesecake hearts. Both make spectacular Valentine's Day desserts.
Don't miss the other amazing cheesecake desserts, as well. You can stuff and frost a chocolate cake with a no-bake strawberry cheesecake or stuff a heart-shaped brownie with a yummy raspberry cheesecake heart or make a rainbow cheesecake heart.
So many possibilities...
Valentine's Day Cheesecakes
Start out the day with these sweet Valentine's Day pastries. These fun breakfast ideas will definitely make Valentine's Day special for kids and adults.
Kids can even help you make the Conversation Heart Toast or Conversation Heart pastries for breakfast. They'll love spreading Nutella onto the Panda Pastries too!
The Chocolate Ravioli Hearts are super simple to make and go great with your morning coffee.
Valentine's Day Breakfast Ideas
Whether you are having a romantic dinner for two, hosting a Valentine's Day party, or serving dinner to your kids these festive appetizers will make your meal more fun!
What kid wouldn't love being served some adorably cute Mini Cheese Ball Warm Fuzzies or a big Hugs and Kisses Pizza Pinwheel on Valentine's Day?
Go all out for your romantic dinner and make Fried Won Ton Roses or Calzone Hearts. They'll really make your sweetheart smile.
Valentine's Day Appetizers and Snacks
Do you like to stay in and avoid the crowded restaurants on Valentine's Day?
I have created some really delicious and whimsically fun Valentine's Day Dinners for you to serve to your sweetheart, your kids, or even your friends.
I've taken some of my favorite weeknight meals and turned them into festive dinners for Valentine's Day. Your kids will love it if you serve them a Teddy Bear Taco Tart or a Bumble Bee Corn Dog. Adults will be surprised if you serve Chicken Enchilada Hearts or even Chicken Parmesan Hearts. Serving a salad topped with heart-shaped tomatoes will round out any Valentine's Day meal.
Fun Valentine's Day Dinner Ideas
There are so many cute Valentine's Day treats you can make for kids or adults including these adorably decorated pretzels.
Who wouldn't love getting some Chocolate Dipped Pretzel Teddy Bears or Polar Bears wrapped up in a cellophane bag tied with a pretty red bow or some Pretzel Owls, Puppy, Fish, or Unicorns packaged in a clear bag topped with a cute Valentine's Day bag tag?
You can find the instructions to make these cute Valentine's Day pretzels along with printable bag tags using the links below.
Valentine's Day Chocolate Covered Pretzels
Fudge can be a quick and easy dessert to make for Valentine's Day. Some of these fudge recipes are made with as few as 3 ingredients and once decorated they make sweet treats for this holiday of love.
Oddly enough the Chocolate Caramel Fudge Smiling Poo Emojis are one of the most popular recipes here on Hungry Happenings. When I created them, I never imagined so many of my readers would have made them for their family and friends. But they are so easy to make using just a few ingredients.
You can find the recipes and printable tags by clicking the links below.
Valentine's Day Fudge
If you or your loved ones really love peanut butter fudge here are some fun recipe ideas.
There are elegant-looking chocolate-covered peanut butter fudge hearts (2 very different recipes) along with cuter Buckeye Bears or Fudgy Bears. If you want to try something really different be sure to check out the Chocolate Peanut Butter Potato Candy Teddy Bears. You'd never know these are made using potatoes.
Peanut Butter Valentine's Day Treats
What holiday would be complete without cake? These Valentine's Day cakes are perfect to serve at a party, to your family for dessert, or to your coworkers just to make the holiday more special.
My favorite is the bright red Warm fuzzy Piñata Cake. He's just too cute for words! Don't you think? But that Panda is totally sweet too.
If you want to wow someone you can make the I ♥ You Cake or a Conversation Heart Piñata Cake. They take a bit of work but the reaction you'll get is so worth it.
Valentine's Day Cakes
You can't forget about chocolate on Valentine's Day. Next to flowers, chocolates are the most popular gifts to give on Valentine's Day.
Making homemade chocolates can be pretty easy and the candies will make a big impression on your gift recipient.
So this year, why not try your hand at making some Chocolate Bark Hearts, Chocolate Heart Cups, or a Heart Shaped Chocolate Box filled with candies? I'll guide you through the process so you can easily make these Valentine's Day chocolates at home.
Homemade Valentine's Day Chocolate
Take your chocolate-making to the next level by creating a Breakable Chocolate Heart. These are decorated to look like conversation hearts and can be filled with your favorite Valentine's Day candy.
Or make Giant Reese's Cup Hearts filled with creamy peanut butter fudge. Your sweeties will go nuts over this decadent Valentine's Day gift.
Last but not least are some unique ice cream treats that are perfect for Valentine's Day.
Even though it might be 10 below where you live on February 14th, it's never a bad time for ice cream.
If you are just too cold to enjoy some White Chocolate Bowls filled with Strawberry Ice Cream or some Cranberry Orange Semifreddo Hearts you could heat up some ice cream to make the most amazing Chocolate Raspberry Ice Cream Truffles or even Salted Caramel Chocolate Truffles. They are super easy to make and taste so good!
Ice Cream Treats
If this is not enough to choose from you can hop on over to The Decorated Cookie to see some really whimsical Valentine's Day Treats and Crafts or to The Partiologist for some incredibly decorated Valentine's Day desserts.

Latest posts by Beth Klosterboer
(see all)