This is the best chocolate mousse recipe you will ever try! This recipe with step-by-step instructions and a video is easy to follow, uses high-quality ingredients, and creates a rich and creamy, light and airy, chocolate mousse that will satisfy even the most discerning chocolate lover.
If you have been searching for a recipe to make silky smooth chocolate mousse that has a decadently rich flavor, you've come to the right place.
I learned how to make chocolate mousse from a chocolatier many years ago while taking a pastry class. He shared the process to make a simple 2-ingredient mousse using just chocolate and cream. It was delicious. Then, he made another mousse with the addition of egg yolks blended with simple syrup. It was magnificent!
The mousse was light and airy but didn't taste like chocolate-flavored whipped cream. It had an incredible chocolate flavor.
I've used that recipe to make many desserts including my favorite Chocolate Raspberry Mousse Cake and a Three Layer Chocolate Cherry Mousse Cake. I've also used it to make fun Chocolate Mousse Graveyards and Chocolate Mousse Flower Pots. Today, I'm going to show you the easy step-by-step process to make this delicious no-bake dessert.
The trick to making perfect chocolate mousse is to start with dark chocolate that you love eating right out of the package.
What dark chocolate makes the best mousse?
That will really depend on your flavor preference.
Use semi-sweet chocolate if you prefer a delicately sweet chocolate mousse dessert.
Use bittersweet chocolate if you prefer a more robust, slightly bitter flavor. The higher the cocoa content in your chocolate the more robust the chocolate flavor will be.
Do not use unsweetened chocolate. Your mousse will be too bitter.
Do not use compound chocolate, also known as confectionery coating/Candy Melts/almond bark, made with partially hydrogenated palm kernel oil. The flavor is definitely not as good as pure chocolate made with cocoa butter.
Brands of Chocolate
I make my chocolate mousse with Peter's Burgundy Semi-sweet Chocolate. It has a slightly fruity flavor with notes of wine. I've been using it for over 30 years for my chocolate-making business and my customers love it! Unfortunately, this chocolate only comes in 10-pound bars.
I also love Callebaut chocolates and have enjoyed equally amazing chocolate mousse made using their chocolate and it's available in smaller quantities. You can find Callebaut chocolates in gourmet grocery and kitchen wares stores, at Trader Joe's, and at cake and candy decorating shops.
There are so many other wonderful chocolates that are available in grocery stores too. Just choose any that you really like.
You can find my favorite chocolates on amazon.com (commission earned for sales).
Ingredients
dark chocolate - Use your favorite dark chocolate bars or callets (small chip-size chocolate pieces that melt easily.)
heavy whipping cream - Heavy whipping cream has 36% fat and it is used to make a decadently rich yet light and airy chocolate mousse.
egg yolks - The addition of egg yolks gives the mousse a richer flavor and creamier texture. This recipe does not use egg whites. Many mousse recipes use whipped egg whites to add volume. This recipe uses whipped cream instead.
sugar - The egg yolks are heated with a simple syrup made from boiled sugar and water. The sugar adds a touch of sweetness and helps the mousse firm up so that it holds its shape nicely when piped into a cup.
Instructions
Pour 3 tablespoons of water and 3 tablespoons of granulated sugar into a saucepan or skillet set over medium-high heat.
Heat, stirring occasionally, until the sugar begins to dissolve.
Bring the sugar syrup to a boil then remove the pan from the heat.
Pour the egg yolks into a heat-proof mixing bowl. Whisk to break up the yolks.
Whisk constantly, while slowly drizzling the simple syrup down the side of the bowl until all the syrup is incorporated into the yolks.
Pour ½ cup of heavy whipping cream into your saucepan. Pour the egg yolk mixture into the pan. Set the pan over low heat.
Whisk constantly until the egg mixture (custard) thickens slightly.
This should take about 3 minutes.
Your warm (100 to 115 degrees F), melted chocolate should be in a large mixing bowl. You'll need enough space to add a lot of whipped cream.
Start by pouring the egg custard over the chocolate through a fine-mesh sieve. Any lumps of cooked eggs will remain in the strainer. Discard them.
Use a whisk to combine the egg custard and chocolate.
Whisk until well blended.
Do you have to heat the eggs on the stove?
No. You can pour the hot simple syrup into the egg yolks which will warm the eggs, then pour them directly over your chocolate.

Being a top-notch pastry chef taught me this recipe, I have no reservations about the safety of the eggs and often just add them to my chocolate without cooking them on the stove.

But, several of my readers worried about the safety of the eggs, so I developed this method of heating the egg yolks and sugar syrup with some cream a bit longer just to ensure the eggs are heated thoroughly.
Pour 1 cup of heavy whipping cream into a large mixing bowl. Beat on low speed for 30 seconds, then increase the speed to high.
Beat until the whipped cream holds stiff peaks. When you lift the beaters out of the cream, the whipped cream will hold its shape. Do not overmix!
Add ⅔ cup of whipped cream to the bowl of chocolate custard.
Whisk the whipped cream into the chocolate custard to lighten it.
Add another ⅔ cup of whipped cream.
Fold slowly to incorporate the chocolate and cream together.
Add the remaining ⅔ cup of whipped cream.
Fold gently until combined. You do not want to deflate the whipped cream.
The mixture may seem very thin at this point. Don't worry, it will firm up into a light and airy mousse once it has cooled.
Being it is thin at the moment, you can easily pour it into cups. You can use plastic shot glasses, ramekins, small dessert cups, or glasses.
Cover the mousse with plastic wrap and chill in the refrigerator for a few hours either in serving cups or your mixing bowl.
If you've chilled the entire bowl of mousse, it will be nice and fluffy. You can spoon it into a disposable pastry bag.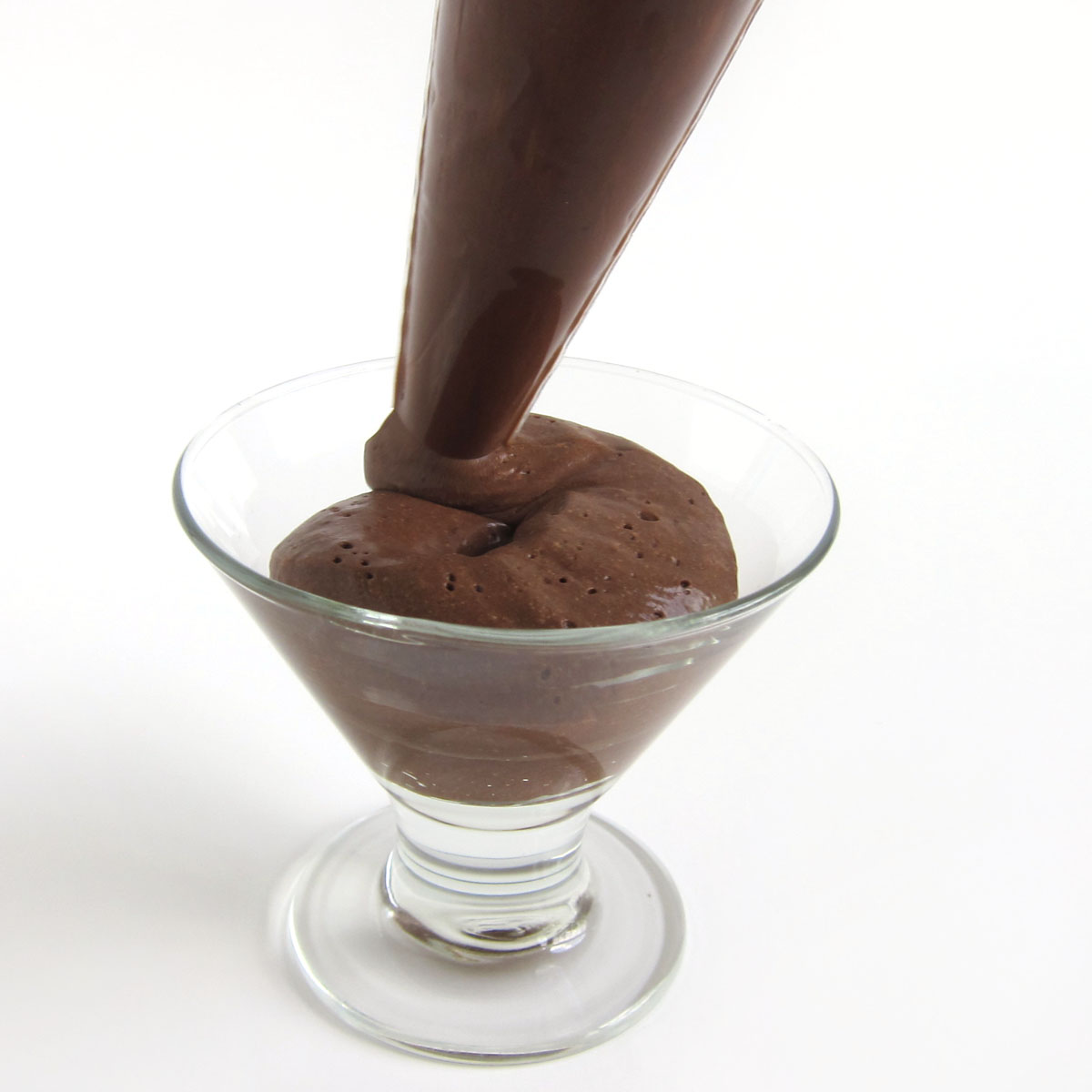 Then, pipe it into glass dessert cups. It flows out of the pastry bag just like frosting and will hold its shape nicely.
To make an easy decoration, shave white chocolate curls using a vegetable peeler and sprinkle them over the mousse.
The off-white color contrasts nicely with the dark chocolate. Plus the flavors pair beautifully.
You can insert a large open-star pastry tip into your pastry bag before filling it with mousse. When you pipe it out, the mousse will have a pretty texture.
Variations
Top your mousse with whipped cream, berries, maraschino cherries, chocolate shavings, chocolate straws, chocolate decorations, sprinkles, or nuts.
To make your chocolate mousse dessert even more spectacular, serve it in homemade chocolate cups or the Mona Lisa Chocolate Cups pictured above. These elegant mousse cups are perfect for parties.
You might also like these other recipe variations.
You can see all my mousse recipes, here.
Substitutions
Cool Whip or Frozen Whipped Topping
You can make chocolate mousse using Cool Whip or Frozen Whipped Topping but your mousse will be a bit sweeter.
Just skip the step of the recipe where you cook the egg yolks and cream over the stove. Just combine the warmed egg yolks with your chocolate, and then fold 3 cups (8 ounces) of thawed Cool Whip into the chocolate.
Milk Chocolate
Milk chocolate is softer so you need to add 16 ounces in place of the 12 ounces of dark chocolate.
White Chocolate
You can make mousse using white chocolate but the recipe is slightly different. Be sure to check out my White Chocolate Peppermint Mousse Recipe. Use vanilla instead of peppermint extract for a plain white chocolate mousse.
Tips
How to serve chocolate mousse?
Remove the mousse from the refrigerator at least 15 minutes before serving. Allowing the chocolate mousse to come to room temperature will enhance the chocolate flavor and will amplify the creamy texture.
How long does chocolate mousse last?
You can keep chocolate mousse in the refrigerator for up to 5 days or in the freezer for up to 3 months. Just be sure it is in an airtight container or a bowl that is covered with a tight-fitting piece of plastic wrap to keep out any odors.
Can chocolate mousse be frozen?
Yes! You can freeze chocolate mousse.

I like to fill large disposable pastry bags with the mousse then I twist tie the end and pop it in the freezer. The day before I plan to serve the mousse, I thaw it in the refrigerator. Just before serving, I snip off the tip of the bag and pipe the mousse into my cups.
Can chocolate mousse be left out at room temperature?
Chocolate may be left at room temperature for up to a few hours during a party.

When I am hosting a party, I always set out my chocolate mousse cups just before the party begins and most are eaten within 2 or 3 hours.

At the end of the party, I throw any leftovers away. I don't suggest refrigerating and eating mousse that has been left at room temperature for more than a few hours.
Can chocolate mousse be made in advance?
Yes, absolutely! I love that I can make this chocolate mousse days ahead of my party if kept refrigerated, or even months ahead if kept frozen.
Video
Watch this video to see how you can make the BEST Chocolate Mousse you've ever tasted.
[adthrive-in-post-video-player video-id="EkP3GQSq" upload-date="2018-02-13T12:25:20.000Z" name="Best Chocolate Mousse Recipe" description="Best Chocolate Mousse Recipe" player-type="default" override-embed="default"]
Recipe
The BEST Chocolate Mousse Recipe
The most luxuriously creamy and smooth chocolate mousse recipe you'll ever try.
Keyword:
chocolate mousse, homemade mousse
Ingredients
1 ½

cups

heavy whipping cream, divided

(360 ml)

3

tablespoons

water

(45 grams)

3

tablespoons

sugar

(37.5 grams)

3

large

egg yolks

12

ounces

melted semi-sweet chocolate

(340 grams)
Instructions
Beat 1 cup of heavy whipping cream using a hand-held mixer for 30 seconds on low speed. Then, increase the speed to high and beat until the cream holds stiff peaks. Do not overmix! Set aside.

Pour water into the bottom of a saucepan set over medium-high heat.

Add sugar and stir occasionally until it comes to a boil.

Pour egg yolks into a mixing bowl and whisk to break up.

Continue whisking while slowly drizzling in the sugar syrup.

Pour the remaining ½ cup of heavy whipping cream into the saucepan and set it back on the stove on low heat.

Stir in the egg mixture and continue to stir for at least 3 minutes until heated through.

You may heat until thickened, if desired.

Pour through a fine mesh sieve that is set over your bowl of melted semi-sweet chocolate.

Discard anything that remains in the sieve.

Stir the chocolate until glossy and smooth.

Whisk ⅔ cup of the whipping cream into the chocolate.

Fold another ⅔ cup of whipped cream into the chocolate, then fold in the remaining whipped cream.

Cover and chill until the mousse thickens.

Spoon or pipe into bowls or chocolate cups.

Let sit at room temperature for at least 15 minutes before serving.
Recipe Notes
This chocolate mousse recipe makes a decadently rich and creamy chocolate mousse. If you prefer a lighter texture, simply fold in up to 1 cup of whipped cream. 
Melting Chocolate
You can melt your chocolate in the microwave using 30-second bursts of power, stirring after each until melted, or using a double boiler (a bowl set over a pan filled with 1-inch of water) set over low heat. 
Make sure your melted chocolate is still warm (100-115 degrees Fahrenheit) before adding the egg yolk mixture. 
Storage
Store your chocolate mousse in the refrigerator for up to 5 days or in the freezer for up to 3 months. 
Serving
The mousse will be thin enough to pour into cups just after it is made. Once it has been chilled, it will thicken. You can also spoon the cold chocolate mousse into a pastry bag and then pipe it into dessert cups. 

Latest posts by Beth Klosterboer
(see all)