You can make your hot chocolate bombs with alcohol by filling them with chocolate ganache blended with your favorite liquor. Add tiny marshmallows and your chocolate bombs are ready to make a delicious boozy hot chocolate or coffee.
What's more satisfying than a mug of hot chocolate or cup of coffee on a cold winter's day?
If you're an adult, it just might be a mug of boozy hot chocolate or coffee!
For years I have been making chocolate truffles using liquor and my customers love the boozy chocolate ganache filled treats. So, when I set out to make these hot chocolate bombs with alcohol, I figured I'd fill them with liquor-infused chocolate ganache.
Video
Watch the video to see how they are made then read through the step-by-step instructions.
[adthrive-in-post-video-player video-id="fukNDlBp" upload-date="2021-02-14T19:14:49.000Z" name="Boozy Hot Chocolate Vombs" description="Alcohol-infused chocolate ganache and marshmallow filled hot chocolate bombs decorated with a drizzle of chocolate and edible gold star glitter can be served in a mug of hot steaming milk or a cup of coffee. " player-type="default" override-embed="default"]

Chocolate ganache is a velvety smooth, decadently rich blend of chocolate and cream.
I'll give you the recipe below to make ganache using a bowl, but you can read my detailed tutorial for making ganache in a food processor or using an immersion blender using dark, milk, or white chocolate in my chocolate ganache recipe post.
Ganache is like a blank canvas. You can flavor it using fruit puree, coffee creamer, spices, and even liquor.
Basic Chocolate Ganache Recipe
Ingredients:
16 ounces semi-sweet chocolate, finely chopped (or use callets)
1 cup heavy whipping cream
2-4 tablespoons liquor
Instructions:
Pour the finely chopped chocolate into a large shallow bowl.
Heat the heavy whipping cream over medium heat on your stove, just until bubbles begin to form.
Immediately pour the hot cream over your chocolate, making sure it covers all of the chocolate. 
Let the chocolate and cream sit, undisturbed for about 3 minutes to allow the chocolate to begin to melt.
Then begin stirring the chocolate in small circles in the center of the bowl.
As the chocolate and cream start to come together (the color will begin to darken) you can begin to make your circle bigger.
Continue stirring until the cream and chocolate come together then widen the circle again and continue until the entire bowl of cream comes together.
Be sure to scrape the bottom and sides of the bowl.
Then quit stirring as soon as the chocolate and cream come together to create a silky smooth ganache.
Boozy Chocolate Ganache
Stir 2-4 tablespoons of your chosen alcohol into the ganache.

Note that the more alcohol you add, the stronger the flavor and the thinner the final ganache will be.
Because you are going to be filling hot chocolate bombs with the boozy ganache it's alright if it is thick or thin.

The liquor will not only flavor the chocolate ganache but will also inhibit mold growth.

The shelf life of plain chocolate ganache is usually 10-14 days, but by adding alcohol, you can increase the shelf life to 3 weeks, if the ganache is stored at room temperature.
Boozy Hot Chocolate Bomb Flavor Ideas:
Bailey's Irish Cream - This liquor has a very mild flavor, so I would suggest adding the full 4 tablespoons to the ganache.
Amaretto - I used Amaretto to flavor the hot chocolate bombs that I made in the video. I added 3 tablespoons of Amaretto and found the flavor to be very robust.
Chambord - This raspberry liquor is one of my favorite boozy additions to chocolate ganache.

You could even make your chocolate ganache using real raspberries to give it an even better raspberry flavor. Check out my Chocolate Raspberry Truffles post for the recipe.

Kirsch - This cherry-flavored liquor has a nice mild cherry flavor. I've never made chocolate ganache using cherry puree, but I bet it would taste amazing.
Rum - Chocolate and rum are a classic combination and you can find flavored Rum. I personally love making milk chocolate ganache using Banana Rum and dark chocolate ganache using Coconut Rum.
Kahlúa - This is another mild-tasting liquor that tastes delicious with chocolate. You can even make your chocolate ganache using coffee like I did when I made Chocolate Hazelnut Coffee Ganache or you can serve a Kahlúa hot chocolate bomb in a cup of coffee instead of in hot milk.
Rum Chata - Add hints of cinnamon and vanilla to your hot chocolate bombs by adding Rum Chata to your ganache filling.
Peppermint Schnapps - Flavor your chocolate ganache with Peppermint Schnapps for Christmas or any day you want a refreshing minty flavored hot chocolate.
Creme de Menthe - This green-colored liquor would be fun to stir into white chocolate ganache to give your Christmas or St. Patrick's Day hot chocolate bombs a fun color and minty flavor.
There are many more flavors to choose from. Just choose your favorite liquor to make your boozy hot chocolate bombs. You can even use wine.
Chocolate Shells
Have you made hot chocolate bombs before?
I have a very detailed blog post showing you the best chocolate to use to make your chocolate shells and how to make hot chocolate bombs. I suggest you read that post first, but I'll give you a brief explanation below.
Let's start with a quick explanation about chocolate.
Pure Chocolate vs Compound Chocolate
Pure chocolate contains cocoa butter which melts at body temperature so it gives the chocolate a luxuriously smooth texture when it melts on your tongue. It must be tempered (melted, heated, and cooled to exact temperatures).
Compound chocolates (also known as Candy Melts, almond bark, melting wafers, or confectionery coating) are made with vegetable fats, typically palm kernel oil, and melt easily and harden beautifully without any fuss.
Pure chocolate has a richer taste and creamier texture, but you can choose to make your chocolate shells using compound chocolate if you want to skip the step of tempering chocolate.
Just be sure to use pure chocolate when making your chocolate ganache for the best flavor.
If you don't have much experience working with chocolate be sure to read my Chocolate Making Tips page. I thoroughly explain the differences between the various types of chocolate, how to melt chocolate, and how and why you need to temper chocolate.
Here's a brief recipe for tempering chocolate.
Tempering Chocolate
Melt 12 ounces of finely chopped dark chocolate (or chocolate callets, pictured above) to 115°-120° Fahrenheit.

Heat milk chocolate to 110°-115° F, or white chocolate to 105-110° F.
You can melt the chocolate in the microwave, on high power, for 30-second bursts of power, stirring in between each until melted, or you can melt your chocolate using a double boiler on the stove set over low heat.
See my Chocolate Making Tips page for detailed chocolate melting instructions.

Begin to cool the chocolate by seeding it with about 2 ounces of chocolate. Stir the un-melted chocolate pieces into the bowl of melted chocolate.
Continue to stir, scraping down the sides of the bowl, until all of those chocolate pieces have melted.
Continue to sprinkle in small amounts of the chocolate until your dark chocolate reaches 90-91 °F.

Or 86-88°F for milk and 82-84°F for white.

Once the chocolate reaches that temperate, remove any unmelted chocolate pieces.
Test the temper of the chocolate by dipping a metal spatula, spoon, or knife into the chocolate, shake off any excess chocolate, and set it aside for 3-5 minutes, until hardened. If it hasn't hardened and isn't shiny, it's not tempered yet.
Do I have to temper?
Yes! Do not use pure chocolate if you do not plan to temper it.
I've seen other hot chocolate bomb recipes where the recipe creator tells you that you don't have to temper your chocolate.

Pure chocolate that is not tempered properly will be too soft. It will not come out of your mold.
Yes, if you use a silicone mold you can push the soft chocolate shell out of the mold, but once your chocolate hardens and sits for a while it will bloom.

What is bloom?

Bloom is either fat or sugar crystals that rise to the surface of the chocolate!

The chocolates pictured above have not been tempered and they have bloomed.
I know you do not want your hot chocolate bombs to look like that.
So, temper your chocolate or use compound chocolate (candy melts) instead.
Can I use colored candy melts?
Absolutely! You can use any colored Candy Melts wafers to create your chocolate bombs.
I made these Conversation Heart Truffles using colored candy melts and they are filled with white chocolate ganache. You could easily add liquor to the white chocolate ganache filling to make boozy conversation heart hot chocolate bombs.
If you want to use pure white chocolate to make white chocolate bombs be sure to use oil-based candy color, not water-based icing coloring.
Molds
You can use polycarbonate sphere molds, silicone sphere molds, or plastic ornaments as molds to make your liquor-filled hot chocolate bombs.
I'll show you below a brief explanation for using polycarbonate and silicone molds. You can see how to make the chocolate shells using plastic ornaments on my How To Make Hot Chocolate Bombs tutorial.
You can even make heart-shaped dark chocolate shells using a silicone heart mold. See details on my Valentine's Day Hot Chocolate Bombs post.
Pour the chocolate into a polycarbonate mold.
Fill the half-sphere cavities in your mold completely with chocolate.
Turn the mold upside down over your bowl of chocolate and allow the excess chocolate to drip out.
Tap the side of the mold a few times to encourage all of the excess chocolate to drip out of the mold.
Use an offset spatula to scrape off the excess chocolate.
Set the mold upright and use a metal bench scraper or putty knife to scrape over the mold to ensure all of the excess chocolate has been removed.
Chill in the refrigerator if using pure chocolate or in the freezer, if using compound chocolate (candy melts) for 5-15 minutes until hardened.
Once hardened the chocolate will easily slide right out of the mold.
If the chocolates won't come out of the mold, place the mold back in the refrigerator for a few more minutes and try again.
If after 20 minutes your chocolate will not come out of the mold, it wasn't in temper. You can try freezing the mold for 10 minutes to remove the chocolate, but most likely you'll need to wash it out using hot water.
If using compound chocolate (candy melts) or pure chocolate that is very viscous (very fluid and thin chocolate that has a higher percentage of cocoa butter) you may need to create a second layer by repeating the process above.
Paint chocolate into a silicone mold.
Fill the sphere cavity in a silicone mold with a heaping tablespoon of chocolate.
Use a paintbrush to brush the chocolate up the sides of the mold.
Allow the mold to chill in the refrigerator if using pure chocolate, or in the freezer, if using compound chocolate (candy melts) for 5-15 minutes just until the chocolate hardens.
I recommend brushing another layer of chocolate around the top edge of the sphere and chilling it until hardened.
To remove from the mold, tug on the silicone mold right around the chocolate you want to remove and the chocolate will pop out.
Fill your chocolate bombs with ganache.
As I mentioned, you want to make the chocolate shells before you make your ganache.

Chocolate ganache thickens as it cools and it's much easier to fill the chocolate shells with ganache that hasn't thickened too much.
You do need to allow it to cool slightly though. You do not want to pour hot chocolate ganache into a chocolate shell as it can melt the chocolate.

I find it easiest to pipe the chocolate ganache into my chocolate shells.
Pipe or pour the chocolate ganache into one half of a chocolate sphere filling it to about ⅛-inch from the rim.
If desired, sprinkle some dehydrated or mini marshmallows over top.
How much ganache to use in hot chocolate bombs?
That will depend on the size of your chocolate spheres.
I made my chocolate spheres using a 2.2-inch polycarbonate mold and was able to make 9 hot chocolate bombs out of one recipe of chocolate ganache.
The larger hot chocolate bombs will require a larger mug of hot milk or coffee so fill the half-sphere with ganache leaving just enough room for some marshmallows.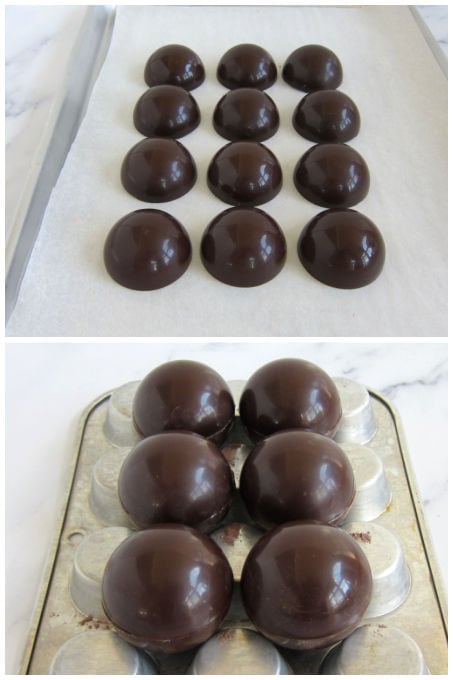 Sealing the hot chocolate bombs.
Heat a skillet on low heat for 20 to 30 seconds (just long enough to warm up the pan) or heat a plate in the microwave for 30-60 seconds (use a towel or a potholder to remove the hot plate).
Pick up one of the empty chocolates and hold it with the open side down.
Set it in the warm pan, and allow it to melt slightly.
Lift the chocolate sphere out of the pan then set it over one of the filled chocolates, pressing the two halves together gently to seal them together. It's best to watch the video to see how this is done.
Decorating your chocolate balls.
Drizzle chocolate over the top of the chocolate balls then immediately add edible glitter stars or any other sprinkles, nuts, cookie crumbs, or marshmallows.
I love how the gold glitter star sprinkles look on these chocolates.
Just know that most of the toppings you use to decorate your hot chocolate bombs will sink to the bottom of the mug of hot chocolate or coffee.
Serving boozy hot chocolate bombs.
Set the hot chocolate bomb in a mug and cover it with steaming hot milk, boiling water, or freshly made coffee.
Let the chocolate melt, then stir until well blended.
Other supplies you'll need to make your chocolate bombs:
offset metal spatula
metal bench scraper (or use a putty knife that's only used for chocolate work)
optional, food-use only paintbrush if you plan to use silicone molds
food handling gloves are imperative when working with chocolate that you wear gloves so that you
disposable pastry bags or parchment paper cones
parchment paper or wax paper set on cookie sheets or cutting boards
an instant-read thermometer is a must if you plan to temper pure chocolate (my favorite is a Themapen)
You can find the supplies needed to make these hot cocoa bombs from Amazon. I earn a small commission at no extra cost to you when you use any of the affiliate links in this post.
If you'd like to learn more about the art of making chocolate, be sure to check out my online video chocolate making classes at The Sugar Academy. Save 20% off any class using coupon code HUNGRYBLOG20.
Printable  Recipe
Boozy Hot Chocolate Bombs
Fill chocolate spheres with liquor-infused chocolate ganache and marshmallows then serve them in a mug of steaming hot milk or coffee.
Keyword:
chocolate, chocolate ganache, hot chocolate bombs
Ingredients
Chocolate Spheres
16

ounces

melted and tempered pure dark chocolate or melted compound chocolate (candy melts, almond bark, melting wafers)
Boozy Chocolate Ganache
16

ounces

semi-sweet chocolate,

finely chopped

1

cup

(8 ounces) heavy whipping cream

2-4

tablespoons

liquor
Optional Filling and Decoration
1

cup

dehydrated marshmallows

2

ounces

melted and tempered pure dark chocolate or melted compound chocolate (candy melts, almond bark, melting wafers)

edible glitter stars, sprinkles, cookie crumbs, etc.
Instructions
Chocolate Spheres
Pour or paint chocolate into a polycarbonate or silicone mold to create 32 thin half-sphere chocolate shells. See the tutorial for step-by-step instructions.
Boozy Chocolate Ganache
Heat heavy whipping cream in a saucepan set over medium heat just until it begins to simmer (bubbles begin to form).

Pour the hot cream over the finely chopped chocolate.

Allow the cream-covered chocolate to rest for about 3 minutes.

Stir, creating an emulsion, until blended.

Let the ganache cool slightly then pipe or pour into half of the chocolate shells leaving about ⅛th inch around the top edge.

If using, top the ganache with some tiny dehydrated marshmallows.

Heat a skillet on low heat for 20 to 30 seconds.

Pick up one of the empty chocolates and set it so the top, open edge, rests in the bottom of the pan.

Allow the top edge of the chocolate to melt.

Then pick it up and set it on a ganache-filled chocolate shell.

Gently press down on the top of the chocolate shell to seal the two halves of the chocolate sphere together.
Decoration
Drizzle some more chocolate over top and add some edible gold glitter stars or other sprinkles or toppings.
Recipe Notes
Store at room temperature for up to 3 weeks.
Storing boozy hot chocolate bombs.
Store your chocolates at room temperature for up to 3 weeks.
If you refrigerate them, they will keep for up to a month, but the outer shells can bloom or sweat.
I do not recommend freezing as freezing affects the texture of chocolate and both freezing and refrigerating can cause condensation (beads of water on the outside of your chocolate spheres), but if you absolutely need to freeze your hot chocolate bombs you will need to wrap each chocolate sphere in plastic wrap then overwrap them in paper towels (which will help to wick up any condensation) and place them in an airtight container.

They'll keep in the freezer for up to 3 months.
Thaw them overnight in the refrigerator then set them on your counter and let them come to room temperature, for at least a few hours, before opening the container and unwrapping the chocolates.
More Boozy Recipe Ideas
Chocolate Baileys Irish Cream Filled Beer Mug Cakes

Did you make these boozy hot chocolate bombs? Leave me a comment below letting me know what liquor you use to make them and be sure to rate the recipe too.
I love making fun food for parties and special occasions and sharing my creative ideas with you.
If you make this recipe and share it online be sure to link back to this post and use #hungryhappenings.
Thanks and have a sweet day! -
Beth

Latest posts by Beth Klosterboer
(see all)