Show your dad you think he rocks with these Edible Fudge Rocks! These cookies and cream fudge rocks are quick and easy to make, taste great, and will sweeten up any Father's Day celebration.
For Father's Day this year I decided it would be fun to recreate something like the Cookies 'n Cream Fudge Garden Stone I recently made for Mother's Day. At first, I thought I'd just make a new, more masculine looking garden stone, but when I did a search to find some ideas, I found all sorts of cute crafts using the phrase "Dad Rocks" so I changed my mind and created these simple Edible Fudge Stones instead.
I'd already successfully handcrafted stone using a white chocolate fudge filled with dark flecks of OREO Cookies, so I chose to go with that recipe again. My original intent was to pile my edible rocks into a toy dump truck for my pictures, but after searching in a few stores,  I just couldn't find one the right size. If you have one in your toy box, clean it really good and you can use it to display your rocks. I opted instead for a mountain of rocks piled high on a cutting  board. Cheap and easy.
A big pile of rocks wouldn't quite get the point across, so I found a piece of clip art of a guy holding a flag and added, "Dad Rocks" to it. I edited the image to say "My Dad Rocks," and "Dad, You Rock" using Photoshop. You can have your's say whatever you'd like.
You could be adventurous and create the guy out of fondant or modeling chocolate, or go the easy route and hand write your personal sentiment on a piece of paper and attach it to a toothpick and stick it into a rock. Or you could dress it up and buy your dad a new shovel and cover it with plastic wrap, pile on the rocks and attach a sign to the handle. A bucket of rocks would work too. Oh, so many possibilities...
UPDATE: I've also created a blog post showing you how to imprint the cookies 'n cream fudge rocks with words like "you rock." 
There are so many other fun uses for these fudge rocks. Scroll down to see how some of my readers have used these edible rocks. These have been given to rock climbers, archaeologists, and students.
SEE A STEP-BY-STEP and a VIDEO TUTORIAL BELOW!
RELATED: Find dozens of easy fudge recipes at HowToMakeEasyFudge.com.
Cookies 'n Cream Edible Fudge Rocks
Cookies 'n Cream Edible Fudge Rocks
White chocolate fudge speckled with flecks of OREO Cookies formed into rocks make fun treats for Father's Day, a rock climbers birthday, or a science fair bake sale.
Keyword:
cookies and cream fudge, edible fudge rocks
Ingredients
24

ounces

finely chopped white chocolate (or chips) or white confectionery coating

1

can

(14 ounces) sweetened condensed milk

1

pinch

of salt

⅔

cup

Oreo Cookie crumbs

½

teaspoon

cocoa powder

optional

1

drop red food coloring

optional
Instructions
Heat white chocolate or white confectionery coating, sweetened condensed milk and salt in a medium saucepan set over low heat until 50% melted.

Remove from heat and let sit for 5 minutes.

Add ¼ cup of the OREO cookie crumbs and stir until smooth.

Divide the fudge into 3 or 4 bowls and add varying amounts of the remaining cookie crumbs, cocoa powder, and red food coloring to achieve several different colors of fudge for your stones.

Press a piece of plastic wrap down onto the fudge in each bowl and allow it to sit at room temperature for about 30 minutes, until it is thick and no longer sticky.

Pinch off varying sizes of fudge, roll into odd shaped balls, and set aside to firm up.

Display in a dump truck, on a cake, or in a pile.
Recipe Notes
These edible fudge rocks will stay fresh for about 2 weeks. The exterior of the rocks may dry out a bit but the center will stay nice and soft. Store in an airtight container to keep the rocks soft inside and out. 
How to make edible fudge rocks (cookies and cream fudge stones): 
You can make your fudge on the stove top or in the microwave.
To make the cookies 'n cream fudge on the stove:
Stir the chocolate, sweetened condensed milk and salt together in a saucepan and melt it over low heat.

Once the white chocolate looks like it's about 50% melted, it's best to remove the pan and set it aside for a while to allow the residual heat to continue to melt the white chocolate before stirring until smooth.
PRO TIPS:
I made this recipe three times before creating these edible rocks and I used confectionery coating, melted it completely on the stove top, and every batch has turned out fine.
A reader made her's using pure white chocolate and told me it was greasy.

I thought I better try that out too and the batch I made using pure white chocolate was greasy too.
Here's what I discovered.

Much like in making modeling chocolate, I found that the white chocolate can't get too hot or the cocoa butter will seep out.
I was able to salvage my greasy fudge by stirring in a few tablespoons of cold heavy whipping cream, but if you follow the instructions above and only allow half of the chocolate to melt while on the stove, your fudge should turn out perfectly.
To make the cookies and cream fudge in the microwave:
Heat the white chocolate, sweetened condensed milk, and salt for 45 seconds in the microwave.
Let sit in microwave for 3-5 minutes.
Remove and stir.
Heat for 15 second increments, resting for a minute then stirring after each, until melted and smooth.
How make make a variety of colored fudge stones:
Divide the cookies 'n cream fudge among three or four bowls.
Leave one bowl alone.
Add most of the remaining Oreo cookie crumbs to one of the bowls.
Add the cocoa powder to another bowl.
Add one drop of red food coloring and the remaining crumbs to the last bowl.
These are just suggestions; you could make your rocks any color you'd like.
How to shape your fudge rocks:
Pinch off pieces of fudge in varying sizes and roll or flatten into different sized rocks.

You can make big boulders or tiny little pebbles.

Arrange rocks in a pile or using any of the other methods I've listed in the post above.
If you'd like, you can print the "Dad Rocks" clip art onto card stock. Cut it out and set it on your rock pile.
I made a video showing you how to make fudge rocks for Valentine's Day using a similar recipe and technique.
See how my reader's have used these fudge rocks in very clever ways. 
Rock climbing has become so popular and Shang did an amazing job creating these cupcakes for a rock climbing birthday party
for her coworker's son. She created custom designed cupcake wrappers and flags for each fudge rock topped cakes.
Holly created this cake for a young lady graduating from Missouri Science and Technology with a degree in geological engineering.
MS&T's mascot is Joe Miner, he's holding the sign congratulating the graduate.
The hammer is sculpted out of fondant and gumpaste, and it along with the rocks look so real.
Sarah made these very realistic looking rocks to give her daughters teacher because Teachers Rock!
I love that she filled a beach pail with her candy rocks.
Kelly made these for her husband for Father's Day and she said, "they were yummy!"
She did a great job with creating lots of nice variety of colored fudge rocks.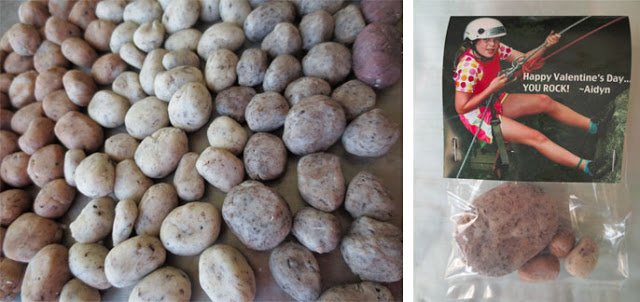 How fun is this? Carla and her rock climbing daughter, Aidyn, made a huge pile of fudge rocks,
 then they creatively packaged the candy rocks in cellophane bags and attached a
clever card topper to the bag for Valentine's Day.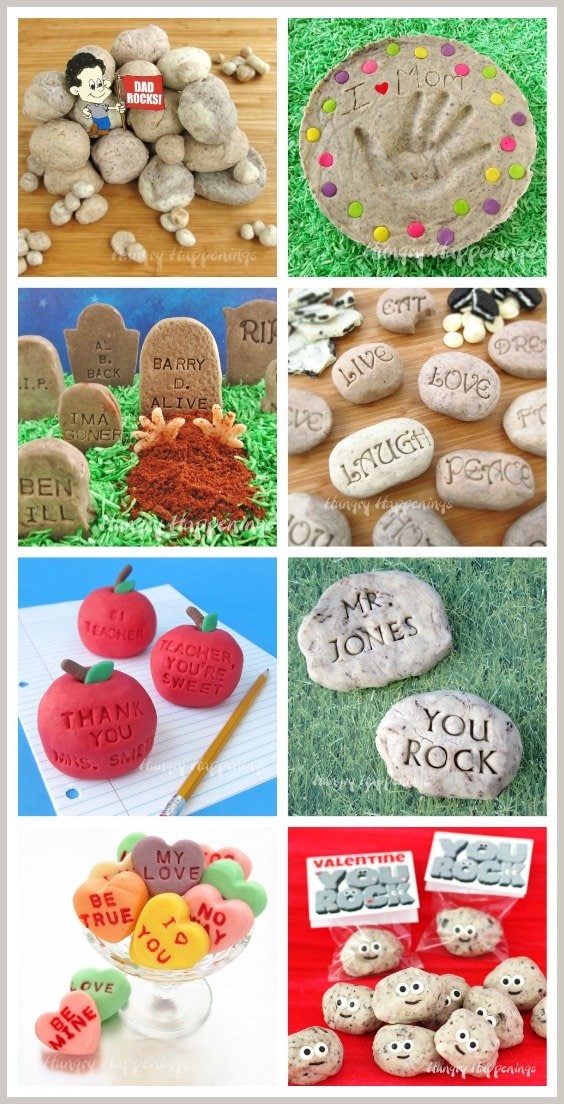 My Dad Rocks Fudge Treats • Edible Garden Stone
Fudge Tombstones • Sweet Serenity Stones
 Fudge Teacher's Apples • Teacher's Rock
Fudge Conversation Hearts • Cookies 'n Cream Fudge Rocks
Need some more ideas for Father's Day? Well go check out the attached link and shower your dad in goodies!