Show your dad you think he rocks by making him these Cookies and Cream Fudge Rocks! These candy rocks are easy to make for dessert or a gift. Plus, they are perfect decorations for cakes, cupcakes, and more.
For Father's Day this year, I decided it would be fun to recreate something like the Cookies 'n Cream Fudge Garden Stone I recently made for Mother's Day.
At first, I thought I'd just make a new, more masculine-looking garden stone, but then I came across some crafts that used the phrase "Dad Rocks." I loved the idea of just making a pile of candy rocks with a cute sign that said, "Dad Rocks."
These edible rocks made with white chocolate fudge blended with OREO Cookies are super easy to make and look great on top of cakes, cupcakes, and more. For this project, I just piled them up.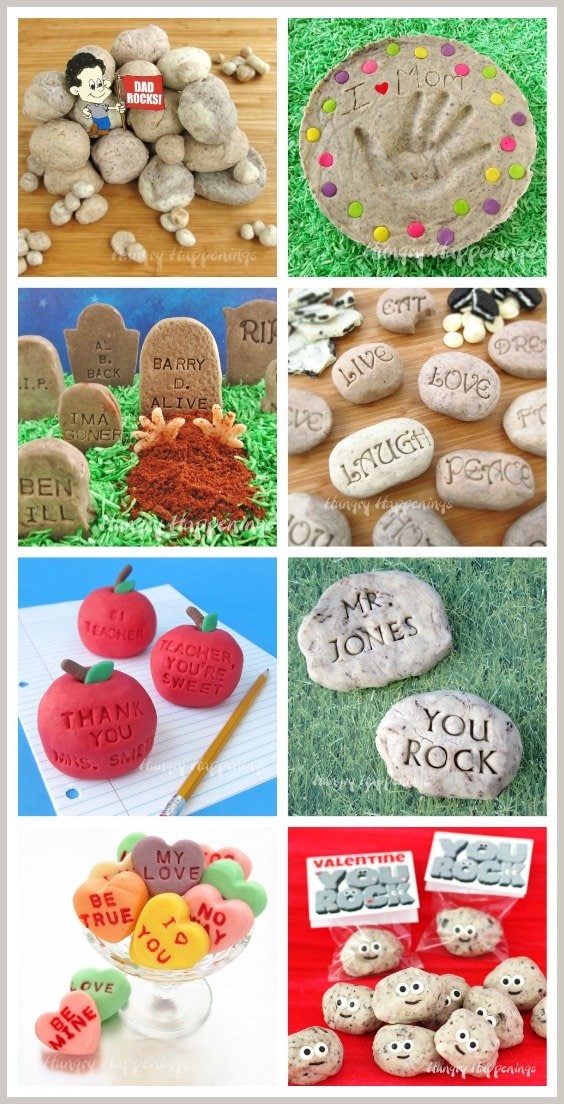 UPDATE: I've used this fun recipe to make so many more projects including my original Fudge Garden Stone, Fudge Tombstones, Sweet Serenity Stones, Fudge Teacher's Apples,  Edible Rocks for Teachers, Fudge Conversation Hearts, and Cookies 'n Cream Fudge Rocks.
I'll share the simple step-by-step process to make the fudge stones below. Be sure to check out all the ways my readers have used these candy stones to decorate prehistoric cakes, rock-climbing cupcakes, beach cakes, and more below the recipe card.
RELATED: Find dozens of easy fudge recipes on my other blog, HowToMakeEasyFudge.com.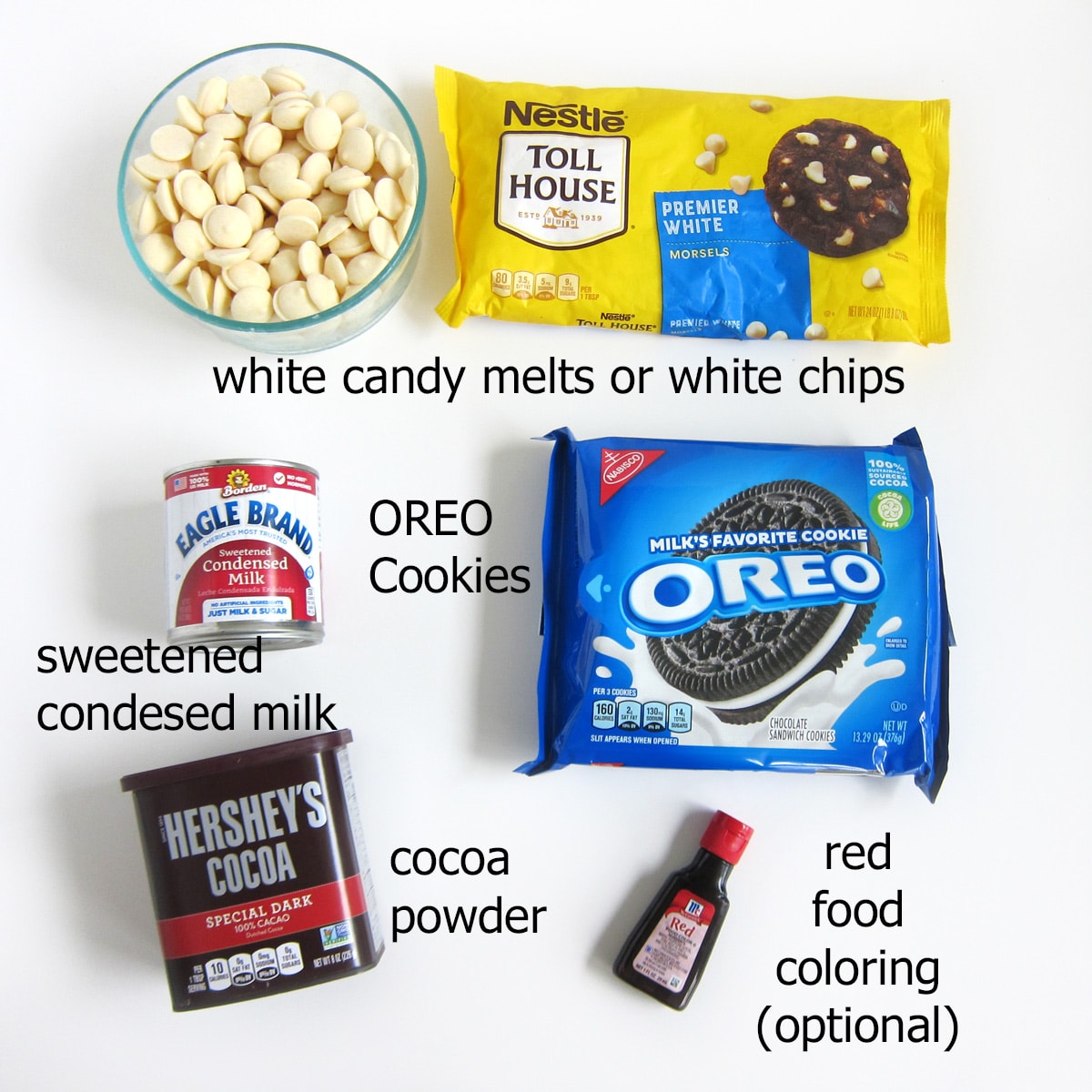 Ingredients
white candy melts or almond bark, melting wafers, or white chips
sweetened condensed milk - Using sweetened condensed milk makes creating fudge super easy.
salt - This ingredient is optional. Add it if you want to balance out the sweetness.
Oreo Cookie crumbs - You can use any chocolate cookie crumbs.
cocoa powder optional - You can add some cocoa powder to the fudge to add brown coloring.
red food coloring, optional - Use this to add color to some of your fudge rocks.
To make the cookies 'n cream fudge on the stove:
You can make your fudge on the stovetop or in the microwave.
Stir the chocolate, sweetened condensed milk, and salt if using together in a saucepan and melt it over low heat.
Once the white chocolate looks like it's about 50% melted, it's best to remove the pan and set it aside for about 5 minutes to allow the residual heat to continue to melt the white chocolate before stirring until smooth.
Tips
I made this recipe three times before creating these edible rocks I used confectionery coating, melted it completely on the stovetop, and every batch has turned out fine.
A reader made hers using pure white chocolate and told me it was greasy.
To make the cookies and cream fudge in the microwave:
Heat the white chocolate, sweetened condensed milk, and salt for 45 seconds in the microwave.
Let sit in the microwave for 3-5 minutes.
Remove and stir.
Heat for 15-second increments, resting for a minute then stirring after each, until melted and smooth.
Coloring the cookies and cream fudge.
Divide the cookies 'n cream fudge among three or four bowls.
Leave one bowl alone.
Add most of the remaining Oreo cookie crumbs to one of the bowls.
Add the cocoa powder to another bowl.
Add one drop of red food coloring and the remaining crumbs to the last bowl.
These are just suggestions; you could make your rocks any color you'd like.
Shape your fudge rocks.
Pinch off pieces of fudge in varying sizes and roll or flatten them into different-sized rocks. You can make big boulders or tiny little pebbles.
Arrange rocks in a pile or using any of the other methods I've listed in the post above.
If you'd like, you can copy this image and print the "Dad Rocks" clip art onto card stock. Cut it out and set it on your rock pile.
Variations
Scroll past the recipe card to see all of the fun desserts that my readers decorated using these edible rocks. They are all amazing.
Video
I made a video showing you how to make fudge rocks for Valentine's Day using a similar recipe and technique. Be sure to check it out below.
Recipe
Cookies 'n Cream Fudge Rocks
White chocolate fudge speckled with flecks of OREO Cookies formed into rocks make fun treats for Father's Day, a rock climbers birthday, or a science fair bake sale.
Keyword:
cookies and cream fudge, edible fudge rocks
Ingredients
24

ounces

white candy melts, white almond bark, or white chips

1

can

(14 ounces) sweetened condensed milk

1

pinch

of salt,

optional

⅔

cup

Oreo Cookie crumbs

½

teaspoon

cocoa powder

optional

1

drop red food coloring

optional
Instructions
Heat the white chocolate, sweetened condensed milk, and salt if using in a medium saucepan set over low heat stirring often until 50% melted. 

Remove from heat and let sit for 5 minutes.

Add ¼ cup of the OREO cookie crumbs and stir until smooth.

Divide the fudge into 3 or 4 bowls and add varying amounts of the remaining cookie crumbs, cocoa powder, and red food coloring to achieve several different colors of fudge for your stones.

Press a piece of plastic wrap down onto the fudge in each bowl and allow it to sit at room temperature for about 30 minutes, until it is thick and no longer sticky.

Pinch off varying sizes of fudge, roll into odd shaped balls, and set aside to firm up.

Display in a dump truck, on a cake, or in a pile.
Recipe Video
Recipe Notes
These edible fudge rocks will stay fresh for about 2 weeks. The exterior of the rocks may dry out a bit but the center will stay nice and soft. Store in an airtight container to keep the rocks soft inside and out. 
My readers rock!!!
Below are pictures from my readers showing how they used the fudge rocks to decorate cakes, cupcakes, and more. I have been blown away by the creative uses of these chocolate rocks. I hope you are inspired by their creativity.
Shang made these Rock Climbing Cupcakes for her coworker's son. She designed a custom cupcake wrapper and flags for her fun cupcakes.
Holly created this cake for a Missouri Science and Technology geological engineering graduate. It featured fudge rocks and a rock hammer.
Sarah made these very realistic-looking rocks to give her daughter's teacher because Teachers Rock!
Kelly made these for her husband for Father's Day and she said, "they were yummy!" She did a great job with creating lots of nice variety of colored fudge rocks.
Marie added the candy rocks to this fun prehistoric cake for her grandson's birthday.
The fudge rocks make a great border around the entire cake.
How cool is this cake? Heidi hollowed out two large fudge rocks brushed them with some candy melts and sprinkled on colored sugar to create the geodes on this cake.
Heather created a cake with superheroes rescuing her daughter from a lake. She added fudge rocks around the lake and a path up to a mountain.
Nadine covered a round layer cake with fudge rocks to celebrate her son's 11th birthday. That had to be one tasty cake!
Julianne's husband apparently ran his jeep onto a pile of rocks while at the beach with their dog so she made him this hilarious birthday cake with lots of edible rocks. Check out the skid marks in the sand!
Barbara packaged fudge rocks in bags for her Sunday school kids so they could make their own altar of rocks like the Israelites did after crossing Jordan.
Tina decorated a prehistoric cake with fudge rocks, fondant dinosaurs, and a volcano that lit up. Her son loved his special birthday cake.
Jane created some very realistic-looking sweet serenity stones that are fudge rocks stamped with sweet messages like, "hope," "love," and "joy."
Angela created this amazing cake filled with candy shells, starfish, and cookies 'n cream fudge rocks for two sweet girls who were celebrating a birthday at the beach.
Athina admits that she is a history geek and she was excited to make these edible Anglo-Saxon runes. Her cookies and cream fudge runes could fool anyone. They look incredibly realistic. Everyone enjoyed eating them once they realized they were candy.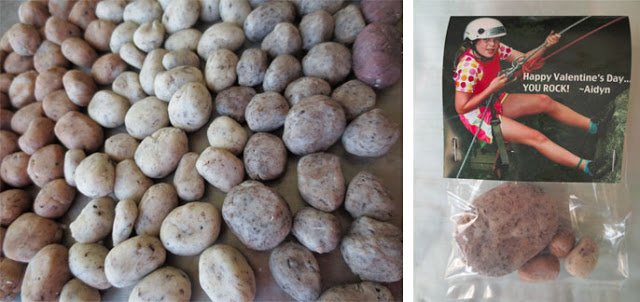 How fun is this? Carla and her rock-climbing daughter, Aidyn, made a huge pile of fudge rocks. Then they creatively packaged the candy rocks in cellophane bags and attached a clever card topper to the bag for Valentine's Day.

Latest posts by Beth Klosterboer
(see all)