Make edible serenity stones by imprinting rock-shaped cookies and cream fudge with words like "live," "laugh," "love," and more. These Sweet Serenity Stones are the perfect treat to give to the special people in your life.
Just a few days ago I shared with you a recipe to make cookies 'n cream fudge rocks for a fun Father's Day project.
While I was creating my sweet stones, this idea popped into my head and I just had to share it. I know this is the third edible rock recipe to grace these pages in the past month and some of you may be saying, "Enough already," but I think this one is really great and worth sharing. I promise I'm done with this idea, for a while.
I had just purchased some stone stamps last week, not really knowing what I'd do with them, but figured sooner or later, I'd have the perfect project idea. These plastic letter stamps can be used to make garden stones or used in any type of clay including the chocolate variety.
After I made my stone mountain the other day, I pulled out the stamps and tried them out in my fudge rocks. They worked perfectly. I reworked my original mountain of rocks into 11 large rocks for this project. Then I spent less than ten minutes adding a nice variety of inspirational sayings.
These stones look and feel like the real deal, but taste divine!
RELATED: Find dozens of easy fudge recipes at HowToMakeEasyFudge.com.
Sweet Serenity Stones (makes 10-12)
Ingredients
white chocolate
sweetened condensed milk
OREO Cookies
optional colorings: cocoa powder, red food coloring
Supplies
1 set of Victorian Style Letter Stone Stamps
You can find items used for this project on Amazon. I earn a small commission when you use the Amazon links in this post to make a purchase at no extra cost to you.
Instructions
Make the cookies and cream fudge rocks.
See the Fudge Rocks tutorial for step-by-step instructions for making the cookies and cream fudge stones or see the recipe below.
Roll your cookies 'n cream fudge into various shapes and sizes. You'll need your edible rocks to be large enough to stamp out your inspirational phrases.
Press the stamps into the candy stones creating whatever sayings you'd like. You may have to hold the fudge as you pull up the stamp so you don't distort your letters.
Just a note - you can see that the stamps have letters or numbers on both sides. I pressed the "Y" into the stone which featured the word, "JOY," but you are seeing the "A" that is on the back side of the stamp.
That's it. You are done! Super easy, isn't it?
Variations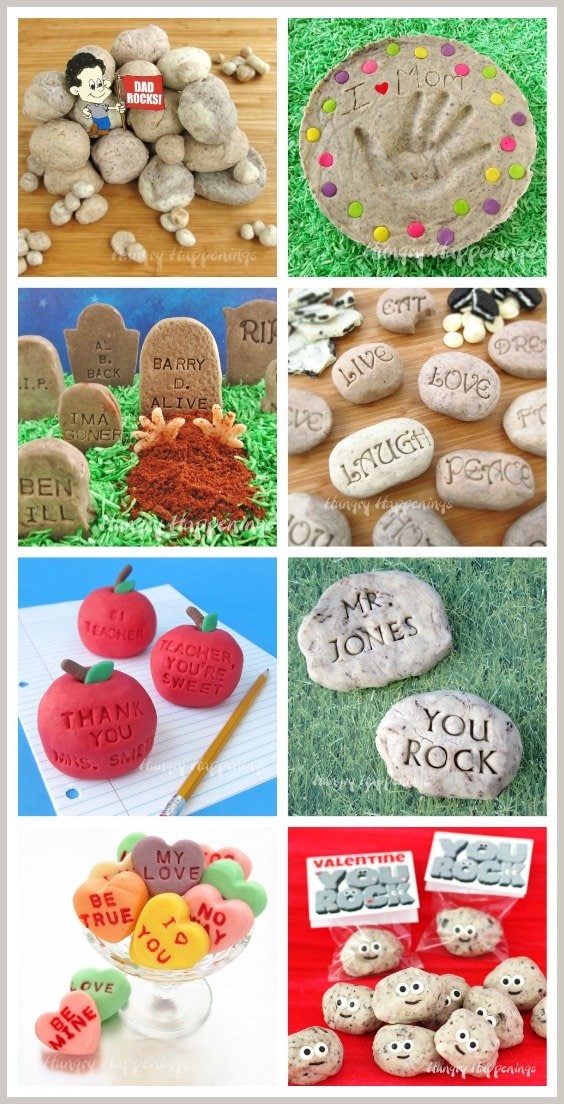 You can also make these other fun candy stone recipes: Fudge Garden Stone, Fudge Tombstones, Fudge Teacher's Apples,  Edible Rocks for Teachers, Fudge Conversation Hearts, and Cookies 'n Cream Fudge Rocks.
Recipe
Sweet Serenity Stones
Cookies and cream fudge stones stamped with sweet messages like "live," "laugh," "love," and more.
Keyword:
cookies and cream fudge, fudge, oreo, white chocolate
Ingredients
24

ounces

white chocolate chips,

candy melts, or almond bark

14

ounces

sweetened condensed milk

a pinch of salt

11

OREO Cookies,

crushed into crumbs (about ⅔ cup)

½

teaspoon

cocoa powder optional

1

drop red food coloring optional
Instructions
Combine the white chocolate, sweetened condensed milk, and salt in a medium saucepan.

Set the pan over low heat.

Stir often until about 50% of the white chocolate has melted.

Remove the pan from the heat and let it rest for 5 minutes.

Then begin to stir, add ¼ cup of the OREO cookie crumbs, and stir until blended.

Use the fudge as is, or divide it into separate bowls, adding cocoa powder, more oreos, or red food coloring to acheive a variety of colors.

Cover the fudge with plastic wrap and let the fudge cool for at least 30 minutes until it is thick and no longer sticky.

Pinch off varying sizes of fudge and shape into rocks that are large enough to imprint sayings.

Press alphabet garden stones into the rocks to create sayings like "live," "laugh," "love," etc.
Recipe Notes
Store these fudge serenity stones in an airtight container at room temperature for up to 2 weeks. You can also freeze these for up to 3 months. 

Latest posts by Beth Klosterboer
(see all)