A homemade gift for your mom on Mother's Day or her birthday will surely win her heart and an edible Cookies and Cream Fudge Garden Stone is a unique treasure she will surely love.
My original Hand Print Garden Stone was posted May 9, 2012. The second version with "If Moms Were Flowers, I'd pick you" garden stone with video tutorial was created 5 years later on May 1, 2017. There are so many ways to decorate your own edible Fudge Garden Stones, so get creative and have fun!
Back in 2012, I created my very first Cookies 'n Cream Fudge Garden Stone using a traditional design with a child's hand imprinted in the soft fudge. It was cute and very childlike but best of all it was tasty!
With Mother's Day fast approaching I wanted to create some new video tutorials showing you how to make some of my more popular food crafts for the special day and decided to start with this edible garden stone.
I chose to use the same concept when making the fudge stone for my new video but decided to change the design to give you more decorating options.
Video
The recipe is still a simple 3-ingredient fudge but this time I chose to decorate it with M&M flowers and I used plastic alphabet garden stone stamps to imprint the phrase, "If moms were flowers I'd pick you!"
This version of the fudge garden stone would be perfect for older kids to make for mom on Mother's Day or her birthday.
The yellow sunflowers and daisies are super easy to create using Mega M&M's, traditional M&M's, and M&M Minis.
Shop for ingredients and supplies.
 Items used to make this recipe that are available on Amazon.com (commission earned for sales).

Supplies:
medium saucepan
9"-10" round, square, or heart-shaped cake pan (I used a springform pan)
non-stick aluminum foil, parchment paper, or wax paper to line the cake pan
toothpick or skewer
Instructions:
Heat white chocolate or confectionery coating and sweetened condensed milk in a medium saucepan over low heat just until half of the chocolate is melted.
Remove from or turn off the heat and let sit for 3 minutes then stir until melted.
Stir in the cookie crumbs.
HANDPRINT DESIGN:
Spread into a tin foil pan or a tin foil-lined cake pan and smooth out the surface.
Decorate around the edge of the fudge with candy, if using.
Allow the fudge to sit at room temperature for 45 minutes.
Have your child wash her/his hands. Press his or her handprint into the fudge.
Use a skewer or toothpick to write a special message around the handprint. Or, for a cleaner look use plastic alphabet garden stone stamps (see the video tutorial below).

I added a red heart-shaped sprinkle in between the "I" and "Mom,} but think it looks a bit small. Any heart-shaped candy would work or you could just etch out a heart in the fudge.

Cover the fudge and let it sit for several hours until firm.
Remove from pan and peel away the tin foil.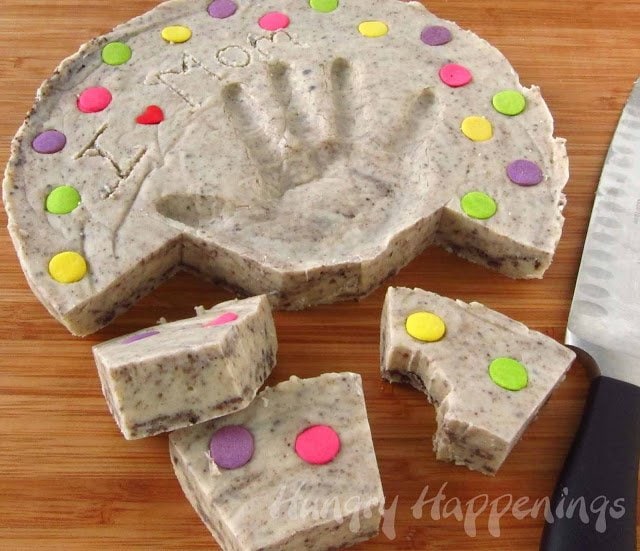 Serve on a cutting board or platter.
To add some color to your serving display, set your edible garden stone on top of green-colored coconut (add coconut to a zip-top bag and add drops of green food coloring, shake until evenly colored.)
You can even wrap the fudge garden stone in cellophane and tie it with a ribbon.
Cut with a knife into wedges or small pieces and enjoy. Wrap in plastic wrap and store in an airtight container for up to a few weeks.
NOTES:
The fudge needs to firm up in order for you to be able to press the alphabet stamps into it.
Use clear piping gel to attach the candies once the fudge has firmed up. If you know how you will decorate the fudge and can lay out the stamps so you leave enough room then you can press the candy into the fudge while it's still rather soft.
Once the fudge has firmed up you can cut and peel off the tin foil pan. I waited until it was decorated, but it's not necessary.
Printable Recipe
Cookies and Cream Garden Stone
Have fun with your kids by making this Cookies and Cream Garden Stone for mothers day! It's so much fun and even more fun to eat.
Keyword:
cookies and cream fudge, edible garden stone
Ingredients
1 ½

pounds

(24 ounces) finely chopped white chocolate (or chips) or white confectionery coating

14

ounces

sweetened condensed milk

(1 can)

½-2/3

cup

Oreo Cookie crumbs

5-8 cookies

candy decorations:

Jumbo Confetti sprinkles or M&M's
Instructions
Combine white chocolate with sweetened condensed milk in a saucepan.

Heat over low heat until half of the chocolate is melted.

Remove from the heat and let sit for 3 minutes then stir until melted.

Add the Oreo Cookie crumbs and stir just to combine.

Pour into a tin foil pan.

Follow the tutorial to decorate your fudge garden stone.
More Fudge Fun
from Hungry Happenings
Cookies 'n Cream Tombstones with clever epitaphs
Candy Rocks for Teacher Appreciation
Personalized Vanilla Fudge Apples
Your mom deserves the world and she has earned lots and lots of treats. So check out some more Mother's Day Recipes and let her relax in a pool of desserts.