Turn little handmade chocolate cups into these adorable Mini Chocolate Beach Pails. You can fill them with Dulce de Leche Mousse then top that with toffee bits to resemble sand and add homemade chocolate shells. They will make great treats for your beach themed party.
Of all the treats I made for my nephew's beach themed graduation party, these tiny little chocolate beach pails were my favorite.
These tiny treats don't really look like desserts at all and it was so much fun seeing how the party guests reacted when they found out the beach pails were completely edible.
It was even more exciting seeing how everyone ate their desserts.
Some people took bites out of the entire dessert, eating it like an ice cream cone, while others scooped the Dulce de Leche Mousse out with tiny spoons, then ate the chocolate cup. One guy even popped an entire pail into his mouth.
When I created these edible pails I knew I wanted them to look like they were filled with sand and sea shells.
I chose to fill them with the rich caramel flavored mousse because it's one of my sister's favorite treats and being she was the party host, I wanted something special for her to eat. You can find the recipe for the mousse, here.
The rich and creamy mousse topped with toffee bits paired nicely with the white chocolate beach pails, but you might prefer filling them with dark chocolate mousse or even pudding. You could even just fill them with a whole bunch of chocolate shells.
You can see just how tiny these treats are in the picture above. See the quarter sitting in the sand? Yep, they are that small.
Each chocolate beach pail was created using a plastic shot glass as a mold. I happened to have some Football themed shot glasses in my cupboard so that's what I chose to use.
You can find plastic shot glasses at party supply stores. Don't use glass as the chocolate wont retract well so you wont be able to get it out of your shot glass.
I would suggest you look for cups that have these characteristics:
the base should be smaller than the opening (the sides are not straight up and down)
the sides should be perfectly smooth
for a perfect beach pail shape, avoid any grooves inside the glasses
Using pure melted and tempered white chocolate that has been colored using candy coloring is preferable, but you can also use confectionery coating (Candy Melts.)
Be sure to use oil based candy coloring or powdered coloring to color the pure white chocolate. If you use Candy Melts, you can simply buy the wafers that are already colored.
There are two methods to create the chocolate cups.
Method 1:
Pour chocolate into the shot glass, filling it up to the top. Let it sit in the glass for 1-3  minutes, depending on how thick your chocolate is, then turn the cup upside down and tap the bottom allowing the chocolate to drip out. You want a thin layer of chocolate to remain.
Turn the shot glass right side up and wipe any drips of chocolate off the rim of the glass.
If you are using pure chocolate, allow the cup to sit at room temperature for about 5 minutes, then pop it in the refrigerator for 5 -10 more minutes until the chocolate hardens. Then gently tug on the inside of the cup and remove the chocolate.
If using candy melts, pop the cup into the freezer for 5-10 minutes until hardened.
Method 2:
Pour a small amount of chocolate into your shot glass and brush it into a thin layer up the sides of the glass, adding more as needed.
Pop into the refrigerator (pure chocolate) or freezer (candy melts) and allow that layer to harden. Then remove and add a second layer if needed, chill again, then un-mold.
NOTES:
To keep your chocolate cups from cracking make sure the chocolate layer in the shot glass is not too thin. Candy Melts wont coat the sides of the shot glass as uniformly as pure chocolate will, and you can end up with thin spots. If that happens, brush another layer inside and allow that to harden.
If your chocolate is sticking inside the shot glass, it hasn't hardened enough yet. Chill it for another minute or so, then try again.
If you leave the chocolate cups in the freezer for too long, that can also cause them to crack. Chill them just long enough so the chocolate hardens, then remove them and take the chocolate out of the shot glass.
Opening and closing the freezer door can cause your freezer to go into defrost mode and warm up. If you hear this happen, keep the door closed for about 15-20 minutes, then start making more cups.
Once you get all your chocolate cups created, you can decorate and fill them.
To make the handles you'll need to make some white modeling chocolate. You can find the recipe and tutorial on my Chocolate Making Tips page.
You'll need strips that are about 3/16th inch wide by 3 ½ inches long. To make them you can roll out the modeling chocolate and cut the strips by hand, you can use a JEM 5mm strip cutter, or you can extrude the chocolate clay using a clay extruder that is fitted with a plate that has a small rectangle hole.
I love using the clay extruder. It is quick and easy. Simply roll some white modeling chocolate into a log, insert it into the extruder, and press out perfectly shaped strips. Make just a few strips then attach them to the chocolate pails.
Press one end of the strip onto the top part of your chocolate beach pail then press the other end to the opposite side of the pail. It should just stick, but if your modeling chocolate is too dry, you can use piping gel or some melted chocolate as glue.
Then you can fill your cups with about an ounce of dulce de leche mousse, chocolate mousse, or your favorite pudding, then top that with about a teaspoon of Toffee Bits that have been crushed into fine crumbs, using a food processor. You can use cookie crumbs, if you prefer.
To finish off the dessert, add some candy shells.
You can buy chocolate shells or make very realistic looking homemade chocolate shells using a sea shell silicone mold.
The technique I used the make the chocolate shells is easy, but requires another tutorial. So, hop on over to the Chocolate Sea Shell post to check it out.
If you'd like to have the ultimate guide to working with Candy Clay (modeling chocolate) be sure to get your printed or e-book copy of Candy Clay Creations. This 102 page book is filled with tips and tricks for making and working with candy clay along with 17 step-by-step tutorials for decorating cupcakes, cookies, and more using candy clay. It's a fantastic resource for anyone who wants to make festively decorated treats.
Mini Chocolate Beach Pails
Mini Chocolate Beach Pails
Small chocolate cups are decorated to look like beach pails. Make these for your next beach or pool themed party, your guests will love these cute and delicious desserts!
Keyword:
beach, beach pails, beach party, chocolate, dulce de leche, mousse, sea shells
Ingredients
16

ounces

melted and tempered pure white chocolate

or melted colored confectionery coating

candy melts*

oil based or powder candy coloring

2

ounces

white modeling chocolate

Filling:

16

ounces

dulce de leche mousse

chocolate mousse, or pudding

⅓

cup

toffee bits

crushed into fine crumbs or cookie crumbs

48

tiny chocolate shells
*See the Chocolate Making Tips page for detailed instructions on melting chocolate and confectionery coating.
Instructions
Color the white chocolate using candy coloring.

You'll use approximately one ounce of chocolate per cup, so color accordingly.
Method 1:
Fill a small plastic shot glass full of colored white chocolate.

Let the cup sit at room temperature for 1-3 minutes.

Turn shot glass upside down and allow the excess chocolate to drip out, leaving just a thin shell.

Set aside for 5 minutes then refrigerate for 5-10 minutes if using pure chocolate.

If using candy melts, freeze for 5-10 minutes.

Remove and gently pull the chocolate out of the shot glass.
Method 2:
Brush chocolate onto the bottom and up the sides of a plastic shot glass.

Chill until hardened, then brush another layer over top.

Chill until hardened.

Remove and gently pull the chocolate out of the shot glass.
Decorate:
Cut thin 3/16th inch by 3 ½ inch long strips of white modeling chocolate.

Attach one end near the top edge of a chocolate pail.

Drape the strip around to the other side of the pail and press it on.

If needed, use piping gel or melted chocolate as glue.
Fill:
Just before serving, pipe about an ounce of mousse or pudding into each chocolate pail.

Spoon on about a teaspoon of toffee bits crumbs or cookie crumbs.

Set three chocolate shells on top.
You can find items needed to make these Mini Chocolate Beach Pails at Amazon.com (commission earned for sales)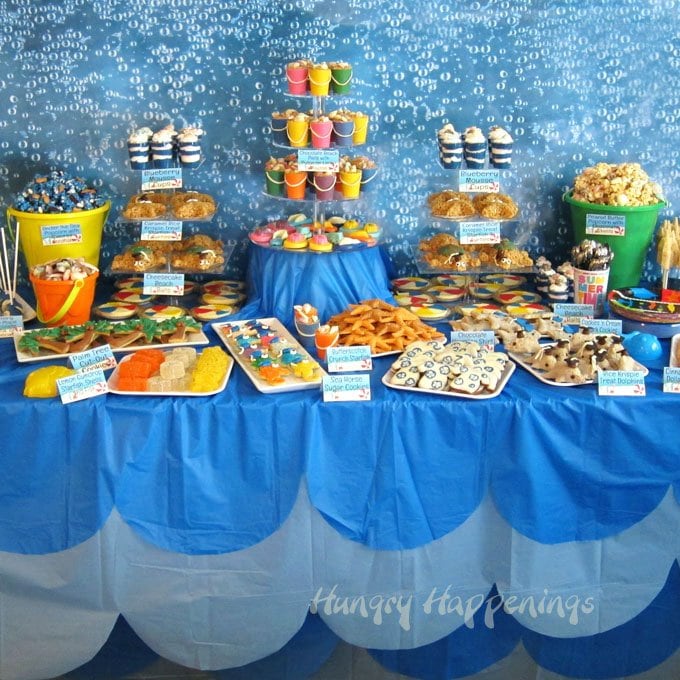 Be sure to check out my post about the beach themed graduation party. You can find the tutorials to make all these other fun beach treats by using the links below the image.
Embrace the beautiful weather that we are having and make some of these gorgeous and scrumptious Summer Fun Recipes.
Sugar Coated Sea Horse Cookies • Chocolate Beach Pails • Butterscotch Crunch Starfish
Sandcastle Lollipops • Caramel Rice Krispie Turtles • Beach Party Popcorn
Under the Sea Popcorn • Beach Ball Cheesecakes • Under the Sea Gumdrops
Caramel Rice Krispie Treat Starfish • Chocolate Sea Shells • Rice Kripie Treat Dolphins
Sugar Coated Sea Horse Cookies • Sugar Coated Sea Horse Cookies • Palm Tree Cookies
If you are hosting a pool or beach themed party, you might also like these other recipe ideas...
 Veggie Pizza Fish • Mediterranean Grilled Vegetable Pizzas • Fruit Pizza Watermelon
Googly Eye Sea Creatures • Fruit Pizza Beach Ball • Goldfish Marshmallow • Peanut Butter Fudge Starfish
Starfish S'Mores • Ice Cream Cone Goldfish • Rice Krispie Treat Sand Castle • Beach Ball Pie
If you recreate these Mini Chocolate Beach Pails
be sure to link to this tutorial and tag @HungryHappenings on Instagram then send a picture to beth@hungryhappenings.com,
so I can  share it in my Readers' Gallery.

Latest posts by Beth Klosterboer
(see all)