Here's a fun summer recipe that isn't exactly as it appears.
This Strawberry Kiwi Fruit Pizza looks like a watermelon but tastes like a dessert.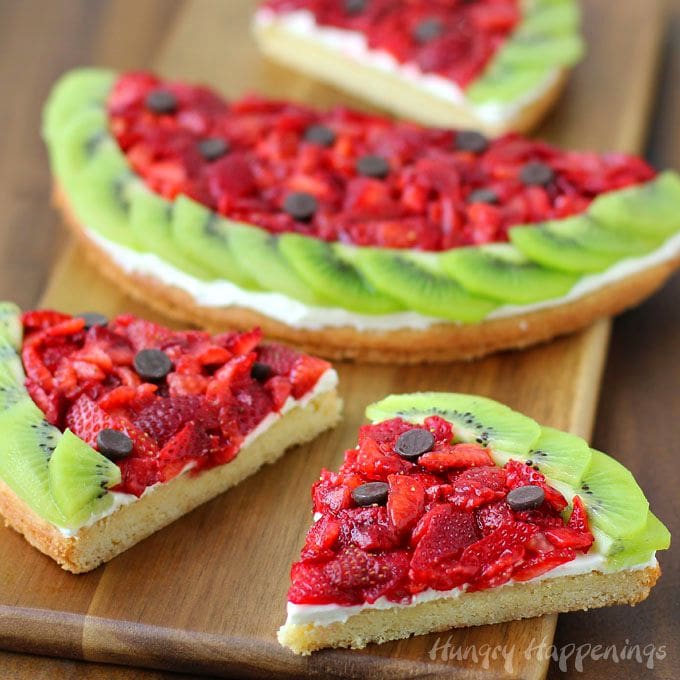 This festive summertime dessert was a huge hit at our recent pool party.
Not only did everyone get a kick out of the fact that this fruit pizza looked like a watermelon, but they loved the wonderful combination of a sugar cookie crust topped with a cream cheese fluff covered in fresh kiwi and strawberries.
I was happy this recipe made two pizzas because one was not enough. 
If you are hosting a pool party or are just looking for a unique dessert to bring to a summer picnic, this fruit pizza watermelon is sure to please.
It's refreshing and sweet just like watermelon, has a slight tang from the cream cheese, and a bit of a crunch from the cookie crust. Oh, and there are bits of chocolate on it too. A dessert just isn't a dessert without a bit of chocolate, in my opinion.
This fruit pizza couldn't be easier to make, but be sure to top it with your fruit within a few hours of serving. The fresher the fruit, the prettier your watermelon will look.
Being our pool party was impromptu, I didn't have much time to pull this together, so it was great that it came together quickly.
To make your own fruit pizza watermelon, you'll first start by making two round cookie crusts.
Use parchment paper lined springform pans to make removal of the baked cookies a snap. If you use regular cake pans, you definitely want to line the pan to make sure you'll be able to remove the cookies from the pans.
While the cookies are cooling, you can whip up some cream cheese fluff. Just beat cream cheese until light and fluffy, add marshmallow fluff and whipped topping and beat until combined. Then try to keep from sticking your finger in the bowl and eating too much of it so you have plenty to spread over both cookie crusts.
Cut each cookie in half before decorating with fruit.
Arrange thin slices of kiwi all along the edge of each cookie crust, forming the rind of the watermelon.
Most strawberries have white centers and you really want to just use the red part, so carve the bright red portions off the strawberries, leaving the white interior behind. You can snack on the interior parts or save them for a smoothie. Finely chop the red part of the berries and sprinkle over top of the cream cheese fluff.
Place about 8 chocolate chips on each watermelon half and your fruit pizza is ready to serve.
You can keep this dessert in the refrigerator for a few hours before serving, but it will look best if served soon after topping with the strawberries.
NEW VIDEO TUTORIAL

Strawberry Kiwi Fruit Pizza Watermelon
A fun twist on a summertime treat, this Strawberry Kiwi Fruit Pizza looks like a watermelon but tastes like a decadent dessert.
Created by:
Beth Jackson Klosterboer
Category:
Summer Dessert Recipe
Ingredients
Cookie Crust:
1 pkg. Betty Crocker Sugar Cookie Mix
1 tablespoon flour
1 stick (1/2 cup) butter, softened
1 large egg
Cream Cheese Fluff:
1 block (8 ounces) cream cheese, softened
1 cup marshmallow fluff
1 cup frozen whipped topping, thawed
Toppings:
4 kiwi
2 pounds strawberries
32 chocolate chips
Instructions
Cookie Crust:
Preheat oven to 350 degrees Fahrenheit.
Spray two 9 inch springform pans with cooking spray then line bottoms with a circle of parchment paper or non-stick tin foil.
Combine sugar cookie mix, flour and butter and mix until the butter breaks up into small pie size pieces.
Add the egg and mix until it forms a dough.
Divide dough in half.
Pat one half of dough in the bottom of each pan, spreading dough so that it ends about 1/2 inch from the edge of the pan.
Bake for 14-18 minutes until golden brown.
Cool in pan for 10 minutes, then remove and set on a cooling rack.
Cool completely.
Cream Cheese Fluff:
Beat cream cheese until light and fluffy.
Add marshmallow fluff and beat to combine.
Add whipped topping and beat to combine.
Equally divide and spread over top of cookies.
Cut cookies in half.
Toppings:
Peel and cut kiwi into thin slices. Cut slices in half.
Arrange overlapping slices of kiwi along the curved edge of each cookie.
Wash and dry strawberries, then carve off the outer edge, keeping just the bright red fruit for the pizza.
Cut slices into small pieces and sprinkle over the cream cheese fluff topped cookies.
Arrange 8 chocolate chips on each cookie to create watermelon seeds.
Refrigerate until ready to serve.

If you are hosting a pool party, be sure to check out my recipes for making a Veggie Pizza Fish appetizer and Mediterranean Grilled Vegetable Pizzas. You'll make a splash with your party guests by serving them all of these amazing pizzas.
Embrace the beautiful weather that we are having and make some of these gorgeous and scrumptious Summer Fun Recipes.
Googly Eye Sea Creatures, Fruit Pizza Beach Ball, Goldfish Marshmallow, Peanut Butter Fudge Starfish
Starfish S'Mores, Ice Cream Cone Goldfish, Rice Krispie Treat Sand Castle, Beach Ball Pie
Items used to create this edible craft can be found on Amazon.com (commission earned for sales)