I made a batch of these Mini Cheesecake Snowmen for my cheesecake loving family over Thanksgiving weekend and served them for dessert. I wanted to get a few projects created ahead of time because I knew I had a jam packed schedule this month and no one complained about having snowmen invade Thanksgiving.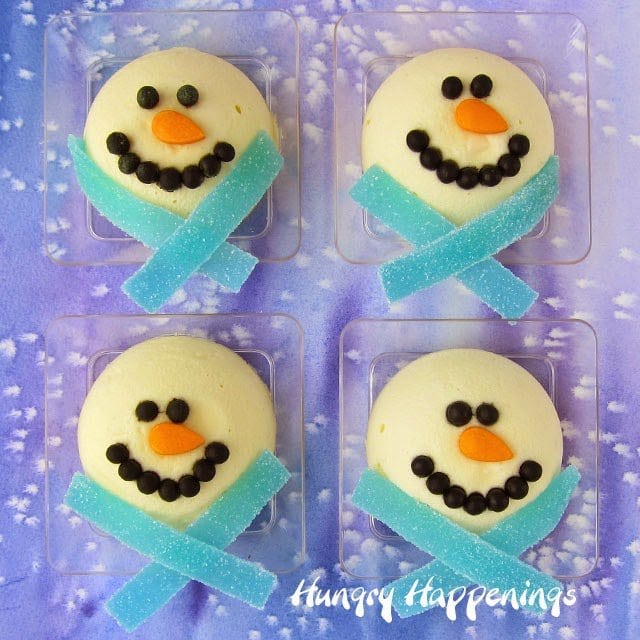 Then a few days later I saw another blogger post a similar idea.
I was tempted to just not post these, but felt compelled to do so considering something that happened to me earlier this week.
Here's my version of the Cheesecake Snowmen.
Here's Dana's version.
Dana from This Silly Girl's Life made these absolutely adorable Snowmen Cherry Cheesecake Cookies. I love them. They are so sweet. They aren't exactly like my snowmen cheesecake, but very similar, enough so, that I felt strongly about sharing her's too.
Original ideas are hard to come by, especially these days with so many bloggers creating edible crafts. We are all inspired by each other and I am constantly amazed by the creativity I see every day on the web, and some times, as is in this case, we come up with a similar idea without seeing the other's creations.
Other times, however, people are not only inspired by something, but they copy it and claim it as their own and that's just wrong. How hard is it to give a shout out to the person who's work inspired you? To me it's the right thing to do.
This week I had another blogger blast me with nasty defensive e-mails when one of my loyal and wonderful readers called her out for posting an identical project to one of mine (my popular Frosty Snowmen Pretzels, pictured above) and not giving me credit. This blogger had paid another blogger, who admitted to finding the idea on-line, to create the post, yet they both felt it was their idea and that they were not morally obligated to credit me.
Why not? Is it really that hard to tell the world you loved someone's idea so much that you wanted to recreate it and share it? If you truly came up with the idea and it just so happens to look like someone else's work that you didn't see beforehand, then I totally understand taking credit, but if you did see the other project, mention it to your readers. It's just good Karma.
Sadly, this happens all to often and the hateful hurtful e-mails do too.
I'm not going to share a picture of that blogger's post, but I will share a picture of another blogger's post, who did the right thing.
Vanessa from Vanessa Bakes, has good Karma. She recreated my Snowmen Pretzels and told her readers I inspired her then she shared her picture with me so I could put it in my Reader's Gallery. Be sure to stop by Vanessa's blog and leave her some nice comments:)
I love when readers share pictures with me of something they have recreated. I wouldn't be doing these painstaking tutorials if I didn't want that to happen.
So, I'm going to share my tutorial for making these Mini Cheesecake Snowmen, knowing others have come before me and hope that you will do the right thing if you recreate these, and share a link to this post with your readers. Thanks!
Mini Cheesecake Snowmen
Ingredients: (makes 9)
Cheesecake-
butter, to coat the inside of your molds
16 ounces cream cheese, softened (do not use low fat or no fat cream cheese)
⅔ cup sugar
⅓ cup heavy whipping cream
2 large eggs
1 teaspoon clear vanilla extractDecorations-
Wilton Snowman Decorating Kit
Supplies:
2 - 6 cavity half sphere silicone baking molds
Instructions:
Preheat oven to 325 degrees. Butter the cavities in your molds.
Beat cream cheese until smooth. Add sugar and beat until light and fluffy. Add heavy whipping cream, eggs, and vanilla and beat just to combine.
Set silicone molds on a baking sheet.
Fill 9 cavities with cheesecake filling.
Bake for 20-24 minutes until set.
Allow them to cool at room temperature for one hour, then freeze them for at least 3 hours or overnight. You want them frozen solid, so you can push them out of the molds without making any dents in the tops of the cheesecakes.
I suggest putting your frozen cheesecakes on individual dessert plates.
Then allow them to thaw for 15-20 minutes before decorating using pieces from Wilton's Snowman Decorating Kit. Press two candy eyes, one carrot nose, and a candy mouth onto each cheesecake. Then drape two pieces of the blue candy across the bottom of the snowman to create a scarf.
You can refrigerate the cheesecakes for up to five days or keep them frozen for about a month, but I would recommend decorating them no more than a few hours before serving. 
Items used to make this project that are available on Amazon.com
(commission earned for sales)
Be sure to check out all my fun Christmas Recipes!
More Snowman Treats
from Hungry Happenings
White Chocolate Cupcake Wrappers
Silly Snowmen Rice Krispies Treat Pops