Turn delicious mini cheesecakes into adorably cute Mini Cheesecake Snowmen for Christmas dinner or a winter party. Each individual-sized dessert is easy to make and decorate and will really brighten up your dinner table.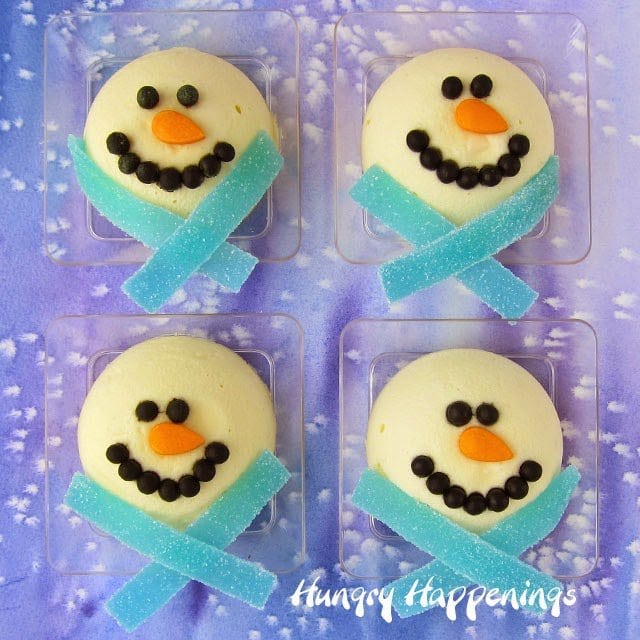 If you are looking for a fun way to dress up a cheesecake, give these snowman cheesecakes a try.
I used my favorite cheesecake recipe that creates incredibly creamy cheesecake. It has the best texture of any cheesecake I've ever tried.
Plus decorating these desserts couldn't be easier.
Mini Cheesecake Snowmen
Ingredients: (makes 9)
Cheesecake-
butter, to coat the inside of your molds
16 ounces cream cheese, softened (do not use low fat or no fat cream cheese)
⅔ cup sugar
⅓ cup heavy whipping cream
2 large eggs
1 teaspoon clear vanilla extract
Decorations-
Wilton Snowman Decorating Kit
Supplies:
2 - 6 cavity half sphere silicone baking molds
Instructions:
Preheat oven to 325 degrees. Butter the cavities in your molds.
Beat cream cheese until smooth. Add sugar and beat until light and fluffy. Add heavy whipping cream, eggs, and vanilla and beat just to combine.
Set silicone molds on a baking sheet.
Fill 9 cavities with cheesecake filling.
Bake for 20-24 minutes until set.
Allow them to cool at room temperature for one hour, then freeze them for at least 3 hours or overnight. You want them frozen solid, so you can push them out of the molds without making any dents in the tops of the cheesecakes.
I suggest putting your frozen cheesecakes on individual dessert plates.
Then allow them to thaw for 15-20 minutes before decorating using pieces from Wilton's Snowman Decorating Kit. Press two candy eyes, one carrot nose, and a candy mouth onto each cheesecake. Then drape two pieces of the blue candy across the bottom of the snowman to create a scarf.
You can refrigerate the cheesecakes for up to five days or keep them frozen for about a month, but I would recommend decorating them no more than a few hours before serving.
Items used to make this project that are available on Amazon.com
(commission earned for sales)
Be sure to check out all my fun Christmas Recipes!
More Snowman Treats
from Hungry Happenings
White Chocolate Cupcake Wrappers
Silly Snowmen Rice Krispies Treat Pops

Latest posts by Beth Klosterboer
(see all)