melt and temper pure chocolate
melt confectionery coating/candy melts/almond bark
color and paint with chocolate or confectionery coating
make modeling chocolate/chocolate clay
fix greasy, oil, dry, or sticky modeling chocolate
TYPES OF CHOCOLATE
There are several different types of chocolate that are available to the home cook for use in candy making:
Pure chocolate (unsweetened, semi-sweet, bitter sweet, milk, and white)

Confectionery coating/Candy Melts (dark. light, white, colors, flavors)

Chocolate chips (semi-sweet, bittersweet, milk, white, peanut butter, butterscotch)
Pure chocolates (real chocolate) contain cocoa butter and must be properly tempered in order to set up correctly.
Tempering refers to a process of heating and cooling pure chocolate to ensure that the cocoa butter in the chocolate hardens in a uniform crystal structure. When you buy pure chocolate, it is in temper. When you melt the chocolate to reuse it, you take it out of temper and need to bring it back.
Chocolate that is tempered has:
a smooth texture

a glossy shine

snaps when bitten or broken
Chocolate that is not tempered correctly might be:
There are four official types of pure chocolates:
unsweetened (no sugar added)

bittersweet (small amount of sugar added)

semi-sweet (more sugar added)

milk chocolate (milk powder and sugar added)
White chocolate can also contain cocoa butter and need to be tempered, however, it doesn't contain any cocoa powder, so it isn't technically considered chocolate. I will refer to it as white chocolate, for lack of a better term, when using it in a recipe.
Some brands I recommend using are available on Amazon.com (commission earned for sales)
I personally use Peters Burgundy (semi-sweet) and Ultra (milk chocolate,) but they are hard to find in small quantities.
Tempering chocolate requires practice, but can be done in a home kitchen.
Simple tempering method:
chop 1 or more pounds of chocolate into really fine pieces

heat 3/4 of the chopped chocolate in the microwave on 50% power for 15 second increments, stirring after each, and allowing the chocolate to rest for a minute, then stirring again

heat until almost all the chocolate is melted

add the remaining 1/4 of the finely chopped chocolate and stir until melted

if needed you can return the chocolate to the microwave and heat at 50% power for 5 seconds
This method of tempering will not give you high gloss chocolate, but will produce a finished chocolate with a nice snap. There are several other methods, but this is the easiest.
If you are serious about making a lot of chocolate, you might want to consider buying some chocolate tempering machines. I own two Savage Brothers melters, and love them. I don't have to hand temper my chocolates. The machines do the work for me. It's great.
Each of my machines holds 50 pounds of chocolate, which is the smallest Savage Bros. makes, but other companies make smaller tabletop tempering machines. You can even get a machine that will temper just one or two pounds of chocolate at a time.
I prefer to use pure (real) chocolate to make my confections because the flavor is far superior to any other chocolate product. I have made some really fun holiday treats using pure chocolate and shared the recipes and tutorials here on Hungry Happenings.
Using pure chocolate, you can make:
Buckeye Bears • Chocolate Cauldrons • Chocolate Heart Boxes • Chocolate Pilgrim Hats • Chocolate Penguin Truffles
Confectionery Coating/Candy Melts/Almond Bark are made with vegetable oil and will melt and set up easily with little effort. This product is not as creamy or as rich as pure chocolate, but it's easy to use and has a very pleasant flavor.
Confectionery coating:
is available in dark, light, and white wafers or blocks

can be colored but is also available in brightly colored and pastel wafers

is also available in flavors like peanut butter, mint, and cordial cherry

can be purchased at craft stores, candy supply stores, grocery stores

is less expensive than pure chocolate

melts easily and sets hard
Using Confectionery Coating, you can make lollipops, cake pops, filled candies, dipped cookies, rice krispie treats, and more, including:
Chocolate Bunny Silhouettes, Candy Filled Chicks, Cake Ball Brains, Snowman Rice Krispies Treats, Animal Print Mickey Pops
Popular brands of confectionery coating:
Chocolate Chips can be pure chocolate or confectionery coating. You need to look at the ingredients to determine the type of chocolate. Pure chocolate chips will have cocoa butter listed in the ingredients. Most dark and milk chocolate chips are pure, but many white chocolate chips are not.
Chocolate Chips are:
made to keep their shape in high heat

melt very slowly

have to be tempered if they contain cocoa butter

come in semi-sweet, bittersweet, milk, white, peanut butter, butterscotch and more flavors

can be used as decoration on edible crafts
It is common practice in old candy making recipes to add paraffin (wax) to melted chocolate chips so that the chocolate will set up properly. I don't advise this, as it adds a terrible mouth feel and taste to the finished chocolates. Plus, who wants to eat wax? Not me.
If you use chocolate chips to make candies, you have to temper the chocolate in order for it to set properly. If you don't want to go to that much effort, then you are better off using confectionery coatings to make your candies.
You can use variations of chocolate chips and peanut butter chips to make sweet treats including:
Peanut Butter Starfish, Mini Pumpkin Cheesecake, Polar Bear Ice Cream Cones, Chocolate Chip Cookie Serving Bowl, Happy Chocolate Chip Cookies
Store chocolates in a cool dry place away from direct sunlight. Pure chocolates have a shelf life of at least 18 months from the date of manufacturing and confectionery coating can last up to 9 months if stored properly.
I don't suggest refrigerating or freezing chocolate. If chocolate or confectionery coating is kept in the refrigerator or freezer for too long it will become wet and sticky and might develop white spots.if you do  freeze or refrigerate your chocolates, you need to wrap them well and keep them wrapped as they thaw to avoid excessive condensation.
HOW TO MELT CHOCOLATE AND CONFECTIONERY COATING
How to chop chocolate:
If you are using a large block of chocolate or a candy bar, chop your chocolate into small uniform pieces. The best way to do this is to use a serrated knife to shave off small bits of chocolate.
Place the knife blade on the edge of the chocolate block, and press down on the top of the knife while shaving off a small amount of chocolate. Then just chop any larger bits before using.
You can also use a food processor to chop your chocolate. Add small chunks of chocolate to the bowl of the food processor and pulse until you have fine crumbs
You can also grate the chocolate using a grating wheel in your food processor.
HOW TO MELT CHOCOLATE OR CONFECTIONERY COATING IN A DOUBLE BOILER
Heat 1" of water over low heat in a saucepan.

Place a bowl over the saucepan, being sure the bottom doesn't touch the water.

Put chopped chocolate, wafers, or chips in the bowl and stir occasionally until melted.
It is very important that you do not allow any water to come in contact with the chocolate. Chocolate mixed with a drop or a few drops of water with seize (stiffen or harden). If this happens your only option is to add more liquid in order to get the chocolate smooth again. However, you can not use this thinned batch of chocolate for tempering or dipping as it will never harden properly. All is not lost as you can turn it into a delicious chocolate ganache or use it for baking.
HOW TO MELT CHOCOLATE OR CONFECTIONERY COATING IN THE MICROWAVE
Every microwave is different so this is just a guideline, but it is safest to go slow and stir often. I always use high power for short busts of time. The amount of time needed to melt your chocolate will depend on how much chocolate you need to melt. The instructions below are based on 16 ounces of chocolate or confectionery coating wafers.
Pour finely chopped chocolate, Candy Melt wafers, chocolate callets, or chocolate chips into a microwave safe bowl.

Heat on high power for 30 seconds, remove from microwave and stir. Your chocolate wont look melted much at all at this point, but if you don't stir it, you may burn the chocolate in the center of the bowl.

Return to the microwave and heat for 25 seconds. At this point the chocolate will look only slightly melted around the edges.

Continue to stir and the chunks will indeed start to become liquid.

Continue to heat for 20 seconds. Now your chocolate will look more liquid, but you will have chunks remaining.

Allow the chocolate to sit for 1-2 minutes, preferably in the microwave, then stir vigorously and the heat from the melted chocolate will melt the chunks.

If, after stirring for a while you still have chunks of chocolate remaining, heat for 10-15 second intervals, stirring in between each until melted.

Do not rush this process. Chocolate burns easily. If you do burn the chocolate, throw it away and start over in a clean bowl. To melt more than 16 ounces, you can increase your times by 10-15 seconds per interval. For 2 lbs. (45 seconds, 35, 25, 10). For 3 lbs. (60 seconds, 45, 30, 20). If your microwave is less powerful, increase the times, but go slowly.
If, once melted, your confectionery coating is really thick, add Paramount Crystals or Wilton's EZ Thin, which are flakes of palm kernel oil, to thin out the coating. You can use Crisco or vegetable oil instead, but your candy coating may be a bit soft once hardened.
You can thin pure chocolate or chocolate chips by adding some cocoa butter.
HOW TO COLOR CHOCOLATE OR CONFECTIONERY COATING
Confectionery coating is available in white, dark, and light (milk) in addition to a rainbow of colors.
Most colored wafers taste like vanilla, but you can find wafers flavored with mint, orange, strawberry, cherry, peanut butter, and butterscotch. In recent years, Wilton has offered seasonal flavors like S'mores, Pumpkin, Cordial Cherry, and Coconut. You can flavor your own, by using flavored oils which are available in dozens of flavors, like Bubble Gum, Cotton Candy, Grape, and Butter Rum.
If you need to use a large amount of one color I suggest buying the colored wafers. If not, then you can just melt down white wafers and color them yourself. Some colors are hard to achieve, however, like dark red and green, so I also suggest buying the colored wafers.
There are several manufacturers that make colored candy coatings that can be purchased from craft stores, candy and cake making shops, or on-line. These colored candy wafers are available on Amazon.com (commission earned for sales)
To color white chocolate or confectionery coating, first you need to melt it, and temper it, if using pure chocolate.
To Color Chocolate or Candy Coatings Use:
oil based candy coloring (specifically formulated for chocolate/candy)

powdered candy coloring
Do not use:
liquid food coloring

icing coloring (water based coloring)
Candy coloring can be found at craft and cake decorating stores or online.
You can find these brands of chocolate coloring on Amazon.com
HOW TO ADD COLOR TO CONFECTIONERY COATING/CANDY MELTS
If you are using candy coloring in a squeeze bottle, squeeze in a small amount of coloring at a time and stir well. Add more coloring if needed to achieve the desired shade.

If you are using candy coloring from a jar, stick a toothpick into the jar, pull out some coloring and stir it into the candy coating. DO NOT put the toothpick back in the jar of coloring or you will contaminate the coloring. Use a new toothpick every time you want to get more coloring.

TIPS AND TRICKS FOR COLORING CONFECTIONERY COATING/CANDY MELTS

If you add coloring and your coating becomes thick, add a small amount of Paramount Crystals or Wilton EZ Thin, stirring after each addition until thin and smooth. These products are solid fats that will help thin your candy coating, but still allow the coating to set up hard. In a pinch you can add shortening or vegetable oil, but the candy might be a bit soft when hardened.
Pure white chocolate and many types of white confectionery coating are not pure white, they are more cream colored which will effect the final color of your candy. If you want true colors, you'll need to purchase bright white candy coating.
Candy colored bright pink or lilac will fade. Don't ask me why this happens, but it does. I suggest purchasing colored pink candy wafers. They will hold their vibrant color and wont fade nearly as much.

HOW TO HAND PAINT LOLLIPOPS USING CONFECTIONERY COATING/CANDY MELTS
Suggested Supplies:
Here are some of my favorite tools for making candy lollipops
You can create lollipops for every holiday and special occasion.
The company that made many of the Easter molds I used in this tutorial, sadly has gone out of business. So, many of these molds are no longer available, but there are many more that you can choose from, like these:
Not only can you make lollipops using this painting method, but you can also use it to paint other candies like…
chocolate Easter bunnies, lambs, carrots, chicks and more. Cute, right?
The technique will work to make candies for any holiday or special occasion. You can find candy molds for just about anything, these days.
Melting Confectionery Coating in a Skillet: (my preferred method)
Fill an electric skillet with some warm water and set the temperature to "WARM". Fill glass jars, coffee mugs, or ramekins with the confectionery coating wafers.
Place the jars in the water filled skillet. Make sure the water comes up about half way on your shortest jar. As the wafers heat up, stir them occasionally until smooth. You can melt the candy coating using the double boiler method or microwave method if you'd like to speed things up. Then pour the melted candy into the jars and set in the water bath in the skillet. 
You can keep your candy coating melted all day using this method, just stir the coating throughout the day to keep the coating near the top of the jar from hardening. And be sure to replenish the water as it evaporates.
Most importantly, be careful that you don't spill water in the chocolate, or it will seize up and become too thick to use. So, if you pick up a jar to move it closer to you, put a towel under the jar as you move it, so drops of water don't end up in other jars of coating.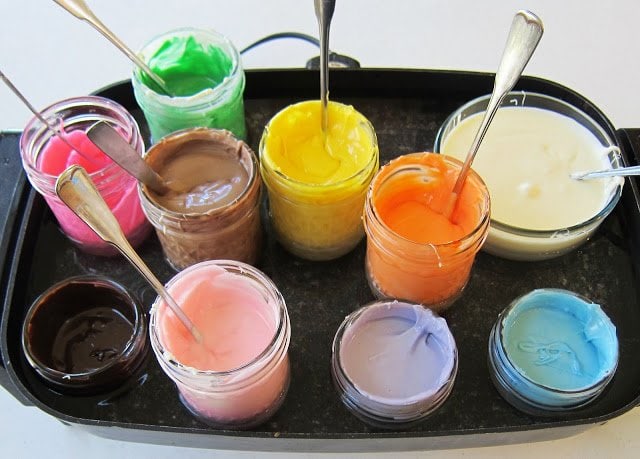 Create all of the colors you want to use in your lollipops. For Easter, I like to use pastel colors for some of the pops and more vibrant colors for others. You can adjust colors while you are working by adding more coloring (for brighter colors)or by stirring in some white candy coating (for more pastel colors).
Get your candy molds and paintbrushes together and clean our your freezer, so you have some space to place the molds. Before you begin painting, decide what colors you want to use for the features and what color you want for the background. If you choose to make a white bunny, do not paint any of the features white, as they will just blend into the background color.
You can paint all or just some of the features on your mold. Here I started by painting the mouth with bright pink coating.
Dip a paintbrush into the coating and dab it into the indentation on the candy mold. Add more coating to your brush as needed to fill in the entire indented area.
By dabbing the chocolate (top of image) you will end up with a nice opaque area. If you brush the chocolate on (bottom of image), it will harden, streak, and leave you with a see-through area. Also, always dip your brush into melted chocolate and not along the sides of the jar, so that you get nicely melted chocolat.
If you end up with hardened chocolate on your brush, just dip it in the melted chocolate and allow it to sit for a minute to melt away the hardened chocolate from the brush.
Using a different paint brush for each color, paint more details on the candy mold.
I used a lighter pink for the bunny's nose and milk chocolate for the eyes. I wanted to create a layered effect for the bow tie. In order to layer the colors, I first painted on the yellow polka dots, then put the mold into the freezer for 2-3 minutes to harden the yellow dots. Any time you want to create layers of color, start with the color that will be on top, in this case the polka dots. 
When you remove the mold from the freezer, it will be very cold and look very cloudy. Allow it to warm to room temperature before proceeding.
For the areas that require two colors, paint the next layer of color directly over the first layer. I painted purple on top of my yellow (or in this case, green) polka dots.
Carefully turn the mold over and look to see if you have covered the entire area. I have a bit of purple yet to paint onto my bow tie (see the lower right side of the bow.) After fixing the bow tie, I painted the ears (not shown) then put the candy mold back in the freezer for a few minutes.
Before filling the mold, allow the mold to warm up to room temperature.
Then spoon whatever colored coating you've decide to use for the background into the mold. I usually spoon some in, then tap the mold gently on the table, allowing the candy coating to spread and fill in areas like the ears.
It's best not to overfill the mold, so tap gently as you go. Once the mold is filled, you need to tap it on the table a few times to remove any air bubbles that may have formed.
Notes:
Don't fill in the indentation that is for the lollipop stick.

If you do overfill your mold, you can use your finger to wipe off the excess candy or wait until the candy is hardened and you will be able to shave it off with a knife.
Add a lollipop stick by setting the stick in the indentation and gently pressing it into the candy. Use your finger to roll the stick around so it gets completely coated in the candy.
Place the lollipop in the freezer for 5-8 minutes. It may take a bit longer, if you are opening and closing your freezer a lot during the process.
As the candy coating cools and hardens it will shrink slightly and retract from the mold.
You can tell if the lollipop is hardened by carefully holding the mold up over your head and checking to see that the candy is one even color. If you see dark spots, that means the candy is still wet in those areas. Freeze the candy for a few minutes longer.
You can also check to see if the lollipops are ready by very gently tugging on the lollipop stick. If the chocolate moves, it should come out of the mold easily. If it sticks, it is not ready. Don't tug too hard, or you may pull a lollipop out before it is completely hardened.
To un-mold your candy, you have a few options
Gently tug on the stick and pull the candy out of the mold

Place your hand over the candy, turn the mold upside down and allow the candy to fall out of the mold into your hand.

Place a baking sheet over the candy, turn the mold and the baking sheet upside down allowing the candy to fall out onto the baking sheet.
If you have overfilled the candy mold and the lollipop has excess candy around the edges, allow the candy to warm up to room temperature. Then use a small knife to carefully cut off the excess candy.
If you have a lot of excess chocolate and it is very thick, you may want to heat up your knife by running it under really hot water (then drying it) or by holding the knife blade over a flame. Then as you cut off the excess, the knife will melt the chocolate as you go, making it easier to remove.
Brush off any crumbs using a pastry brush.
Store your lollipops in a cool place preferably in an airtight container.
You can package them in clear cellophane bags
and tie them with a colorful bow.
I oftentimes will paint my candy molds with this colored candy coating, then fill the molds with pure tempered chocolate. Sometimes the painted features pop off, but for the most part it works.
If you are using pure chocolate, you can also melt cocoa butter, color it, and paint it into the molds before filling them with the tempered chocolate. You can also purchase colored cocoa butter, but the quantities may be greater than you need. You can keep your jars of melted cocoa butter in a water bath, just make sure the cocoa butter doesn't get too warm.
MODELING CHOCOLATE (CHOCOLATE CLAY) RECIPES:
Modeling chocolate or chocolate clay can be used like fondant to decorate and cover cakes or it can be used as a sculpting material to create forms and shapes.
Modeling chocolate has a lovely chocolate flavor as it's made using just two ingredients, chocolate and corn syrup.

To make homemade modeling chocolate you can use pure chocolate, confectionery coating, or even chocolate chips.

It dries harder than fondant, so sculpted pieces made of modeling chocolate will hold their shape really well.

It will harden when left at room temperature to dry, but sill soften once in your mouth.

You can purchase pre-made modeling chocolate, but it is very simple to make at home.
When making modeling chocolate I use pure milk and dark chocolate, but use white confectionery coating instead of pure white chocolate. The pure milk and dark chocolate have a richer flavor than the coatings but I actually prefer the taste of the white confectionery coating in this application and it is much less expensive than pure chocolate.
Use your judgment when selecting a chocolate for this recipe. You will definitely taste the chocolate, so choose what you like to eat.
MODELING CHOCOLATE RECIPE
Every chocolate has different amounts of fats and sugars so this recipe is a guide. Some chocolates will require more corn syrup than others. Also, the moisture in your room can also effect the moisture in your modeling chocolate. See the troubleshooting section below for instructions to solve problems with your modeling chocolate.
Modeling Chocolate Ingredients:
White Modeling Chocolate:
16 ounces white chocolate
1/3 cup light corn syrup (add more if needed)*
Dark Modeling Chocolate:
16 ounces semisweet chocolate
1/2 cup light corn syrup (add more if needed)*
Milk Modeling Chocolate:
16 ounces milk chocolate
1/3 cup light corn syrup (add more if needed)*
Modeling Chocolate Instructions: 
Melt chocolate or confectionery coating

Allow the chocolate to cool to about 91 degrees Fahrenheit,

stirring often. If you add the corn syrup when the chocolate is too hot, the cocoa butter or oil will rise to the surface and you will have a greasy mess. (See trouble shooting below.) If you don't have a thermometer, test the temperature of the melted chocolate by putting a drop on your lip. It should feel cool. If it's hot, let it cool longer.

Pour in corn syrup.

Stir slowly until well incorporated. 

The mixture will become thick very quickly, so scrape the bottom of the bowl to incorporate all of the melted chocolate.

Pour mixture out onto a counter top, preferably marble or granite.

Knead until glossy and smooth. If your hands are warm us a plastic dough scraper to knead the modeling chocolate.

Wrap

the modeling chocolate in plastic wrap and place in a zip top bag or airtight container.

Allow to dry for at least 30 minutes before using.
Modeling chocolate will keep for several months, if stored properly.
TROUBLE SHOOTING TIPS – HOW TO FIX GREASY (OILY) OR DRY MODELING CHOCOLATE
Even though making modeling chocolate is quite simple, you can run into several issues if you don't follow the instructions in the recipe above.
If you don't allow your chocolate to cool to 90-91 degrees Fahrenheit, you will most likely end up with greasy modeling chocolate.
If you do find that your modeling chocolate is greasy, all is not lost. Don't just wipe up all the oil and get rid of it. You want to get that oil back into the chocolate or your modeling chocolate will end up being brittle as it dries. You will need to continue to knead the chocolate until all of the oil is absorbed back into the chocolate. This can take a while, but don't give up. Eventually it will become smooth and glossy.
Reasons you may end up with oily modeling chocolate:
Your chocolate is too hot when you add the corn syrup the oils may separate from the chocolate. Allow your melted chocolate to cool to around 91 degrees Fahrenheit before adding the corn syrup.

You are working in a very warm room or have warm hands. As you knead the mixture, the warmth will begin to bring out the oils in the chocolate. 

You stirred the modeling chocolate too vigorously and the agitation warmed the chocolate. 
You may need to try one of the techniques listed below to fix your greasy modeling chocolate.
How to fix greasy modeling chocolate:
Allow the greasy modeling chocolate to cool down for 5-10 minutes. Set it on a piece of plastic wrap in a plastic bowl and allow it to cool. Then knead it until smooth.

Note: If you allow it to just sit directly on your work surface, you may end up with hardened pieces of chocolate that will not blend in to the mixture.

Knead it on a cool surface to cool it down quickly and to bring all the oil back into the chocolate. Use a granite counter top, a marble slab, or a metal cookie sheet.

Use a plastic bench scraper to knead the modeling chocolate to keep it from getting too warm.

If you have to use your hands and they are warm, dip them in ice water to cool them down then continue to knead.
If the oils continue to seep out of the modeling chocolate, you must allow it to rest and cool down. It will eventually reabsorb the oil and come together.
If you don't incorporate all the oil back into the modeling chocolate it may become dry and brittle. Follow the instructions below to fix it. 
How to Fix Dry modeling chocolate:
As I mentioned, all chocolates have different amounts of fat in them. That is why the modeling chocolate recipe is just a guide. If you find that your modeling chocolate is dry and crumbling follow the instructions below to fix it.
Add more corn syrup about a tablespoonful at a time.

Knead it into the modeling chocolate.

Add more if the modeling chocolate still feels dry.
This process will be very sticky so wash your hands as needed.
How to Fix Sticky or Soft Modeling Chocolate:
You may find that you have added too much corn syrup or too much coloring and that your modeling chocolate is just too sticky or soft. If it is sticky, wash your sticky hands then continue to knead until all of the corn syrup is incorporated. Roll it in a ball then flatten it out in a disc. Then wrap it in plastic wrap and allow it to sit for at least an hour so that it can dry out a bit before using.
If, even after sitting for an hour, your modeling chocolate is still too soft, you can knead in some melted chocolate. I've had success doing this, but will caution you that you can end up with hard clumps of chocolate throughout if you don't get the chocolate mixed in well. You can also end up with greasy modeling chocolate if the chocolate you add is too hot. If that happens just follow the instructions above to fix the greasy modeling chocolate.
How to Fix Hard Modeling Chocolate:
Your modeling chocolate will harden as it ages. Always keep it formed into a flat disc and keep it wrapped tightly in plastic wrap in a zip top bag or airtight container.
Even if you do this, you will find that your modeling chocolate is fairly hard when you go to use it after it has been stored for a few days. You can break off a piece of modeling chocolate and hold it in your hands for a few moments in order to warm it enough to begin kneading. Knead it until it becomes workable.
If you just can't get the modeling chocolate soft enough to work with, place a hunk in the microwave and heat on defrost for 3-5 seconds. Remove and knead it carefully. If you overheat it, there will be hot spots throughout which can burn you while kneading. If you get the modeling chocolate too hot, the oils will seep out as you knead it. You'll need to follow the instructions for fixing the greasy modeling chocolate if that happens.
How to Color Modeling Chocolate:

White modeling chocolate can be colored using gel, liquid or powdered food coloring. I recommend using candy coloring, but icing coloring will work, as well. Grocery store liquid food coloring will work in a pinch, just know that by adding liquid to the modeling chocolate, that it will become a bit softer.
I recommend using food handling gloves when coloring modeling chocolate, or you will end up with brightly colored hands that may take days to return to normal.
If you need a large amount of any one color, you can make the modeling chocolate using colored confectionery coating wafers.
Coloring Modeling Chocolate using Candy Coloring:
Add a drop of color to the modeling chocolate and knead until well blended. Add more drops of color until you reach the desired shade. Remember, you can always add more coloring, but you can't take it out, so add drops slowly then knead and check the color before adding more.
Coloring Modeling Chocolate using powdered food coloring:
Sprinkle a small amount of coloring onto the modeling chocolate and knead until well blended. Add more color as needed to get your desired shade. I prefer to use powdered coloring for red and green, as I can get a more vibrant color that way.
To Store Modeling Chocolate:
Wrap tightly in plastic wrap and store in a zip top bag or airtight container. It keeps for months if stored properly.
If it becomes hard, break off small pieces and knead until soft. If you can't do that, place the hard modeling chocolate in the microwave and heat on defrost for 3-5 seconds. Remove and carefully knead.
To Use Modeling Chocolate:
Simply pinch off pieces of modeling chocolate, knead until workable, then use to sculpt into shapes, press into silicone molds, or roll out and cover cakes.
Modeling chocolate can be rolled thin using a rolling pin or a pasta machine using one of these methods:
Dust your work surface or the rollers on the pasta machine very lightly with powdered sugar for white chocolate, milk, and colored chocolates or dust it with cocoa powder for dark chocolate to keep the modeling chocolate from sticking.

For cleaner modeling chocolate, roll out in between two non-stick silicone mats or use one silicone mat and a non-stick fondant roller.

Cut the modeling chocolate using a pizza cutter, knife, or cookie cutters.
Here are just a few of the modeling chocolate projects
from Hungry Happenings
Elephant, giraffe, monkey, zebra, hippo, lion and tiger