Football fans at your Super Bowl, tailgating or homegating parties will cheer when you serve these Football Shaped Zucchini Fritters. Filled with zucchini, carrots, potatoes, and onions, these fun appetizers can be baked or fried.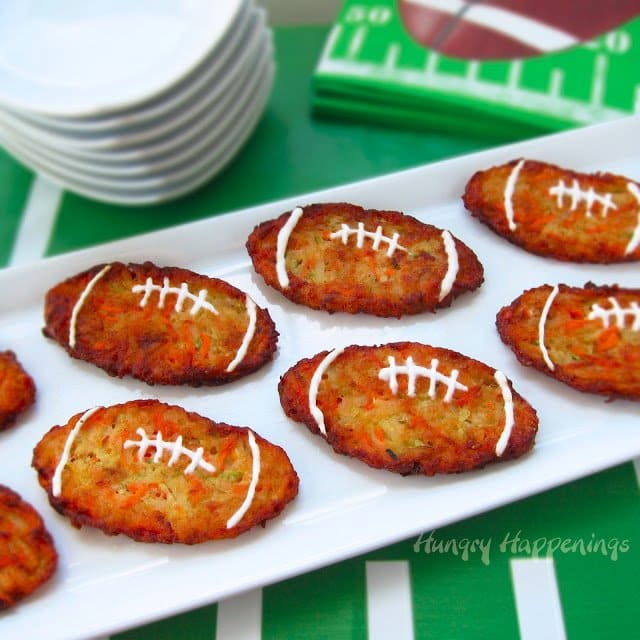 Football Shaped Zucchini Fritters
If you are looking for a tasty Super Bowl appetizer that your friends and family will love, you've got to give these Football Shape Zucchini Fritters a try.
These crispy game day appetizers are loaded with zucchini, carrots, onions, and potatoes and can be fried or baked.
Our exchange student introduced me to this recipe for Mücver (zucchini fritters) and I was so glad she did.
When she showed me how she shaped her fritters into patties I envisioned shaping them into other things, like footballs as I did with my Football Shaped Proscuitto and Asiago Rice Cake Footballs, Fried Taco Footballs, Football Chicken Nuggets, and Football Shaped Hamburgers.
It turned out to be really simple. Let me show you how.
Supplies needed to make these Zucchini Fritter Footballs
cheese grater or food processor with the grater attachment
football-shaped cookie cutter
salad spinner or strainer
available on Amazon.com (commission earned for sales at no extra cost to you)
How to make Football Shaped Zucchini Fritters
Frying Instructions:
Shred and drain your vegetables.
Peel the zucchini, carrot, potato, and onion.
Shred the zucchini, carrot, and potato using a cheese grater or a food processor fitted with a shredding attachment.
Finely slice and chop the onion.
Place the vegetables in a strainer, sprinkle and toss with salt, and let sit for 10 minutes.
Press down on the vegetables, allowing excess water to drain off.

I used a salad spinner and spun the vegetables dry, which worked perfectly.

Let sit for 5 more minutes and drain again, removing as much liquid as possible.
Toss with flour and egg.
Pour shredded vegetables into a mixing bowl.
Sprinkle the flour over the shredded vegetables. Toss to coat.
Add eggs and mix until well combined.
As you work, if you have a lot of excess moisture, drain it off.
Use a football cookie cutter to shape fritters.
Heat 1 cup vegetable oil in a 12″ non-stick pan until it reaches 350 degrees Fahrenheit.
Set your metal football-shaped cookie cutter down on a spatula/turner.
Fill the cookie cutter with a spoonful of the zucchini mixture.
Press down to create a 1/4 inch thick football.
Fry for crispy fritters.
Carefully slide the filled cookie cutter into the oil, lifting the cutter, allowing the football-shaped mixture to gently glide into the pan. I recommend using metal tongs to do this job.
Move quickly, don't allow the cookie cutter to get really hot or it will begin to cook the filling as you create your next football fritter. Wipe the cookie-cutter clean, often.
NOTE: I also found that I could shape the football on the spatula then lift it off and slide the fritter into the oil, reshaping it as needed. The football fritters weren't as perfectly shaped, but this way you don't have to worry about lifting up a hot cookie cutter.
Brown the fritters on both sides.
Our exchange student and I worked together; I filled the cookie cutter and slid them into the skillet while she fried them, flipping them over as they browned on each side.
You want your fritters to be nice and crispy but not burnt, so fry them to a deep golden brown. The edges of your football fritters will be a bit darker, and that is fine.
By baking them, as I did for the video version of this tutorial, the fritters stayed a bit thicker and didn't brown around the edges quite as much.
I personally preferred them fried, but they taste really good when baked too. They just aren't as crispy. Of course, the baked zucchini fritters have few calories which is always a bonus!
Pat off the excess oil.
Once you have fried your football-shaped zucchini fritters, set them on paper towels to drain off excess oil. I also pat the tops with paper towels to really remove as much oil as possible.
Can I make these ahead for my party?
At this point they can be decorated and served, however, I'm guessing most of you won't want this mess in your kitchen while you have guests.

So, make your fritters then put them in an airtight container and refrigerate them for up to a few days.
When you are ready to serve them, place them on a baking sheet and heat them in a 350-degree oven for about 10 minutes, until heated through.

If you just bake them then heat the oven to 400 degrees F and bake on each side for 12-15 minutes.
You want both sides to be golden brown.
The baked fritters will be thicker as not as much moister will evaporate while they are cooking.
Decorate using Greek yogurt or sour cream.
To decorate them: fill a disposable pastry bag, optionally fitted with a small round decorating tip, with plain Greek Yogurt or  sour cream. You can also just use a zip top bag with a small hole cut in one tip.
Pipe laces and stripes onto each football fritter.
Can I bake these zucchini fritters instead of frying them?
Football Fritters Video
Be sure to watch my video tutorial to see how you can make these Zucchini Football Fritters for your party. In this version, I baked my fritters.
Super Bowl Appetizers Recipe
Recipe originally posted on January 18, 2013.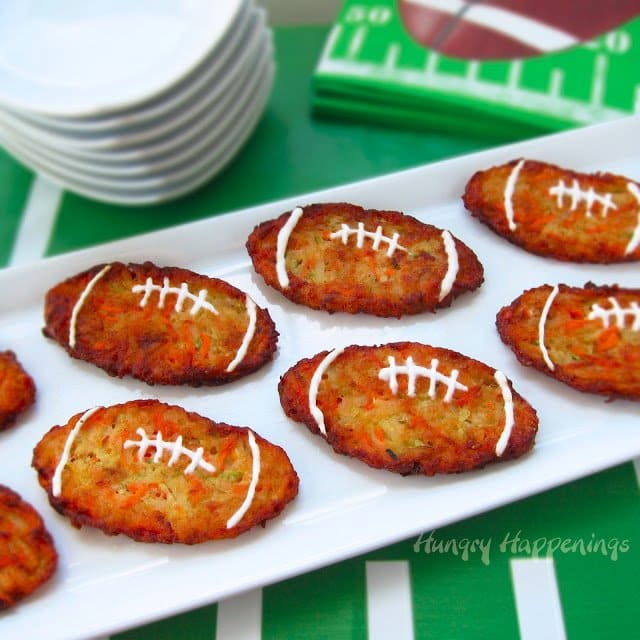 Super Bowl Appetizers - Football Shaped Zucchini Fritters (aka, Mücver)
Fry or bake football shaped Zucchini fritters for the big game then decorate them with yogurt or sour cream laces.
Keyword:
super bowl snacks, zucchini fritters
Ingredients
2

medium size zucchini

1

carrot

1

large russet potato

1

small onion

1 1/2

teaspoons

salt

1/3

cup

flour

2

medium eggs,

lightly beaten

if baking,

olive oil spray

if frying,

1 cup vegetable oil, plus more if needed

serve with 1/2 cup plain Greek yogurt or sour cream
Instructions
If baking, preheat oven to 400 degrees F.

Shred the zucchini, carrot, and potato using a cheese grater or food processor.

Finely slice and chop the onion.

Place the veggies in a salad spinner or strainer.

Sprinkle with salt and toss to evenly coat the veggies.

Set aside for 10 minutes to allow the moister to drain from the vegetables.

Spin, if using a salad spinner, or press down using paper towels if using a strainer to remove as much liquid as possible.

Stir then let sit another 5 minutes and repeat until the veggies are quite dry.

Pour into a large mixing bowl.

Sprinkle on the flour and toss to coat.

Stir in the eggs.

If baking, spray a non-stick baking pan with olive oil cooking spray.

Spoon the veggie mixture into a football shaped cookie cutter, creating a fritter that is about 1/4 inch thick.

Remove cookie cutter and repeat.

Spray olive oil spray over top of the fritters.

Bake for 12 minutes, then remove and flip the fritters over.

Bake for another 12-15 minutes until evenly browned on both sides.

If frying, follow instructions in the tutorial.

Spoon 2 tablespoons of the yogurt or sour cream into a pastry bag or zip top bag.

Pipe laces and stripes on each of the footballs.

Serve immediately.
Place on a platter and serve alongside the remaining Greek yogurt.
The Football Shaped Zucchini Fritters are great hot but are also quite good room temperature or even cold.  
If you want more tailgating or homegating party ideas for the college football season,
be sure to check out my Football Party Food ideas.