Turn a basement or room in your house into a Halloween Movie Theater complete with zombie ushers, skeleton ticket takers, a Halloween concession stand, and more.
My husband, Jim, and I would work for months planning and decorating for our Halloween parties. Over the years, we transformed our basement into several versions of a Halloween movie theater.
In this post, I'll share with you tips for making your own Halloween movie theater and show you how we created our own zombie ushers, a ticket booth with a skeleton ticket taker, and a variety of concession stands for our parties.
PVC frames for curtains
We started by creating PVC frames around our walls so we could hang black sheets. The pictures of the PVC frames shown above are actually in our garage but we used the same technique in our basement.
We bought cheap black twin-size bed sheets (just the flat sheets not the fitted sheets) and cut slits every two feet along the folded part of the sheet. We then slid the PVC pipe through the slits so we could hang the sheets off the top pipe close to the ceiling.
The sheets hung to the floor making our movie theater dark. Even years later when we had our basement finished, we would build the PVC frames to hang the black sheets. We just loved how it looked with all our Halloween decorations in the room.
White sheet movie screen
The first year we had the movie theater in our basement, we hung a large white sheet in between two pillars to serve as our movie screen.
It worked pretty well despite a few wrinkles in the fabric.
If you have a large white wall, you can simply project the movie onto the wall.
Movie projector and screen
You can see in the picture on the left, that we hung the movie projector off the wall on a shelf that my husband built. He angled it just right so the movie projected onto our sheet.
The next year, we purchased a large movie screen that fits in between the two pillars. The sheet had served its purpose and worked pretty well but the new screen was fantastic. There were no wrinkles to distort the movie.
The kids didn't mind sitting on old couches, folding chairs, and a rug on the floor but we were excited to finally finish our basement and add comfy movie theater recliners.
Zombie Usher and Skeleton Ticket Taker
Store-bought Halloween props were added throughout the theater to enhance the creepy ambiance. We really wanted to add a ticket booth and ticket takers and knew we would have to create them ourselves.
I found a life-size skeleton prop that worked great for the ticket taker but I couldn't find a life-size zombie (this was back in 2012). So, I had to create it myself.
PVC human frame
We found instructions to make a human figure out of PVC pipe created by Spooky House Productions. We used their instructions and built our frame for our zombie.
We had a lot of experience using PVC to build our walls so making this human figure out of PVC was a breeze.
We added some extra PVC pipe pieces to the base to create "feet" and then we added some volume around the chest by wrapping it in bubble wrap.
Pool noodles were used to pad the arms to give them some shape.
We cut a hole in the bottom of a store-bought zombie head and fit it over the "neck" pipe and did the same with some store-bought hands.
The ticket takers needed uniforms but actual uniforms were too expensive, so we bought Mr. VIP Valet costumes. The costume came with a red jacket and hat.
We had to cut the brim off the hat to make it look like an old-fashioned pillbox hat which was perfect.
We bought black pants and black shoes from a thrift store and dressed our zombies.
Inexpensive ticket booth
The ticket booth was created using a foam core science project board. We just bent the flaps backward and set it between two curtains.
A piece of black cardboard worked as the countertop.
We printed a large "now showing" sign mounted it on cardboard and hung it from the PVC pipe frame (that was holding all of our curtains.) A clear sheet of acetate was taped to the bottom of the sign and then attached to the counter.
We dressed up the life-size skeleton in the ticket-taker costume and placed him in the ticket booth. The prop already was dressed in black pants and had styrofoam shoes attached so we didn't need to add those.
The skeleton also came with a stand so we didn't have to worry about standing him up. If you use a skeleton prop, you may need to build a stand.
Years later, when the acetate window on the ticket booth had gotten too badly beaten up, we simply set the ticket booth in the corner at the bottom of our basement stairs.
We added a new old-fashioned movie theater sign to the wall next to the booth.
Halloween concession stand
Every year, we had a different theme for our Halloween party. The year we hosted a Day of the Dead party, we added sugar skull face masks to our skeleton and zombie props.
We also created a concessions stand for our movie theater. The picture above is from our Day of the Dead event. We had plenty of popcorn and movie theater candy available for our party guests.
After our basement was finished, we had a more permanent concessions stand in our movie theater.
We added a popcorn maker and lots of shelves filled with boxes of candy and jars filled with loose candy. We also added a shelf so we could store all our popcorn boxes, plates, and napkins.
I had the sign for the concession stand created on vinyl and added a strand of battery-operated lights around it so it would glow in our dark theater.
If you set up a concession stand in your home movie theater, you can decorate it with popcorn boxes and bags, boxes of movie theater candy, and cute clip art.
I found some fun old-timey wall decorations online that looked really cute with all my other props.
Signage and wall hangings
Our theater entrance was marked by this 5' long sign. I designed it and printed it on copy paper and had it enlarged at my local copy shop. It was mounted on cardboard and hung at the bottom of our basement stairs.
I wanted the sign to look like it was lit up so I painted it with glow-in-the-dark paint and illuminated it with a black light.
Classic monster movie posters were hung on the walls of the stairway leading down into the Catacomb Cinemas. I purchased large life-size standees of Dracula, Frankenstein, and the Bride of Frankenstein and placed them around the entrance to the room.
Halloween movie night party food ideas
Make delicious Halloween movie-themed appetizers and desserts. Your party guests will go nuts over these festive recipes.
Be sure to check out all of my Halloween Party Food.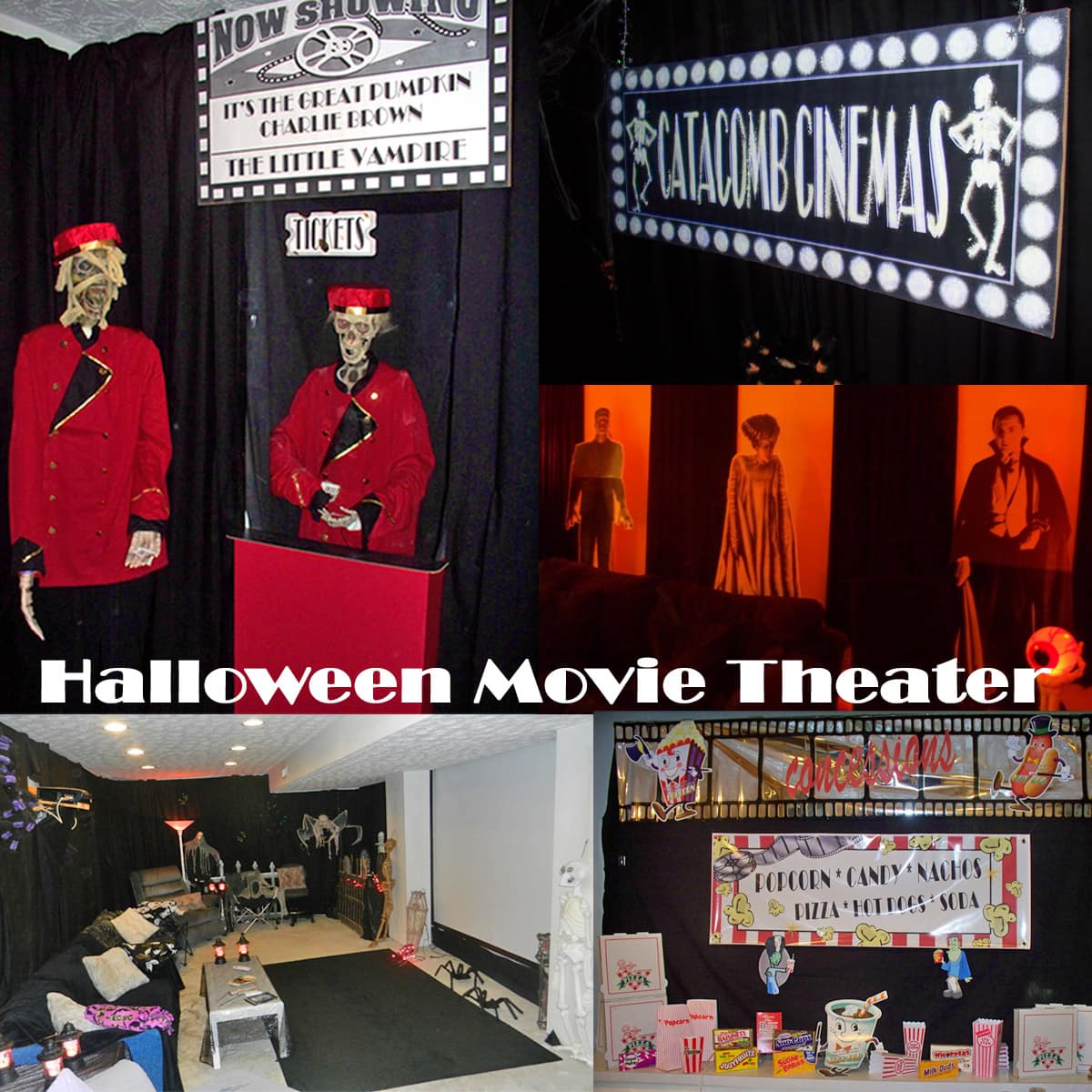 I hope you are inspired to make your own movie theater for a Halloween party. If I can turn an unfinished basement into a fun theater, I'm sure you can find a room, basement, or garage to transform too.
I'd love to hear about your experience in the comments below. Have a Happy Halloween! SaveSave

Latest posts by Beth Klosterboer
(see all)