Do you think you could handle eating this Halloween Popcorn with Chocolate Bugs? If so, you have to make this delicious snack! Or make it to scare your kids with!

I'd have to answer yes to that question as I actually have been eating this as a snack for the past few days. You might wonder how someone like me who is so freaked out by the sight of a bug, could possibly eat a chocolate roach. Well, being the one who actually made these little pests, I am not fooled by their appearance. I was, however, a bit worried when I served this treat at our Halloween party last year, knowing many of my guests would feel the same about bugs as I do. To my surprise most people thought this bucket of popcorn and roaches was hysterical. Only a squeamish few, walked by it without reaching in to grab some.
When I planned our Carnival of the Creepy Crawlers themed party, I knew I had to serve some sort of popcorn – what carnival would be complete without it? My guests always enjoy snacking on my white chocolate popcorn, whether it's plain or loaded with other goodies like toffee bits, peanuts, or caramel. For this party, I decided it would be fun to sprinkle in some chocolate roaches.  I didn't want the roaches to look too realistic, so I just piped silhouettes of the bugs out of melted chocolate.
The roaches were pretty easy to make by piping chocolate onto a piece of parchment paper that was set over an image of a roach. I don't have the most steady hand when it comes to piping chocolate so I chose to use a squeeze bottle instead of a pastry bag which gives me more control. You can use whatever works best for you. The good thing is, that no matter how good you are at piping, you're making roaches, so they don't have to be perfect.
Even if you just can't stomach making or eating a chocolate roach, you should try making the white chocolate popcorn.  It is crunchy and sweet and totally addicting.
Milk Chocolate Roach Infested White Chocolate Popcorn
Before you begin: If you don't have much experience working with confectionery coating/candy melts or chocolate, you should read my chocolate making tutorial. I give you a very detailed look at the types of chocolate and confectionery coating and how to melt and use them.  I used Peters White Caps to coat my popcorn but you can also use 
Merckens Super White Coatings, Wilton White Candy Melts or any other brand of confectionery coating to do the job.  For the roaches you can use Peter's Westchester Caps, Merckens Coco Lite, or Wilton Light Cocoa Candy Melts, or if you prefer, you can melt and temper pure milk chocolate.
Ingredients: (makes 1 tray of popcorn – I made 3 trays to fill all of my popcorn boxes)
1/3 cup popcorn kernels
12 ounces white confectionery coating
            Peters White Caps,
Merckens Super White Coatings or Wilton White Candy Melts
2 ounces light cocoa (milk chocolate) confectionery coating
           Peter's Westchester Caps, Merckens Coco Lite, or Wilton Light Cocoa Candy Melts
Special Equipment Needed:
air popper for the popcorn or a plain brown lunch bag and a microwave
extra large mixing bowl
2 baking sheets lined with parchment paper
squeeze bottle fitted with a #1 round pastry tip or a disposable pastry bag, or a zip top bag
popcorn boxes, optional
Instructions:
Pop 1/3 cup of popcorn kernels in an air popper. If you don't have an air popper, then place your kernels in a plain brown lunch bag, fold the top of the bag over a few times, heat in microwave on high power for 2-3 minutes until you hear the popping of the kernels slow to one to two pops per second. Times will vary because every microwave heats differently.
However you pop your popcorn, you'll want to place the popped kernels in a very large mixing bowl and discard any unpopped kernels.
To melt the white confectionery coating: heat on high in the microwave for 25 seconds, then stir, heat for 20 seconds, then stir, heat 15 seconds, then stir vigorously. If the coating is not all melted, heat for 10 second increments, stirring after each until melted. For more detailed instructions and step-by-step pictures read my chocolate making tutorial.
Pour melted white coating over popcorn.  Use a large spatula or spoon to gently fold the popcorn and coating just until the popcorn is covered in coating. If you stir for too long, the coating will begin to harden and you will end up with spikes of coating on your popcorn.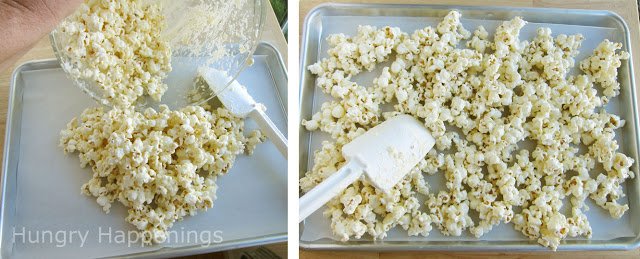 Pour popcorn onto a baking sheet lined with parchment paper.  Spread it into an even layer.  Refrigerate for 10 minutes until the coating is hardened.  Remove from refrigerator and break up into small chunks. Place in popcorn boxes, if using.
To make chocolate roaches: If you are using candy melts/confectionery coating, place wafers in a glass bowl.  Heat in the microwave on high for 15 seconds, then stir, 15 more seconds, then stir, then for 10 second increments, stirring after each, until melted. You can also melt the wafers in a double boiler. If you prefer, melt and temper pure milk chocolate. Print out the roach template (click on the link and you'll be connected to a PDF file of the roach.)  Place the image under a sheet of parchment paper that is set on a baking sheet. Pour melted chocolate into a squeeze bottle or piping bag fitted with a #1 round pastry tip (or fill a disposable pastry bag or zip top bag with the chocolate and snip off a very small amount of the tip of the bag – allowing only a small amount of chocolate to be piped.)
Begin by piping the antenna.
Next, pipe on the legs. Then pipe on the head and body. Carefully move the image of the roach over a few inches and pipe another roach.
Continue piping roaches until you have plenty (I made 36 and had several break). Be sure to reserve some of the melted chocolate to use as glue. Refrigerate your roaches for 1-3 minutes just until they harden. If you leave them in too long, they will curl up quite a bit. Gently peel them off of the parchment paper. Pipe small amounts of the melted coating onto the back side of each roach and attach them to the popcorn, as well as, the outside of the boxes. I think they look great crawling all over the boxes.
You will probably need to re-heat your candy coating at some point. If you are using a squeeze bottle with a plastic pastry tip, you can just place the entire bottle in the microwave and heat it on high for 10 seconds. If you use a metal pastry tip, remove it before putting the bottle in the microwave. If you are using a disposable pastry bag or zip top bag, just put the filled bag in a tall glass and heat in the microwave for 10 seconds.
If you are planning to serve this popcorn at your Halloween or bug themed party and you want to make this ahead of time, store it in an airtight container (I suggest a metal tin) for up to 3 weeks. If you don't store it in an airtight container, it will start to lose it's crunch. Last year I made my popcorn and roaches two weeks before my party then I filled my popcorn boxes and even added the roaches and set the filled boxes down in a big popcorn tin. On the night of the party I just pulled them out of the tin and set them on the table.  I often fill cellophane bags with this popcorn to use as gifts or goody bags and keep them stored in a tin until I give them away.  I always tell people to eat the popcorn within a week or to store it in an airtight container if they want to keep it longer.
Be sure to check out all the Halloween recipes here on Hungry Happenings.
SaveSave