Make your bug-themed party really fun by serving cute or creepy bug-themed party food. Kids will love Corn Dog Bumble Bees, Chicken Nugget Butterflies, and even Chocolate Roaches.
Who wants to eat a bug?
When they are as cute and tasty as a fruit pizza decorated like a butterfly, a Twinkie transformed into a bumble bee, or chocolate roaches served in a big bowl of white chocolate popcorn, even I would snack on a bug.
I never thought I'd host a bug-themed party because I am totally freaked out by insects and spiders. But, I had so much fun creating food for our Carnival of the Creepy Crawlers.
Our creepy crawler food table at our Halloween party was filled with edible spiders, rats, mice, roaches, snakes, centipedes, bumble bees, ants, and more.
My guests loved all the cute and creepy snacks that we served and I've shared recipes for some of those bug-themed snacks here on the blog.
Click the underlined purple links under each photo to be whisked away to the recipe posts.
Cute Bug-Themed Food
Corn Dog Bumble Bee
Corn Dogs are by nature a fun party food. They're on a stick. What's not to love?
Add a few tortilla chips, chow mein noodles, some black food coloring stripes, a cute face, and badda bing, you have a Corn Dog Bumble Bee.
Corn Dog Butterfly
Or, you can add four nacho cheese tortilla chips as wings to make a corn dog butterfly instead.
Chicken and Chips Butterfly
Swap out the corn dogs for a chicken finger and you've got a cute Chicken and Chips Butterfly with Dorito wings and chow mein noodle antennae.
Bookwork Snack
This cute bookworm snack is created using round Mozzarella Bites. If you use it for a bug-themed party, you can skip adding the glasses and book and just make it look like a worm.
Cute Bug-Themed Desserts
Bumble Bee Cakes
What bug-themed party would be complete without some dessert? Turn Hostess Twinkies into these adorable Bumble Bee Cakes with candy wings and stripes.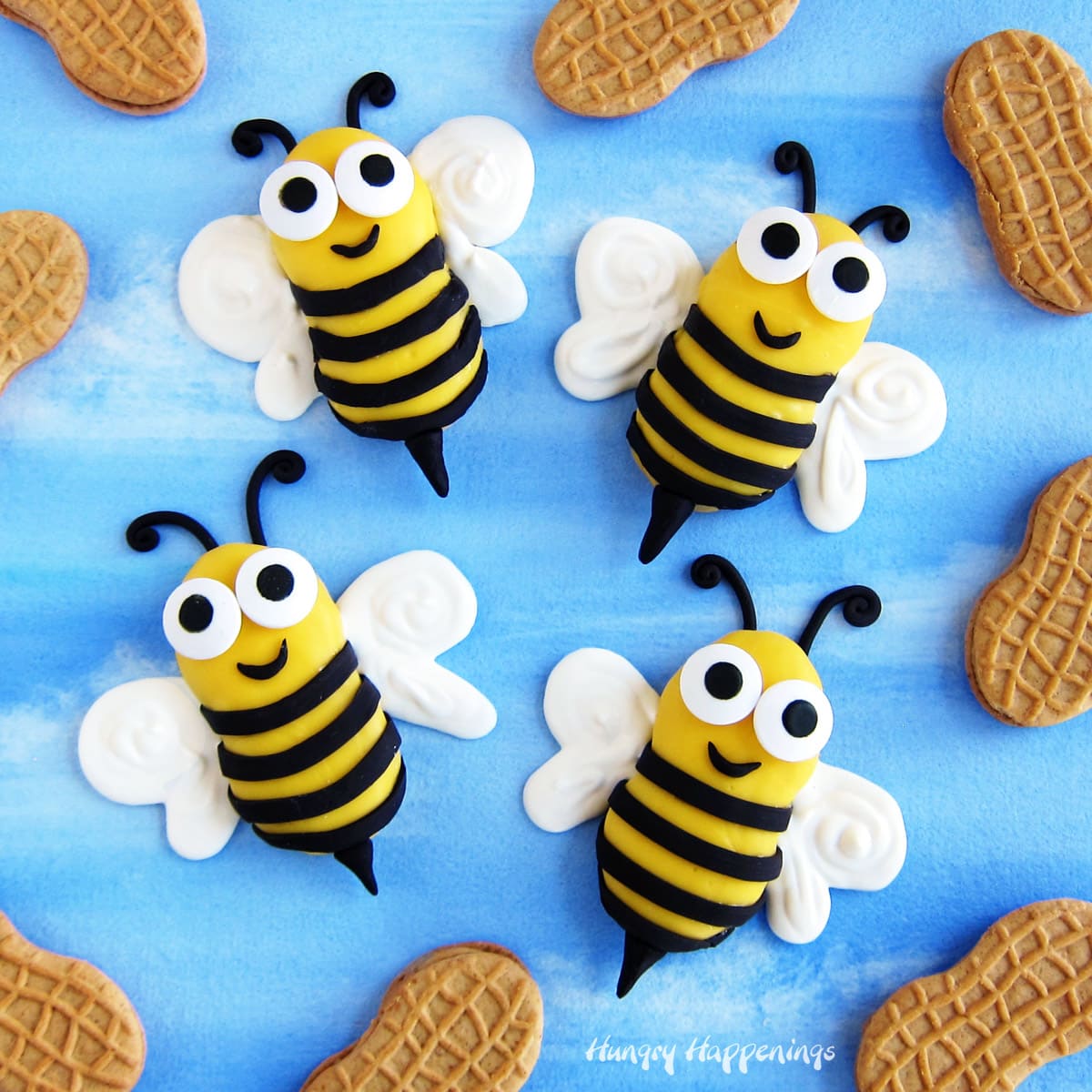 Bumble Bee Cookies
How cute are these Bumble Bee Cookies made from Nutter Butters? The peanut-shaped peanut butter cookies are dipped in yellow candy melts and are decorated with delicious 2-ingredient modeling chocolate, more candy melts, and jumbo candy eyes.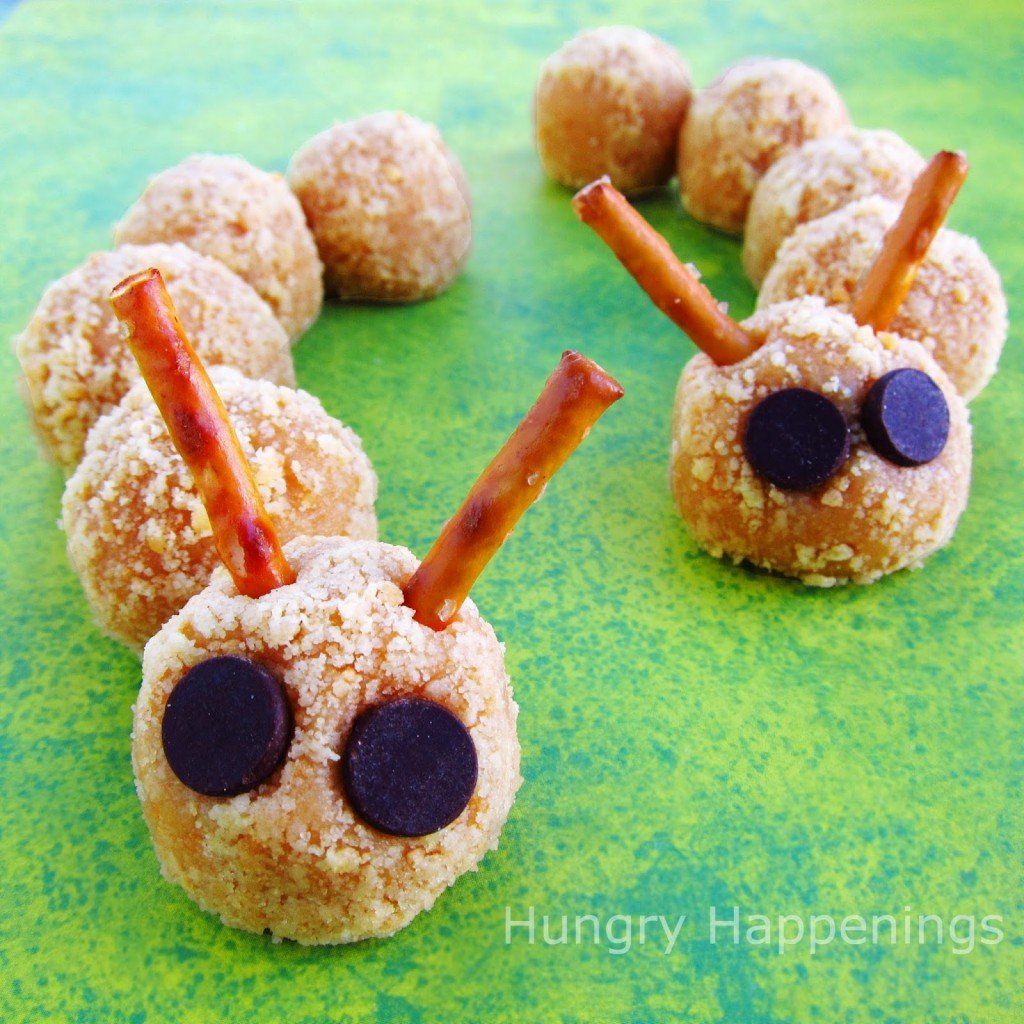 Sweet Caterpillar Snacks
These adorable caterpillar snacks are made by rolling no-bake cheesecake balls in cookie crumbs. They are super easy to make and would be a fun food craft project for the kids to do at the party.
Ladybug Rice Krispie Treats
Dip store-bought or homemade cereal treats into red candy melts, then decorate them using delicious 2-ingredient modeling chocolate to make these cute Ladybug Rice Krispie Treats. These make great party favors.
Fruit Pizza Butterfly
Wow, your party guests with this beautiful Fruit Pizza Butterfly. This fruit-topped cookie is sure to impress. It will make a fantastic centerpiece for any bug party dessert table.
Creepy Bug Food Ideas
Chocolate Roaches
Let's start out with the creepiest dessert you can serve at a party. This white chocolate popcorn infested with chocolate roaches may make your guests' skin crawl. But, it tastes so good that they won't be able to resist!
Spider Chocolate Chip Cookies
If the chocolate roaches are just too much for you, how about serving Spider Infested Chocolate Chip Cookies instead? I took my absolute favorite chocolate chip cookie recipe and added chocolate spiders on top.
Some party guests might not even notice the little spiders on top until they go to take a bite. It's fun to watch them squirm!
Spider Oatmeal Cookies
I don't know about you, but I think these Spider Oatmeal Cookies look even creepier. The spiders made out of raisins are so realistic-looking.
I served them to some friends who about jumped out of their skin. Once again, they just thought they were normal oatmeal cookies until they went to take a bite.
Spider Cake
I had a hard time deciding which category to put this Spider Cake in. Is it creepy or cute? What do you think?
Either way, this spider cake is a show-stopper. Serve it on a big spider web to make it look really spooky.
OREO Ball Spiders
OK, so these are kind of creepy and kind of cute too. If you don't want to make a large spider cake, why not make these little bite-size spiders instead? Kids will go nuts over these sweet OREO Ball Spiders.
Spider Candy
These black caramel spiders would definitely fall into the creepy category in my book. They couldn't look any more realistic. They taste like caramel so they are a tempting treat even if they look so real.
Corn Dog Centipedes and Caterpillars
If you are looking for some savory snacks to serve, look no further than these creepy Corn Dog Centipedes and Caterpillars. Use mini corn dogs to create these gross-looking bugs with glowy ketchup eyes.
More Creepy Crawler Food Ideas
We served other creepy crawler food at our Halloween carnival too.
OREO Cheese Ball Rat
This rat was one of the most popular desserts at our Halloween party. Not only is it made of OREO Cookies and cream cheese so it tastes incredible but it looked pretty cool too. Get the recipe to make your own OREO Cheese Ball Rat for your party.
We served a savory version of this rat-shaped cheese ball too.
Slithering Snake Snack
This clever take on pigs-in-a-blanket is made by wrapping hot dogs in Crescent Roll Dough Sheets and forming them into a long snake.
This Slithering Snake Snack was a huge hit with our party guests.
If you are hosting a Halloween party and are looking for more Halloween Recipes, you can buy a copy of my Hungry Happenings Halloween Cookbook from Amazon. I earn a small commission when you use the link to make a purchase at no extra cost to you.
SaveSave

Latest posts by Beth Klosterboer
(see all)