Add some spooky fun to your Halloween celebration with these Creepy Crawler Carnival Games! These games are sure to be a blast and might just scare your pants off. Happy Halloween!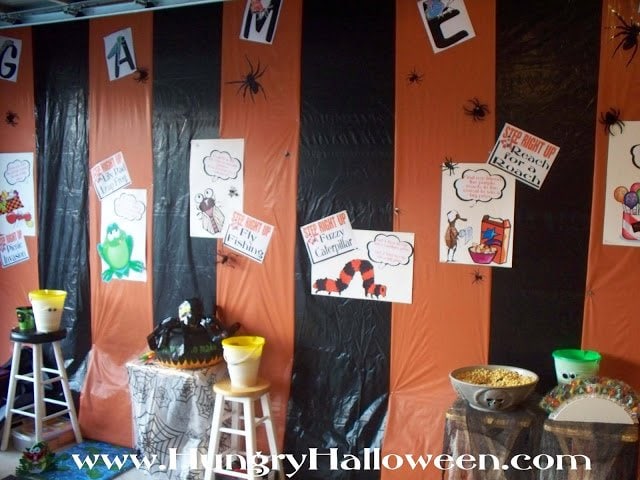 I am busy getting my house ready for our annual Halloween party but wanted to take some time to explain in a little more detail how we transformed our garage into a Creepy Crawler Carnival last year.  We lined the walls with black plastic which we purchased at Lowe's.  It comes in very large sheets which we cut to fit.  Then every few feet I added a strip of plastic orange table runner.  I used push pins to hang all the plastic.
I set up games all around the walls so that there was plenty of room for the kids to play.  I created signs for each game using Print Master (a graphics program that is very easy to use) and some cute cut outs I found at United Art and Education (an art and teacher's supply store.)
I hung a totally gross looking scene setter on the door and added a giant spider image above the door.  Little bug cut outs were stuck to all of the walls to add to the creepy effect. Bat chair covers dressed up a few folding chairs that I sat around for the parents to use while the kids had fun playing games.
I set up a ticket booth at the entrance to the carnival and had someone pass out 15 tickets to each child, so that they could play all ten games at least once and a few twice.  I purchased consolation prizes for each game, so that with every game each child was a winner. These prizes were kept at the game station and passed out after a child played the game. If a child won a large prize, they would receive a gold coin which they could turn in for a large prize at the ticket booth.  That way I could have a large variety of prizes and each child could choose what they wanted to win. It was much easier than trying to have large prizes at each game station.
A note on prizes:  I always try to decide on our party theme for next year before this Halloween season is over, which for this theme gave me time to purchase prizes on clearance.  I've gotten amazing Halloween themed prizes for as much as 90% off. Also, right before Halloween all the summer toys go on clearance so it's a great time to buy them too and kids love winning toys of any kind.  The only thing I wait to buy is candy. If I don't have enough prizes, I usually will buy them from Oriental Trading Company, which is where I get a lot of my craft projects for our parties too (I just purchased picture frames for the kids to put together at this years party.)
So, on to the games!
Game: Lady Bug Spots 
My favorite game was handmade using a large board, plastic cups (the short ones), craft leaves, and some thick black wire.  To play, the kids had to throw balloons at the lady bug. If a balloon landed in a black spot they won a big prize. If they only got their balloons in red spots, they got a consolation prize.  It was so fun to watch the balloons fly through the air and land on the lady bug and then bounce around. This was truly a game of luck and the kids were thrilled when their balloon was a winner.
I created the pattern for the lady bug out of red cups adding black spots and a black head.  Once I was happy with my design I used liquid nails (strong glue) to adhere the plastic cups to the board.  I then glued leaves all around the lady bug and added some wire antenna.
A close up of the Lady Bug Spots game sign. The lady bug says, "get a balloon into one of my black spots to win a big prize."
Game: Fuzzy Caterpillar Toss
A similar game was so easy to set up. I covered a long board with jungle print paper (purchased at United Art and Education) then I set very small bowls on top in a caterpillar pattern.  I drew a line a few feet away from the board where the kids would stand.  Each child got six cotton balls and had to throw them trying to get them in the bowls. One in won a medium prize (these prizes were kept that the game station), two in won a large prize, and all others got a consolation prize.
Game: Fly Fishing
This game took a bit of work but it was worth the effort - the kids loved it.  I purchased a fishing pole from the dollar store (one that really winds up the string) and attached a very light Styrofoam spider to it. I super glued a small magnet (taken from the end of the fishing pole) onto the front of the spiders face.  I bought some plastic flies and bent part of a paper clip around their necks so that the magnet would have something metal to grab a hold of.  I set a spider web decoration on the floor, sprinkled on some flies and had the kids use the fishing pole to "fly fish."  Even the smallest kids could do this game, so everyone was a winner as is usually the case with fishing games at carnivals. The big cauldron pictured above was filled with all of the prizes.  The kids could choose what they wanted.
Game: Lily Pad Leap Frog
When I was creating these carnival games, I tried to think about games that already used things that could be considered a creepy crawler, like a leap frog game.  I didn't want the kids to just play a game of leap frog on my garage floor, so I created a game board.  I purchased paper with a water scene on it from United Art and Education and wrapped it around a board.  I printed out images of grass and lily pads (I did a Google image search for them) and cut and glued the images to the board.  I set a rug in front of the board so the children could kneel down to play the game. The player had to set his/her frogs on the grass and try to leap them onto a lily pad.  The entire frog had to be on the lily pad to win a big prize otherwise the child won a small consolation prize. It was actually harder than it looked, but we gave the kids 6 frogs to leap, so they had fun playing even if they didn't win a big prize.
I'll get Creepy Crawler Carnival Games Part 2 posted later this week.
SaveSave