These striped Candy Cane Chocolate Cups are so pretty and they are easier to make than you'd imagine. You can fill them with Peppermint Mousse, ice cream, pudding, candy, or nuts and serve for dessert or give as Christmas gifts.
There is no sweet more iconic at Christmas time than the candy cane. It's simple design and red and white stripes are immediately recognizable. I thought it would be fun to create red and white striped candy cane chocolate bowls for Christmas and was so thrilled with how they turned out.
I actually made these bowls last year a few days before the holiday but ran out of time to share the idea with you. It's probably a good thing because now that I know how to make videos, I am able to share a video tutorial instead of just a series of images with step-by-step instructions. For a project like this, video is so much better. See for yourself.
So, what did you think? Can you see yourself making these Candy Cane Chocolate Cups?
If you do, you can either use melted and tempered pure white chocolate or melted confectionery coating (Candy Melts). See my Chocolate Making Tips page for detailed information about both. Either will work well. The pure white chocolate will taste wonderful, but just be aware that most are cream colored so you won't get a vibrant white stripe in your bowls. To achieve a pure white, you'll need to use Bright White Candy Melts.
For the red, you can color your white chocolate using oil based candy coloring or simply use red candy melts. Just don't mix the two types of chocolate together. Use either Candy Melts or White Chocolate.
To fill your cups you can use White Chocolate Peppermint Mousse like I did. You can find the recipe I used on my Peppermint Bark Dessert post. Otherwise you can fill them with Peppermint Stick Ice Cream for a festive look or some Christmas candies or even nuts.
Candy Cane Chocolate Cups
Red and White Striped chocolate cups.
Keyword:
candy cane, chocolate candy cups
Ingredients
16

ounces

melted and tempered pure white chocolate or melted Candy Melts

4

ounces

pure white chocolate colored using red candy coloring or Red Candy Melts
Instructions
Pour white chocolate into a bowl so that the chocolate is about 3 inches deep.

Pour the red chocolate into a disposable pastry bag or zip top bag.

Cut the tip off the bag.

Pipe 5 to 7 lines of red chocolate over the top surface of the white chocolate.

Dip one balloon into the bowl of chocolate to cover about 2/3rd's of the balloon.

Lift the balloon out of the chocolate and allow the excess chocolate to drip off.

Set the balloon on a parchment paper lined baking sheet.

Repeat by piping the same number of red stripes over the bowl of white chocolate.

Dip another balloon.

Repeat.

If using pure white chocolate, refrigerate the balloons until the chocolate sets.

If using Candy Melts, place the balloons in the freezer for about 3 minutes.

Remove and let sit for one minute.

Then cut a small hole near the knot on the balloon to allow the air to escape.

Tug and pull the balloons out of the chocolate cups.
Here are the pictures I snapped last year for the tutorial. You'll notice I piped a few more lines on the chocolate. The stripes are a bit thinner so the chocolate cups look a little bit different. If you like having a few extra, thinner stripes go ahead and pipe on 7 stripes instead of 5.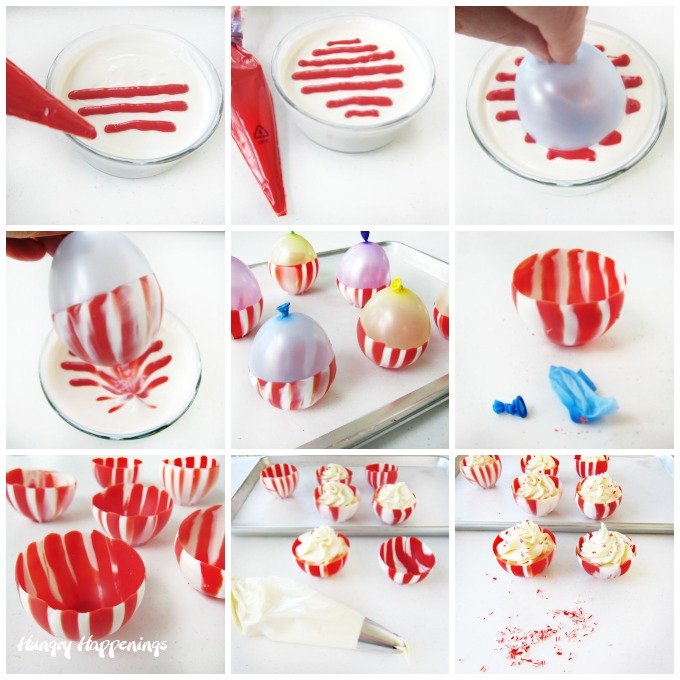 NOTES:
You need to use rather thick balloons to make your chocolate cups. Do not use water balloons as they are too thin. I used 5 inch latex balloons that I got at a party supply store. You should not be able to see through the balloon before it's blown up.
Blow up your balloons so that they are about 3-4 inches in diameter.
If your balloons stick, place them back in the freezer for another minute, then try again.
Use new balloons. Old ones may lose their elasticity and will stick.
The number of balloon bowls you will be able to make will depend on the size of the balloons and the thickness of your white chocolate.
The thickness of the stripes of red chocolate will determine the size of your stripes. You can pipe 5 lines (as I did in the video) or up to 7 (as you can see in the pictures below).
See the recipe for the peppermint mousse, here.
If you are looking for other festive treats to make for Christmas, you might also like these…
Peppermint Bark Dessert • Peppermint Mousse Cake
Red and Green Tie Dye Cake • Peppermint Bark Balloons Bowls
Grinch Candy Cups • Santa Suit Candy Cups
Almond Nougatine Candy Cups • Peppermint Swirl Mousse Cake
If you recreate these Candy Cane Chocolate Cups
be sure to link to this tutorial and send a picture to beth@hungryhappenings.com,
so I can  share it in my Readers' Gallery.