Everyone loves pumpkin pie, so turn this delicious treat into a spooky Halloween Pumpkin Pie Eyeball! Your guests won't be able to take their eyes off of this amazing p-eye!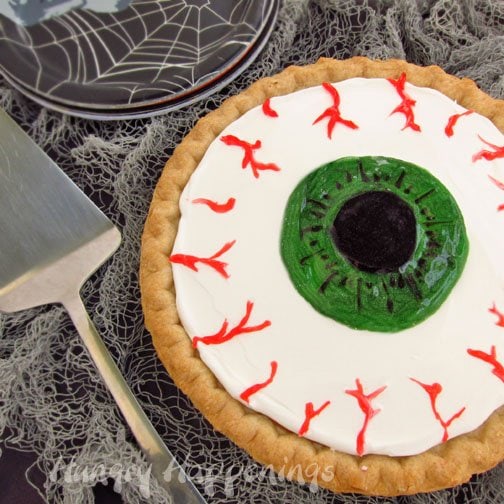 A few years ago, we hosted a Dead Man's Diner party for Halloween and I felt like a mad scientist in my kitchen bringing body part shaped food to life. I found it particularly easy to transform ordinary food into eyeballs and decorated a store bought pumpkin pie to look like a P-Eye.
I know some people would be totally grossed out when served body part shaped food, but we found that the majority of our 80+ guests gleefully gobbled up this creepy cuisine.
Waitresses dressed in old fashioned diner uniforms served up Bone Calzones, Hand-Burgers Dripping in Blood with Finger Fries, Cannibals Chowder in Skull Shaped Bread Bowls, Grilled Feet with a side of Bone Chips, and hot Open Face Sandwiches.
If you'd like to serve up some of this gruesome grub, you can find all of the recipes in my cookbook, Hungry Halloween featuring Movie Monster Munchies, Bewitched Buffet, and Dead Man's Diner which is available on Amazon.com (here.)
For the party, our kitchen served as the diner complete with a classic lunch counter.Are you thinking of hosting a Dead Man's Diner party yourself? If so, you can find decorating information here at Hungry Halloween.com.
We knew that three waitresses weren't going to be able to handle all of our hungry guests at one time, so we also offered a buffet of Appet-eye-sers including pizzas, chicken dip, artichoke dip, Madeira Mushroom dip, bean dip, and meatballs all decorated to look like eyes. Check out
this post over at Hungry Halloween.com
to learn how to make the Pizza P-Eye and to see how we created all the other eye shaped foods.
After all the appet-eye-sers were devoured, and I do mean devoured, we removed the empty dishes and replaced them with lots of Deadserts, including a Pumpkin P-Eye which is hiding at the back of the table.One of the most popular Deadserts was the Creme Brulee P-Eye. It looked and tasted fantastic. You can find the recipe and even a video here at Hungry Halloween.
Now, I know you are just dying to find out how to make your own Pumpkin P-Eye, so here it is.
Pumpkin P-Eye
You'll need:
1 baked and cooled or store bought pumpkin pie
Cool Whip Frozen Whipped Topping, thawed
Green or Blue Sparkle Gel or Decorating Gel
Black Sparkle Gel or Decorating Gel
Red Sparkle Gel or Decorating Gel
Instructions:
Spread an even layer of whipped topping on your pie, it can be thick or thin, depending on your preference. Draw a circle in the center of the pie using the green gel. Pipe a larger circle around the first and fill in with the green gel.
Fill in the center circle with the black gel. To make the eye more realistic, pipe in some black streaks on top of the green gel. Pipe on bloodshot veins using red gel.
Products used to make this project that are available on Amazon.com  (commision earned for sales)
SaveSave