These shiny Fudgy Gold Stars are a great motivational treat for anyone! Personalize these simple snacks with any words you'd like and inspire everyone you love!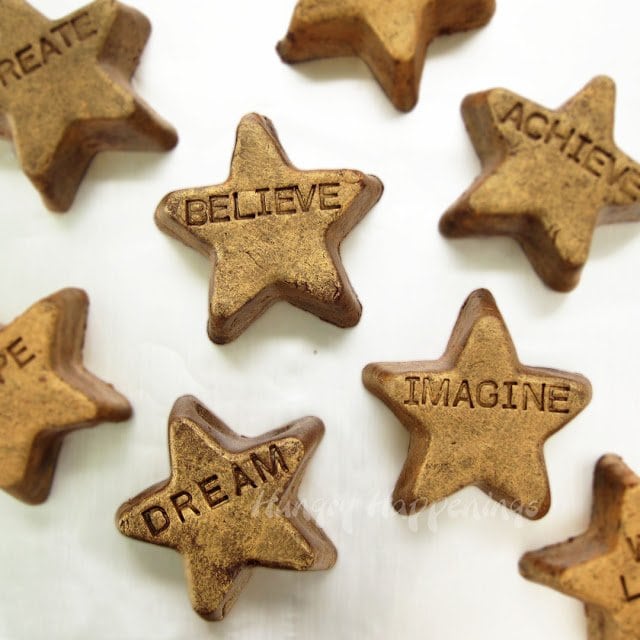 The end of the school year is coming too fast. Ten months with our exchange student was not enough. Sadly, she flies back to Germany just days after her final exams. I'm not ready to let go.
Tonight we are sitting together on the front porch. She's doing homework as I write this. I'm finding it hard to concentrate, but she seems to be doing a great job writing a poem about the king of the jungle. Her writing its witty and sharp. I wonder what the poem would have sounded like in August, before she opened herself up to being truly creative.
At the beginning of the school year she told me she had no talent. By October, she was decorating cookies, carving pumpkins, and planning parties. In December, she felt confident enough to make chocolates to send to her family and friends. By Easter, she was working on her own, handpainting chocolates that rivaled mine. Yesterday, my mom taught her to paint with watercolors, and here's what she made...
This is her first painting - ever! Talented, YES! Creative, ABSOLUTELY!
Soon, she'll be back home, and I hope she continues to believe in her creativity, to dream of a bright future and to imagine a wonderful life. I created these Fudgy Gold Stars to share those sentiments with her.
I know I've used this stamped fudge technique quite a lot in the last year, but it just works for so many special occasions.
I hope I've convinced you that fudge+letter stamps=a million possibilities.
Inspire graduates, teachers, actors, employees, students, family and friends to believe, achieve, create, hope, dream, and imagine by presenting them with Fudgy Gold Stars.
Fudgy Gold Stars (makes 9 chocolate fudge stars)
Ingredients:
16 ounces semi-sweet chocolate, finely chopped
1 (14 ounce) can sweetened condensed milk
1 teaspoon gold luster dust
1 teaspoon clear vanilla extract or vodka (it will evaporate)
Supplies Needed:
medium saucepan
2 Wilton Silicone Star Molds
food use only paint brush or pastry brush
small letter embossing stamps or rubber stamps
Instructions:


Pour chopped chocolate and sweetened condensed milk into a medium saucepan. Heat over low, stirring often until the chocolate melts. Pour into a glass dish. Allow to cool for about an hour until it firms up.
Scoop out the fudge and knead until smooth. Roll about ½ cup into a ball. Press into the star mold, removing excess or adding more if needed to completely fill 9 stars. You can, if you prefer, fill 12 stars about ¾ full.
Being the molds are flexible, as you press the fudge into the star cavity, it might bulge out. As you work, turn the mold over, and press around the points of the star, making sure the fudge stars don't become misshapen.
Leave fudge stars at room temperature for at least 2 hours, so that they will hold their shape.
To remove fudge stars out from the silicone mold, turn it upside down, press on the backside of each star, push the fudge out. Reshape chocolate fudge stars if needed.
Mix gold luster dust with vanilla extract until well blended. Use a paint brush to dab the gold over the fudge hearts. Allow the luster dust to dry completely.I like the stars that have a bit less gold on them because the fudge shows through.
Press letter stamps into the fudge creating inspirational words like, "dream," "believe," and "imagine." If you prefer, you can paint the words on using black food coloring.
Package individual stars in clear cellophane bags or place them all in a nice box to give as a gift. Store in an airtight container for up to 10 days. The fudge will harden as it sits but will still be creamy once bitten into.
Items used to create this project that are available on Amazon.com (commission earned for sales)
Fun Party Recipes
Other stamped fudge and modeling chocolate projects
from Hungry Happenings.

Personalized Dog Tag Cookies

Candy Rocks for Teacher Appreciation

Personalized Vanilla Fudge Apples

Conversation Heart Fudge

Cookies 'n Cream Tombstones with clever epitaphs

Candy Serenity Stones
SaveSave