Add a basket of beautifully colorful Cheesy Crescent Roll Leaves to your Thanksgiving dinner table. These pretty fall leaves are simple to make but will surely wow your party guests.
Once again, my edible craft has been inspired by beautiful autumn leaves and a bit of family tradition.
For many years my mom made Pillsbury Crescent Rolls for our family's Thanksgiving dinner. Some years we actually got to eat them whole, while other times their blackened bottoms were cut off and we just ate the top, and a few times the poor rolls were forgotten, left to burn in the oven, and couldn't be saved.
As a kid we ate bread with most meals and to me bread was an integral part of Thanksgiving dinner. I was a picky child who ate one or two slices of turkey alongside some mashed potatoes and bread. I wanted my bread!After enough years of being served black bottom dinner rolls, I took charge. Of course, I didn't have much to do with the dozen other dishes being prepared, so I could make sure we had golden brown rolls for our meal.
Fast forward, to my life now, where I've experienced the stress of stuffing an oven full of dishes that need to be cooked at different temperatures for varying amounts of time then trying to get everything onto the table hot, I can totally relate to my mom's dinner roll dilemma.
My solution – bake the crescent rolls ahead of time and either serve them cold or heat them up just for a few minutes. Once all the food has been removed from the oven, turn off the heat, set the tray of rolls in the oven. Be sure to set the timer for 4-5 minutes. That is enough time to get the other food on the table before grabbing the rolls and adding them to your bread basket.
Of course, you know me, I can't serve just plain old dinner rolls, I have the unstoppable urge to make things look festive, so I cut the store bought dough using leaf shaped cookie cutters and topped them with cheese and some colorful additions. It took me less than ten minutes to create these pretty fall leaves and they will dress up my bread basket nicely this Thanksgiving.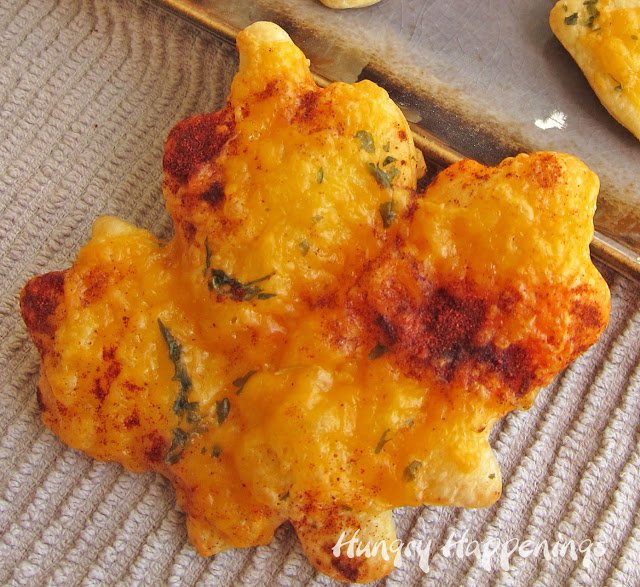 Cheesy Crescent Roll Leaves
Cheesy Crescent Roll Leaves for your Thanksgiving bread basket
Colorful fall leaf crescent rolls topped with cheese and paprika.
Keyword:
cheesy crescent roll, crescent roll, thanksgiving appetizers
Ingredients
1

tube Pillsbury Crescent Recipe Creations Seamless Dough Sheets

flour

to dust cutting board

1

tablespoon

butter

melted

4

ounces

finely shredded cheddar cheese

or use a variety of colored cheeses

paprika

green toppings - Italian seasoning

parsley, or Parmesan dipping seasing

*I used Pillsbury Crescent Recipe Creations Seamless Dough Sheets

but if you can't find them, just use the regular crescent rolls, pinch the seams together really well, and proceed with the recipe. You can also use puff pastry or your own homemade dough.
Instructions
Preheat oven to 400 degrees Fahrenheit.

Unroll dough onto a flour dusted cutting board.

Cut leaves using cookie cutters and set on a parchment paper lined cookie sheet.

Brush leaves with melted butter.

Sprinkle cheese over top.

Sprinkle on paprika and green toppings if using.

Bake for 6-8 minutes until the cheese is bubbly and the crescents are golden brown.

If desired, cut the excess cheese off the leaves using the same cookie cutter or using kitchen shears.

Serve warm.
Unroll Pillsbury Crescent Recipe Creations Seamless Dough Sheet onto a cutting board that has been lightly dusted with flour. Cut using leaf shaped cookie cutters.
Set your crescent roll leaves on a baking sheet lined with parchment paper.
You can press the dough scraps together to make more leaves, if you want.
Brush butter over each leaf shaped crescent roll. Sprinkle cheese over each leaf.
Sprinkle on some paprika and/or parsley or Italian seasoning to add some color to your leaves.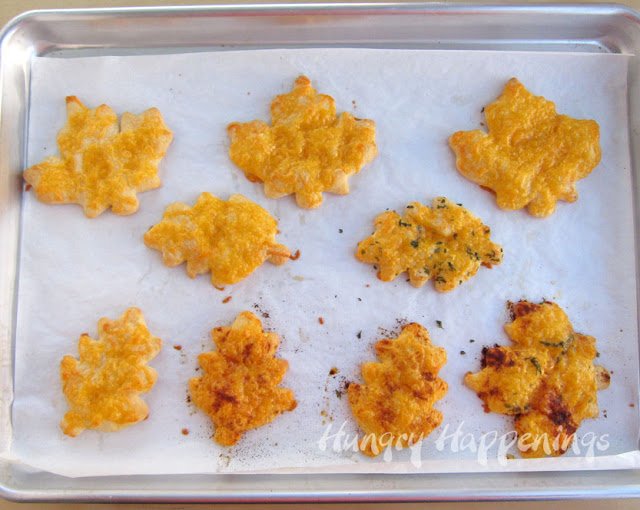 Bake for 6-8 minutes until the rolls are golden brown and the cheese is bubbly.
Once out of the oven, you can serve immediately, or allow them to cool, store them in an airtight container and re-heat just before serving. Place in a warm oven and heat for 3-5 minutes, just until warm.
UPDATE:
Here's a new video tutorial for these simple Cheesy Crescent Roll Leaves. In this new version of this Thanksgiving recipe I sprinkled on some Parmesan Dipping Seasoning and loved the added flavor.
Products used to create this project that are available on Amazon.com (commission earned for sales)
Be sure to check out all of my amazing Thanksgiving Recipes
More Thanksgiving Recipes 
from Hungry Happenings
Leaf and Pumpkin Dinner Rolls Topped with Cheese
Cheesecake Leaves and Pumpkins
Chocolate Peanut Butter Fudge or Caramel Turkey Treats for Thanksgiving
Chocolate Turkey Box filled with small chocolate turkeys