These Slumber Party Snacks are just as fun to make as they are to eat. Each tortilla wrap sleeping bag is filled with peanut butter and apple slices and has an apple kid popping out of the top.
I don't remember ever eating anything healthy at a slumber party but am positive that if I had been served one of these whimsical sleeping bag tortilla wraps filled with peanut butter and apples, I would have gobbled it up.
When I came up with this recipe idea, I didn't really go at it thinking I'd develop a healthy snack that would be great to serve at a slumber party. As you might know by now, my recipes don't really lean to the healthy side very often.
I just had an image in my mind of a sleeping bag with a head popping out and decided that a wrap made a perfect sleeping bag and a round slice of apple made a great head.
To make the tortilla sleeping bags look fun for kids, I decorated them using fruit rolls. The cut-out shapes and bright colors make the sleeping bag snacks look so cute.
I had so much fun creating the cute kids out of apples. I love the crazy orange carrot hair and the Medusa-style hairdo made using chow mein noodles. I'm sure your kids will love them too.
Sleeping Bag Wraps
Ingredients
apples - 1 will make enough for two kid's heads
other options - pears, peaches, or Baybel Cheese rounds
flour tortillas (soft taco size) - 1 per sleeping bag
creamy peanut butter - 2 to 3 tablespoons per wrap
other options - turkey, ham, cheese, cream cheese
lemon-lime soda or lemon juice - to soak the apples, pears, or peaches to keep them from browning
Decorations
eyes - candy eyes, raisins, dried berries, mini M&M's, Reese's Pieces or chocolate chips
hair - carrot shreds, chow mein noodles, peanut butter, Nutella, pretzel sticks, potato sticks
sleeping bags - Decorate your tortilla wrap sleeping bags with colorful fruit rolls, cheese slices, sprinkles, or even small pieces of colorful cereal.
Supplies
peeler or knife
2 ½" round cookie cutter, optional
mini cookie cutters/clay cutters, optional
toothpick
#10 and #12 round decorating tips, optional
kitchen shears, optional
Instructions
Make peanut butter and apple-filled sleeping bag wraps with apple heads, various hair and eyes
Soak the apples in clear soda or lemon juice.
Wash and peel the apples, reserving a small amount of the peel.
Cut two slices on opposite sides of each apple. If your apples are small, just use those rounded slices to create the kid's heads. If your apples are large, use a 2 ½" round cookie cutter, to cut circles from those slices. C
ut the remaining two sides of each apple and cut into ¼" slices.
Place all of the slices and extra pieces in a bowl. Pour lemon-lime soda pop into the bowl completely covering all of the apple slices.
Let them sit for at least 10 minutes.
This will keep the apples from turning brown, and won't add any significant flavor to the apples.
Fill tortillas with peanut butter and apple slices.
Spread 2-3 tablespoons of creamy peanut butter over a tortilla. Fold up the bottom ¼ of the tortilla. Spread a small amount of peanut butter in the center of the piece of tortilla that you just folded up. Set some long slices of apple on the peanut butter in the middle of the tortilla.
Fold the wrap.
Cut some long apple slices in half and add them to the tortilla.
Fold the left side of the tortilla over and press the peanut butter and apple together.
Fold the right side of the tortilla over and press the peanut butter and the left side of the tortilla together.
Make apple heads with raising eyes.
If you want to use raisins or dried cherries to make the eyes, you can leave them whole or use a #10 decorating tip to cut small rounds out of the fruit. Then use a toothpick to poke holes in the apples where the eyes will go, and press the fruit eyes into the holes.
Cut smiles out of the reserved apple peel using a knife, kitchen shears, or a round decorating tip (I used a #12 tip for the small mouths and the larger end of a tip for the larger mouths.)
Set the smiles on each apple face.
Candy eyes and edible hair.
Instead of raisins, I used candy eyes to decorate the apple head on the right and decided I really liked how they looked on the faces so I swapped them out for some of the raisins.
To create the hair on the left, I poked holes in the apple head using a toothpick and then pushed in the carrot shreds. I spread peanut butter butter over the apple on the right then I dipped it in cookie crumbs.
Once you've decorated the apple head, snuggle it in the sleeping bag. It will stick to the peanut butter and stay in place.
Chow mein noddle or peanut butter hair.
My favorite hairdo (because it looks a bit like my hair in the morning) was created by poking chow mein noodles into the top of the apple head. Pretzels or potato sticks would work the same way, creating a spiked hairdo. The simplest hair can be created by spreading peanut butter or Nutella over the apple head.
Decorate your sleeping bag snacks with fruit rolls.
Unwrap and unroll a variety of fruit rolls.
Cut stripes, polka dots, flowers, and hearts using a knife, pastry cutter, and mini cookie cutters. Most of my fruit roll-up decorations stuck right to the tortilla, but when they wouldn't stick, I added a dab of peanut butter to the back side and pressed them onto the tortilla.
I made hair using a fruit roll-up (see the third sleeping bag snack) but found that once it sat for a while it kind of melted and got really sticky, so don't do that unless the snack will get eaten right away.
Variations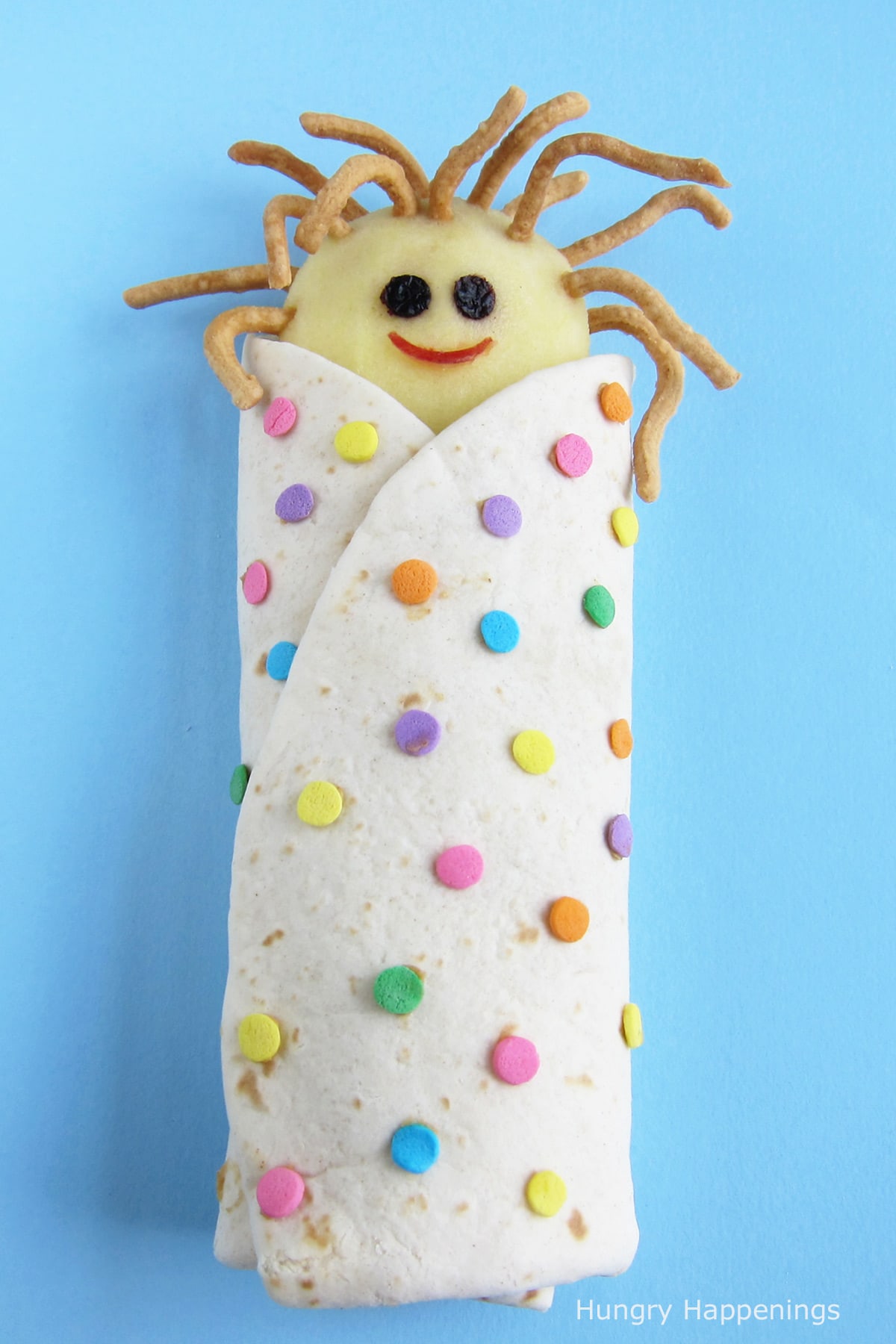 Sprinkles
You can also use sprinkles to decorate the outside of the tortilla wrap sleeping bag. Just use a dap of peanut butter to attach them to the flour tortilla.
Ham & Cheese or Turkey & Cheese Wraps
If you prefer make ham and cheese wraps or turkey and cheese wraps. you'll need to use spreadable cream cheese to keep the sandwich closed. Then, you can create your kid's head using a round Baybel Cheese.
Use cheese slices to decorate the sleeping bag. You can even color cheese and cut it into shapes. See my Sugar Skull Cheese for directions.
Related Recipes
If you are looking for more fun Slumber Party Snacks, be sure to check out these other cute food for kids.
Have fun making these sleeping bag snacks for your slumber party.

Latest posts by Beth Klosterboer
(see all)