Make your commencement celebration extra special by serving Graduation Party Pretzel Pops. These white chocolate dipped pretzels decorated with modeling chocolate graduation caps can be personalized with the year of graduation, the school or the graduate's name.
Post originally published on May 17, 2013.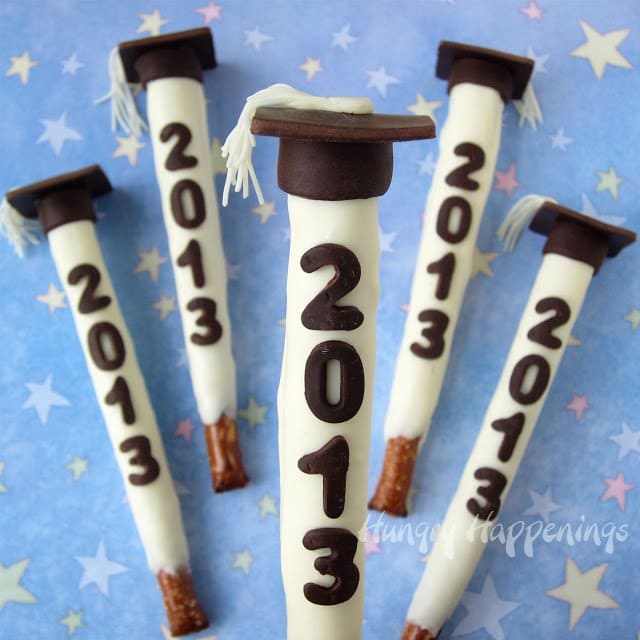 Whether you have a kid graduating from kindergarten or college, I bet they'll love these graduation pretzel pops. I made them to serve at one of the many high school graduation parties I'll be attending this year.
Each treat is made by dipping a pretzel rod into white chocolate then decorating it with a dark modeling chocolate graduation cap and the year "2013" (this, of course can be changed to the present year.) The chocolate pretzel pops can be served as dessert, used to top a graduation gift, or given as party favors.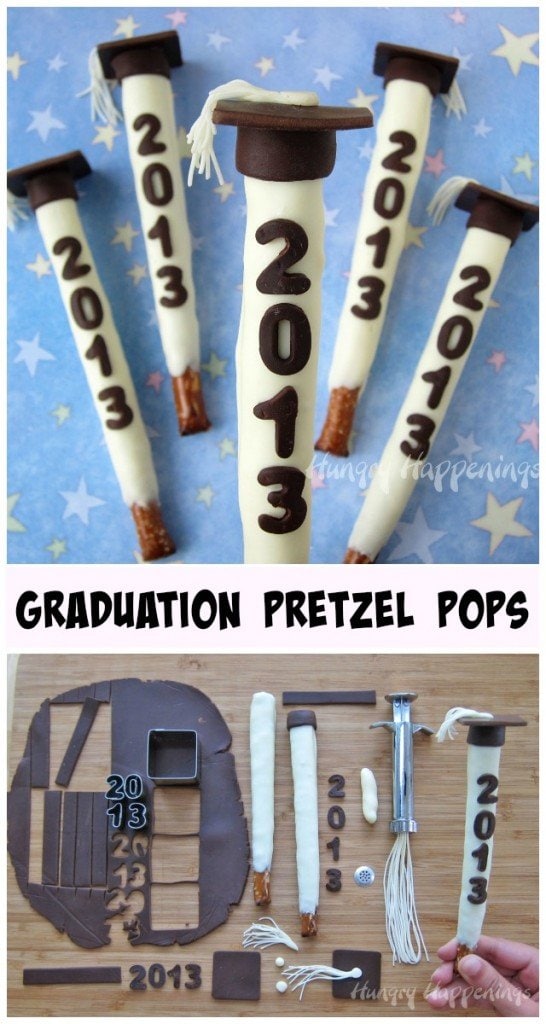 Personalized Graduation Pretzel Pops
TIP to keep the chocolate from cracking on your pretzels. 
Chocolate shrinks as it cools and when it shrinks onto something hard, it might crack.
If you take the pretzels out of the bag and allow them to sit at room temperature for several hours or overnight, they will soften just enough to keep the chocolate coating from cracking, but not enough to become stale.
To make your Graduation Pretzel Pops you will need:
pretzel rods dipped in melted and tempered pure white chocolate or  in melted white confectionery coating (candy melts)*
semi-sweet modeling chocolate, recipe here**
white modeling chocolate, recipe here**
small square cookie cutter
knife
small number cutters
clay extruder
*See my Chocolate Making Tips page for information about the different types of chocolate and how to melt them.
**I recommend you make your own modeling chocolate. It's a simple 2-ingredient recipe. But if you don't want to, you can purchase pre-made modeling chocolate. See the links below.
You can also find detailed instructions for working with modeling chocolate (candy clay) in my book, Candy Clay Creations.
You can find these supplies on amazon (commission earned for sales)
Instructions for decorating white chocolate graduation pretzel pops.
How to make the modeling chocolate mortarboard graduation cap and year.
roll out semi-sweet modeling chocolate to about ⅛th inch thickness
use a cookie cutter or a knife to cut a 1 ½ inch square
cut a ½ inch wide x 2 inch long strip
cut the date using small number cutters
if you prefer, and your graduates name is short, cut out his/her name using alphabet cutters
knead and roll some white modeling chocolate into a thin log, place it in a clay extruder fitted with a multi hole plate, press on the plunger, and allow the modeling chocolate to come out in fine hair like strips
cut off 1 ½ inch long sections of the modeling chocolate and pinch together one end to create a tassel
pinch off a tiny piece of white modeling chocolate, roll it into a ball, then flatten it.
attach the tassel to the square piece of semi-sweet modeling chocolate with a dot of white chocolate or clear piping gel
add the flattened ball on top
How to attach the modeling chocolate decorations to the white chocolate dipped pretzel.
use melted white chocolate or clear piping gel as glue to attach the modeling chocolate pieces to the white chocolate covered pretzel rod
start by wrapping the long strip of dark modeling chocolate around the top part of the pretzel
cut off any excess and press the seam together in the back of the pretzel
add the top of the graduation cap along the top edge of that strip
attach the numbers or names along the front of the pretzel
Watch this new video tutorial to see how you can personalize these graduation party pretzel pops this year...
Over the years I've gotten the following questions from readers:
How early can I make these pretzel pops before my graduation party?
when making your graduation pretzels be sure to choose fresh pretzel rods that have a freshness date of at least a few weeks past the day of your party
if you store your graduation pretzels in an airtight container in a cool dry place (NOT the refrigerator), they will keep for up to a month
if you refrigerate your pretzel pops they may become sticky and wet with condensation
if you have to refrigerate the pretzels, arrange them in a single layer on top of a few layers of paper towels in a cardboard box (the box will help wick up any moisture)
remove them from the refrigerator a few hours before your party and let the unopened box sit at room temperature for at least an hour
remove the pretzels from the box and display them for your party
if they are a bit wet or sticky let them sit at room temperature to dry for a while
the beads of condensation will dry into small bumps that most guests won't even notice
How should I display my pretzel pops at my graduation party?
you can arrange them on a serving platter
you can fill a jar or tall bowl with M&M's (in your child's school colors) and stick the chocolate pretzels down into the candy
you can wrap the pretzels in clear cellophane pretzel bags and arrange them around other desserts on your table
Can I serve these graduation pretzels if I'm hosting an outdoor party?
these pretzels are dipped in white chocolate and decorated with modeling chocolate which will melt in warmer temperatures
if you must keep them outside then wrap each pretzel in a clear cellophane bag, place the wrapped pretzels in a cardboard box inside a zip top bag and set it down into a cooler filled with ice
bring them out just before serving
these pretzels may develop condensation and be a bit sticky but at least they won't be melted
Can I give these Graduation Pretzel Pops as gifts?
you can package these chocolate pretzels in clear cellophane pretzel bags and attach to gifts or envelopes
you can arrange the pretzels in a single layer in a rectangle tin, box, or container to give as a gift
you can go all out and make a chocolate box and arrange the pretzels inside to give as a gift
You can find other fun food ideas for your graduation party, here...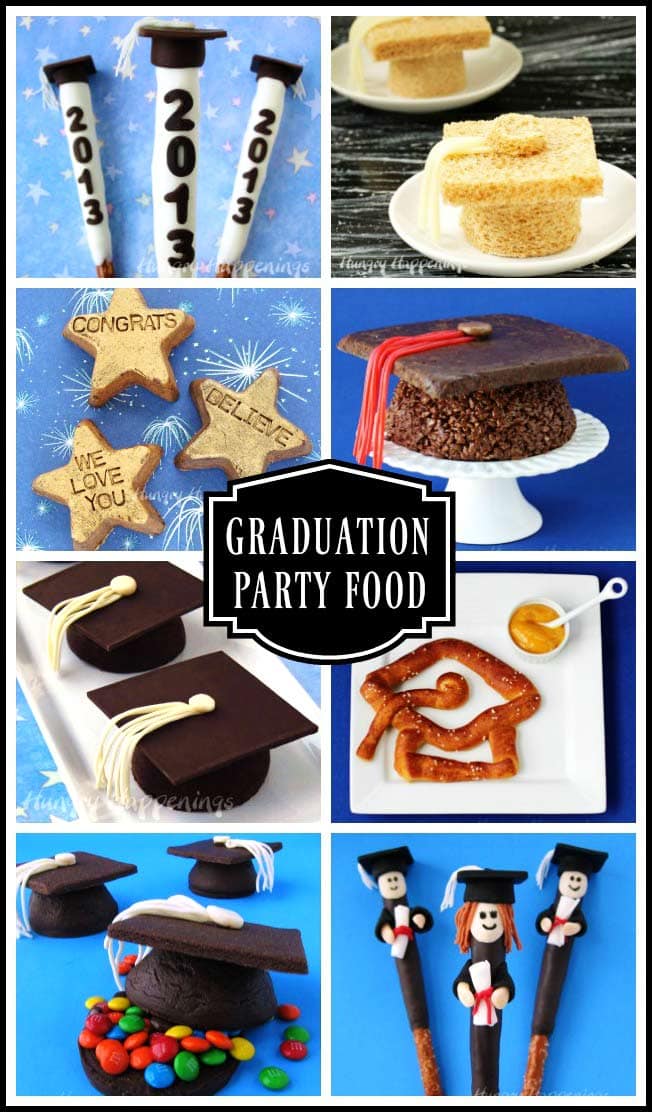 More Graduation and Pretzel Pop Ideas
3D Candy Filled Graduation Cap Cookies
Flourless Chocolate Cake Graduation Caps
Elephant, giraffe, monkey, zebra, hippo, lion and tiger
Jungle Animal Pretzel Pops
Chocolate Pretzel Farm Animals

Latest posts by Beth Klosterboer
(see all)