Why serve cake at your graduation party when you can have this impressive Cocoa Krispies Treat Graduation Cap instead? It's simple to make by adding melted chocolate to a traditional cereal treat recipe and forming it into a mortar board.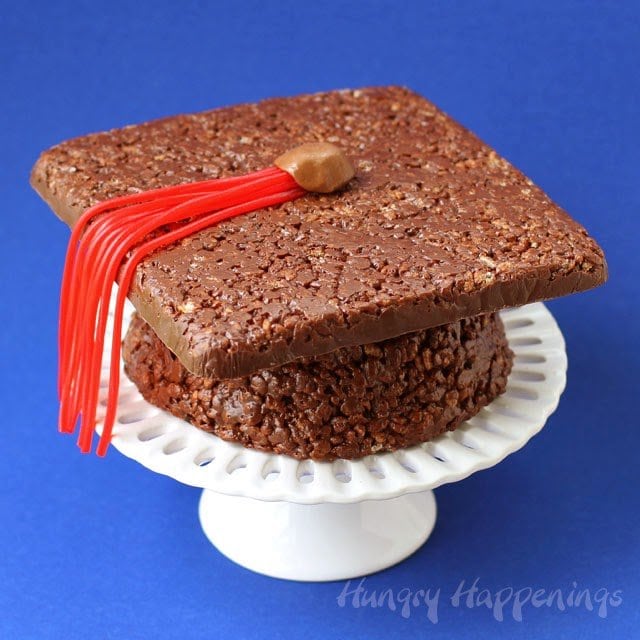 Cocoa Krispies Treat Graduation Cap –
This weekend my family gathered to celebrate with my niece who graduated from Kettering College of Medical Arts in Radiologic Sciences. We are so proud of her accomplishments.
On the day of her graduation, family and friends met for dinner at a restaurant then headed over to my sister's house to relax for a while before the ceremony and to enjoy dessert. I brought this Cocoa Krispies Treat Graduation Cap, well, actually, I brought the one that is pictured below.
I ended up making this twice because although my first dessert looked great for pictures, by the time it was in an out of my car on a warm day the top of the mortarboard was bending. I originally just mixed lots of melted chocolate into the Cocoa Krispies treat to make the square piece, but found that without tempering the chocolate, it didn't harden as it needed to and didn't hold up to the slightest bit of heat.

It was really easy to cut into and was bursting with chocolate flavor. Those in my family who enjoy chocolate, really liked this graduation dessert, but I was determined to make it more sturdy, so I reworked it and am sharing that technique, in the tutorial below. My friends are coming over today to do some baking, we're going to be making macarons, and I'll share my new cereal treat grad cap with them.
Cocoa Krispies Treat Graduation Cap (mortarboard)
Ingredients:
1/4 cup (1/2 stick) butter
10.5 ounces Jet Puffed mini marshmallows
6 ounces Hershey's Special Dark Chocolate Chips (1 cup)
6 cups Kellogg's Cocoa Krispies cereal
6 ounces (1 cup) lGhirardelli Dark Melting Wafers (or Candy Melts)
1 Twizzlers Pull and Peel
1 Tootsie Roll Midgee
Supplies Needed:
large mixing bowl
3 cup round bowl
8×8 inch baking pan
non-stick tin foil
Instructions:
Head on over to my new website, HowToMakeRiceKrispies.com to see some new Rice Krispie Treat recipes that could work for this grad cap! You can also check out how we taste tested 20 versions of the Rice Krispie Treat recipe to come up with the absolute BEST Rice Krispie Treat Recipe. This recipe would be a perfect substitution, just make sure to use the Cocoa Krispies instead of the original.
Heat butter, marshmallows, and chocolate chips in a large microwave safe bowl on high heat for 30 seconds. Stir then heat for 20 seconds. If the marshmallows are not melted, heat for 15 second increments, stirring after each until melted. Stir in Cocoa Krispies.
Line bowl and baking pan with non-stick tin foil.
Fill tin foil lined bowl with cocoa krispies. Press to compress the cereal in the bowl. Let sit at room temperature.
Press the remaining cocoa krispies treat mixture into an even layer in the square pan.
Heat the Ghirardelli Melting Wafers in the microwave on high power for 25 seconds, then stir, heat again for 20 seconds, and stir. If not completely melted, heat for 10 second increments stirring after each.Pour the melted candy coating over the cereal treat bar, reserving a tablespoon for the next step. Place in the freezer for 10-15 minutes until the candy coating sets.
Removed from freezer and remove from pan and peel off foil.
Un-mold the cocoa krispies treats from the bowl, peel off the foil, set on a serving dish.
Spread some melted candy coating on top and attach the square cereal treat with the candy coated side down.
Peel apart one Twizzlers Pull 'n Peel and attach the pieces to the center of the square treat using a dab of melted candy coating. Squish a Tootsie Roll into a round and press it in the center of the square treat covering the ends of the Twizzlers.
Cover loosely with plastic wrap and store at room temperature for up to 3 days. If you have to make this for an outdoor graduation party, I would just use a thin cake board under the square piece to keep it in place, otherwise it will bend.
Products used to create this project that are available on Amazon.com (commission earned for sales)
More Graduation Party Food
from Hungry Happenings
3D Candy Filled Graduation Cap Cookies
Flourless Chocolate Cake Graduation Caps
Chocolate Graduation Cap Boxes
Honey Scented Modeling Chocolate and Fruit Leather Books