Feed your hungry party crowd some fun game day snacks including a decadently rich Chocolate Dip Football served with Snyder's of Hanover® Mini Pretzels alongside Tyson® Crispy Chicken Strips and Any'tizers Buffalo Bites.
This post is sponsored by Tyson Foods, Inc. All comments and opinions are my own.
Chocolate Dip Football
It's football season again and that means hosting guests to watch the game and needing lots of snacks to feed all those hungry fans. Whenever I host a party I like to have at least one really festive dessert or appetizer on the table. Even just one treat like this Chocolate Dip Football can really wow your party guests.
This dip is super easy to make using milk and dark chocolate, heavy whipping cream, and a bit of vanilla. It's so amazingly good that your guests will never know it took you minutes to make. If you serve the chocolate dip in a small football shaped bowl you can decorate it with white laces and stripes to look like the real deal.
Your game day party guests can enjoy dipping Snyder's of Hanover Mini Pretzels into the gooey chocolate after they have enjoyed snacking on some savory Tyson Crispy Chicken Strips, Any'tizers Buffalo Bites, and Snyder's of Hanover Pretzel Pieces Honey Mustard and Onion.
Go ahead and dip!
The salty pretzel twists are perfect for dunking. Don't you just want to reach into the screen to enjoy some of that creamy chocolate dip?
You'll love how easy this chocolate dip is to make. On game day it's more fun to spend less time in the kitchen and more time with guests.
What kind of chocolate should I use to make this chocolate dip?
Use pure milk chocolate and pure dark chocolate (with cocoa butter in the ingredients).

By blending the two chocolates together you get a nice football colored chocolate dip with a decadently rich flavor.
To keep the color from getting too dark, use 8 ounces of milk chocolate and 2 ounces of dark chocolate.
If the milk chocolate you are using is rather dark in color, skip adding any dark chocolate.
Do I have to use Heavy Whipping Cream to make this chocolate dip?
Heavy whipping cream will give you the creamiest chocolate dip but you can use substitutes if you need to.
Try using half and half or cashew, almond, or soy milk.

Use chocolate cashew or chocolate almond milk for an extra chocolatey flavored dip.
Reduce the liquid to 1/2 cup if using half and half or a plant based milk.
If you can't have milk at all you'll need to use a dark chocolate to make the dip, which is fine, it will just be a bit darker in color.
What kind of vanilla do you use to make this creamy chocolate ganache?
I prefer to use vanilla bean paste because it is thick and creamy, has speckles of real vanilla bean, and tastes great.
Pure vanilla extract can be used too.
Do not use imitation vanilla extract. If that is all you have, just skip the vanilla all together.
How to Make Chocolate Dip
In the microwave:
Heat heavy whipping cream in the microwave on high power for approximately 1 1/2 minutes just until tiny bubbles begin to form around the edges of your cup or bowl.
Pour over finely chopped milk and dark chocolate (or use chips).
Let rest in the bowl for 3 minutes then begin whisking slowly in the center of the bowl to bring an emulsion.
As the center begins to look darker, begin whisking in a larger circle.
Whisk until the cream and chocolate are fully blended.
You can use an immersion blender in place of the whisk.
On the stove:
Heat the heavy whipping cream in a small sauce pan set over medium heat until small bubbles begin to form around the edge of the pan.
Pour over the chocolate and follow the process listed above.
DO NOT allow your heavy whipping cream to come to a full boil. If it does, add a tablespoon of cold cream to it to cool it down before pouring it over the chocolate.
How do I make the chocolate dip look like a football?
Pour the warm chocolate dip into a football shaped bowl.
Allow the dip to cool for about 10 minutes before adding the decoration.
Use one of the following to pipe the laces and stripes onto the chocolate dip football:

vanilla frosting (from a tub is fine)
whipped topping or homemade whipped cream

If using homemade, be sure to decorate the football just before your guests arrive.

Vanilla or plain Greek yogurt
sour cream

Spoon about a tablespoon of any of the above into a small zip top bag.
Snip the tip off the bag and pipe the laces and stripes over the chocolate dip.
Serve the dip along with the Snyder's of Hanover Mini Pretzels and set them on a table that's decked out for the big game.
My table is covered with an inexpensive plastic football field tablecloth. I filled football shaped bowls with the Tyson Crispy Chicken Strips and served them with honey mustard and bar-b-que sauce. I love that the Tyson Strips are made with 100% all natural chicken raised with no added hormones or steroids and are grown on American farms. Plus they have no antibiotics ever (minimally processed and no artificial ingredients added).
Another football shaped bowl was filled with Tyson Any'tizers Buffalo Bites. These crave-worthy protein-packed appetizers just needed heating up and they were ready to serve.
I also filled some festive football field bowls and boxes with Snyder's of Hanover Pretzel Pieces. While shopping at Meijer for all my snacks, I couldn't resist grabbing a bag of the Honey Mustard and Onion, as well as, a bag of the Sweet and Salty Cinnamon & Sugar. These pretzel pieces are made in a peanut free facility and are one of my go-to snacks. Snyder's of Hanover has been America's pretzel bakery since 1909 and I have used their pretzel dipping sticks to make some of my most popular treats like my Chocolate Pretzel Snowman Craft, Chocolate Pretzel Penguins, and Chocolate Pretzel Reindeer.
Tyson products and Snyder's of Hanover products make for the perfect game time meals. You can find bags of Tyson Chicken in the freezer section at Meijer. The pretzels are in the snack aisle at Meijer.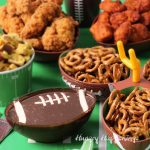 Chocolate Dip Football
Chocolate ganache made using a blend of milk and dark chocolate makes a rich and creamy dip that can be decorated to look like a football for your game day party.
Keyword:
chocolate dip, chocolate ganache
Ingredients
8

ounces

milk chocolate,

finely chopped or chips

2

ounces

semi-sweet chocolate,

finely chopped or chips

2/3

cup

heavy whipping cream

1

teaspoon

vanilla bean paste or pure vanilla extract

1

tablespoon

vanilla frosting, whipped topping, sour cream, or Greek yogurt
Instructions
Pour the chopped chocolate into a mixing bowl or large glass measuring cup.

Heat heavy whipping cream either in the microwave or on the stove, just until the cream forms small bubbles around the edge of the bowl or pan. (Do not bring to a boil.)

Pour over chocolate and let the bowl sit for 3 minutes.

Whisk, starting in the center of the bowl and moving out towards the edge of the bowl, until smooth and creamy.

Pour into a football shaped bowl and let cool for 10 minutes.

Spoon vanilla frosting or other white cream into a small zip top bag and snip off the tip of the bag.

Pipe on some football laces and stripes to make the dip look like a football.
Recipe Notes
The dip will thicken as it cools so if you make it earlier in the day before your party, reheat it on low power in the microwave for about 20 seconds, then pour it into the football shaped bowl and decorate. 
Store any remaining dip at room temperature for up to 5 days or in the refrigerator for up to 2 weeks. 
If you are hosting a football game watching party you might also like to add some of these other fun football themed snacks or desserts to your food table.