Creating a beautiful holiday charcuterie board filled with meat, cheese, fruit, Blue Diamond® Gourmet Almonds and Blue Diamond® Almond Nut-Thins® from Walmart is so easy. Let me show you how!
This is a sponsored conversation written by me on behalf of Blue Diamond®. The opinions and text are all mine.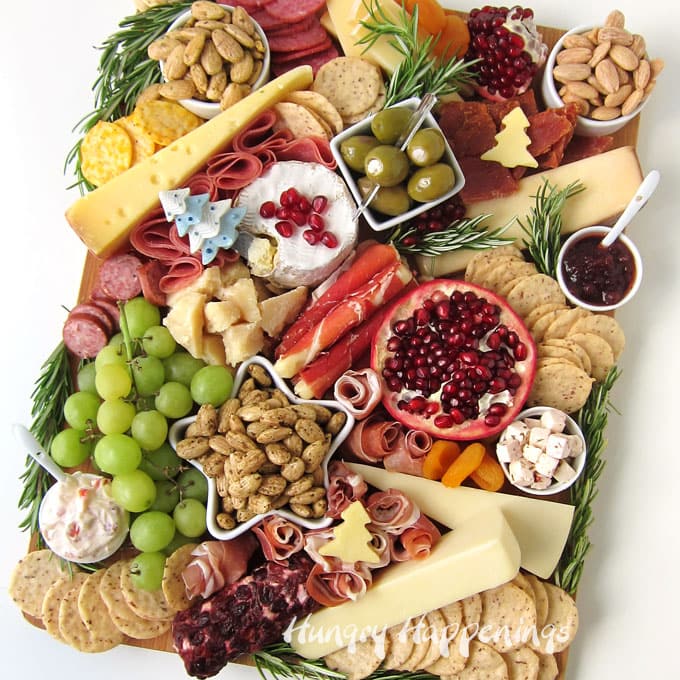 How gorgeous is this decadent holiday charcuterie board? Wouldn't you love serving this at your holiday party?
My parents host a big Christmas Eve party every year for all our friends who don't have family in the area. Everyone is asked to bring along an appetizer to share along with a white elephant gift. It is always the best night of the holiday and I just know all our party guests will love this platter filled with meat, cheese, fruit, spread and more.
A holiday charcuterie board would not be complete without some nuts and crackers and I incorporated Blue Diamond Gourmet Almonds and Blue Diamond Almond Nut-Thins from Walmart in mine. I love shopping at Walmart because I can find everything I'm looking for in one spot!
Have you seen the new 10 ounce bags of Blue Diamond Gourmet Almonds available at Walmart yet? Oh my, these gourmet nuts are so amazingly good. I hope you get a chance to try them this holiday season. The almonds are blanched to remove the dark brown skins before they are roasted in the fabulous seasonings.
The come in three different flavors:
Garlic, Herb and Olive Oil Almonds
Rosemary and Sea Salt Almonds
Pink Himalayan Salt Almonds
My favorite are the Blue Diamond Rosemary and Sea Salt Almonds. They are seriously irresistible and they are such an integral component of my charcuterie board.
I was able to find the 10 ounce bags of these gourmet nuts right next to the other Blue Diamond Almonds in the snack aisle at my Walmart. Then before perusing the dairy and meat aisles for other items to include on my board I was sure to head to the  salty snack and cracker aisle to grab a few boxes of Blue Diamond Almond Nut-Thins.
I love these crispy crackers so I bought one box of every flavor they had in stock:
Nut & Rice Cracker Snacks
Hint of Sea Salt
Cheddar Cheese
These guilt-free Nut-Thins made from rice flour and almonds go well with just about anything you can put onto a charcuterie board. I particularly like them with the soft cheese spreads and goat cheese logs that I added to my platter.
Be sure to check out the Blue Diamond website for more holiday entertaining inspiration!
So let's talk about how you can assemble one of these amazing appetizers for your holiday party.
How to make a Charcuterie Board for the Holidays
Start out by choosing a nice solid cutting board on which you will create your platter.

Your party guests will be cutting cheese directly on the board so be sure to use a sturdy board.
The board may get quite heavy if you have to move it so a sturdy board will be very helpful.

Then place bowls of the Blue Diamond Gourmet Almonds on the board. Having all three flavors will be so nice for your party guests and they pair so nicely with meat and cheese which you'll add next.

Use some festively shaped bowls if you have any, like the star bowl I used to hold the Garlic, Herb and Olive Oil Almonds. I used simple round bowls to hold the Rosemary and Sea Salt Almonds and Pink Himalayan Salt Almonds.
Begin building groupings around the bowls.
Add blocks, wedges, logs, pieces, and rounds of cheese.

It's nice to have a variety of soft and hard cheeses.
Choose flavors of cheese that will pair well together and don't have overly robust scents.

Roll and fold up thin pieces of prosciutto and salami and cut summer sausage into thin slices.
Arrange next to and in between the bowls of nuts and cheese.

When you arrange the cheese on the board leave some room to snuggle in the pieces of meat but make sure that your guests can easily remove the items they want to snack on.
To make the prosciutto look a bit like flowers, fold it in half lengthwise then fold in one end forming a point, then roll.

For a holiday touch cut some slices of cheese into holiday shapes like Christmas trees and place them around the board.
Add fruits like pomegranates, grapes, and dried apricots for flavor and color.

Be sure you pat dry any fruit you have washed before placing it on the board.

Olives also add color and another flavor note to a charcuterie board and they pair beautifully with meat, cheese, and nuts.

Be sure to place your olives in a bowl or they will roll around as other items are removed from the board.
The oil or the brine from the olives will also affect the items placed next to the olives if you do not place them in a bowl.

Creamy cheese spreads, preserves, and any cheese that has been soaked in olive oil and herbs, like the small cubes of feta cheese I used, are also best served in small bowls.
Don't forget to leave room on your charcuterie platter for stacks of Blue Diamond Almond Nut-Thins.

I placed them around the edges so they were easy to grab.
Be sure to have bowls or plates filled with more crackers set next to where your party guests will be eating. Inevitably, people will fill their plates with more meat and cheese than crackers, and they'll want more crackers as they are enjoying their snack.

To add a festive holiday touch place sprigs of rosemary, which look like pine tree branches, around the edge of your board.
Be sure to set cheese knives, small tongs, and small spoons next to the board along with appetizer plates and napkins.

Many people might feel awkward just grabbing things with their hands, so serving utensils are a must!
I could not have a party without my tongs. Seriously, they are the best investment you can make if you like to host parties. Not only can party guests easily grab what they want off a charcuterie board, but they can also hold onto the wedge of cheese with the tongs so they can easily cut off a wedge to place on their plates.
Tips for making a beautiful charcuterie board:
Use a nice variety of meat, cheese, nuts, fruit, and crackers which all have different textures and shapes.
Add pops of color and balance it on the board.

Notice the deep reds and subtle greens throughout the board? They are balanced well with the lighter cream colored cheeses.
Make sure the colors of all your items are complementary. I tried to add some wax covered cheese to my board but the bright red just looked funny up next to the more subtle hues.

Make sure to allow for varying sizes and heights on the board as this will add visual appeal from all angles.
Fill the board but be sure things aren't piled up so high that they will fall into other items.
Cut or chunk cheese into different shapes and sizes for nice visual appeal. Don't add one big wedge of cheese if it overpowers the platter. Instead cut that wedge into smaller wedges or slices.
Also be sure your board looks nice from every angle especially if you will serve it on a table or island that isn't up against a wall.
What to put on a charcuterie board?
Here's a list of what I used:
Blue Diamond Gourmet Almonds

Garlic, Herb and Olive Oil Almonds
Rosemary and Sea Salt Almonds
Pink Himalayan Salt Almonds

Blue Diamond Almond Nut-Thins
hard salami, prosciutto, summer sausage, and turkey jerky
prosciutto wrapped mozzarella cheese logs
Asiago, Parmigiano Reggiano, balsamic, and Padano, creamy Gouda cheese wedges and chunks
olive oil and herb soaked feta cheese cubes
white cheddar cheese slices cut into Christmas trees
soft cheese wheel, fig goat cheese log, cranberry goat cheese log, creamy roasted red pepper goat cheese spread
Lingonberry preserves
feta cheese stuffed olives
dried apricots, green grapes, and pomegranate
sprigs of rosemary
What would you put on your charcuterie platter?

Latest posts by Beth Klosterboer
(see all)