These Raspberry Linzer Cookie Hearts for Mom are the perfect treat to show your mom you care about her on Mother's Day. This sweet dessert will have your mouths watering and unable to get enough!
When it comes to my sweet tooth I take after my dad, he could eat cookies morning, noon and night and has been known to have them instead of a meal. I will admit to doing the same.
My mom, on the other hand, enjoys sweets, but feels that the treat must be totally worth the calories or she wont bother. So, I laughed when she told me that she skipped dinner because she had eaten too many of these Raspberry Linzer Cookies.
I gave her four of these large heart shaped cookies at her birthday lunch yesterday and by dinner there was only one left in the box. I'm guessing by the time their heads hit the pillow the box was empty. I don't blame them. These cookies are that good.
The first time I tried the recipe for these Raspberry Linzer Cookies I brought them to my parent's monthly game night. The cookies were gone before the games even began. I noticed my mom had eaten one, then wrapped one up to save for later. I knew that meant she really liked the cookies.
The linzer cookie recipe came from Joy of Baking.com and being it worked so well, I'm sure I'll never bother trying out any other recipes. The combination of almonds, lemon and hint of cinnamon is really wonderful. The cookies are great all on their own, but when raspberry jam is sandwiched in between two of them and a dusting of powdered sugar is added, it makes for an ethereal treat. Just the kind that will make my mom skip dinner.
Raspberry Linzer Cookie Hearts for Mom (makes 6 large sandwich cookies)
adapted from Joy of Baking.com
Ingredients:
1 cup blanched almond slivers
1/4 cup granulated sugar, plus 1/2 cup
2 cups all purpose flour (260 grams)
1/2 teaspoon cinnamon
1/2 teaspoon table salt
1 tablespoon lemon zest
1 cup (2 sticks) butter, softened
1 teaspoon pure vanilla extract
2 large egg yolks
powdered sugar, to dust over cookies
1/2 -3/4 cup raspberry jam
Instructions:
Heat oven to 350 degrees Fahrenheit. Spread almonds out on a baking sheet, and toast until golden brown, about 5 minutes. Allow nuts to cool completely.
Combine almonds and 1/4 cup sugar in a food processor and pulse until the nuts are finely ground.
Whisk flour, cinnamon, salt, and lemon zest together.
Cream butter and 1/2 cup sugar then add the vanilla and egg yolks and mix until combined. Stir in the almonds and mix thoroughly. Add flour and mix just until combined.
Remove half the dough from the bowl, flatten into a disc, wrap in plastic wrap and refrigerate. Repeat with remaining dough.
Dust work surface with some flour. Roll cookie dough out to 1/4 inch thickness. Cut using a 5 or 6 inch heart shaped cookie cutter. Move cookies to a parchment lined baking sheet.
Use small cookie cutters to cut out "I (heart) Mom" into half of the cookies.
Bake for about 15 minutes. The edges of the cookies should just turn lightly golden brown.
Allow the cookies to cool completely, then dust the "I (heart) MOM" cookies with powdered sugar. Spread raspberry jam on the remaining cookies. Place one cut-out cookie on top of the jam and gently sandwich the cookies together.
If you want crunchy cookies, fill these the day you want to serve them, otherwise you can make them and refrigerate them for up to 4 days, but the cookies will get soft. They are wonderful either way. I think I actually like them just a bit better soft.PRINT RASPBERRY LINZER COOKIE HEARTS RECIPE
Products used to create this project that are available on Amazon.com (commission earned for sales)
More Sweet Treats for Mother's Day
from Hungry Happenings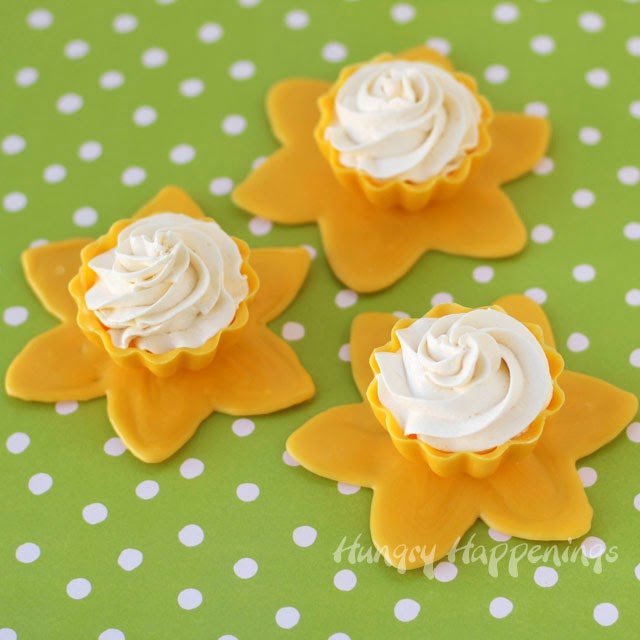 Daffodil Candy Cups with Lemon Mousse
Raspberry Cheesecake Stuffed Brownie Hearts