Get ready for game-day with these 20 March Madness Party Food Ideas. Your friends and family will be wishing for overtime just to stay and eat their bracket busted sorrows away.
Originally played with peach baskets and a soccer style ball, food and basketball made a well-matched team from the beginning. At Hungry Happenings I have some creative and delicious basketball-themed ways to combine the two!

Your crowd will have a ball with this bean dip and tortilla chips that you can decorate almost as fast as you can say "Dribble" to look like basketballs.
March Madness Basketball Bean Dip and Basketball Tortilla Chips
These cookies look like basketballs but hide a sweet surprise inside that's sure to score points with your sports fans!
Basketball Pinata Cookies Filled with Skittles
These slider-sized turkey, provolone cheese, caramelized onion, and roasted red pepper sandwiches are slam-dunk big on flavor.
Blackened Turkey Basketball SlidersThese savory lollipops are the perfect addition to your March Madness munchies.

Meatball Lasagna LollipopsYou can cure  even a court-sized hunger with a few of these mini cheeseburgers that are topped with a cheesy basketball surprise.
Mini Cheeseburger with Basketball Cheese
So easy that even your littlest basketball fans can help in the kitchen, these snacks are fun to make and eat!
Super Simple March Madness SnackFrom Kitchen Fun with My Three Sons, here's another fun, easy, and healthy snack for your team to create and enjoy!

Final Four Easy Basketball Snack
Whip up these quesadillas with guacamole served in a cute basket cup from Worth Pinning and SWISH! You'll score the winning point!
These basketball bites from Sandra Denneler at She Knows are full of calzone flavor and are fun to dunk and eat.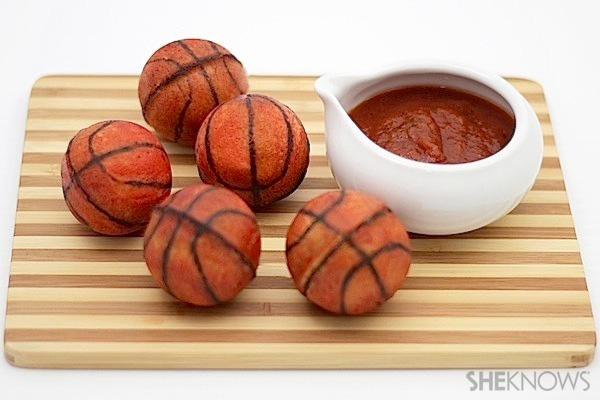 Made from Oreos, these white chocolate coated cookies from 2 Wired 2 Tired are a sweet tooth's basketball dream team.
Earn plenty of brownie points with these sundaes built to beat the buzzer from Beneath My Heart.
Chocolate and peanut butter make the perfect team in this dessert dip from Crazy for Crust.
Reese's Peanut Butter Basketball DipClick on the link below for step-by-step instructions on how to make these basketball cookie confections from The Sweet Adventures of Sugarbelle.

Basketball Goal Cookies
Your game watching party will be mad about these easy to make basketball snack trays from She Knows.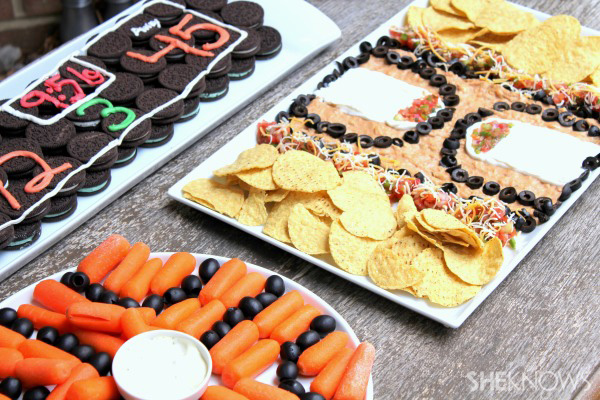 Basketball Themed Snack Trays
Here's a "basketball" with a cheesy twist from My Crazy Blessed Life.

Basketball Cheese Ball
Basketball great Shaquille O'Neal refueled after every high school game with this mac and cheese - his great grandmother's recipe which he shared with the American Grandparents Association.

Shaq's Macaroni and Cheese
Score a big slam-dunk when you serve this simple and delicious lasagna dinner from I Dig Pinterest to your star team.

Slam-Dunk Easy Lasagna Dinner
You're sure to score the extra point with these Rice Krispie treats from Come Together Kids.

Basketball Rice Krispie Treats
You'll say whoopie for these yummy "hoopie pies" from Cookin' Cowgirl.

Hoopie Pies
Need something sweet for your fans fast? These basketball cookies from Lisa Storms will hit the sweet spot in a hurry.

Quick and Easy Basketball Cookies
Served as a pie or as these cute one-serving shooters, instructions for both ways to serve this luscious Butterfinger dessert can be found at Play. Party. Pin.


Butterfinger Delight
These cake balls from Candiquik are one-bite-wonders!

Basketball Cake Balls
This easy to decorate basketball cake from Growing Up Gabel would be a perfect addition to your game watching party.

Reese's Pieces Basketball Cake
Score big with these delectable cupcakes from Worth Pinning.

Basketball Cupcakes
You'll go March mad for these chocolate and peanut butter truffles from Roxana's Home Baking.

Reese's Peanut Butter and Chocolate Truffle Basketballs