Give your guests something to cheer about even if their team is losing with this Football Bread Bowl filled with Taco Dip. It's a perfect container for your dip and when its empty, cut it up and keep on enjoying. And there's nothing to throw away, how environmental friendly!
This is, I promise, my very last Super Bowl post.
Did you know that according to Harris Interactive polls…
the Super Bowl ranks as the second biggest eating holiday of the year
that Super Bowl Sunday is the biggest "party at home" day of the year
that 32% of party-goers will eat a dip like this taco dip in a football-shaped bread bowl
9 out of 10 people watching the Super Bowl will be at home, eating, a lot of food, apparently
Once I read this information, I knew there must be millions of people out there looking for fun food to serve at their Super Bowl party. Even though Super Bowl isn't a big deal to me personally, that didn't mean I couldn't come up with some festive appetizers and desserts that you can serve if you are indeed a big football fan.

My husband has been thrilled to eat all of my sports-themed snacks. All this "man food" filled with meat and bacon and cheese has made my man very, very, happy.
He particularly enjoyed this Football Bread Bowl filled with Taco Dip. It's loaded with taco meat, refried beans, tomatoes, olives, chilis and lots of cheese.
You can find the recipe for this Super Bowl appetizer at Tablespoon.com.
The recipe is posted now, but the actual step-by-step tutorial won't get posted until January 30th. I wanted to share this today, just so I can finally move on to Valentine's Day recipes. I know a lot of you are anxiously waiting. I've scoured the web looking for more edible crafts for the big game. Check these out.
Buffalo Chicken Potato Skins from Host the Toast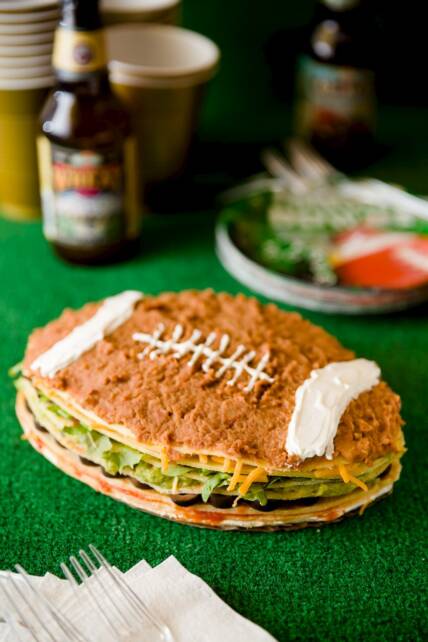 Super Bowl 7 Layer Dip Crepe Cake from Cupcake Project
Super Bowl Taco Bowl from Kitchen Fun with My 3 Sons
Game face Football Cookies from Munchkin Munchies
Chocolate Conversation Heart Footballs from Crazy for Crust
Super Bowl Sundaes from In Katrina's Kitchen
Football Snack Mix from Sweet Simple Stuff
If you want your image removes, just let me know and I'll take it down.
Before you go, here is a round-up off all my Super Bowl posts.
 Click on the images, avoiding the Pin It button (P,) to go to the recipe page.
If you want more tailgating or homegating party ideas for the college football season,
be sure to check out my Football Party Food ideas.