Make your football-themed cupcakes completely edible by wrapping them in modeling chocolate cupcake wrappers. These Football Field Cupcakes will make the perfect Super Bowl Dessert.
I am so anxious to get to Valentine's Day posts, but I still have a few more recipes to share for Super Bowl, two of which I created for Tablespoon.com. I think I got a bit carried away this year, but once I started working on football themed edible crafts, I just couldn't stop the ideas from flowing.
Creating football shaped food is pretty easy, but I didn't want all my projects to look like footballs, so today I created something a bit different. These edible cupcake wrappers feature the football field instead.
Pair them with some of my Milk Chocolate Football Cupcake Wrappers and they will really wow your Super Bowl party guests. The wrappers can be made days, even weeks, in advance. So, you can get working on these now in preparation for the big game.

To make these green wrappers, you can start by making white modeling chocolate and using green coloring, or you can just buy green colored confectionery coating or Candy Melts. If you are making a lot of these, I would recommend getting the green candy coating. It will be much easier.
White Chocolate Football Field Cupcake Wrappers
Ingredients Needed:
green colored modeling chocolate, recipe here (either make white and color it green or make your modeling chocolate using green colored confectionery coating/candy melts)
white modeling chocolate, recipe here
Supplies needed:
non-stick baking mat
fondant rolling pin
pizza wheel
optional, metal clay extruder
small metal number cutters
Instructions:
Print the cupcake wrapper template. Cut out around the template. Wrap it around one of your cupcakes, to see if it is the right size.
You need the template to overlap at the ends by at least ½ inch, so adjust the template as needed. Re-size it then cut out a new template.
Roll the green modeling chocolate out on a non-stick mat using a fondant rolling pin. Cut out around the template using a pizza wheel.
Extrude some white modeling chocolate through a clay extruder creating thin strips in two different widths, using one small rectangle plate and one larger plate. You can also simply cut the strips using a pizza wheel or knife. I like the clay extruder because each of my stripes is the same width.
Cut thin strips into ¾-inch pieces. Cut the thick strips long enough to go vertically across your wrappers.
Roll some white modeling chocolate out and cut out one "50s" and two "40's" for each wrapper.
Lightly brush the back side of your modeling chocolate pieces with water and press them onto the wrapper, arranged like the picture above.
Wrap an edible wrapper around a cupcake, sealing the edges with a bit of water.
If you want, you can frost the sides of the cupcake before adding the wrapper. I don't find it necessary. But I do add a big swirl of frosting on top.
Serve with a fork.
If you need to make these ahead of time, I suggest you store the modeling chocolate wrapper in an airtight container separate from the cupcakes. The moisture from the cupcakes will affect the texture of the modeling chocolate.
You can go ahead and wrap the cupcakes forming the cupcake wrapper, then pop the cupcake out of the wrapper. The day you want to serve them, lower the cupcake back into the edible wrapper, add some frosting and you are ready to go.
Items used to create this project that are available on Amazon.com (commission earned for sales)

More Super Bowl Recipes from Hungry Happenings
Milk Chocolate Football Cupcake Wrappers
Chocolate Chalkboards featuring Football Plays
Dorito Crusted Bacon Cheddar Potato Fritter Footballs
Madeira Mushroom Football Tart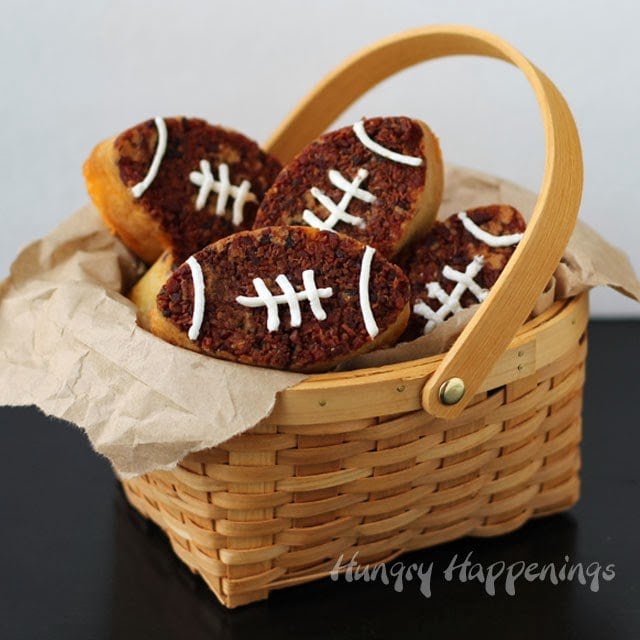 Bacon Cheddar Beer Bread Footballs
Football Fritters for Super Bowl

Latest posts by Beth Klosterboer
(see all)