Whether you are hosting a Disney Frozen party, wanting to make some edible Christmas gifts, or just want a festive wintertime treat, this Winter Wonderland "Frozen" White Chocolate Popcorn is quick and easy to make and fun to serve.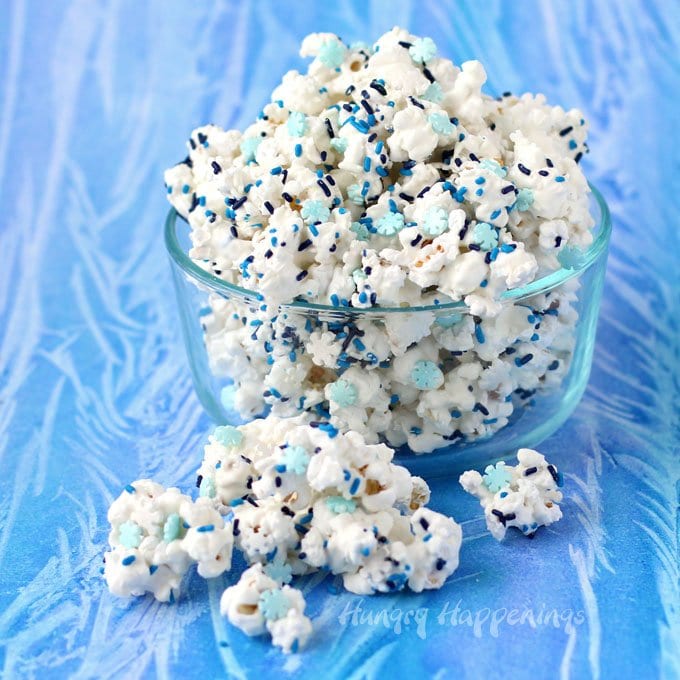 One of my favorite gifts to give at Christmas is bags or tins filled with homemade white chocolate popcorn.
My friends and family can't get enough of it and I love that it is so easy to make.
This year, I found some really great Disney Frozen popcorn tins to give to some friends who have young kids and wanted to make the popcorn inside the tin as festive as the decoration on the outside.
I thought it would be fun to add candy snowflakes to the popcorn and to toss in some blue and white jimmies (sprinkles) too.
My friend's kids are crazy about anything filled with sprinkles, so I tossed in a lot.
After I whipped up my first batch and took a bite, I was pleasantly surprised to find the candy snowflakes added a nice flavor and just an extra bit of crunch to the popcorn.
The bright blue sprinkles and light blue snowflakes look so pretty up against the white popcorn. I just know my friends will love this Christmas treat.
Products you'll use to create this Winter Wonderland White Chocolate Popcorn can be found at Amazon.com (commission earned for sales)
Winter Wonderland White Chocolate Popcorn
White chocolate popcorn speckled with candy snowflakes and blue sprinkles.
Created by:
Beth Jackson Klosterboer
Ingredients
7 cups popped popcorn
12 ounces melted and tempered white chocolate or melted white confectionery coating*
1/2 cup blue sprinkles
1/4 cup candy snowflakes
.
*For really bright white popcorn, use Bright White Candy Melts. For detailed information about working with and melting chocolate please see my Chocolate Making Tips page.
Instructions
Line a baking sheet with parchment paper.
Pour popcorn into a large mixing bowl.
Pour white chocolate over top.
Quickly stir it and toss it to coat the popcorn.
Pour out onto the baking sheet and immediately toss the sprinkles and snowflakes over top.
Wack the pan on the counter a few times. This helps get the candy to stick.
Refrigerate for 10 minutes.
Remove and break up into bite size chunks.
If you love popcorn, check out these other fun popcorn treats.
Peanut Butter Popcorn Speckled with Twix • White Chocolate Popcorn Serving Bowl
White Chocolate Popcorn Jack-O-Lantern Bowl • Popcorn Skull
Cookies 'n Cream Halloween Popcorn • Popcorn Monsters
White Chocolate Popcorn Trees • Salty and Sweet Popcorn Treat
Enjoy your Winter Wonderland White Chocolate Popcorn speckled with Snowflakes and Sprinkles.
Be sure to check out all my fun Christmas Recipes!