Whether you are hosting a Disney Frozen party, wanting to make some edible Christmas gifts, or just want a festive wintertime treat, this winter wonderland "Frozen" White Chocolate Popcorn is quick and easy to make and fun to serve.
Originally posted on December 11, 2015
One of my favorite gifts to give at Christmas is bags or tins filled with homemade white chocolate popcorn.
My friends and family can't get enough of it, and I love that it is so easy to make.
This year, I found some really great Disney Frozen popcorn buckets and boxes to give to some friends who have young kids and wanted to make the popcorn as festive as the decoration on the packaging.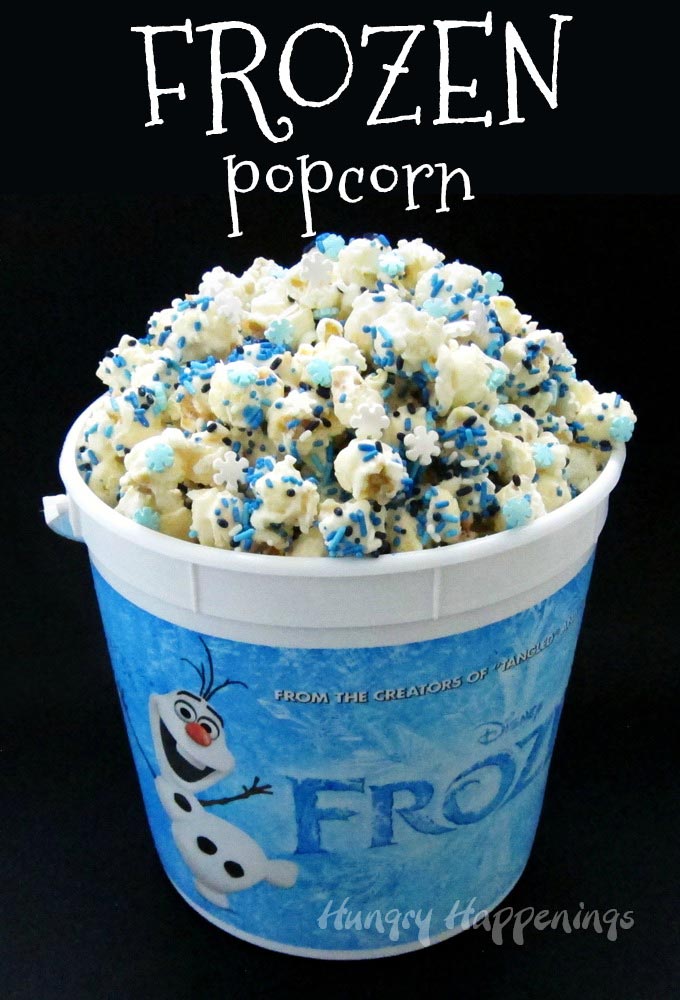 I thought it would be fun to add candy snowflakes and blue and white jimmies (sprinkles) to make the white chocolate popcorn look like a fun winter treat. My friend's kids are crazy about sprinkles, so I tossed in a lot.
After I whipped up my first batch and took a bite, I was pleasantly surprised to find the candy snowflakes added a nice flavor and just an extra bit of crunch to the popcorn. They don't taste like ordinary sprinkles. They have a nice sweet candy flavor.
Kids will love it if you package the popcorn in a Frozen-themed box, bucket, or bag, and this will make a really fun dessert to serve at a Disney Frozen party, but it is perfect for Christmas too and looks great in winter-themed packaging.
This candy-coated popcorn is so easy to make and is a pretty economical candy to make being popcorn is pretty inexpensive.
How to make white chocolate popcorn...
This is a super easy recipe but there are a few things you want to consider.
Pop some popcorn.

You need 7 cups of popped popcorn to make this white chocolate popcorn.
I personally like to use air-popped popcorn because it remains crispy once coated in white chocolate and there is no oil flavor in this sweet popcorn.
I realize air-popped popcorn does not have any salt on it and that's alright for me. I like the candy-coated popcorn and don't miss the salt. Oddly enough most people say they like the salty-sweet flavor of this popcorn even though there is no salt in it.
If you really want salt, just sprinkle some in as you stir in the white chocolate.
I do not recommend using buttered popcorn to make this white chocolate popcorn as the butter can make the popcorn lose some structure and won't be as crispy.

Remove all of the un-popped kernels.

You don't want to have your friends biting into hard un-popped kernels so be sure to remove them.
I pop my popcorn into one large bowl then I lift it out allowing the kernels to fall to the bottom of the bowl and place the popcorn in another large bowl.

Melt and temper 12 ounces of pure white chocolate or melt some white confectionery coating.

If you use pure white chocolate you must temper the chocolate in order for it to set up properly. See my chocolate making tips page for more information.
I personally use Peter's White Caps to make my popcorn and have been selling it to very happy customers for over 30 years. It has a lovely sweet vanilla flavor and a nice creamy texture.
Nestle Premier White Morsels which are available in most grocery stores has a very similar flavor and will work great for this white chocolate covered popcorn recipe too. 

Pour the white chocolate or confectionery coating over top of the popcorn and toss to coat.

Just toss until coated. Do not continue to stir as the chocolate will begin to harden.  

Pour out onto a parchment paper lined baking sheet and spread into an even layer. 
Immediately sprinkle on the snowflake sprinkles and blue and white jimmies.

You don't want to stir these in because they will get coated in white chocolate and they won't show up very well.
Just sprinkle them over top.
Tap the tray a few times to make sure the candies and sprinkles stick to the wet popcorn.

Refrigerate for about 10 minutes until the white chocolate hardens.
Remove and break the white chocolate covered popcorn into smaller chunks.

Some of the sprinkles and snowflake candies will fall off.
If you want you can use a bit of melted white chocolate to attach them to the popcorn.
Don't break this popcorn into individual pieces. You will break the popcorn too much if you try to get the pieces too small.
Products you'll use to create this "Frozen" White Chocolate Popcorn can be found at Amazon.com (commission earned for sales). I found a few other Disney Frozen Containers too.
I know this is a super simple recipe but I created a video tutorial so you can see just how easy it is to make yourself.
"Frozen" Popcorn Video
"Frozen" White Chocolate PopcornRecipe
Winter Wonderland White Chocolate Popcorn
White chocolate popcorn speckled with candy snowflakes and blue sprinkles.
Keyword:
chocolate popcorn, frozen popcorn, winter wonderland dessert
Ingredients
7

cups

popped popcorn

12

ounces

melted and tempered white chocolate or melted white confectionery coating*

½

cup

blue sprinkles

¼

cup

candy snowflakes

*For really bright white popcorn

use Bright White Candy Melts. For detailed information about working with and melting chocolate please see my Chocolate Making Tips page.
Instructions
Line a baking sheet with parchment paper.

Pour popcorn into a large mixing bowl.

Pour white chocolate over top.

Quickly stir it and toss it to coat the popcorn.

Pour out onto the baking sheet and immediately toss the sprinkles and snowflakes over top.

Wack the pan on the counter a few times. This helps get the candy to stick.

Refrigerate for 10 minutes.

Remove and break up into bite size chunks.
If you love popcorn, check out these other fun popcorn treats.
Peanut Butter Popcorn Speckled with Twix • Chocolate Popcorn Serving Bowl
Chocolate Popcorn Jack-O-Lantern Bowl • Popcorn Skull
Cookies 'n Cream Halloween Popcorn • Popcorn Monsters
Chocolate Popcorn Trees • Salty and Sweet Popcorn Treat
Be sure to check out all my fun Christmas Recipes!

Latest posts by Beth Klosterboer
(see all)