These Ice Cream Cone Candy Pops are a fun summer treat that everyone will love! Make them with your friends and family for some delicious desserts.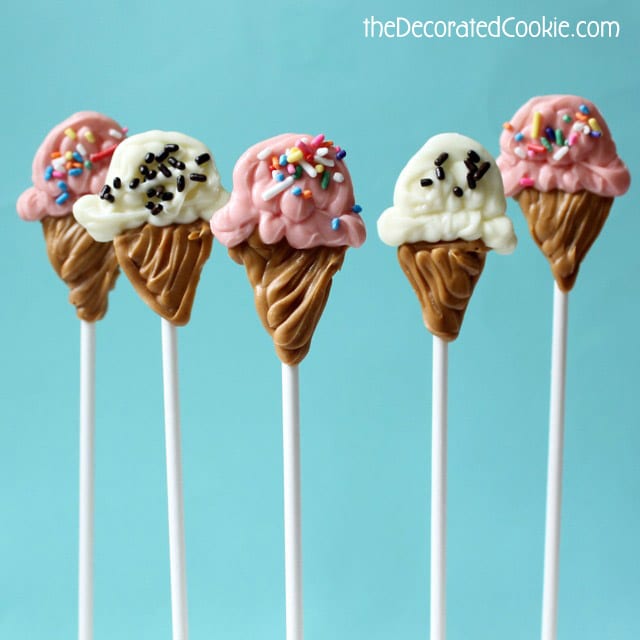 Hello, Hungry Happenings readers! Thank you to Beth for letting me visit today. I'm Meaghan, of the decorated cookie (and a longtime fan and friend of Beth).
My blog is all about simple but sweet food crafts, and I wrote the book Sugarlicious. Here is a sampling of what you'll find on my site: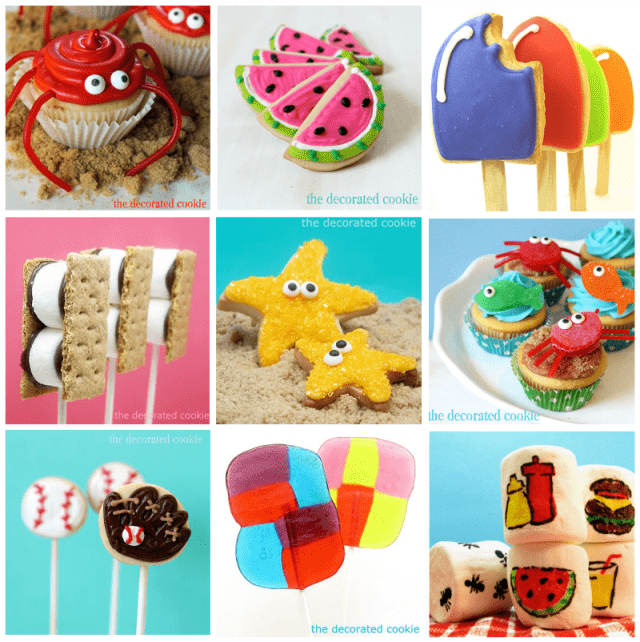 crab cupcakes, watermelon cookies, popsicle cookies, s'mores on a stick, starfish cookies, crab and fish cupcake toppers, baseball cookie pops, easy candy pops, BBQ marshmallows.
My favorites to decorate are cookies and marshmallows, but following close are candy pops because they are so quick and easy to make. All you have to do is melt any color of candy melts in disposable decorating bags, pipe any design you like, add a lollipop stick and wait an hour. Instant, fun, kid-friendly treats for any occasion.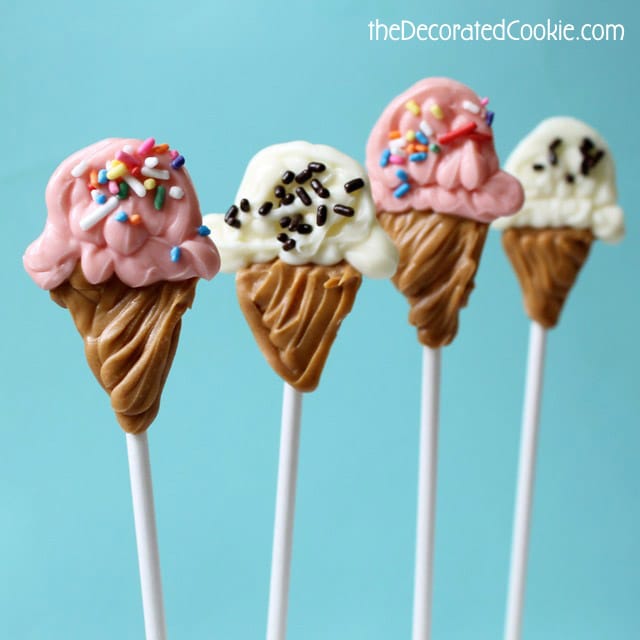 Here, in honor of (the sweltering hot) summer--give me winter any day--I'm making "ice cream cone" candy pops.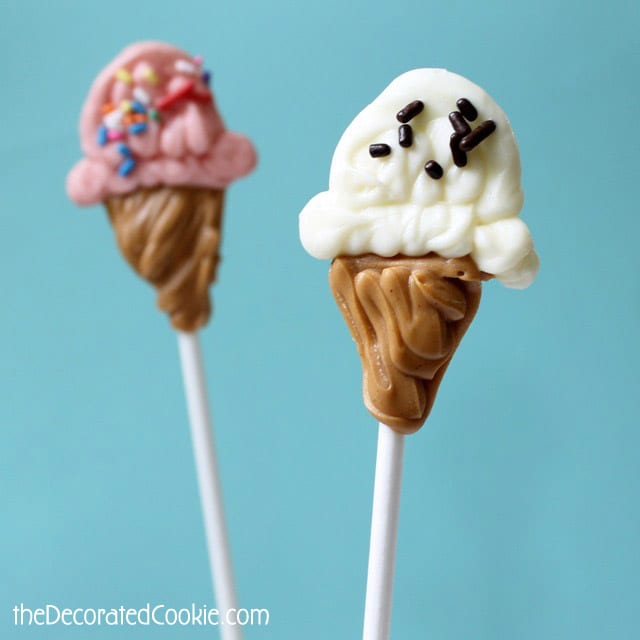 How to make "ice cream cone" candy pops
Ingredients
candy melts, light brown, pink, white (or any ice cream color)
candy melts
sprinkles
Supplies
disposable decorating bags
lollipop sticks
scissors
baking tray
parchment or wax paper
 *Find the decorating bags, sprinkles, lollipop sticks, and candy melts in the craft store. For candy melts, you'll need light brown (chocolate or peanut butter flavored), pink, white, or any other color "ice cream flavor" you like.
Instructions
Line a baking tray or trays with parchment or wax paper. Place about ½ cup of brown candy melts in a disposable decorating bag. Microwave for 90 seconds at 70 percent power, then at 30 and 15-second intervals until fully melted. Twist the top closed and snip ¼ inch from the tip of the bag.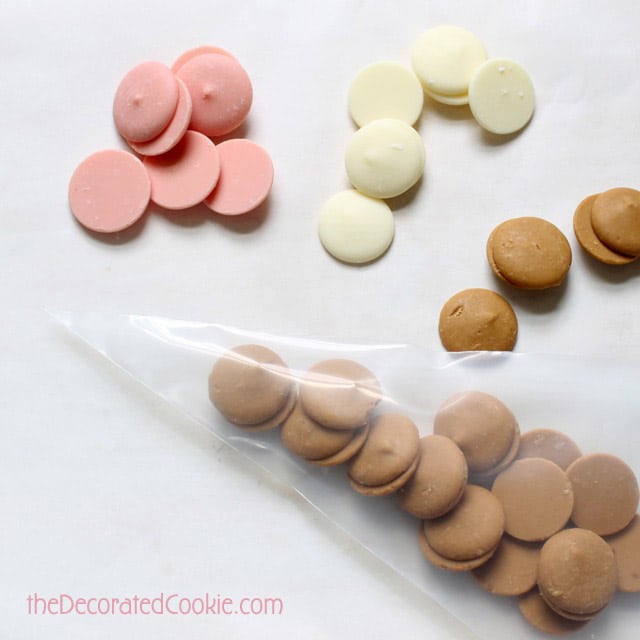 Pipe a dot of candy melts on the baking tray and place a lollipop stick on top. For the cone, pipe a triangle on top of the lollipop stick.
Fill the tray with your cones. In another disposable decorating bag, melt a different color of candy melts, just as you did with the brown.
Pipe the "ice cream" on top of the cone and immediately add sprinkles, if desired. Let set well, about an hour.
TIP: Candy melts harden quickly, so only melt and work with one bag at a time.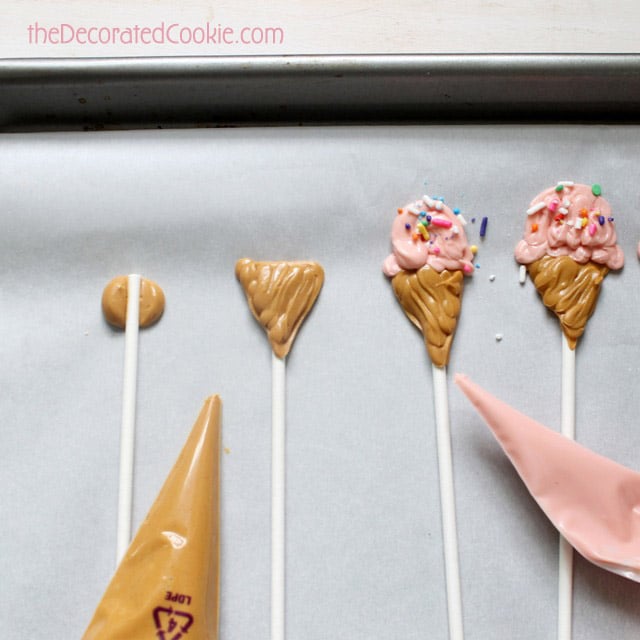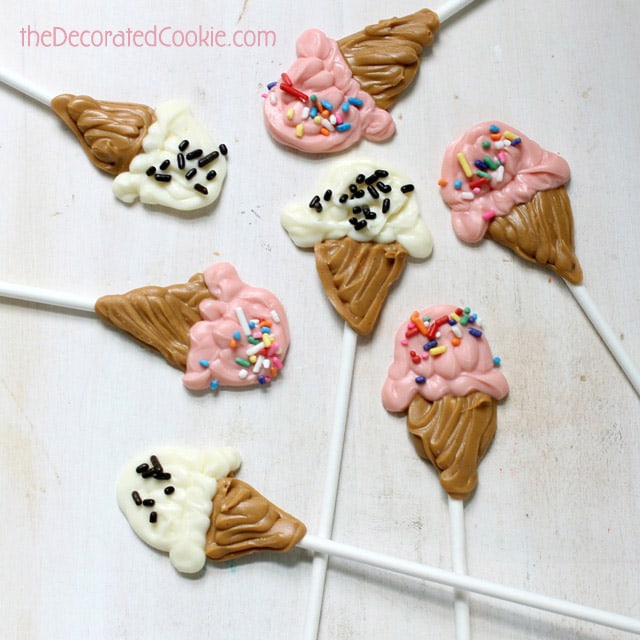 See? Easy peasy.
Thank you for letting me stop by!
Meaghan
Related Recipes

Latest posts by Beth Klosterboer
(see all)