Personalize these Pretzel Pops for your graduates party and have an amazing centerpiece! Write whatever you'd like on these yummy chocolate treats, but beware they'll be eaten up quick!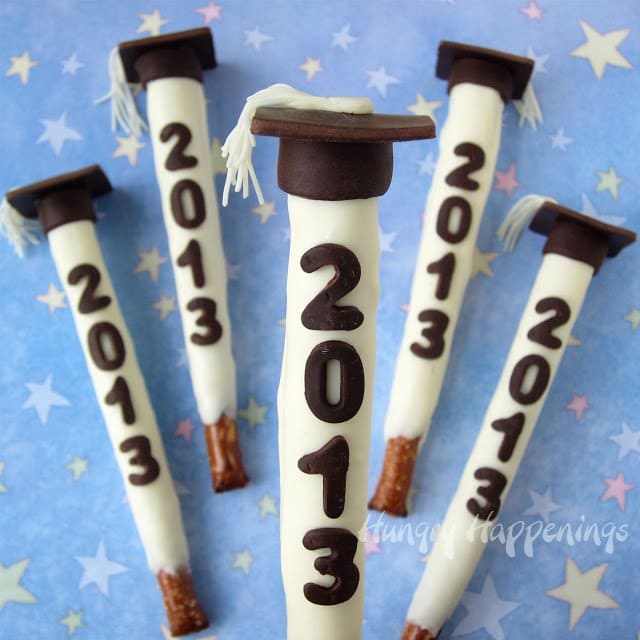 Whether you have a kid graduating from kindergarten or college, I bet they'll love these pretzels. I made them to serve at one of the many high school graduation parties I'll be attending this year.
Each treat is made by dipping a pretzel rod into white chocolate then decorating it with a dark modeling chocolate graduation cap and "2013." They can be served as dessert, used to top a graduation gift or given as party favors to guests.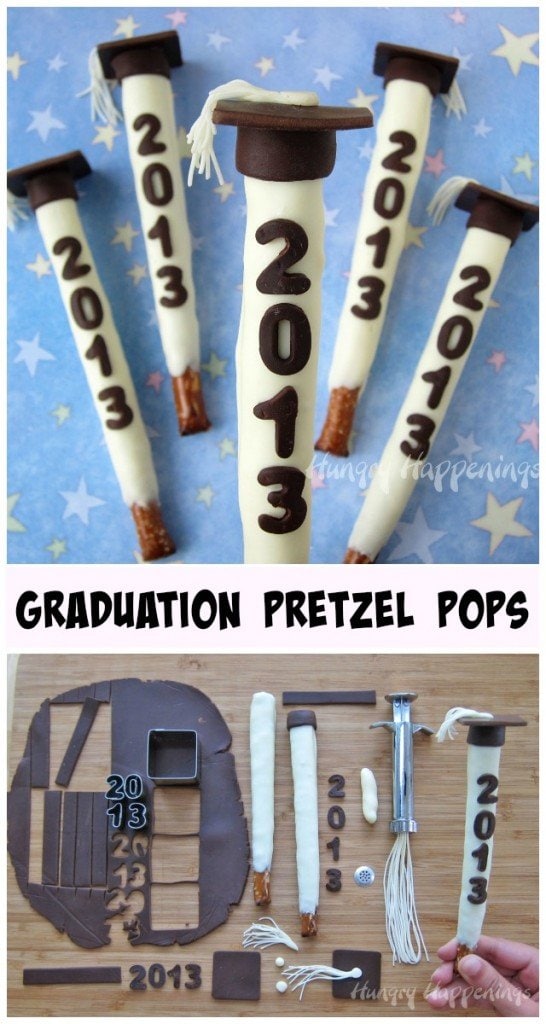 "2013" Graduation Pretzel Pops
TIP to keep the chocolate from cracking on your pretzels. Chocolate shrinks as it cools and when it shrinks onto something hard, it usually cracks. If you take the pretzels out of the bag and allow them to sit at room temperature for several hours or overnight they will soften just enough to keep this from happening, but not enough to become stale.

You'll Need: 
pretzel rods dipped in white chocolate or white confectionery coating
semi-sweet modeling chocolate, recipe here
white modeling chocolate, recipe here
small square cookie cutter
knife
small number cutters
clay extruder
Instructions:
Roll out semi-sweet modeling chocolate and use cookie cutters or a knife to cut a 1 1/2 inch square, a 1/2 inch wide x 2 inch long strip, and "2013" for each pretzel rod you are decorating. You can, if you prefer add the graduate's or their school's name to the pops.
Knead and roll some white modeling chocolate into a thin log, place it in the clay extruder fitted with a multi hole plate, press on the plunger, and allow the modeling chocolate to come out in fine hair like strips. Cut off 1 1/2 inch long sections of the modeling chocolate and pinch together one end to create a tassel. Pinch off a tiny piece of white modeling chocolate, roll it into a ball, then flatten it. Attach the tassel to the square piece of semi-sweet modeling chocolate with a dot of white chocolate. Add the flattened ball on top.
Use some melted white chocolate as glue to attach the modeling chocolate pieces to the white chocolate covered pretzel rod. Start by wrapping the long strip around the top part of the pretzel. Cut off any excess and press the seam together in the back of the pretzel. Add the top of the graduation cap to the top of the pretzel rod and attach the numbers or names along the front of the pretzel.
Store in an airtight container for up to a month. Wrap in clear cellophane bags to use as graduation gift toppers or party favors. Get creative with colors and personalization. I plan to make some in blue and white and others in brown and yellow for gifts.


Items used to create this project that are available on Amazon.com (commission earned for sales)
More Graduation and Pretzel Pop Ideas
3D Candy Filled Graduation Cap Cookies
Flourless Chocolate Cake Graduation Caps
Elephant, giraffe, monkey, zebra, hippo, lion and tiger
Jungle Animal Pretzel Pops
Chocolate Pretzel Farm Animals