Serve up some fun this summer by creating a colorful tablescape filled with festive under the sea treats and beach themed party food. You can use all these creative Beach Themed Party Ideas when you host your back yard pool party, destination wedding, or summer graduation party.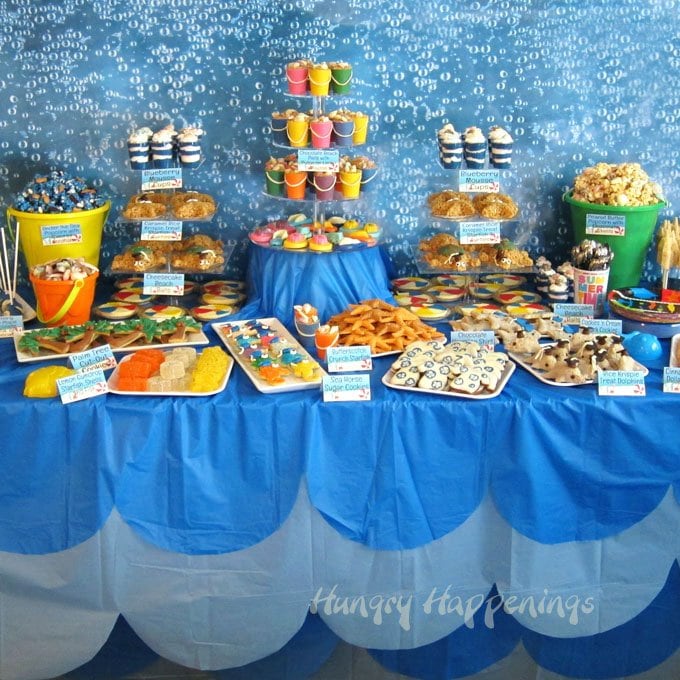 You might have noticed that it's been a bit quieter than normal on the blog the past two weeks. Well, that was because I was trying to keep my head above water while creating hundreds of festive under the sea, beach themed treats for a graduation party celebrating my nephew, Brian, and his friend, Dylan.
The boys chose a beach theme for their party, which made me so happy. The beach is my favorite place in the world, and I have an affinity for the playful animals that live under the sea, especially dolphins, so spending two weeks making and decorating beach themed desserts was a huge treat for me.
I couldn't have done all this without help though.
My sister, Kathy, mom, Louise, and friend, Kim, helped create decorated beach themed cookies, caramel rice krispie treat sea animals, chocolate beach pails, ocean blue cake pops, chocolate popcorn, and more.
The party was hosted at a gorgeous home on the most beautiful sunny day. We aren't sure exactly how many guests stopped by, but I'd estimate over 150.
Guests dined poolside, played volleyball and corn hole, and soaked up the sun. A few brave kids even hopped into the chilly water.
Everyone was excited to see the table filled with tasty treats.
I was so pleased to have created something to make my nephew's party really special.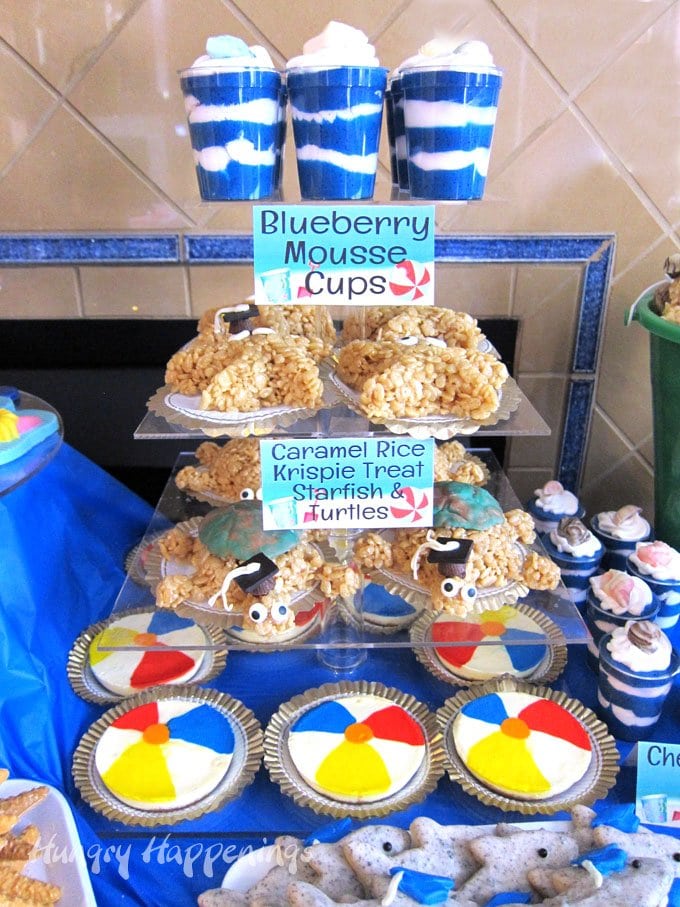 I made sure to create some beach themed desserts that I knew he would love including these beach ball cheesecakes and blueberry mousse cups.
His school colors are royal blue and white which couldn't have worked better with a beach themed tablescape. We incorporated those colors in several of the desserts.
We also tried to incorporate some graduation designs in our treats.
The Rice Krispie Treat Dolphins and Cookies 'n Cream Shark Cookies were both decorated with modeling chocolate graduation caps.
The sea horse cookies also had blue graduation caps and a few of the caramel rice krispie treat turtles wore caps too.
Other than that, the focus of the food was really the beach.
The dessert table was set up near the boys' graduation tables. The families created really wonderful displays with lots of pictures and awards. The tables were also decorated with the beach theme in mind.
You might notice the blue bubble background is not actually behind the table. I had my niece and a friend hold the paper up behind the table so we could get some nice pictures.
The table was actually set up in front of a tiled fireplace which also made a nice backdrop.
Beach Themed Party Ideas
So, as you can see, there are so many treats for me to share with you. It's going to take some time.
If there is any one treat, that you are really excited about, and want to see the recipe and tutorial soon, so you can make them for your own party, be sure an leave me a comment below. I'll do my best to get that tutorial up quickly.
Otherwise, I will share the recipes and tutorials for these Beach Themed Party Ideas over the next two months. I'll come back to this post and link up my tutorials as I create them and will do a recap when they are all complete. You can also see my other Beach and Pool Party creations here – https://hungryhappenings.com/?s=beach+and+pool
Stop back later this week to see how I made these Mini Chocolate Beach Pails filled with Dulce de Leche Mouse, Toffee Bits, and Chocolate Shells.
They were my absolute favorite creation on the table.
What is your favorite?
Embrace the beautiful weather that we are having and make some of these gorgeous and scrumptious Summer Fun Recipes.
 Veggie Pizza Fish • Mediterranean Grilled Vegetable Pizzas • Fruit Pizza Watermelon
Googly Eye Sea Creatures • Fruit Pizza Beach Ball • Goldfish Marshmallow • Peanut Butter Fudge Starfish
Starfish S'Mores • Ice Cream Cone Goldfish • Rice Krispie Treat Sand Castle • Beach Ball Pie
Sugar Coated Sea Horse Cookies • Chocolate Beach Pails • Butterscotch Crunch Starfish
Sandcastle Lollipops • Caramel Rice Krispie Turtles • Beach Party Popcorn
Under the Sea Popcorn • Beach Ball Cheesecakes • Under the Sea Gumdrops
Caramel Rice Krispie Treat Starfish • Chocolate Sea Shells • Rice Kripie Treat Dolphins
Sugar Coated Sea Horse Cookies • Sugar Coated Sea Horse Cookies • Palm Tree Cookies