Mom's the word at Hungry Happenings! Mother's Day gives us the opportunity to honor the special women in our lives - mothers, grandmothers, aunts, sisters, friends, mentors - for the many ways they've been a blessing to us. You can make your gift-giving, breakfast in bed, luncheon, brunch, or tea a cherished Mother's Day memory with 35 Mother's Day Recipes and Food Crafts to Tell Mom She's Marvelous!
Here are some wonderful recipes from Hungry Happenings and friends that will let the special women in your life know how much you appreciate them.
Kids will enjoy creating these edible garden stones for Mom that are almost too pretty to eat!

Edible Garden Stone
These  adorable strawberry jelly and white chocolate morsels are the "berry" best way to show Mom or that special woman in your life how much she means to you.

Strawberries and Cream Berry Baskets
Give Mom your heart by making her these easy and elegant raspberry filled cookies.
Raspberry Linzer Cookie Hearts for Mom
For the coffee lover, these cute cafe mocha rice krispie cups will be an extra special treat.
Cafe Mocha Rice Krispie Treat Cups
Whether served as breakfast in bed or for Mother's Day Brunch, these easy ideas will bring a smile to Mom's morning.

Good Morning Sunshine Sweet Rolls
Every Mom loves a spa day, so why not surprise her or the special ladies in your life with a day of pampering and this fun taco flavored cheese ball with an avocado "mask".
Here are two dessert cup recipes - one luscious lemon and the other crispy coconut and blueberry - that would be the perfect addition to your Mother's day brunch, luncheon, or tea with craft-ahead elements that will help make the event a breeze.

Daffodil Candy Cups with Lemon Mousse

Coconut Macaroon Cookie Cups Filled with Homemade Blueberry Curd
These beautiful smorgastarta (sandwich cakes) are surprisingly simple to make and can be decorated a myriad of ways for an elegant Mother's Day spread.

Mini Smorgastarta (Sandwich Cakes)
This scrumptious salad is light and full of bright flavors that Mom will love.

Sunny Shrimp Spinach Salad
Mom will be delighted by this sweet daisy cake bouquet - another 'wow' inspiring dessert for a Mother's Day luncheon, brunch, or tea.

Daisy Cakes
These elegant rose cookies are an easy to make dessert for the special ladies in your life.
These Nutella filled daisy pastries would be a wonderful, delectable, chocolate and hazelnut flavored surprise for Mom's special day.

Daisy Pastries
Bring a smile to Mom's face with this luscious, creamy daisy cheesecake.

Daisy Cheesecake
or some brightly colored Peach Cobbler Cupcakes


Peach Cobbler Butterfly Cupcakes
or perhaps some adorable cookies.


Pink Fuzzy Slipper Cookies
If you are hosting a party for Mother's Day, these appetizers will surely impress.
Mozzarella Cheese Filled Heart Pastries
served with Roasted Red Pepper Pesto
Cheese Ball Cake decorated with mozzarella cheese daisies.
If your mom is like mine, she'll appreciate being served a lovely salad
topped with heart shaped tomatoes.
Salad Topped with Tomato Hearts
She'd also enjoy getting a nice gift of homemade candy.
Chocolate Raspberry Ice Cream Truffles
Pink Ombre Creamy Coconut Hearts
These pretty swirls of pink velvet cake created by Heather of Sprinkle Bakes would make
a lovely dessert for Mother's Day.
Add a touch of color to your Mother's Day dessert table by serving these
lovely ombre cakes created by Glory of Glorious Treats.
These sweet little cookie purses made by Sandra for She Knows are sure to please
any fashion plate or palate.
From the The Partiologist, these lovely flower cupcakes would be a memorable gift for Mom. You could  even add to your gift a package of flower or herb seeds that she can plant in the pot after she has enjoyed the sweet treat inside.

Mother's Day Flower Cupcakes
These feminine ribbon rose cookies form Munchkin Munchies would really dress up a dessert table or make a lovely gift for mom.
Pint Sized Baker has simple step-by-step instructions for these simpe flower donuts that the kids will enjoy making from poppy seed bread mix and sugared marshmallows.

Mother's Day Flower Donuts
Treat your mom to a beautiful bouquet of cupcakes from Make Bake Celebrate.
From Two Sisters Crafting, these chocolate and marshmallow daisy pretzel bites would make a great gift or bite-sized dessert for your Mother's Day brunch, lunch, or tea.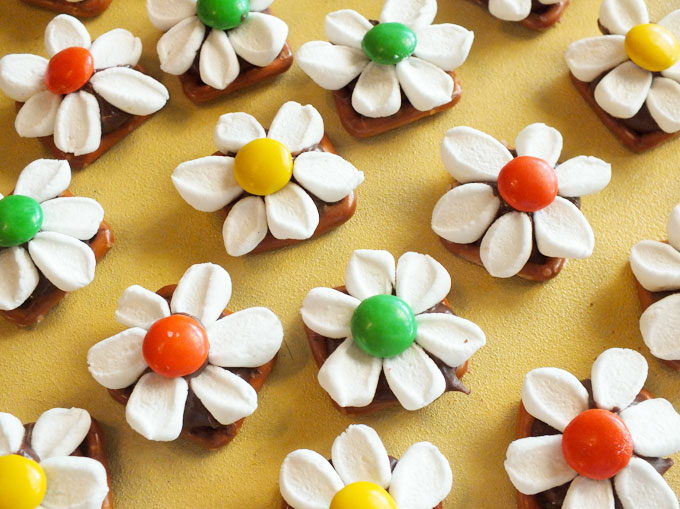 Daisy Pretzel Bites