It's time to pull out something green to wear and celebrate the day we all get to be a little Irish! Hungry Happenings and friends have 30 St. Patrick's Day Edible Craft Recipes that will keep all your Irish eyes smiling, and that's no blarney!
I have some fun and creative recipes at Hungry Happenings that will make your family and friends want to kiss the Irish cook!
You won't have to find the end of the rainbow to enjoy the treasure found inside these sweet leprechaun hats.


Candy Leprechaun Hats Filled with Sweet Surprises
You'll thank your lucky shamrock when you taste this festive cake.
These cheesy shamrocks are delicious as an appetizer or as a complement to your St. Patrick's Day meal.
Make these cute shamrock pops and bring on the Irish smiles!
Shamrock Rice Krispie Treat PopsHere are two cakes that wear the green so well your guests won't have to pinch themselves when they enjoy each delicious bite.

Leprechaun Hat Shamrock Surprise Cake
Chocolate and creme de menthe are the lucky combination in this delicious and festive fudge.

Double Chocolate Creme de Menthe Fudge Shamrocks
Bailey's Irish Cream flavor these sweet mini cakes that could also be crafted in green.

Bailey's Irish Cream Filled Beer Mug Cakes
Here are some sweet dessert recipes from The Partiologist that will have you dancing an Irish jig!

Chocolate Mint Brownies

St. Patrick's Day Rice Krispie Treats
All that glitters is gold with these elegant Bailey's infused cupcakes from Pink Martinis and Pearls. (no longer available)

Cupcakes with Bailey's Irish Cream, Frangelico, and Creme de Cacao Buttercream Icing
I mustache you a question, but I'll shave it for later. There's no question you'll love these mustache and shamrock cookies from Munchkin Munchies.

Shamrock Triple Thumbprint Cookies
Even coconut can be Irish for a day with these luscious little cakes from Pint Sized Baker.
These two fun edible crafts from Kitchen Fun with My Three Sons are the pot of gold at the end of the rainbow for your littlest kitchen helpers.

Reese's Pot of Gold Rainbow Pops
Leprechauns, green beer, and rainbows abound in these great recipes from Sugar Swings! Serve Some.

Leprechaun Cupcakes

Mint Chocolate Chip Men Cookies

Rainbow Cupcakes
A corn casserole from Recipe Chatter and a St. Patty's pie from Family Feedbag, both with shamrock accents, would be perfect additions to your St. Patrick's Day dinner table.

Pot O' Gold Corn Casserole

St.Patty's Pie
These cute little bears, shamrock shakes, and marshmallow pops from Party Pinching would be sure to please your little leprechauns.

St. Paddy Bear Pop

Shamrock Shakes

Shamrock Marshmallow Pops
Your wish will come true when you take a bite of this shamrock cake from Itsy Bitsy Foodies.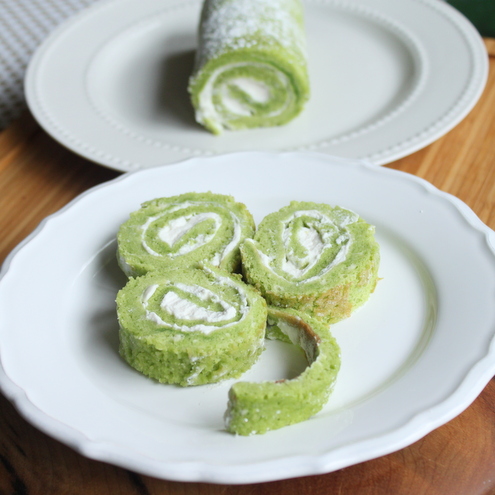 Shamrock Jelly Roll Cake
Eating your vegetables is easy with these fun and easy leprechaun hats from Creative Food.
What's more Irish than potato soup? Here's a version from Home Is Where the Boat Is that is beautifully served in a "pot of gold".

Pot of Gold Irish Potato Soup
If you're looking for more St. Patrick's Day food, use the link and check out these awesome recipes.