Try making one or more of these 28 Super Bowl Snacks and Festive Party Food Idea and your guests will go wild! All of these recipes are delicious and the most American part of your Super Bowl Sunday!
You can score a touchdown with recipe and festivity ideas from here at Hungry Happenings and a slew of my favorite food bloggers like Kitchen Fun with My Three Sons, The Partiologist, Pink Martinis and Pearls, and more. Whether you are an avid football fan or are just in it for the food, here are some great ways to kick off your football fun!
Even the youngest sports fan can get into the game with this fun snack idea from
 Kitchen Fun with My Three Sons.
You can turn your table into a stadium with these creative snack displays. Just click the links below each photo for step-by-step instructions.
From alilcurious.com

SNACKadium
From todaysthebestday.com
The football's the thing with these great game day recipes from Hungry Happenings and
The Partiologist.
Footballs Shaped Hamburgers Served on Football Shaped Buns 
Football Fritters for Super Bowl
Who would have thought that football, strawberries, and chocolate could
go together so well?
Chocolate Strawberry Footballs
From sweetdreamscakeapp.com
While we're looking at the sweeter side of game day snacks, here are some adorable game day cookie ideas from
The Partiologist and Munchkin Munchies.
Realistic Football Slice Cookies
Game Face Football CookiesFrom The Girl Who Ate Everything, this bite-sized and elegant variation on a Mexican favorite should please the most discriminating football fanatic.
Double Decker Taco Cupcakes Who could "pass" on this chocolate chip cheesecake football from
Belle of the Kitchen?
Game Day Chocolate Chip Cheesecake Ball
On the lighter side, this fruit-filled helmet would be a star player at your Super Bowl bash.
From todaysthebestday.com
No game day play book would be complete without this chocolate chalkboard.
Diagram of a Football Play on a Chocolate Chalkboard
Your crowd will cheer for these delicious mini pigskin-shaped spuds from The Curvy Carrot.
Mini Loaded Potato Super Bowl Footballs
And they will cheer again for this spud inspired beer bacon cheddar dip from Hungry Happenings.
Beer Bacon Cheddar Dip Footballs
Represent your favorite team in style with these creative cupcake ideas from
 Pink Martinis and Pearls.
What game day party would be complete without pizza and potato skins?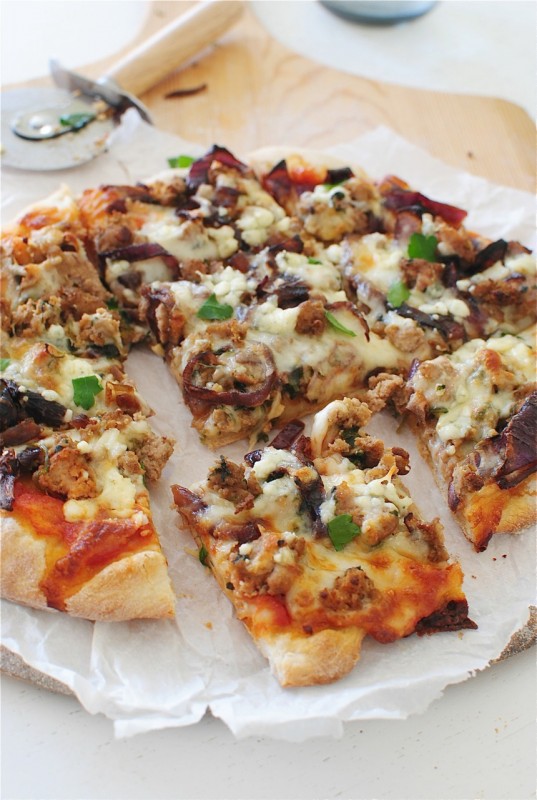 From bevcooks.com
From simplyrecipes.com
You'll go nuts for these simple Super Bowl party pleasers.
From thekitchn.com
From pintsizedbaker.com
Chocolate Peanut Butter Footballs
From shewearsmanyhats.com
For all of you sushi lovers, here is a version sure to score from La Fuji Mama.
Turkey Avocado Onigiri Footballs
And a few more delicious football themed dishes from Hungry Happenings to tempt your party goers' palates. You can search the site for even more great recipes by typing "football" into the search box on my website!
Madeira Mushroom Filled Football Tart
 Salted Beer Soft Pretzel Footballs
Football Bread Bowl Filled with Taco Dip
The health conscious fan will be sure to score with this Greek style variation on the ever popular nachos from Closet Cooking.
Everyone will be a winner when you complete the play with these adorable cupcakes featuring the popular cake pop from The Crafting Foodie.
Chocolate Cupcakes Topped with Football Cake Pops
If you want more tailgating or homegating party ideas for the college football season,
be sure to check out my Football Party Food ideas.