Need some ideas and recipes for the coming Holidays? Then you've hit the jackpot with this list of Fun Thanksgiving Food Ideas and Edible Crafts. Your guest will be full and happy, the only bad thing is that you're going to have to make food every holiday now!
The beginning of November is always a rough time for me and blogging. I'm so exhausted and usually a little burned out after our Halloween party that I need a break. I can't believe it is November 11th and I've only shared one Thanksgiving recipe with you and it's not because I've been resting. I enjoyed one day in front of the T.V. then got back to work. We took down all the party decorations and cleaned up very quickly this year, but since then I've been very busy in my candy kitchen and I had a few deadlines for my freelance gig with General Mills. I can't wait to share those recipes with you, but they aren't posted on Tablespoon.com yet. I'll let you know when they are on their site.
I got into the kitchen yesterday and started working on some fun Thanksgiving projects, but none of the posts are ready yet, so I thought I'd take this opportunity to share some of my favorite picks from Pinterest along with a round-up of my own projects. Enjoy.
Thanksgiving Edible Crafts
from around the web
Don't you just love mini cheese balls? I do, and I think these Mini Cheese Ball Turkeys
from Jo and Sue will make perfect little appetizers for Thanksgiving.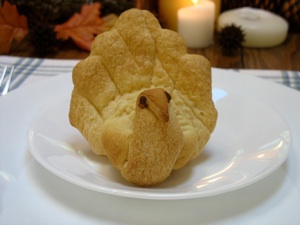 You can get so creative with bread and Amy from Amy's Free Ideas shows you how to make these
Crescent Roll Turkey's for Thanksgiving. Now those are some serious dinner rolls!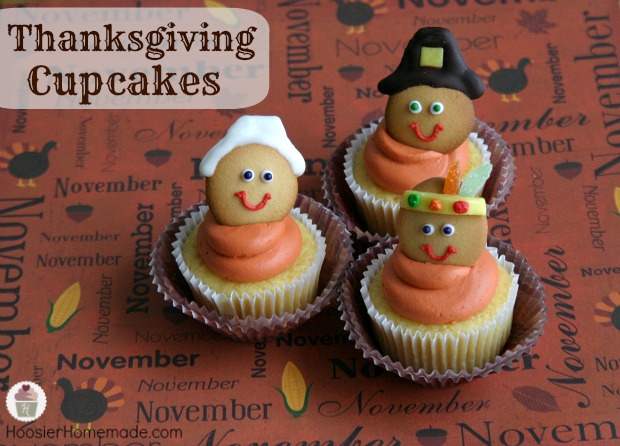 These cute little Piligrim and Indian Cupcake toppers made using vanilla wafers
were created by Liz at Hoosier Homemade. It's such a sweet Thanksgiving dessert idea.
Meaghan from The Decorated Cookie reminds us of the beauty of fall with her
Fall Tree Cookies.
Robin from Bird on a Cake piped Candy Melts over a printable template
to make these cute Pilgrim and Indian Cupcake Toppers
Jill from Kitchen fun with my 3 Sons is a wiz when it comes to making
s'more pops and these Thanksgiving S'mores are incredibly creative.
Package all the pieces and parts of a turkey in a jar and you have a super
cute gift for Thanksgiving. These Turkey Cookies in a Jar were created
by the brilliant Sue, from Munchkin Munchies.
If turkeys were pretty, this is what they'd look like. Kim, The Partiologist makes
some of the most beautiful looking treats and these Turkey Cake Pops are no exception.
These Crispy Fall Leaf Cookies created by Judy of Season of Sweets are
exquisite. They look so delicate, just like a real leaf.
Owls are so popular right now and these Owl Pumpkin Pies are adorable.
Francois from Sweet Explorations shows you a detailed
step-by-step tutorial, so you can make these too.
Can you believe these cornucopias are made out of turkey?
You can find the recipe to make these
Turkey Cornucopia filled with Zesty Fruit Stuffing at Thermador.com.
Turkey cake balls with Whoppers for heads are totally cute and clever.
Sharon created these Turkey Cake Balls and shares
a great tutorial over at SugarEd Productions.
Here's another sweet flock of turkeys. Toni from Make Bake Celebrate
crafted these little fondant turkeys and used them to top Thanksgiving cupcakes.
One more little Turkey Treat. These Brownie Bite Turkeys have malted milk ball bodies and shortbread feathers. I love the use of candy in this design by Holly
from The Seven Year Cottage.
Be sure to check out all of my amazing Thanksgiving Recipes
Thanksgiving Recipe Ideas
from Hungry Happenings
Leaf and Pumpkin Shaped Dinner Rolls Topped with Colored Cheese
Chocolate Peanut Butter Fudge or Caramel
Turkey Treats for Thanksgiving
Cheesecake Leaves and Pumpkins
Chocolate Turkey Box filled with small chocolate turkeys
Pie Crust Turkey decoration for Thanksgiving
CHEESECAKE Pumpkin Stuffed Cupcakes
Toffee Apple Dip served with Cinnamon Pita Chip Apples