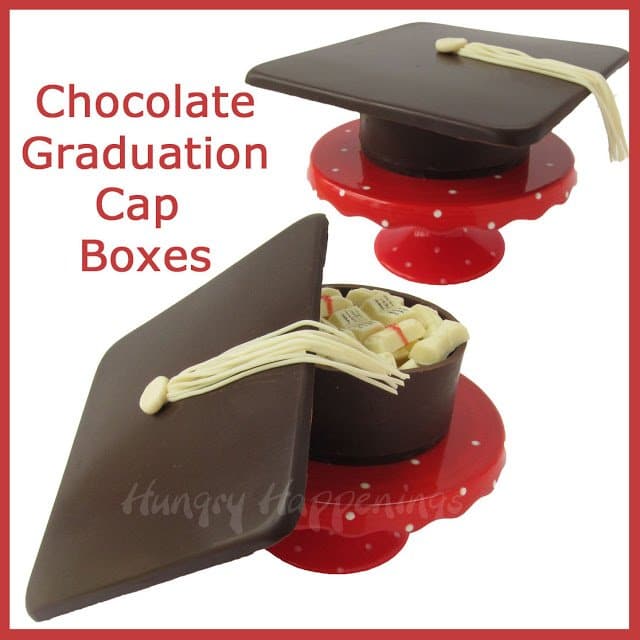 Do you prefer to give homemade or store bought gifts? If you are like me, even if you give a purchased gift, a gift card, or cash, you like to add a little something that's handmade just to make the gift that much more special and memorable.
These chocolate boxes can also be used as a centerpiece on your dessert table, giving you a very visually appealing way to serve small treats, like mints, nuts, candies, or chocolates. You can create larger boxes if you'd like to use them to serve something like homemade cookies or chocolate dipped pretzels. I plan to make one that will hold several pounds of handmade chocolates for a client who will host over 100 guests at her graduation party.
12 ounces melted and tempered pure semi-sweet chocolate
OR melted dark confectionery coating/candy melts
8 inch X 8 inch square non-stick baking pan
4 1/2 inch round cookie cutter
clay extruder (clean and used for food only)
fine tip paint brush (clean and used for food only)
Pour 10 ounces of melted and tempered semi-sweet chocolate or melted dark cocoa confectionery coating/candy melts into your 8″ X 8″ square baking pan (I poured chocolate out of my tempering machine, which is always filled with semi-sweet chocolate.) Once filled, tap the pan on the counter to remove air bubbles and to flatten the chocolate in an even layer. Refrigerate tempered chocolate or freeze confectionery coating until set.
Pour 2 ounces of chocolate into your 4 1/2 inch round cookie cutter. Spread it out in an even layer then tap to remove air bubbles. Chill until set.
Remove hardened chocolate from baking pan and cookie cutter. Turn pan upside down and allow the square of chocolate to gently fall out. Pull away the sides of the round cookie cutter and allow the chocolate to fall out.
Attach the tassels, disc, and the sides of the box to the chocolate pieces with melted chocolate, using a fine tip paint brush.
I used food coloring markers to add some color to the white chocolate pieces in the box.
As I'm writing this, I realized that I need to go buy some boxes to package these in, and think small cake boxes will do the trick, so I'm off to the cake decorating store to get what I need.
(I'm definitely seeing a theme here!)