What better gift from your kids for Mother's Day than a Fudge Garden Stone! I don't know about you, but garden stones we a favorite to give as a gift, and this gift gets even better because it's delicious!
While on vacation we spent a lot of time on trains traveling through the U.K. At first, I spent the whole time looking out the window at the beautiful scenery, not wanting to miss a single site. But, by the time we boarded our fourth and final train for a five hour trip, where we would journey back along the same route we traveled ten days earlier, I had seen my fill of the English countryside and was a bit antsy. Although the little lambs running and frolicking around the fields still brought a smile to my face, I needed something else to occupy my time.
I suggested we play a game; my husband wanted to sleep. The last time I fell asleep on a train, I ended up with vertigo (a feeling like my body was in motion continuously while I was stationary) for three weeks afterward, so sleeping was not an option. Reading a book would effectively have the same consequences, so that was out too. Before my husband nodded off, he suggested I spend time thinking about recipes for my blog. He even gave me a glimmer of an idea – to use a child's hand print for a Mother's Day project.
With that concept in the back of my mind, I began my journey of creation. Over the next few hours, I devised a plan to make edible crafts for several upcoming occasions. I drew them out on the back of our travel itinerary. Occasionally, I'd glance out the window and at the very moment we passed by a community garden plot, inspiration struck. I envisioned a garden stone with a tiny hand print pressed into the concrete and knew I had to find a clever way to transform it into an edible craft.
It wasn't until I arrived home and was working on a chocolate order, that I finalized the recipe for this idea. I was stirring Oreo Cookies into some white chocolate to make a batch of Cookies 'n Cream bark and realized the bits of cookie crumbs combined with the chocolate had a grey, concrete like, appearance. I would need to stir in some sweetened condensed milk to make a softer candy that could be imprint with a small hand, but firm up enough to give the appearance of a garden stone, which I did yesterday with great success.
The only problem I encountered was the lack of a tiny hand in my household. My neighbor's daughter was happy to help out in hopes of my sharing some of the edible garden stone with her, which of course I will.
Cookies 'n Cream Fudge Garden Stone (serves 8-12)
          recipe adapted from Eagle Brand Creamy White Fudge
Ingredients:
1 1/2 pounds (24 ounces) finely chopped white chocolate (or chips) or white confectionery coating
1 can (14 ounces) sweetened condensed milk
a pinch of salt
1 teaspoon vanilla extract, optional (I forgot to add it and it tasted great anyway)
1/2-2/3 cup Oreo Cookie crumbs (5-8 cookies)
candy decorations, optional (I used Jumbo Confetti candy decorations)
Supplies:
medium saucepan
9″-10″ round, square, or heart shaped cake pan (I used a spring form pan)
non-stick aluminum foil, parchment paper, or wax paper to line cake pan
toothpick or skewer
Instructions:
Heat white chocolate/confectionery coating, sweetened condensed milk, and salt in a medium saucepan over low heat. Stir frequently until melted and smooth.NOTE: I used confectionery coating all three times I've made this fudge and each batch was great. A reader made hers using pure white chocolate and it was greasy. I thought I better try that out too and mine was also greasy. Much like in making modeling chocolate, I found that the chocolate can't get too hot or the cocoa butter will seep out. I was able to salvage my greasy fudge by stirring in a few tablespoons of cold heavy whipping cream, but there is a better way to solve this problem. Just heat the mixture until about half of the chocolate is melted. Remove it from the heat and let it sit for 2-3 minutes, then stir vigorously. The chocolate should melt from the residual heat. If not, return to low heat for a short time, and try it again. This should keep the cocoa butter from seeping.
Turn off gas flame or remove from heat and add vanilla, if using, and cookie crumbs. Stir just to combine.
Spread into a lined cake pan and smooth out the surface. Decorate around the edge of the fudge with candy, if using. Allow the fudge to sit at room temperature for 45 minutes.
Have your child wash her/his hands. Press a hand print into the fudge. Use a skewer or toothpick to write a special message around the hand print. I added a red heart shaped sprinkle, but do think it looks a bit small. Any heart shaped candy would work or just etch out a heart in the fudge. Allow your fudge to set either by leaving it at room temperature for several hours or by placing in the refrigerator for an hour or two. Remove from pan and peel away the tin foil, parchment paper, or wax paper.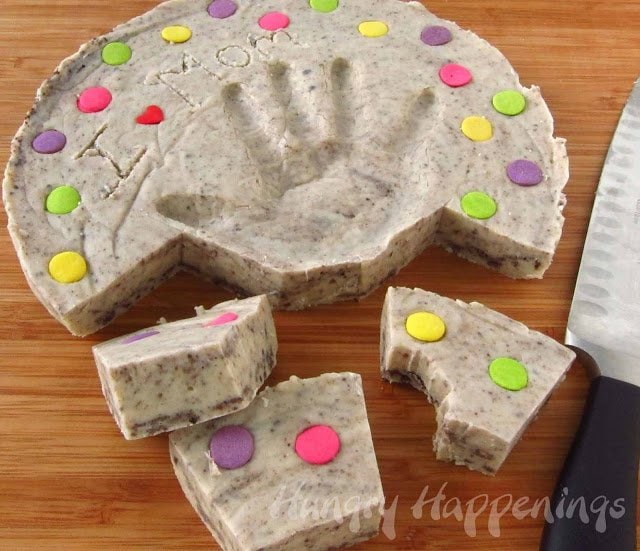 To serve, set on a platter or cutting board. To add some color to your serving display, set your edible garden stone on top of green colored coconut (add coconut to a zip top bag and add drops of green food coloring, shake until evenly colored.)You can even wrap it in cellophane and tie it with a ribbon to present as a gift.
Cut with a knife into wedges or small pieces and enjoy. Wrap in plastic wrap and store in an airtight container for up to a few weeks.
More Fudge Fun
from Hungry Happenings
Cookies 'n Cream Tombstones with clever epitaphs
Candy Rocks for Teacher Appreciation
Personalized Vanilla Fudge Apples
 Items used to make this recipe that are available on Amazon.com